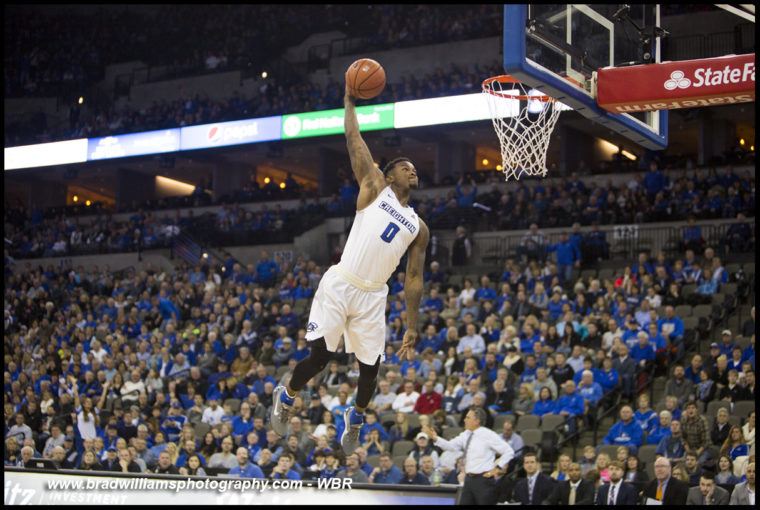 Morning After: #23 Creighton Completely Dismantles DePaul in 93-58 Win
Key Stats:
Creighton held DePaul to 26 first half points, the fewest any opponent has had against the Jays in a first half this year, while the Jays' 60.7% shooting percentage was their best of the season.
Here's a big key, going forward: the Bluejays have now made 39-71 three-pointers over their last three games (54.9%). They've rediscovered their mojo from outside after a slump that pre-dated Maurice Watson's injury, and suddenly the team that led the nation in three-point shooting for the first two months of the season is shooting well again.
Standout Performance:
Khyri Thomas had a monster afternoon, scoring 12 points on 5-6 shooting, grabbing five rebounds, and dishing out seven assists. But he also played his usual lock-down defense, this time almost completely taking DePaul's leading scorer out of the game. Eli Cain came in averaging 16.5 points, and was 2-9 with five points on Saturday, as close to a complete non-factor offensively as a scorer of his ability can be. He was 4-17 in the first game in Omaha with Thomas doing most of the defending on him that day, as well; Cain is probably glad to not have to see Thomas again this year unless they meet in NYC.
Recap & Analysis:
After three ties and two lead changes over the first eight minutes of the game, the rematch of these two teams had a very different look than the first meeting where Creighton took command early and after eight minutes the outcome was scarcely in doubt. This time, Creighton's offense wasn't moving, their defense was giving up too much, and their star center was frustrated that, in his mind, DePaul's defenders were grabbing and holding him without being whistled for it.
The Jays countered with a little more muscle in the paint, and it was just what they needed. With the score tied 10-10, Zach Hanson scored five straight points — converting a three-point play after a steal from Toby Hegner led to a layup and a free throw, sinking a close-range layup the next trip down — and began a stretch where the Creighton bench scored 11 of their next 14.
REPLAY | Zach Hanson with the three-point play to help Creighton take the lead. #GoJays pic.twitter.com/jYG2dwGqAG

— Creighton Basketball (@BluejayMBB) February 11, 2017
Still, DePaul was able to hang around thanks to three 3-pointers from Chris Harrison-Docks in the span of four minutes. The Western Kentucky transfer had made just 22 three's all year (and shot a middling 34% on them for the season), but wouldn't you know it, he had his best game of the season while the Jays shut down leading scorers Eli Cain and Billy Garrett.
Leading 27-24 with 3:51 to play, Cole Huff sparked a 12-2 run to end the half with back-to-back 12 foot step-back jumpers that were from nearly identical spots on the floor. Toby Hegner followed with a three, and then Khyri Thomas flat-out embarrassed a Blue Demon defender:
This is how you break a press. #SpecialDelivery pic.twitter.com/XUYU4z5y3E

— Creighton Basketball (@BluejayMBB) February 11, 2017
Huff ended the half with a three-pointer from the corner at the horn, and thanks to that late spurt, the Jays led 39-26 at the break. They scored the first eight points of the second half, making it a 20-2 run spanning both halves and breaking the game open. Knowing that Patton had been frustrated in the first half, they drew up a play to get him a basket on the first possession, and it worked — he scored at the rim, was fouled, and made the free throw for a three-point play. It was the start of a huge half for the freshman, as he scored nine points with six rebounds (three offensive) and two blocks in just ten minutes.
DePaul finally broke the scoring drought with a pair of free throws from Billy Garrett, and cut the deficit back under 20 points. Moments later, if they had any illusions about staging a comeback, Marcus Foster told the Blue Demons what they could do with them (literally and figuratively):
Marcus Foster throws down a monster dunk!! #SCtop10 pic.twitter.com/Kg0lJ6p83v

— Creighton Basketball (@BluejayMBB) February 11, 2017
Figuratively? That dunk was so vicious, with so little regard for the DePaul defender (Brandon Cyrus) who was unlucky enough to be in the path, it reminded everyone in the building who the ranked team was and who was 1-10 in conference play. Literally? Foster didn't take any chances on the message being received and said a little something to the Blue Demons as he ran up court. He was called for a technical, and rightfully so, but sometimes playing with a little edge can go a long way. That was an intimidating dunk, and though it came with 15 minutes to play, was the exclamation point on the afternoon — Creighton never led by fewer than 20 the rest of the day, and eventually led by as many as 40.
They'd go on to score on 16 of their first 19 second-half possessions, burying the Blue Demons in the process. Not content to let Foster have all the fun, Hanson got in on the dunk show:
"Creighton is putting on a dunk show right now"…here's the latest slam, this one by Zach Hanson. pic.twitter.com/3XYs6zHn8b

— Creighton Basketball (@BluejayMBB) February 11, 2017
And so did Patton:
Justin Patton has a double-double after this alley-oop. This one's all Jays, up 80-49 with 5:06 left. pic.twitter.com/9Vfq32ROcG

— Creighton Basketball (@BluejayMBB) February 11, 2017
The end of the bench played out the final six minutes, with Martin Krampelj leading the way with a dunk of his own and a three-pointer from the corner. It started out as a back-and-forth affair, but wound up as a complete and thorough domination. The Jays are now 21-4 for the year, 10-1 on the road, and 8-4 in the Big East — good for second place.
Two interesting subplots emerged before and after the game. 90 minutes beforehand, the NCAA Tournament Selection Committee unveiled the top four seed lines on their brackets as of that moment in a made-for-TV event on CBS. Villanova was the top overall seed, and Butler — a team the Jays beat twice — was a four seed. Then the committee was asked about teams just outside the top 16, and the first team mentioned was Creighton.
NCAA tourney seeds.#Butler pic.twitter.com/XH6gfb81VG

— David Woods (@DavidWoods007) February 11, 2017
A pretty good resumé. #GoJays pic.twitter.com/0ou0wFCNpQ

— Tony Roth ™ (@toneroth) February 11, 2017
Creighton mentioned as the first team outside of Top16 considered…. so @BIGEASTMBB has 3 of Top 17 in my opinion.

— HolyLandofHoops (@HolyLandofHoops) February 11, 2017
That means the committee isn't discounting all the Jays' resume-building wins with Maurice Watson on the floor nearly as much as some were afraid they were…or as much as some think they should. ESPN's Joe Lunardi was one of those in the latter camp, writing that he "was a little surprised to hear Creighton mentioned as a near-miss." He has them as a six in his latest bracket, and has been critical of them post-Watson.
Meanwhile, Creighton fans took over Allstate Arena and made it into CenturyLink Center East. John Bishop, Brody Deren, and special guest Ethan Wragge (The Lumberjack lives in Chicago with his professional playing days over, and was in attendance Saturday) commented on the postgame radio show that the crowd seemed to be 2:1 Creighton fans. Whatever the numbers, the combination of DePaul's horrendous attendance and Creighton's large traveling contingent made it sound like a home game, both in person and on TV. And it led to an amazing moment late in the second half.
Five-star 2017 recruit Brian "Tugs" Bowen, who is reportedly close to deciding between Creighton, Arizona, and Michigan State where he'll play next season, was at the game, seated ten rows behind Creighton's bench. Bowen plays for La Lumiere, about 90 minutes east of Chicago in La Porte, Indiana, and his family made the close drive to see the Jays in person one more time before he decides.
Good seeing @20tugs at the Jays game today! Would LOVE to see him in blue next year #GoJays pic.twitter.com/wXtKFah74H

— Harry Hoch III (@hoch_iii) February 11, 2017
Pretty sure @20tugs is coming to Creighton after our effort today. pic.twitter.com/WvnwlZIiDB

— Mark Patterson (@markwpatterson) February 11, 2017
With about five minutes left and the game a blowout, the huge contingent of Creighton fans started a "We-Want-Tugs! We-Want-Tugs!" chant. It was loud in person, and came through loud and clear both on 1620's radio broadcast and on FS1:
Creighton fans standing and clapping, chanting "We want _ _ _ _". I'd tell you what the blanks are, but that'd be illegal.

— Rob Anderson (@_robanderson) February 11, 2017
Jays fans in Chicago chanting "We Want Tugs." I wonder who they're talking about? #Creighton

— John Bishop (@JohnBishop71) February 11, 2017
This is awesome, Jays fans made this a home game. A "we want @20tugs" chant even broke out!! #GoJays

— Harry Hoch III (@hoch_iii) February 11, 2017
Do I hear a "We Want Tugs" chant in Chicago??? #GoJays

— Heath Gunderson (@heathwgunderson) February 11, 2017
He certainly heard it too! pic.twitter.com/W7Mht4dHJ2

— Heath Gunderson (@heathwgunderson) February 11, 2017
They Said It:
"I learned from the best. Big Bad E (Ethan Wragge) shared some wisdom with me during my freshman year (laughs). I was channelling the WraggeBombs today! I can't believe that he hasn't picked up a basketball in two months, but at the same time, I do. He's doing well in the business world, and last year I had a good sit-down dinner with him where we talked about his life and what he was going to do. He said it was time to end it because his knee was in bad shape. He's doing so well, and it's awesome to see him today because I hadn't seen him since that dinner last May." -Toby Hegner on 1620AM Postgame
"It was big for me, mentally, to get some shots to fall today. The last couple of games I've been in the dumps. I think I went 0-8 or something in the two games before this. This was big. The team always has my back, always tells me to keep shooting. I've got in the gym a little more the last couple weeks, and it helped." -Toby Hegner on 1620AM Postgame
"Having this week off was a blessing. Just a blessing (laughs). It was good for us, coming off a hard loss, to get a week off. We didn't play well down the stretch against Xavier. And getting two days off after that loss was big for our legs. Sometimes you have to get away for a couple of days, but no one did — everyone was in there shooting, working out like we always do. We had a great four days of practice before this game. We haven't had that time to work on ourselves in so long. We do a two-day prep for opponents, and this week we were able to take two days to work on ourselves. It definitely helped today." -Toby Hegner on 1620AM Postgame
"Coach put me in a good position, with Cole and I guarding Brandon Cyrus. He's gone off a little bit, shooting the ball a little better, but we were guarding him more as a help defender. It was a matter of the coaches getting us in the right position. Preston did a great job on the scouting report. There's nothing else you can say about it. The scout team got us ready. When it came to crunch time, we knew what they were running before they knew it. That's the end of the story. That's why we won today." -Toby Hegner on 1620AM Postgame
"I thought Toby was really good on both ends of the floor. He made good decisions with the ball, defensively he switched some screens to stay in front, fought on the offensive glass and even though he didn't get any, he kept a couple alive for his teammates to get. I really thought the game was close and then we went with that rotation with Z and Zach and Toby, and they gave us a great lift. The ball moved a little better, we got some inside touches for Zach to create easy buckets, and that created some separation. Marcus made a great play before halftime to get Cole that open three, he probably had a 12-15 footer himself but turned it down to make the extra pass. That really gave us a big lift going into halftime. And then we've talked a lot about coming out of the gates in the second half, and that group did a great job." -Coach Greg McDermott on 1620AM Postgame
"Guys made extra passes today, and that's who we have to be without Maurice. We relied on him so much in transition, so much in ball screens, let the defense do what they were going to do, and then adjust from there. Well now we don't have a guy that can do that, so we have to be a team that moves the basketball a little better and is willing to make the extra pass. We had a good mix of attacking the defense off the dribble and also shooting those threes." -Coach Greg McDermott on 1620AM Postgame
"We didn't want Harrison-Docks to get going, but we did. We stepped off him in the corner on his first made three, and we can't make that mistake. When a shooter hits his first, it changes his whole psyche towards the game. And then, Z was maybe a little late closing out on the second one, and then the third and fourth one were just really tough shots. We cleaned that up the second half and defended him better but I thought the guys did good overall. Tazz was on Eli Cain a lot, and did a good job. We were switching ball-screens so our four-man had to switch onto some of their guards, and they were engaged defensively. To hold the team to 30% shooting on their home floor is a nice feather in the cap for our guys." -Coach Greg McDermott on 1620AM Postgame
"Justin thought DePaul was holding him and grabbing him a little bit early on, and I was trying to get him to understand that you can't focus on the task at hand if you're worried about that stuff. Just forget about it. If I see something that I don't think is right, I will go to bat for you. I promise. But you can't worry about it. That's just part of his growth as a player. I thought his start to the second half was as well as he's played in a long time. His activity defensively on the glass is exactly what we need to have happen for him. It was good to see. We forget sometimes, because he's seven-foot tall and so long, but he's also 19 years old. He's growing and learning and when things don't go his way, sometimes he's got to figure out how to handle that adversity. To his credit, he settled down and played well after that." -Coach Greg McDermott on 1620AM Postgame
You Said It:
AllState arena is not deserving of 2 WRESTLEMANIAS. 2 of them

— FakeBlueCrew (@FakeBlueCrew) February 11, 2017
A dozen NBA scouts are listed on the seat chart today to check out Creighton at DePaul.

— Rob Anderson (@_robanderson) February 11, 2017
The atmosphere at Allstate arena can be described as Civic auditorium on a Wednesday against Southwest Missouri State

— FakeBlueCrew (@FakeBlueCrew) February 11, 2017
Smart of Mintz to change up his hair. Mac might give a little more run to this "new" point guard.

— Garret Mueller (@mue11er) February 11, 2017
Pretty sure DePaul stole Casey the blue lion from the Omaha Royals as their mascot

— FakeBlueCrew (@FakeBlueCrew) February 11, 2017
I almost think Hanson and Patton should play together. Try it for a 4 minute stretch and see.

— Patrick Marshall (@wildjays) February 11, 2017
Khyri slam!! 💪🏿💪🏿💪🏿🙌🏻 Marcus passed it!! Cole hit it!! #GoJays

— Tony Roth ™ (@toneroth) February 11, 2017
#Khyridiculous https://t.co/5c84fEzFQf

— Matt DeMarinis (@mjdemarinis) February 11, 2017
Tazz about tore down the whole building!!! #GoJays

— Heath Gunderson (@heathwgunderson) February 11, 2017
"@JohnBishop71 , that was disgusting!" – @BrodyDeren, doing his best @KASarver impression on the radio call of @Khyri_2 nasty jam. #gojays

— Creighton Otter (@creightonotter) February 11, 2017
Congrats to @DePaulAthletics for setting record beer sales at the Rosemont today. Good effort.

— JoeJohns (@joejohns402) February 11, 2017
Loudest pops in AllState Arena.
1)Marcus Fosters dunk.
2)CM Punks entrance
3)Mick Foley going through Flaming table

— FakeBlueCrew (@FakeBlueCrew) February 11, 2017
Foster's: American for look out below! #GoJays #SCtop10 #wowzers #RollJays

— Jimmy Motz (@JimmyMotz) February 11, 2017
How can I not faint? @Swaggy2_ exposed him 😳 https://t.co/b0U2cisfl5

— Kobe | KoKo Wave (@_kokoparas) February 11, 2017
I've been a #Jays fan long enough to remember when seeing one #Creighton dunk in a game was a big deal!

— Heath Gunderson (@heathwgunderson) February 11, 2017
Loud chants of CU being heard…at DePaul #GoJays

— Danielle Limberg (@dmarielim) February 11, 2017
Is "competitive basketball" a banned phrase at Allstate Arena? https://t.co/AKMggJck6Q

— Tyler Anderson (@TylerA_Anderson) February 11, 2017
Good job, Chicago crew. #WeWantTuggs #BeAJay @20tugs

— Austin (@letitflycu) February 11, 2017
Leaving Allstate Arena for the last time like pic.twitter.com/HTteHekLgS

— FakeBlueCrew (@FakeBlueCrew) February 11, 2017
KOZN midday host Nick Bahe is putting in studio time again on FOX Sports 1, live from Los Angeles. #doubleduty pic.twitter.com/g4msX032gN

— MediaWatchOMA (@MediaWatchOMA) February 11, 2017
@JohnBishop71 … I was going to say hello but I was trumped by @Wragge34 #gojays pic.twitter.com/kEIN0OexQ0

— GSAllumbaugh (@GSAllumbaugh) February 11, 2017
😱😳 I would like to apologize to that man… https://t.co/m462vARCvO

— Marcus Foster (@Swaggy2_) February 11, 2017
Comments
Tagged in: