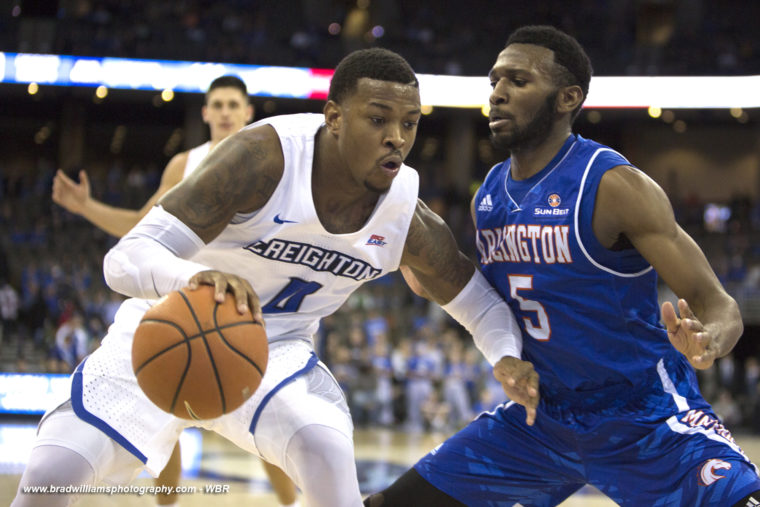 Morning After: #25 Creighton Builds Huge First Half Lead Over UT Arlington, Holds Off Late Rally for 90-81 Win
Bluejay Beat Podcast:
Recap & Analysis:
Creighton had a 25-point lead late in the first half, an honestly surprising result against one of the better mid-major teams in the country and a probable NCAA Tournament team come March. The Bluejays had played their best half of basketball of the season on both ends of the floor, led by Marcus Foster, who scored 22 points before the half, and an opportunistic defense that forced 10 turnovers.
UT Arlington led briefly after a layup by Johnny Hamilton put them up 13-11. Then Khyri Thomas picked UTA's Link Kabadyundi's pocket and a clinic on team ball movement led to this three that gave CU the lead:
#Khyrifense ➡️ #TazzThree#GoJays #LetItFly pic.twitter.com/gw3pRf2Nxf

— Creighton Basketball (@BluejayMBB) December 19, 2017
The Jays were up 14-13 after eight minutes, and the game was progressing more or less as expected — two veteran teams trading shots from their best players, with neither squad able to put a run together to create separation. Ronnie Harrell gave them a spark off the bench, hitting a three to make it 17-13, grabbing an offensive board and converting an old-fashioned three point play to make it 20-16, assisting on a three-pointer by Ty-Shon Alexander that pushed the lead out to 23-16, and clearing the glass after a defensive stop to set up a three-pointer by Foster to give them a 10-point lead.
Ball Movement skill level: 💯 #GoJays #LetItFly pic.twitter.com/ZWuk1CxiqJ

— Creighton Basketball (@BluejayMBB) December 19, 2017
It was the start of an 18-2 run that turned what had been a 17-16 Creighton edge into a 35-18 blowout, in the span of just six minutes. Foster punctuated the run with a steal and fastbreak dunk:
Our guy from Texas came to play tonight! #GoJays #LetItFly pic.twitter.com/My36m1ADsh

— Creighton Basketball (@BluejayMBB) December 19, 2017
UTA scored five straight as they tried to keep the game from spiraling out of control, but then Thomas came up with a highlight-reel steal on the Mavs' Erick Neal. Thomas used his length to force Neal one direction, then poked the ball out the other direction, and left Neal falling away as Thomas streaked up court for a layup.
#Khryifense #Khyrifense #Khyrifense#GoJays #LetItFly pic.twitter.com/3Ykfo9QM6h

— Creighton Basketball (@BluejayMBB) December 19, 2017
Manny Suarez assisted on two consecutive three-pointers, one each by Foster and Thomas, and the Jays took their largest lead at 48-23 with 2:23 to play. Another steal by Thomas led to this breakaway dunk (and technical foul for hanging on the rim, which the officials had no choice but to call after whistling UTA's Kevin Hervey for the same thing earlier in the half):
…and a foul, we guess 🤔#GoJays #LetItFly pic.twitter.com/bH3q4KZ5Tz

— Creighton Basketball (@BluejayMBB) December 19, 2017
CU led 52-32 at the break, and with Foster on fire I commented that it felt like the type of night where he could go off for 40+ and challenge Doug McDermott's arena record. But if the score held, there's no way he'd play long enough to get there. So I did something extremely foolish and tweeted this, in hindsight basically taunting the universe to make it so:
Also: "hoping UTA makes this a little closer" is not a thing I thought I'd be typing tonight 👀

— Tom Nemitz 🏀 (@WBR_Tom) December 19, 2017
And so when UTA opened the second half by making four of their first seven 3-pointers while Creighton missed 11 of their first 14 shots, cutting the Jays' 20 point lead to nine at 64-55 with 11:02 to play, people let me know about it. And rightfully so. Man, was that stupid.
Watch out for what you ask for….

— Patrick Marshall (@wildjays) December 19, 2017
I'm blaming you if this turns into a close game. https://t.co/rWnW1iKyGH

— Dave Sund (@davesund) December 19, 2017
'member when you hoped for this? Stop doing that.

— Schmitty (@burtsmustache) December 19, 2017
I don't feel like Tom got the proper amount of backlash for the voodoo spell he put on Creighton's defense at halftime. https://t.co/tlREPFczcd

— Matt DeMarinis (@mjdemarinis) December 19, 2017
The basketball gods pay attention to tongue-in-cheek Twitter wishes from a bottom-tier sports blogger a little more than I expected them to. Mea culpa!
In all seriousness though, most observers figured a tough, veteran team like UTA would make a run to get back into the game, and they did. But the Mavericks could never get close enough to *really* make Creighton and their fans sweat because every time they were on the precipise of doing so, Foster had an answer. After UTA had cut the lead to 64-55, he drove into the teeth of the defense and created a basket for Martin Krampelj. Then he followed an emphatic dunk by Kaelon Wilson for UTA by sticking a jumper, completing a defensive stop with a rebound in traffic, and assisting on a three-pointer by Thomas — followed by an assist on a three-pointer by Mitch Ballock on the next possession to push the lead back out to 15.
In the midst of that mini-run, Hervey was whistled for a foul and because his arm had connected with Ronnie Harrell's face, the officials went to the monitor to see if it should be switched to a flagrant foul. Instead, they waved off the foul entirely, explaining that Harrell was in the "player cylinder," whatever that means.
The Bluejays' Twitter account got a little salty, much to the amusement of Jays fans:
Officials will check the monitor after an offensive foul on UTA's Kevin Hervey. It's Hervey's fourth personal foul of the game, and he comes out.

Jays lead 71-57 with 9:20 to play.

— Creighton Basketball (@BluejayMBB) December 19, 2017
After review, the 4th foul on Kevin Hervey has been erased.

UTA keeps the ball, and he's got only 3 fouls now.

— Creighton Basketball (@BluejayMBB) December 19, 2017
🤔🤔🤔🤔🤔 #GoJays #LetItFly pic.twitter.com/nZy2P7j7tE

— Creighton Basketball (@BluejayMBB) December 19, 2017
🧐🤨🤕 #GoJays #LetItFly pic.twitter.com/Fmor7CyIMg

— Creighton Basketball (@BluejayMBB) December 19, 2017
Many observers, from the Omaha World-Herald's Jon Nyatawa to Creighton play-by-play announcer John Bishop to, well, me, were surprised by the call because none of us were aware officials could reverse a foul call via replay. I'd never seen it happen before, anyway.
I did not know they could

— Jon Nyatawa (@JonNyatawa) December 19, 2017
I don't see anything in the rules that says you can do that on a replay review. Highly questionable.

— John M. Bishop (@JohnBishop71) December 19, 2017
Tuesday morning, Bishop did some research in the college basketball rulebook and explained it thusly:
Regarding the odd Flagrant 1 replay review last night from the Creighton-UTA game. Officials did not rule F1 and they took away the common foul on replay review. This can occur according to rules.@NickBahe @JacobPadilla_ @whitebluereview @ralulla pic.twitter.com/jeuUk2G0Wm

— John M. Bishop (@JohnBishop71) December 19, 2017
In any event, just a really, really weird call that thankfully did not affect either team or the outcome of the game, as Foster crossed the 30-point threshold on this dunk:
THROW 👏 IT 👏 DOWN 👏 MARCUS 👏 #GoJays #LetItFly pic.twitter.com/pkrIhDzpXv

— Creighton Basketball (@BluejayMBB) December 19, 2017
And despite some late sloppiness with the basketball against UTA's full-court press, the Jays won 90-81. It's a win that should pay dividends in March, but leaves Creighton with some things to work on before Big East play — from another slow start to the second half, to the array of sloppy turnovers in the final 90 seconds.
The Jays' performance left UTA coach Scott Cross impressed. "Creighton's the best team I've seen in a long, long time," he told the media afterward. "The speed they play at is absolutely amazing. The way they pass the ball, the way they run in transition. I don't think I've ever played a team that's better in transition than them. They shoot the ball, they execute, they're way tougher defensively probably than I was expecting as well. I envy the way they play. That's the way I'd love for our guys to play in transition. It's absolutely amazing and we'll clip out a lot of stuff to show it to our guys on film."
Cross continued his praise by saying the Bluejays are one of the best teams he's ever faced. "I'd put them up there with Memphis and Derrick Rose, playing that team. I remember Kyle Korver's team here at Creighton that we played when I was an assistant coach. They're up there."
Key Stats:
Both teams were efficient in sharing the ball, as UTA had 17 assists on 33 made baskets and Creighton had 20 assists on their 31 field goals.
The Jays were uncharacteristically sloppy with the ball, and had 15 turnovers. UTA outscores Creighton 23-10 on points off of those turnovers, and turned eight second-half turnovers by the Bluejays into 15 points, outscoring CU 15-1 on points off turnovers after halftime. The Mavericks also outscored the Jays 28-12 on points in the paint in the second, although after making four of their first seven 3-pointers in the half, they made just one more the rest of the game (1-8).
Standout Performance:
Martin Krampelj narrowly missed his third double-double in the last four games, scoring eight points with 11 rebounds despite playing through a cold. Ronnie Harrell had nine points, seven boards and two assists. Khyri Thomas scored 16 points, with five boards, five assists and three steals.
But Marcus Foster was the story. The senior scored a season-high 32 points on 12-20 shooting, with six rebounds, four assists, and two steals in 35 minutes. He made plays on both ends of the floor, and set the tone from the opening tip with his energy and vocal leadership on defense. How good was his first half? A Bluejay player has scored 22+ points in the first half just five times in their Big East era, including last night:
Players with 22 points in a 1st half since Creighton joined the BIG EAST:
27 McDermott vs. DePaul, 3/13/14
25 McDermott vs. UMKC, 11/11/13
24 Wragge at Villanova, 1/20/14
22 McDermott vs. Providence 3/8/14; vs. Villanova, 2/16/14 and at Seton Hall 1/4/14
22 Foster vs. UTA today

— Creighton Basketball (@BluejayMBB) December 19, 2017
Here's 90 seconds of Foster's best moments, courtesy of the Big East's Twitter account:
Looking for an elite bucket-getter? @Swaggy2_'s got you covered.

Marcus Foster's 32 points lead the way to another @BluejayMBB W. #LetItFly #BIGEASThoops pic.twitter.com/lTofAyRDw7

— #BIGEASThoops (@BIGEASTMBB) December 19, 2017
They Said It:
Coach Cross Post Game UTA Falls 90-81 to #25 Creighton https://t.co/EIxZKjYGaP

— UTA Radio Sports (@UTARadioSports) December 19, 2017
You Said It:
Crowd repping tonight. #gojays pic.twitter.com/tXr8OC5Gkm

— Patrick Marshall (@wildjays) December 19, 2017
.@Jordan_S09 : Big fan of mosh pits pic.twitter.com/VTArF6Wp9R

— #25 Barstool Jays (@BarstoolJays) December 19, 2017
UTA's Link Kabadyundi is the brother of the Nebraska big man Jordy Tshminga. Also the first guy named Link to play at The Link (probably).

— Rob Anderson (@_robanderson) December 19, 2017
UT Arlington switched to a matchup zone to prevent getting beat off the dribble. It worked really well for a few minutes, but Creighton has scored 8 points against on the last three possessions with Ronnie Harrell going to the line for No. 9. 19-16, #Jays, 10:51 to go in 1H.

— Matt DeMarinis (@mjdemarinis) December 19, 2017
save us ronnie, you're our only hope

— alex sindelar (@crimebait) December 19, 2017
— Mike (@michaelkmcneil) December 19, 2017
That ball movement and then the rebound by Ronnie. Great possession.

— Dave Sund (@davesund) December 19, 2017
Ronnie, just when I feel like you're not having a good night, then you go… pic.twitter.com/YfU19Msw9g

— Bluejay Buff (@BluejayBuff) December 19, 2017
things ronnie harrell can't do:

— alex sindelar (@crimebait) December 19, 2017
i think he can do that if he tried

— alex sindelar (@crimebait) December 19, 2017
yeah I guess you're right. sorry, sometimes I give in to emotion more than rationalizing things.

— alex sindelar (@crimebait) December 19, 2017
The Mavericks are in a tough spot now as Creighton is torching the matchup zone. Problem is if they go back to man, the dribble penetration can crest the same shot on kick-out for the #Jays. 28-18, CU, 7:27 left 1H.

CU: 5-11 from three (Foster, Harrell, Thomas, and Alexander).

— Matt DeMarinis (@mjdemarinis) December 19, 2017
Marcus Foster is nearly singlehandedly outscoring UTA right now.
UTA 18 Foster 16

— Dave Sund (@davesund) December 19, 2017
Palpable buzz in the Clink tonight. Jays came to play.

— Derek Rayment (@PRspcDerek) December 19, 2017
How do referees run in those klunky shoes?

— Patrick Marshall (@wildjays) December 19, 2017
Slowly.

I'll see myself out. https://t.co/RA9xYHJNnZ

— Rob Simms (@IamRobSimms) December 19, 2017
Khyri Thomas out here picking pockets like he's got 99 sneak and just got into Riften

— alex sindelar (@crimebait) December 19, 2017
Really enjoying the defensive effort thus far by Creighton. That is the difference in the game. That and we've scored more points….

— Martin Swanson (@bigredtank72) December 19, 2017
Defense feeds the offense. Get stops, transition follows. And Jays are much, much better on transition. https://t.co/sY84fYJcRH

— Dave Sund (@davesund) December 19, 2017
Erick Neal is not enjoying The #Khyrifense Experience.

— Matt DeMarinis (@mjdemarinis) December 19, 2017
I am though

— Ravi Lulla (@ralulla) December 19, 2017
That steal was disrespectful to Neal and his whole family and I endorse it whole heartedly

— Ravi Lulla (@ralulla) December 19, 2017
Mr. Neal, you may want to check for your unmentionables on the CenturyLink Center floor, undone by some heated #Khyrifense

— truebluejays (@truebluejs) December 19, 2017
Manny effing Suarez just doing really good things!! Love him getting the time he deserves!! #GoJays

— Tony Roth (@toneroth) December 19, 2017
Manny Suarez w more assists (3) than Neal who is nation's leading assist leader. #MagicSuarez #MannyDimes

— Schmitty (@burtsmustache) December 19, 2017
The officials in the UT Arlington-Creighton game have called two garbage hanging on the rim techs. Please NCAA, do something about this. So unnecessary.

— CJ Moore (@CJMooreHoops) December 19, 2017
Both those technicals were total bs

— Jays Hot Takes (@jayshottakes) December 19, 2017
Lol. Now Khyri gets a T. For hanging on the rim. He's claiming that he was worried about the defender in the vicinity. Refs don't buy it

— Jon Nyatawa (@JonNyatawa) December 19, 2017
Marcus Foster's energy in that half was the best I've seen it all year. He's got 22 at half.

— Nick Bahe (@NickBahe) December 19, 2017
One of the better halves Creighton has played this year.

— Corey Lathrop (@cjlathrop) December 19, 2017
In case you ever need help appreciating how great Doug McDermott was at Creighton (which you shouldn't), think about how great a half it seems like Marcus Foster (a really good player) is having and remember that this would've barely exceeded expectations for Doug as a senior

— Ravi Lulla (@ralulla) December 19, 2017
"What's that? There will be more than a dozen NBA scouts here to watch an opponent? No no, they can just watch me." – Marcus Foster (probably) #GoJays #LetItFly https://t.co/OXfHdy01G5

— Rob Simms (@IamRobSimms) December 19, 2017
52 points in the first half were impressive, but i was more impressed with #Creighton's defense. #GoJays #LetItFly

— Rob Simms (@IamRobSimms) December 19, 2017
TIMBERRRRRRRR pic.twitter.com/SI3jg1jPt6

— #25 Barstool Jays (@BarstoolJays) December 19, 2017
Billy Bluejay just jumped over three kids while "We Ready" by Archie Eversole pumped through the loudspeakers. @FakeBlueCrew is pleased, I assume.

— alex sindelar (@crimebait) December 19, 2017
— FakeBlueCrew (@FakeBlueCrew) December 19, 2017
We will fight anyone who thinks WE READY wasn't the best tip off song in Creighton history

— FakeBlueCrew (@FakeBlueCrew) December 19, 2017
the officials are trying to determine whether to jettison Kevin Hervey into space to float aimlessly forever or to fire him directly into the sun. they've decided on neither and to take the foul away from Kevin.

— alex sindelar (@crimebait) December 19, 2017
Perfectly ok to elbow players to the jaw. Good to know. #GoJays

— Martin Swanson (@bigredtank72) December 19, 2017
That's not an actual use of video review allowed under the rules as far as I know.

— Dave Sund (@davesund) December 19, 2017
The defender was within the player cylinder? That's interesting.

— Martin Swanson (@bigredtank72) December 19, 2017
I don't think I've ever seen a foul call get taken away like that. Didn't even know it was allowed. Unbelievable. A ghost must have hit Ronnie in the face.

— Bluejay Buff (@BluejayBuff) December 19, 2017
And ps….how can u "erase" a foul call??? Ronnie got hit in the face. How's that get erased???

— Tony Roth (@toneroth) December 19, 2017
Mitchell Ballock throws it away and Arlington scores with ease. It's now an 8 point game with 1:22 left.

— alex sindelar (@crimebait) December 19, 2017
Oh Creighton, this stuff won't fly in league play.

— Martin Swanson (@bigredtank72) December 19, 2017
I suspect Creighton best fix the inbounds play against the press quicky. Our conference foes are taking copious notes.

— Martin Swanson (@bigredtank72) December 19, 2017
Nova is gonna feast on our brain farts. FEAST

— Creighton Otter (@creightonotter) December 19, 2017
So the woman in the row in front of me at the Jays said I was too loud! And, yes, she was one of the people who left at the 2 minute mark! If I was loud tonite, wait to 12/31!

— Bleeds Blue (@CUAlum81) December 19, 2017
Creighton with a resume win over UT Arlington. That victory will hold weight if Scott Cross' squad wins the Sun Belt. Very good basketball team.

— Jon Rothstein (@JonRothstein) December 19, 2017
I'm picturing the Morning After post already. https://t.co/XP7AyqcHQ7

— Patrick Marshall (@wildjays) December 19, 2017
Comments
Tagged in: