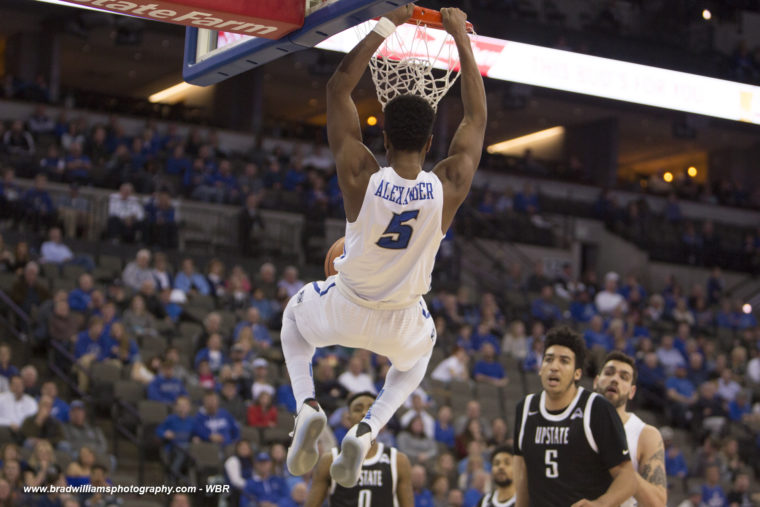 Morning After: #25 Creighton Demolishes Overmatched USC Upstate Team on Record-Setting Night, 116-62
Bluejay Beat Podcast:
Recap & Analysis:
In the Pregame Primer, we talked about USC Upstate's defensive struggles this year, and commented that this would likely be the worst defensive team the Bluejays would see all season. That certainly turned out to be the case, because while Creighton's good, NO ONE is this good.
The Bluejays made their first seven shots and nine of their first 10, burying USC Upstate early and often with a relentless attack. Leading 7-6, they ripped off a 17-2 run to build a 24-8 after just seven minutes of action. Indicative of how the night would go, everyone got involved as all five players on the court contributed buckets in the surge — Khyri Thomas on a fastbreak dunk, Marcus Foster, Mitch Ballock and Ty-Shon Alexander on three-pointers, and Toby Hegner on a jumper.
That kind of unselfish play has been a staple all year. "We're a better passing team than a year ago," Coach Greg McDermott said in his postgame radio show. "Last year we kept the ball in Maurice Watson's hands on purpose because he was so good. When he got hurt, it forced Khryi and Marcus into decision-making roles, and that's carried over into this year. We're throwing it ahead to them in transition way more than we did a year ago, and they're making better plays. When you've got guys as talented as Marcus and Tazz willing to make the extra pass, it's pretty easy for me to get everybody else to buy into that."
Upstate got a three from Mike Cunningham to stop the run for all of eight seconds, "cutting" the lead to 26-13, before another flurry of points by the Jays. A three from Foster immediately followed, as did layups from Ballock and Hegner, as CU scored 11 unanswered in a 19-2 run that gave them a 45-15 lead.
If we're being honest, the entire game was a series of huge Bluejay runs, one after another, interrupted briefly by intermittent baskets by Upstate. The bludgeoning continued all night, as the Bluejays ran USC Upstate out of the gym with quick shots in transition — their average possession length in the first half was 12 seconds — against a defense that offered little to no resistance. CU outscored Upstate 20-0 on fastbreak points in the first half alone.
They led 58-24 at the break, the second-biggest halftime lead in CenturyLink Center history. This is the kind of night it was: Upstate opened the second half with red-hot shooting of their own by making eight of their first 11 shots, but not only failed to cut into Creighton's lead, they saw it extended as CU shot even better and outscored them by three. As part of that stretch, the Jays hit three 3-pointers from virtually the same spot in the left corner over a span of 52 seconds, and built a 73-34 lead four minutes into the half. They hit the free pizza threshold of 75 points at the 14:56 mark, at which point they'd made a ridiculous 70% of their shots (28-40) with 20 assists from nine different players.
As they continued doing pretty much whatever they wanted offensively, Ty-Shon Alexander provided the highlight of the night — and the #1 dunk of the non-conference schedule — on this play. The television broadcast and the replay don't do it justice; in person, the height that Alexander leaped to both catch the pass and throw down the dunk was jaw-dropping. The audible gasps followed by the loudest roar of the night illustrate that point; it left Steve Physioc and Nick Bahe silent for a moment to appreciate what they'd seen.
TY-SHON ALEXANDER TO THE TOP FLOOR! #GoJays #LetItFly #SCtop10 #NCAAtop10 pic.twitter.com/3LAJjhhdZE

— Creighton Basketball (@BluejayMBB) December 21, 2017
While the Jays dispatched with the visiting Upstate squad rather easily, that was okay with McDermott and his staff given what was transpiring elsewhere around the country Wednesday night as Wofford beat North Carolina in Chapel Hill and Maryland Eastern Shore nearly upset Iowa State in Ames.
"That's why I don't sleep this time of year," McDermott said. "We've been lucky. We almost lost to a one-win Oral Roberts team in this last home game before Christmas a year ago. It's so hard to focus with finals and the excitement of going home to see your family when you haven't seen them since August. That's why I'm so proud of the team tonight. Their focus was really good, they were really unselfish, they played the right way."
Key Stats:
Creighton had 32 assists, setting a new single-game record and besting the 31 they'd done twice before (in a January, 1990 win at Siena, and a 1978 loss at DePaul).
Their 19 three-pointers were third-most in program history — and the Jays nearly out-scored USC Upstate on three-pointers alone, with Upstate scoring 62 total points and CU getting 57 just on three's.
Their 116 points were also the third-most in program history, the most points scored by any team in CenturyLink Center history, and the most points scored by Creighton at any site since 1964 (when they hung 124 points on Miami in a 30-point road win).
The 54-point margin of victory was second-most in arena history, trailing only last December's 56-point pasting of Longwood, which was also the game where Creighton set the previous arena record for most points with 113.
Creighton has now scored 100 or more points five times this season, including four of eight home games; that's the most since CU did it five times in 1971-72. They averaged 1.547 points per possession, scoring on 48-of-75 possessions.
Creighton's bench outscored their starters 59-57, and nearly outscored USC Upstate's entire team.
Standout Performance:
The domination was widespread in this one. 12 Creighton players had multiple field goals (and 10 players made a three-pointer). Six players scored in double figures, including Tyler Clement for the first time in his career with 10 points. Jordan Scurry had a career high seven points on 3-3 shooting.
Marcus Foster scored more points (16) than minutes played (15), and logged the fewest minutes in any game as a Bluejay. It makes sense then that his most memorable moment of the night came well after he'd headed to the bench:
Mintz for 3️⃣
Marcus 🏊‍♂️#GoJays #LetItFly pic.twitter.com/PVGGYdRATG

— Creighton Basketball (@BluejayMBB) December 21, 2017
And Kaleb Joseph had eight assists, including seven in 12 second-half minutes, his most since he had 10 against Villanova exactly three years to the date while he was starting for Syracuse.
They Said It:
You Said It:
Here's @foreverchamps giving tips to @5Tyshon. That moment at the end where he "gets it" is priceless. #GoJays #Creighton pic.twitter.com/s9Fc3MLL7z

— Creighton Basketball (@BluejayMBB) December 20, 2017
Ronnie Harrell just swished a halfcourt shot at the end of pregame warmups…

The only logical conclusion: Ronnie's on triple double watch tonight

— Jon Nyatawa (@JonNyatawa) December 21, 2017
#gojays #christmasbreak pic.twitter.com/KMKNYFO2ml

— Patrice Ott (@PatriceOtt) December 21, 2017
Cmon @MichaelMurakami and CU folks … get this little reindeer on the CLINK board! https://t.co/9v6dgqgIpf

— Creighton Otter (@creightonotter) December 21, 2017
Creighton is 9-of-10 from the field. This is bludgeoning. 24-8 with 12:30 left in the first half.

— Matt DeMarinis (@mjdemarinis) December 21, 2017
Creighton is up 24-8, in what is a touching and honorable tribute to Kobe Bryant.

— Big WREATH Coast Bias (@becb_sbn) December 21, 2017
If this score continues people will leave at the under 4 or the first half

— FakeBlueCrew (@FakeBlueCrew) December 21, 2017
Creighton blistering the nets. #gojays pic.twitter.com/DpqJLDEhWZ

— Patrick Marshall (@wildjays) December 21, 2017
I've seen Maryland Eastern Shore. USC Upstate is the worst defensive team Creighton has played. The #Jays can name their score tonight. 39-15 with 7:52 to go before halftime.

— Matt DeMarinis (@mjdemarinis) December 21, 2017
SINDELAR FOR 3!!!!

— John Fanta (@John_Fanta) December 21, 2017
Creighton has scored on 16-of-23 possessions tonight, taking just 12 seconds per trip.

CU has scored 1.696 points per possession, which is absolutely insane.

— Creighton Basketball (@BluejayMBB) December 21, 2017
Creighton really needs to put their foot on the gas to get us free pizza by halftime.

— Martin Swanson (@bigredtank72) December 21, 2017
Has Creighton ever got pizza before halftime?

I mean, they're not going to tonight either, but they probably could if they wanted to.

— Dave Sund (@davesund) December 21, 2017
USC Upstate is in the giving mood this holiday season defensively 😎 #GoJays #LetItFly #RollJays

— Jimmy Motz (@JimmyMotz) December 21, 2017
#Creighton is already covering the spread with 7 minutes to go in the 1st half!!!

— Heath Gunderson (@Heath_Gunderson) December 21, 2017
#25 Creighton Beats The Brakes Off Of USC Upstate https://t.co/FvtbFNaYEE

— Big WREATH Coast Bias (@becb_sbn) December 21, 2017
I don't think I've ever seen a gamer posted with 4 minutes left in the first half. https://t.co/FFK5lcmltu

— Dave Sund (@davesund) December 21, 2017
#25 Creighton Leads USC ***UPCHUCK***** 58-24 at the half. My eyes! My eyes!!! EVERYONE HAS POINTS pic.twitter.com/C4EuyRxSo8

— alex sindelar (@crimebait) December 21, 2017
when does usc upstate just give up and start bunting

— alex sindelar (@crimebait) December 21, 2017
HALF: Creighton 58, USC Upstate 24.
Marcus Foster has 16 points on 6-for-7 shooting in 12 minutes. #Jays are 8-of-13 from beyond the arc. pic.twitter.com/TmkeFDuHmA

— Matt DeMarinis (@mjdemarinis) December 21, 2017
Always a big fan of @foreverchamps . Welcome to @centurylinkoma tonight #creighton #gojays pic.twitter.com/TF3fDFQJEG

— Patrick Marshall (@wildjays) December 21, 2017
These people blow my mind. But since they fumbled the balls during their dribbling expo, does #Creighton get a discount?? #GoJays pic.twitter.com/fOA3tDwmTy

— Tony Roth (@toneroth) December 21, 2017
Find yourself someone who loves you as much as @SteveLavin64 loves $1 Beer Night.

— Colin Belmont (@cbelmont15) December 21, 2017
VIDEO || @SteveLavin64 & @RobStoneONFOX break down the first half highlights on @FS1 as #25 Creighton leads USC Upstate, 58-24.

Oh…and @SteveLavin64 brings up $1 Beverage Night happening before the game on December 31st. You're more than welcome, Steve! #GoJays #LetItFly pic.twitter.com/GojARinssn

— Creighton Basketball (@BluejayMBB) December 21, 2017
It's over, folks. Just hand @SteveLavin64 and @RobStoneONFOX the Emmy already. Their halftime take on the Creighton halftime show was television gold.

— truebluejays (@truebluejs) December 21, 2017
"Creighton has as much entertainment as the Roman Colosseum" 😭 @SteveLavin64 awesome! #1$beernight #unicycleridersathalftime

— Terry Bueltel (@tbuelbaseball32) December 21, 2017
How about 'Lavin-a-palooza'? $1 beer/ live music? @BluejayMBB @SteveLavin64

— Patrick Murphy (@ChunkyLvr69) December 21, 2017
USC Upstate making a comeback. They've cut it to a 32 point deficit.

— Martin Swanson (@bigredtank72) December 21, 2017
O Snap! upstate just went zone! this might really slow down the Bluejays, maybe they can make this interes- oh they left khyri wide open for three

— alex sindelar (@crimebait) December 21, 2017
New game rules for tonight: USC Upstate total points vs. Creighton's points from beyond the arc. #Jays trail 34-33 with 15:53 to play.

— Matt DeMarinis (@mjdemarinis) December 21, 2017
Everyone knows 39 points is the most dangerous lead in basketball

— FakeBlueCrew (@FakeBlueCrew) December 21, 2017
Who hit that last three? #GoJays #LetItFly pic.twitter.com/nzRHV3s99r

— Creighton Basketball (@BluejayMBB) December 21, 2017
Creighton got pizza with 14 minutes left. Might be enough time to order Godfather's to the CenturyLink and enjoy it before game's end. This is a beatdown.

— truebluejays (@truebluejs) December 21, 2017
Oh man, Ty-Shon Alexander with an early contender for #Jays' dunk of the year. Skied high for an alley-oop

— Jon Nyatawa (@JonNyatawa) December 21, 2017
So Ty-Shon can do that huh?

— Mike (@michaelkmcneil) December 21, 2017
More like Sky-Shon Alexander. Get up, kid.

— truebluejays (@truebluejs) December 21, 2017
That oop from Jospeh and Ty Shon pic.twitter.com/s6JPGT5GiC

— FakeBlueCrew (@FakeBlueCrew) December 21, 2017
Ty-Shon get up!!!!

— Patrick Marshall (@wildjays) December 21, 2017
Ty-Shon 👀👀👀

— Dave Sund (@davesund) December 21, 2017
Air-ball on a free throw. Someone just won basketball BINGO, right?

— Jon Nyatawa (@JonNyatawa) December 21, 2017
Is Jordan Scurry the most efficient scoring walk-on not named Doug McDermott Creighton has had

— #TeamDana Prez (@mkaup04) December 21, 2017
I'll tell you what…I don't think there are 24 teams in the country who are better than us!

— Joe Popovich, Jr. (@CMTJoe) December 21, 2017
Maaan, I love my team !!!!

— J.Scurry (@Jordan_S09) December 21, 2017
Comments
Tagged in: