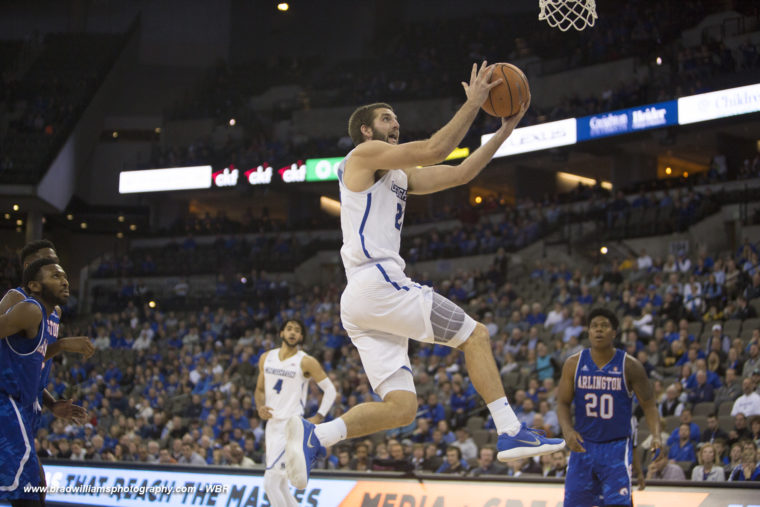 Morning After: #25 Creighton Plays Worst Game of Season at #10 Xavier, Gets Rolled 92-70
Key Stats:
Creighton commits 20 turnovers, a season high.
Creighton has just 12 assists, a season-low.
Creighton scores just 26 points in the paint, a season-low.
Creighton shoots 40.7% from the field, their second-worst shooting night of the season.
Creighton gives up 13 offensive rebounds, a season-high for an opponent.
For the first time all year, they trailed the entire second half. And the 22-point loss is their worst since an 83-58 defeat at Villanova in February of 2016.
Standout Performance:
There were a lot of clunkers in this one. Khyri Thomas had an 0-for from the floor (0-8 overall, 0-5 from three) with four turnovers and subpar defense for the first time all season. Martin Krampelj fouled out in just 22 minutes of action, had only four rebounds, and attempted just two shots, though he made them both. Toby Hegner also fouled out, and missed his only shot attempt. Davion Mintz missed all five of his shot attempts, and had just one assist in 20 minutes. Ty-Shon Alexander was marginally better, hitting one 3-pointer to go along with one assist in 14 minutes.
But there were bright spots. Tyler Clement played just seven minutes but had as many assists (2) as Mintz and Alexander combined, and outscored their combined efforts, as well, with six points. Ronnie Harrell scored 13 points on 4-5 shooting, and had six rebounds, two steals and two assists, and for long stretches of the game was the only Bluejay that didn't look to be playing in quicksand.
Mitch Ballock was the standout, though. The freshman had missed all six of his three-point attempts in Big East play coming into the game, but hit four of them on Saturday en route to 16 points. If anything good can come from a blowout loss like this, the freshman Ballock finding confidence in his shot during a stretch where his veteran teammates are struggling a bit with theirs would be a huge development.
Recap & Analysis:
Creighton had five turnovers in the first five minutes of Saturday's game, showing uncharacteristic sloppiness and poor decision making with the ball. It started a scant 21 seconds in, as Khyri Thomas lost the ball while being guarded by Xavier freshman Naji Marshall. Thomas air-balled a three-pointer on the next possession, Marcus Foster sandwiched a pair of turnovers around a three-pointer, and then there were two more turnovers — one by Toby Hegner, another from Thomas — with a second 3-pointer from Foster in between. It was 10-7 Xavier at the first timeout, and the Jays were fortunate to be that close.
They wouldn't be close for long. Three 3-pointers — one each from Ty-Shon Alexander, Mitch Ballock, and Ronnie Harrell — kept the Jays in the game over the next four minutes, and after Harrell's triple, X led by four at 24-20. But a 12-2 Xavier run opened up the Musketeers first double-digit lead of the game at 36-22, and the Jays were never within single digits again the rest of the afternoon.
The first six points of Xavier's decisive run came from a pair of newcomers who got the unexpected start on Saturday, as Coach Chris Mack looked to change things up after two straight losses. Karem Kanter, a 6'10" grad transfer from UW-Green Bay, and Naji Marshall, a 6'7" freshman, traded buckets back-and-forth, and then Kaiser Gates finished it with a three-pointer and a three-point play.
A timeout by the Jays did little to slow Xavier's scoring, as they made each of their next four shots. But the Jays were able to keep pace thanks largely to Ronnie Harrell. The junior had eight points in the final four minutes of the half, going 4-4 from the line and 2-2 from the field, along with three rebounds and a steal. Still, with their defense having no answer for Xavier's big men in the paint, the deficit was 16 points, 50-34.
Coach Greg McDermott noted in his postgame press conference that the team looked they were stuck in quicksand. And they did look a step slow, as they had trouble getting comfortable against a Xavier defense that switched nearly every ball screen the Bluejays set the entire half — though that meant a bigger Xavier player often had to defend the Bluejay guards, it also meant if the Xavier big man could stay in front of them, it would give the CU ball handler very little room to maneuver. Many of the sloppier turnovers — the unforced over-and-back, the two perimeter passes to invisible players that sailed out of bounds — were a direct result of those switches.
The start of the second half looked an awful lot like the start of the first, with a flurry of points from Marcus Foster and a flurry of turnovers from every player wearing a Creighton uniform. Foster scored the Jays' first seven points, four of them on a pair of steals that led to breakaway layups. And after a third steal and transition bucket, this time by Harrell, the Jays had trimmed the deficit a bit to 13 at 56-43 heading into the first media timeout of the half.
It was short lived. Four turnovers in their next six possessions, with two missed layups on the others, resulted in six straight empty trips down the floor. That coincided with a 9-0 Xavier run, with seven of the points scored by 6'10" center Sean O'Mara, to push the lead out to 22 points. Their lead would eventually swell to 27, at 73-46 with 10:13 to go, and the rout was on.
"This is really out of character for us," Greg McDermott said on his postgame radio show. "We don't turn it over and we don't foul, and today we did both. In the first half we had five turnovers before the first timeout, and in the second half we had six turnovers by the second timeout. In two parts of the game where you're really trying to set the tone, we were unable to do so because of our turnovers."
Creighton had some fight left in them, though, and with Tyler Clement on the floor, they managed to put together a 16-3 run that cut the Xavier lead in half. 11 of the 16 points came from Mitch Ballock, as he hit a pair of threes assisted by Clement, a third three on his own, and a fast break layup. It was Clement's own three that capped the run and made the score 76-62, and the decision to put the walk-on in the game was looking like a potentially game-changing one for Greg McDermott.
Unfortunately, both of the Jays' big men fouled out with 45 seconds of each other — first Krampelj, then Toby Hegner — and Xavier scored nine straight points, all either in the paint or from the line, to ice the game.
Every season for almost every team, there's going to be a game where they just lay an egg. Where they just don't have 'it.' This was it for the Bluejays.
Creighton's stinker a year ago was their 71-51 loss to a bad Georgetown team; less than a week later they beat a ranked Butler team on the road. That loss to the Hoyas wasn't indicative of the Jays season any more than this one blowout loss to Xavier will be this year.
"Every game in this league is tough," McDermott said. "The reality of it is, there's no one in our league where if we play like we did today we're going to win. There may have been times in the past where you could have less than max effort and grind out a win. I don't think that's happening this year. Seton Hall's coming off a 20-point loss to Marquette, and you wouldn't think that could happen to them. But it happens in this league."
Especially in the 2017-18 Big East, on nights where you aren't 100% on your game, blowouts can and will happen. Look around the league; no one has been immune, and we're only 1/3 of the way through the schedule. Seton Hall lost by 20 on the road to Marquette. Xavier lost by 24 at Villanova. Providence lost by 19 to the Jays. Marquette trailed by 17 much of the game at Villanova before rallying late to lose by 10. Georgetown got hammered by 24 at home against Creighton. St. John's has had it happen twice, losing by 17 to DePaul and by 22 to Providence. Even #1 Villanova had it happen to them; they were behind by 23 at one point to Butler before rallying to "only" lose by 8.
As WBR's Matt DeMarinis put it:
The top-ranked team in the country just outscored an undermanned St. John's team — that is still winless in league play, by the way — 39-3 from the 3-point line and they only won by 7. If you get a win in the Big East, count your blessings, apologize for nothing, and move on.

— Matt DeMarinis (@mjdemarinis) January 14, 2018
They Said It:
You Said It:
So Xavier/Creighton probably won't be starting on television, unless there are no whistles in the last 3:30 of Michigan/Michigan State

— Big East Coast Bias (@becb_sbn) January 13, 2018
Turn the TV to find Michigan-Michigan St. like… pic.twitter.com/OKATjLDFxl

— truebluejays (@truebluejs) January 13, 2018
Fox Sports Net used to ALWAYS pre-empt whatever tractor pull or 6-man state football championship it was airing in favor of Creighton's Valley games. Price of progress, I suppose.

— truebluejays (@truebluejs) January 13, 2018
UPDATE: Omaha and Cincinnati will get switched to the game for the tip. Everyone else gets the end of MSU/Michigan https://t.co/vfYNdCti8L

— Big East Coast Bias (@becb_sbn) January 13, 2018
Creighton pre-empting Michigan/MSU is a far cry from the MVC championship being pre-empted by a regular season B1G game

— Michael McGoodtweets (@michaelkmcneil) January 13, 2018
FOX goes to commercial instead of straight to Jays game. pic.twitter.com/GGqCsqwhPd

— FakeBlueCrew (@FakeBlueCrew) January 13, 2018
Maybe the worst opening 4 minute of the year by Creighton. Foster banked in that 3. But 4 turnovers. Krampelj gave up a foul on a pump fake.

— Jon Nyatawa (@JonNyatawa) January 13, 2018
When is Creighton going to start declining the FOX broadcasts?

— Tyler Anderson (@TylerA_Anderson) January 13, 2018
Jays need to take a deep breath. So many silly mistakes.

— John M. Bishop (@JohnBishop71) January 13, 2018
macura has two fouls at the ~14 minute mark. that's good! creighton can't hit free throws! that's bad! jays down 18-11

— alex sindelar (@crimebait) January 13, 2018
A couple missed free throws. A couple missed box outs. A few bad passes. Not the start CU wants. But plenty of time to snap back into form

— Jon Nyatawa (@JonNyatawa) January 13, 2018
mitchell ballock – good at most basketball things, bad at fastbreak layups

— alex sindelar (@crimebait) January 13, 2018
"If you get a chance, please check (Omaha) out. It is a beautiful, beautiful place." – Donny Marshall to a national TV audience, apparently auditioning for a side-gig with @VisitOmaha

— truebluejays (@truebluejs) January 13, 2018
Same with Marcus. Good thing 2 Fr have hit 3's

— Jeremy Hauer (@jeremyhauer) January 13, 2018
Ugliest half so far this season. Silly fouls, bad turnovers, missed layups. Lucky, very lucky to be down only 6 at this point. #Creighton

— John M. Bishop (@JohnBishop71) January 13, 2018
/Gets home from gym…

/Sees Creighton score…

/Pours coffee…

/Fires up laptop. https://t.co/7ywNT1dd5g

— Garret (@mue11er) January 13, 2018
The Jays are soooo sped up on offense. Khyri has to do better to be the calming force.

— Tony Roth (@toneroth) January 13, 2018
Mitch shouldn't go inside the 3 point line.

— FakeBlueCrew (@FakeBlueCrew) January 13, 2018
I love, love, love Ballock's aggression and confidence as a freshman, but there are moments he goes up appearing to expect a defender with the athleticism of a HS kid from NE Kansas and, instead, gets the harsh reality of the Big East.

— truebluejays (@truebluejs) January 13, 2018
Mitch is doing everything right but actually making the bucket

— Austin (@letitflycu) January 13, 2018
creighton's offense should be predicated on scoring instead of what they're doing now, which is not scoring.

— alex sindelar (@crimebait) January 13, 2018
Creighton's now just 2-of-10 INSIDE the arc. 5-of-11 from 3. CU will need more production at the rim.

— Jon Nyatawa (@JonNyatawa) January 13, 2018
Creighton not doing the little things but I think the high minutes for the shortened rotation is catching up to them. Time to get some fresh legs in.

— Patrick Marshall (@wildjays) January 13, 2018
Xavier's auxiliary players hitting shots, but that's not the concern. Creighton has yet to match Xavier's intensity and physicality. Jays haven't looked ready for the battle.

— Brody Deren (@BrodyDeren) January 13, 2018
#Creighton might give up 100 today.

— Heath Gunderson (@Heath_Gunderson) January 13, 2018
Can't blow a halftime lead if you don't have one. pic.twitter.com/WgRFkcxQv0

— Garret (@mue11er) January 13, 2018
xavier's up 36-22 and bluiett only has 3 points. this is certainly a dark timeline

— alex sindelar (@crimebait) January 13, 2018
Gonna drink a lot. pic.twitter.com/En5IUCYQDp

— FakeBlueCrew (@FakeBlueCrew) January 13, 2018
I think I'm good if FOX never televises another Creighton game again. @FS1 only, please.

— John M. Bishop (@JohnBishop71) January 13, 2018
Ronnie Harrell is playing great. The rest of the team, not so much.

— Dave Sund (@davesund) January 13, 2018
Ronnie Harrell Jr. has 9 of Creighton's last 11 points and also leads CU today with 5 rebounds and 2 assists.

— Creighton Men's Basketball (@BluejayMBB) January 13, 2018
Good to see @BluejayMBB pick8ng up the intensity. Need to run some sets and make some stops on defense. Let's go Jays! @whitebluereview

— Liam Dawson (@xcbluejay) January 13, 2018
Toby 😏 #GoJays #LetItFly #BIGEASThoops pic.twitter.com/GJ5w0jlhUi

— Creighton Men's Basketball (@BluejayMBB) January 13, 2018
TOBY! drawing the charge while the kaleb joseph experiment enters its first stage

— alex sindelar (@crimebait) January 13, 2018
That flop is such a cheap play

— Tyler Anderson (@TylerA_Anderson) January 13, 2018
Like, woo. His one contribution is playing dead.

— Garret (@mue11er) January 13, 2018
Like they do every year, Creighton just looks awful on FOX.

— Tyler Anderson (@TylerA_Anderson) January 13, 2018
Creighton pic.twitter.com/KGCArGwbeW

— Corey Lathrop (@cjlathrop) January 13, 2018
Absolutely zero strategy. Shame on those coaches

— Doug McDermott (@dougmcdermott) January 13, 2018
Haha not so much on coaches as players attacking the defense, love your pops

— Tyler McKinney (@tylersmckinney) January 13, 2018
Look at the last play of 1st half, 11 seconds left at instead of pushing the ball up and attacking, it was walked up and jacked a contested 3

— Tyler McKinney (@tylersmckinney) January 13, 2018
You get the feeling that if Creighton could cut it to a 10 point deficit they may only lose by 13.

— Martin Swanson (@bigredtank72) January 13, 2018
7 straight points by Sean O'Mara and Xavier has its largest lead, 63-43. Largest deficit of the season for CU

— Jon Nyatawa (@JonNyatawa) January 13, 2018
I did t think this could get worse. And it did.

— Tony Roth (@toneroth) January 13, 2018
Absolutely no reason to bring Khyri back into this blowout. He has clearly played too many minutes lately and is worn down. Mac even said after the Butler game that the guys are tired. Seems like a good time to get Kaleb Joseph some minutes too. #Jays

— Heath Gunderson (@Heath_Gunderson) January 13, 2018
So lose to Nova by like 40 then?

— Creighton Otter (@creightonotter) January 13, 2018
Creighton thrives offensively when it's able to push the pace. When it's FORCED to push the pace? Yeah, not so much.

— truebluejays (@truebluejs) January 13, 2018
Sometimes you're not good at basketball. Today is one of those days for Creighton.

— Corey Lathrop (@cjlathrop) January 13, 2018
Didn't think we could feel worse but than we saw that Skyline Chili ad on the scorers table and vomited

— FakeBlueCrew (@FakeBlueCrew) January 13, 2018
— Michael McGoodtweets (@michaelkmcneil) January 13, 2018
I'm starting to feel dirty watching this. Most of what Xavier is doing to Creighton should be blurred out.

— Corey Lathrop (@cjlathrop) January 13, 2018
If Creighton gets nothing else out of this game other than getting Mitch back on track, I'll take it at this point.

— Jacob Padilla (@JacobPadilla_) January 13, 2018
Mitch. Huh.

— Dave Sund (@davesund) January 13, 2018
Kind of predicted the loss today but I didn't think it would be this bad. Big East road games not looking good so far.

— Patrick Marshall (@wildjays) January 13, 2018
Think I'll just go back and watch Marcus' shot in NYC over and over for the next 30 minutes, huff some paint, and then go on with my day.

— Creighton Otter (@creightonotter) January 13, 2018
A complete list of @BIGEASTMBB teams who haven't had their teeth kicked in at least once in league play so far this season: pic.twitter.com/mFChwMHwEt

— Matt DeMarinis (@mjdemarinis) January 13, 2018
The boys are back in town 😎 pic.twitter.com/4F1G3ztqwB

— Xavier Gameday (@XavierGameday) January 13, 2018
Been a while since I've seen the orange Jays logo. Kind of threw me for a loop seeing it on the Cintas Center scoreboards!

— Tom Nemitz 🏀 (@WBR_Tom) January 13, 2018
Gonna go home. Hand the remote to the wife. Tell her to erase the show I taped on Fox from 1 to 3:30. If I didn't DVR it, maybe this Creighton disaster never happened

— Martin Swanson (@bigredtank72) January 13, 2018
Onto Seton Hall #RDJ pic.twitter.com/ImCsveNFG8

— Barstool Jays (@BarstoolJays) January 13, 2018
Comments
Tagged in: