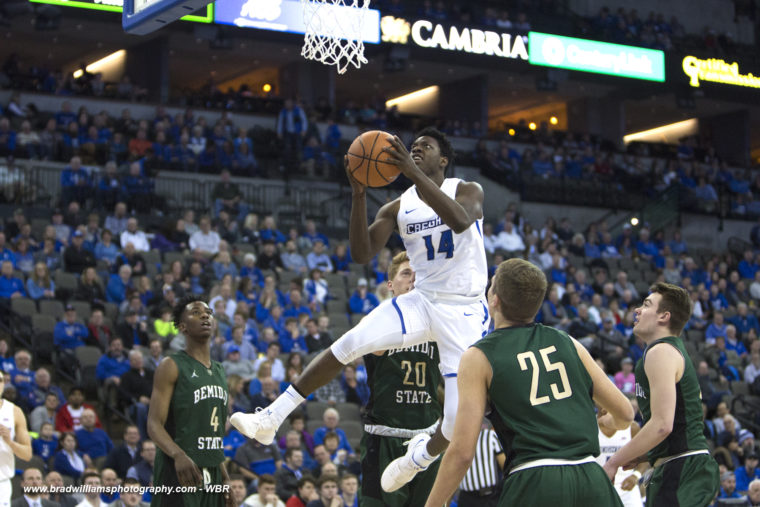 Morning After: After Slow Start, Creighton Ends Game on 72-16 Run to Steamroll Bemidji State
Bluejay Beat Podcast:
Recap & Analysis:
DII Bemidji State had nothing to lose on Tuesday night, and played like it. From the opening bell they were loose, and they took advantage of a Bluejay team clearly nursing the effects of a hangover from Saturday's last-second loss to Xavier. The Beavers made eight of their first 12 shots, connecting on long three-pointers that were half-contested, driving past Bluejay defenders who were caught a step-slow, and executing textbook-perfect pick-and-rolls and backdoor cuts to create wide-open layups. And when they opened up a 21-11 lead at the 12:46 mark, forcing a clearly annoyed Greg McDermott into a timeout, the CenturyLink Center crowd was restless.
"It's been a tough week for our guys," McDermott admitted on his postgame radio show. "But I was really happy with the way we practiced yesterday. I thought they came out and really fought and competed in practice. Unfortunately we didn't carry that over to the start of the game. We missed shots, hung our heads, and used defense as a way to waste a few seconds until we got the ball back."
And when they took the floor following that timeout, McDermott decided to switch out nearly the entire lineup — he brought in Jacob Epperson, Mitch Ballock, Ty-Shon Alexander, and Tyler Clement, leaving only Khyri Thomas from the starting unit. The three freshmen (and Clement)'s energy off the bench sparked a lethargic team to life, and once they did, the Beavers were no match.
Ballock assisted on an Epperson three-pointer out of the timeout, and then Alexander drew a charge. Ballock nailed a 15-foot jumper of his own the next possession. And Epperson made a layup at the rim, off a pass from Clement. Bemidji State was clinging to a two-point lead, 30-28, when Clement came up with a steal, and threw a long pass ahead of the defense to Kaleb Joseph for a dunk.
Tyler Clement steal ➡️ Kaleb Joseph dunk #GoJays #LetItFly #BIGEASThoops #Timeout2vote #CoachGregMcDermott pic.twitter.com/paTeifo675

— Creighton Men's Basketball (@BluejayMBB) February 14, 2018
Joseph's dunk tied the game; he'd make a free throw a minute later to give the Jays the lead. Bemidji State scored just 16 points the rest of the game, as Creighton ended the night on a 72-16 run spanning the final 28 minutes. That's something you don't see very often, but once the Jays snapped out of their hangover, this one was every bit the mismatch it was expected to be.
Late in the first, the Bluejay freshmen again made some noise, with Epperson blocking a shot and Alexander scoring on a acrobatic drive:
✋ Jacob Epperson ➡️ 💪 Ty-Shon Alexander#GoJays #LetItFly #BIGEASThoops #Timeout2vote #CoachGregMcDermott pic.twitter.com/cipALcgm51

— Creighton Men's Basketball (@BluejayMBB) February 14, 2018
They took a 45-34 lead into halftime, and then exploded out of the locker room to score nine of the first 10 points in the second half, capped by a three-pointer by Ronnie Harrell to push the lead out to 54-35. A no-look pass by Harrell to Thomas for a layup gave the Jays their first lead of 20 or more on the night, and then things got of hand quickly. An 18-0 burst, featuring three-pointers by Epperson, Clement, and Marcus Foster, gave the Jays a 72-37 lead with ten minutes remaining. From there the bench took over, and guided them to a 48-point win.
One of the things we talked about in the Primer on the "wish list" for Tuesday night was finding a way to get Mitch Ballock back on track from behind the arc. The sharpshooting freshman has been mired in a slump, and he missed his first seven 3-point attempts Tuesday night. He's continued to contribute in other ways that have made him a valuable rotation player, from defense to making plays for others, but his three-point shooting ability is among the best on the team. Getting him out of his freshman slump could make him a deadly weapon over the season's final month.
Heading into the under-four timeout, Ballock missed on a pair of three-pointers, and McDermott noticed something.
"Mitch was talking to himself a little bit after he missed those two shots. So I asked him at that timeout, 'Do you suppose Kyle Korver talks to himself when he misses a shot?' Mitch said, 'Probably not.' I said, 'Well, why is that?' And he didn't really know, so I told him, it's probably because he prepares, and he expects to make it, and he's disappointed he didn't make it but he's ready to shoot the next one. You spend a lot of time shooting the basketball, and I see how well you shoot it in practice. Everybody in this program wants you to shoot every open shot you have. Don't start second guessing yourself."
McDermott decided to draw up a play to get him an open look immediately following the timeout. It worked, Ballock hit the shot, and the entire Bluejay bench erupted. On the next defensive possession Ballock came up with a steal, then raced downcourt for a dunk. The bench erupted again, with Foster leading the way with a flex of his muscles.
Sometimes you just need a little lift from your coach and your teammates… #GoJays #LetItFly #BIGEASThoops #Timeout2vote #CoachGregMcDermott pic.twitter.com/1CBarX8JSf

— Creighton Men's Basketball (@BluejayMBB) February 14, 2018
Key Stats:
CU had 23 assists on 38 made baskets, and turned it over just six times. They blocked nine shots — two each by Toby Hegner, Jacob Epperson and Manny Suarez — and had 11 steals, including three by Kaleb Joseph. Their bench outscored Bemidji State 51-6, and they outscored Bemidji 48-18 on points in the paint, 39-18 on three-pointers, and 24-6 on points off turnovers.
Despite the slow start, no player saw more than 21 minutes of action, and everyone who can be considered a main rotation player got on the floor for at least 15 minutes. That's the biggest stat in this one, because everything else is skewed by beating up on an overmatched DII opponent.
How's this for a stat, though?
Bemidji started the game 9-of-13 from the field. It went 8-of-50 after that, including 4-of-33 in the second half. #Creighton wins 94-46 (after trailing 30-22). #GoJays

— Rob Simms (@IamRobSimms) February 14, 2018
Standout Performance:
Jacob Epperson led all scorers with 15 points, making 6-8 from the floor and a perfect 3-3 from behind the arc, with six rebounds and two blocks in 18 minutes. Those are all career highs, and though they came against a DII opponent who's a world away from the Big East teams he'll see the rest of the way, it was still an important outing for the freshman. And despite his work in the paint, the three point shots were what everyone was buzzing about afterward.
"Jacob shoots them better than Justin Patton did at this same stage in his career," Greg McDermott said on his postgame show. "Justin got much better the summer between his redshirt year and the year he played. We've really worked with Jacob to get his release point higher. And he's also getting in a little better shape, which is helping. We run our big guys through all the same drills our guards go through; they do the ball-handling drills, the shooting drills. It's a good weapon to have if a defender sags off of him. If it's the right time in the game, we're certainly OK with him taking those shots."
Kaleb Joseph got on the floor for 16 minutes, and scored seven points with three assists and three steals. It's been a frustrating season for the Syracuse transfer, but he's shown glimmers of what he brings to the lineup in the brief moments he's played, and his extended run on Tuesday could catapult him into a bigger role in the season's final month.
"Kaleb's been incredible. What an example of a guy putting the team ahead of himself," Greg McDermott said on his postgame show. "He could be cancerous to this team, because his expectation — and probably my expectation, too — for him coming into this program hasn't happened this year. And that's through no fault of his own. He's struggled through a lot of injuries, and while he was hurt other guys were playing and doing a good job. That made it really hard to make any change to our rotation when he came back."
Joseph said it's been difficult, "but I've been focused on putting 'we' before 'me.' I continue to look for ways to help the team wherever possible, and to be there for my teammates. That makes it a little easier to deal with."
"I get through it by trusting my faith, and understanding that not everything always goes the way you want it to go, but God has a plan," Joseph said in a postgame interview on the Bluejay Radio network. "And this isn't just about me. I've never been that kind of guy. I try to be the kind of guy who's always a good teammate, always putting others before myself."
After struggling with a nagging hamstring injury the first half of the season, Joseph is totally healthy now.
"I understand Mac's position — it's tough to throw somebody new into the lineup when they haven't had a lot of serious game experience on this team. You don't know how I fit in with these guys yet. So I make sure I'm ready every night, and when my time does come, I'll be ready. I think that sets a good example for the younger guys, because this is not always easy. Look at someone like Jacob. He wasn't playing at all; he was going to redshirt. And now he's playing. If you stay mentally engaged, it makes it so much easier when your number is called."
McDermott heaped praise on the point guard, noting Joseph has been consistently engaged in practice, works hard, and has embraced his role as an integral member of the scout team. He said they've been toying with the idea of playing Joseph on the wing to find more minutes for him, and indeed, he played on the wing alongside Tyler Clement on Tuesday.
"Kaleb going out there tonight and being aggressive, making a few plays defensively, that's what we wanted to see," according to McDermott. "This was really, really important for him tonight."
They Said It:
You Said It:
#Creighton @BluejayMBB back at it v Bemidji State tonight (7 pm tip) for the @AbideOmaha "We Are Better Together" Blue Out. At halftime, academic achievements of #Creighton student-athletes from the last two semesters will be recognized. #Timeout2Vote #CoachGregMcDermott #GoJays pic.twitter.com/V0rB845Bzv

— Kevin Sarver (@KASarver) February 13, 2018
Bemedji state doesn't bring em in like they used to

— FakeBlueCrew (@FakeBlueCrew) February 14, 2018
#Jays-Bemidji State. Starting now. Who's excited?

— Jon Nyatawa (@JonNyatawa) February 14, 2018
Well, this is a less than wonderful start by Creighton

— Martin Swanson (@bigredtank72) February 14, 2018
Ummmmmm

— FakeBlueCrew (@FakeBlueCrew) February 14, 2018
BEMIDJI LEADS 12-5

— alex sindelar (@crimebait) February 14, 2018
This does not count on the RPI. BUT IT DOES COUNT FOR PIZZA SO FIGURE IT OUT

— FakeBlueCrew (@FakeBlueCrew) February 14, 2018
I didn't realize that Villanova switched uniform colors from blue to green.

— Martin Swanson (@bigredtank72) February 14, 2018
I bet you can guess which team is fired up to play tonight… And which team has not exactly matched that energy….

— Jon Nyatawa (@JonNyatawa) February 14, 2018
Bemidji doesn't think this a damn show, they think it's a damn fight. 12-5, Beavers, with 15:37 left in the first half.

— Matt DeMarinis (@mjdemarinis) February 14, 2018
Hoping the huddle is…"get ur heads out of your $%$^%^$%!"

— Bleeds Blue (@CUAlum81) February 14, 2018
a poor man from bemidji just got dunked on by marcus foster. rip bemidji man

— alex sindelar (@crimebait) February 14, 2018
Kaleb Joseph came to play. Thankfully.

— Martin Swanson (@bigredtank72) February 14, 2018
I like Joseph's energy tonight.

— Patrick Marshall (@wildjays) February 14, 2018
— Heath Gunderson (@Heath_Gunderson) February 14, 2018
Why has our PG been benched all year? #PlayJoseph

— FakeBlueCrew (@FakeBlueCrew) February 14, 2018
Evan Burroughs

— Creighton Otter (@creightonotter) February 14, 2018
Bemidji State will bring out Paul and Blue to start the 2nd half. Oh, that's Jayce in front of Paul. #GoJays #RollJays #LetItFly #BemidjiMN pic.twitter.com/EGrA79Fu6w

— Jimmy Motz (@JimmyMotz) February 14, 2018
Why is Creighton playing a school nobody has heard of in mid-February? https://t.co/PX0OEN9fO1

— Rush the Court (@rushthecourt) February 14, 2018
Does Creighton get a curling match against Bemidji State in return?

— Rush the Court (@rushthecourt) February 14, 2018
I hear a hockey game is in the mix https://t.co/XO5Chcl2U1

— Patrick Marshall (@wildjays) February 14, 2018
#Creighton currently on a 45-7 run. That's decent.

— Rob Simms (@IamRobSimms) February 14, 2018
Creighton 22-3 run in first 8:30 of 2nd half. Bemidji 1-14 in 2nd half so far.

— Patrick Marshall (@wildjays) February 14, 2018
Heh. To think I was worried earlier.

— Dave Sund (@davesund) February 14, 2018
bemidji state has scored *5* points in the second half. they'd fit in well in the big ten.

— alex sindelar (@crimebait) February 14, 2018
I'd love to see Creighton set up Mitch to try to get his confidence back.

— Martin Swanson (@bigredtank72) February 14, 2018
John Bishop informs us that Creighton's win over Nebraska is now a Group 2 win, which seems like just about the nicest thing that one might ever say about Nebrasketball.

— truebluejays (@truebluejs) February 14, 2018
8th time's a charm for Mitch Ballock from three. Crowd and bench goes crazy; Mac cracks a smile, and Mitch busts out the Jordan shrug as he crosses half court.

— Matt DeMarinis (@mjdemarinis) February 14, 2018
The Jays had a bit of a hangover after Xavier on Saturday. Know what? So did I. Thankfully, the Jays shook it off gracefully for a 40-point win. Similarly, I shook it off with a nap and Advil after dry heaves in the bathroom at Sunday brunch. So, same same.

— truebluejays (@truebluejs) February 14, 2018
Mitch is left-handed but dunks with his right hand.

Ty-Shon is right-handed but dunks with his left hand.

I can't explain it either.

— Rob Anderson (@_robanderson) February 14, 2018
FINAL | Creighton 94, Bemidji State 46. Jacob Epperson goes for a game-high 15 points and 6 rebounds — including a perfect 3-for-3 from the 3-point line — in 18 minutes off the bench.#Jays won the second half 51-12.

— Matt DeMarinis (@mjdemarinis) February 14, 2018
Comments
Tagged in: