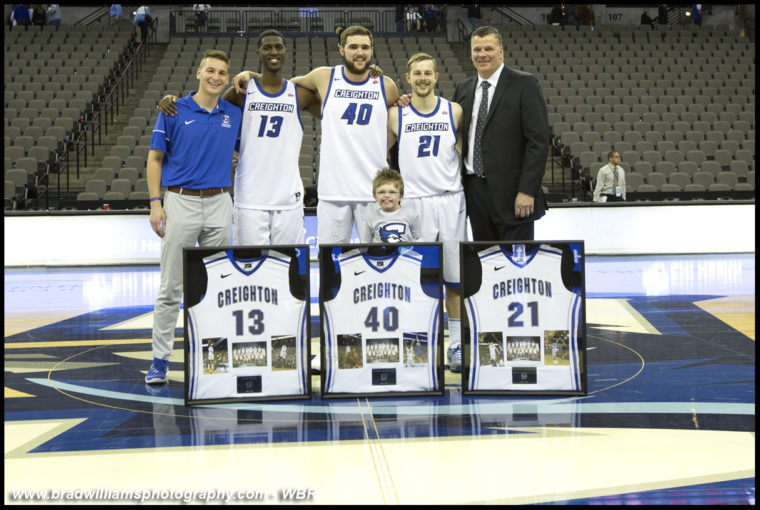 Morning After: Big Games From Expected and Unexpected Sources Key 82-68 Senior Night Win
Key Stats:
Creighton outrebounds St. John's by 11, their largest margin during Big East play (and just the fifth time in 17 games they've outrebounded a conference opponent by any margin). Their 12 offensive boards were their most in a Big East game this year; they had 12 against Buffalo and 13 against Longwood in the non-conference.
The Jays got one of their best free-throw shooting performances of the year, too; their 18 made free throws were their second most in Big East play this year, their 81% shooting percentage from the line was the third-best for the entire season, and it was one of just five games where they've shot 80% or better from the line.
They committed 17 turnovers, tying a season-high, with Marcus Foster coughing it up seven times. But many of those were a result of pushing tempo at a rate they haven't in some time — it was an 83-possession game, tied for their highest number of possessions all year with the Washington State game (a 103-77 win) and the Truman State game (a 101-69 win). It was just their second time in 17 Big East games, including the six Maurice Watson played in, that they played a game that exceeded 80 possessions.
Given the pace of the game, holding St. John's to 68 points should generate more positive talk about Creighton's defense than it is. That's 0.81 points per possession, their second-best rate during Big East play. Their defensive efficiency now ranks second in the Big East at 102.3 during conference games, a full three points better than the D-I average. And after last night's game, they're now a Top 50 team in both Offensive Efficiency and Defensive Efficiency.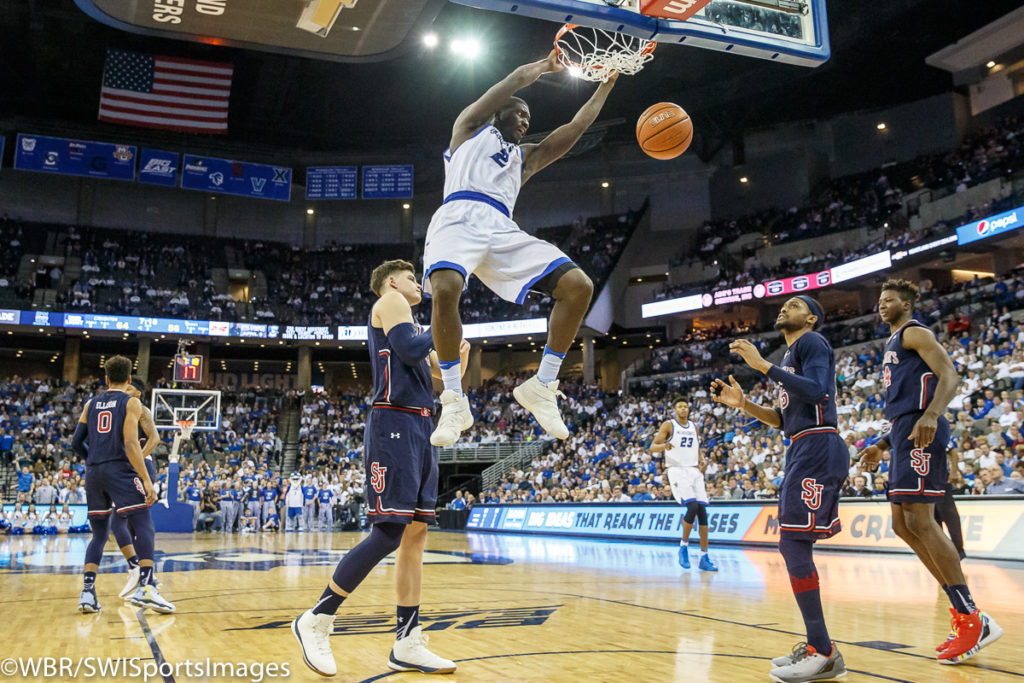 Standout Performance:
At this point, Khyri Thomas shouldn't still be an underrated player, but outside of Omaha he is. If he has games in March like he did Tuesday against St. John's, he won't be a secret any more. Thomas nearly had a triple-double, scoring 14 points, grabbing 12 rebounds, and dishing out seven assists while playing 35 minutes.
Over the last nine games — starting after the ghastly road game at Georgetown that was the low point of the season for the team — Thomas is 17-37 (45%) from three-point range, nearly equaling the 20 made threes he had in the first 21 games (when he shot just 20-59, or 33%). He's 30-58 (51%) on two-pointers over that stretch. He has 41 assists after having 57 in those first 21 games. He's had 57 of his 175 rebounds for the season in those nine games. And he's continued to play defense at a rate that should make him the Big East Defensive Player of the Year.

Recap & Analysis:
On Senior Night, the Bluejays played a starting five combination they've never used before — seniors Cole Huff, Isaiah Zierden, and Zach Hanson to go along with Marcus Foster and Khyri Thomas. That starting five blasted out to an 11-0 lead before the first timeout, mixing high-energy defense with a determined effort to score inside.
The Jays scored on each of their first three possessions, all on baskets at or near the rim with one each from Hanson, Thomas, and Foster. The onslaught continued once Justin Patton subbed in for Hanson, with the freshman scoring on two straight dunks as the Jays took a 13-2 lead six minutes in.
#TwoBoysFromOmaha #GoJays #TakeFlight #BIGEASThoops pic.twitter.com/YCal4CvYBe

— Creighton Basketball (@BluejayMBB) March 1, 2017
Defensively, they held St. John's to 1-7 shooting and two points while forcing three turnovers on their first 10 possessions. Then the game flipped, and over Creighton's next 10 possessions, they scored three points with five turnovers. That gave the Red Storm an opening, and they took it, cutting the lead to 16-13. And then the damnedest thing happened: CU put a lineup on the floor consisting of Foster, Thomas, Patton, Huff, and Ronnie Harrell, with Foster running the point. It was an experiment, as those five haven't run together all year, and Harrell has struggled to get playing time no matter the lineup. As experiments go, it was kind of a mess, but in a good way — Harrell's energy and athleticism were a jolt in the arm to a team in desperate need of it, and the other four players fed off it.
Harrell had three points, two rebounds, two assists and a steal in a six-minute stretch, and was seemingly in the middle of the action for those entire six minutes. He dove head first for a loose ball. He blasted through a pair of St. John's players for a hard-fought rebound. He drove the length of the court as three St. John's defenders tried — and failed — to stop his dribble; Malik Ellison ultimately fouled him five feet from the rim to slow him down.
The experimenting continued when Patton picked up his second foul 90 feet away from the basket moments later. Hanson initially subbed in for him, but then Martin Krampelj — like Harrell, a high-energy player who's struggled to see the court — entered and completed a pair of tip-dunks as stunned St. John's players failed to block him out, though in their defense, they'd probably not prepared for the Slovenian freshman nor seen much film on him. He'd attempted a shot in just four Big East games coming in, after all.
SLOVENIAN SLAM! 🇸🇮🇸🇮🇸🇮 #GoJays #TakeFlight #BIGEASThoops pic.twitter.com/ikil3Os3ml

— Creighton Basketball (@BluejayMBB) March 1, 2017
Back-to-back threes from Zierden and Toby Hegner, followed by a third dunk from Krampelj, were part of a 14-5 Creighton run to close the half. The Jays then took a 43-30 lead to the locker room on a buzzer-beating tip-in from Hegner.
Early in the second half, Krampelj got a third tip-dunk (and fourth dunk of the game) — which is astounding because this was the 30th game of the year and he had five dunks all year before this game.
ŽIVJO MARTIN KRAMPELJ!! #GoJays #TakeFlight #BIGEASThoops pic.twitter.com/bR2aYMhDFc

— Creighton Basketball (@BluejayMBB) March 1, 2017
Though the Red Storm cut the deficit to five on a couple of occasions, they were never able to get any closer as the Jays had an answer — both defensively and offensively — for every run. Their last gasp came with eight straight points from Ellison, cutting Creighton's lead to 58-53 at the 9:36 mark. The Jays responded with two straight drives to the rim for baskets and two straight defensive stops, and then the Patton/Thomas duo put the game on ice with this play:
#TwoBoysFromOmaha #GoJays #TakeFlight #BIGEASThoops pic.twitter.com/z6r1NkRylf

— Creighton Basketball (@BluejayMBB) March 1, 2017
They eventually build a big enough lead to take their seniors out one at a time and get well-deserved curtain calls:
A look as Creighton's seniors check out for the final time at the CenturyLink Center Omaha… #GoJays #SeniorNight #TakeFlight #BIGEASThoops pic.twitter.com/vyrYUCeMrS

— Creighton Basketball (@BluejayMBB) March 1, 2017
They Said It:
You Said It:
Creighton's Zach Hanson meets with tonight's TV crew in advance of Senior Day. pic.twitter.com/mw9Mbe4gDY

— Rob Anderson (@_robanderson) February 28, 2017
Remember when Altman wouldn't start Brett Agner on his senior night but here's Mac starting Z over Mintz.

— FakeBlueCrew (@FakeBlueCrew) March 1, 2017
Mac saving Ronnie for the end of the year is GENIUS

— FakeBlueCrew (@FakeBlueCrew) March 1, 2017
Here's the lineup I alluded to on the podcast — Foster at PG with Khyri, Ronnie, Cole, and Patton. #Jays want to get Harrell on the floor.

— Matt DeMarinis (@mjdemarinis) March 1, 2017
That's, um…. ATHLETIC https://t.co/3gHGSCFZWm

— Creighton Otter (@creightonotter) March 1, 2017
@mjdemarinis Ronnie is arguably our best rebounder & better defender than most. 2 areas we struggle. Yet he's been on Mac's short leash list

— John (@john7_24) March 1, 2017
I see you @Sniper4_ ! #Creighton

— John Bishop (@JohnBishop71) March 1, 2017
ROOOOONNNIIIIIIIEEEEEEEE

— Bluejay Buff (@BluejayBuff) March 1, 2017
Ronnie Harrell somehow finds an open Khyri Thomas for a 3. Then goes coast-to-coast for an and-1. #Jays needed that. 23-16

— Jon Nyatawa (@JonNyatawa) March 1, 2017
Two great plays by Ronnie Harrell on offense and one on D diving for a loose ball + grabbing a board. That's what the coaches wanted to see.

— Matt DeMarinis (@mjdemarinis) March 1, 2017
Ronnie Harrell looking like Tyus Edney.

— Mike'l Severe (@MikelSevere) March 1, 2017
That there folks is what Ronnie Harrell can do when given the opportunity. Love it. #gojays

— Patrick Marshall (@wildjays) March 1, 2017
This game has been interesting.

— Austin (@letitflycu) March 1, 2017
If that's not the hottest take you've ever seen.

— Austin (@letitflycu) March 1, 2017
Might as well unleash Ronnie Harrell the last games.

— Mike Vamosi (@MikeVmos) March 1, 2017
Really hope to keep seeing more of Ronnie Harrell going forward! #GoJays #Takeflight

— Terry Bueltel (@tbuelbaseball32) March 1, 2017
The Ronnie Harrell show

— Jays Hot Takes (@jayshottakes) March 1, 2017
"I've got a fever and the only answer is more…" Ronnie Harrell!!!! @Sniper4_ @BluejayMBB pic.twitter.com/MYvHsJXrEJ

— Sam Troia (@sammyt14) March 1, 2017
When the 7th-seeded Creighton Bluejays make a surprise run to the Final Four, America's gonna fall head over heels for Ronnie Harrell.

— truebluejays (@truebluejs) March 1, 2017
The CBS Sports halftime show was "if Creighton gets in…" and making a quasi argument that Wichita St. should get in instead.

— Martin Swanson (@bigredtank72) March 1, 2017
that's three tip slams for the slovenian assassin. he's killing it tonight.

— alex sindelar (@crimebait) March 1, 2017
WOW MARTIN, where have you been all season?

— Austin (@letitflycu) March 1, 2017
Creighton vs St John's.Dunk by Creighton,watch the SJ guy take the ball out of bounds. How does the official miss that? Cmon man pic.twitter.com/Ws1EyZqA6f

— Chad Helle (@ICCCHoops) March 1, 2017
Dude, Martin. Seriously. #rolljays

— Austin (@letitflycu) March 1, 2017
I think all of Martin Krampelj's tip dunks tonight needs to be compiled in its own contender for #SCtop10 #creighton #gojays

— Patrick Marshall (@wildjays) March 1, 2017
Mac's been hiding Martin from the scouts all year.

— Tyler Anderson (@TylerA_Anderson) March 1, 2017
Pizza on senior day is a must. Coupons good till November

— FakeBlueCrew (@FakeBlueCrew) March 1, 2017
It wasn't pretty, but this is just what this team & fan base needed. Something to feel good about.

— Corey Lathrop (@cjlathrop) March 1, 2017
Thank you Seniors!! #GoJays pic.twitter.com/48OI5USZwk

— Cale Ferrin (@cale_ferrin) March 1, 2017
Shoutout to @IsaiahZierden21 @ZachHanson40 and @colehoops for 3 great careers! You guys made the program better! #Salute

— Nick Bahe (@NickBahe) February 28, 2017
The fans gave Isaiah Zierden a standing ovation as he was announced for Senior Night celebration. Z went through a lot to get to this night.

— Matt DeMarinis (@mjdemarinis) March 1, 2017
As Creighton AD Bruce Rasmussen congratulated Zierden, he thanked him for his "five…six…seven…or however many years it was." #FifthYr

— Anthony Robinson (@ARobinson_) March 1, 2017
.@colehoops your toughness won't be forgotten. People don't know how much you go through to play all season. #ThanksSeniors #GoJays

— John Bishop (@JohnBishop71) March 1, 2017
Props @Creighton & @BluejayMBB – @colehoops is a very well spoken young man & this community is proud. #gojays @cucoachmac pic.twitter.com/2Tql7vYUhW

— Grant Mussman (@gmussman) March 1, 2017
Dude, seriously, @colehoops was my favorite senior this year. He's been a great "lead by example" kindof guy. He's hard hard shows.

— Austin (@letitflycu) March 1, 2017
Cole Huff ends his senior day speech by telling his teammates & the crowd: "It's not over yet."

— Jon Nyatawa (@JonNyatawa) March 1, 2017
.@ZachHanson40 Your 1st year was my 1st year with the Jays. It's been awesome to see you grow as player & a man. So proud. #ThanksSeniors

— John Bishop (@JohnBishop71) March 1, 2017
Thank you @ZachHanson40 – you're an inspiring warrior to fight thru & make a hell of an impact. @cucoachmac @BluejayMBB @creighton #gojays pic.twitter.com/fi6LdAUoYR

— Grant Mussman (@gmussman) March 1, 2017
.@IsaiahZierden21 Not more needs to be said about your career. (Taps chest, points to God) #ThanksSeniors #Creighton #GodBeWithYou

— John Bishop (@JohnBishop71) March 1, 2017
Last shout out of huge thanks to Isaiah Z – "Mr 3" – Forever a Bluejay. THANK YOU!!!! #gojays #takenyc @gocreighton @Creighton #letitFLY pic.twitter.com/ShQ0o5Xwkt

— Grant Mussman (@gmussman) March 1, 2017
Isaiah Zierden turns to Huff & Hanson: "Us 3. It's been a heck of a ride. Probably more surgeries than anybody knows."

— Jon Nyatawa (@JonNyatawa) March 1, 2017
The whole team went to show love to Mo's parents. #GoJays pic.twitter.com/3vHok3VWuN

— Tony Roth ™ (@toneroth) March 1, 2017
If we could give speeches, we'd shoutout every player ever. They make what we do fun, and worth it. Can't thank them enough. https://t.co/ZijvhOUSCl

— Creighton Manajays (@manajays) March 1, 2017
Thanks for all that you have done for Creighton @colehoops @IsaiahZierden21 @ZachHanson40 ! Class acts, go get that big east title #GoJays

— Kevin Hansen (@KevinHansen12) March 1, 2017
Comments
Tagged in: