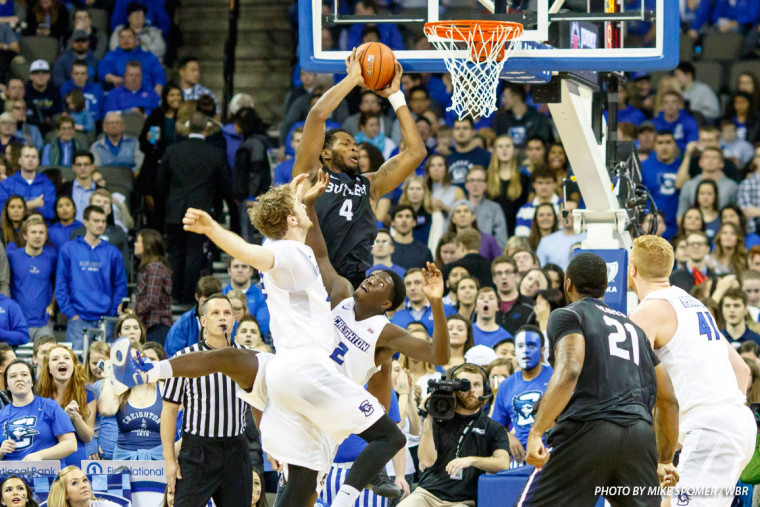 Morning After: Butler 88, Creighton 75
Key Stats:
Creighton's defense allows Butler to shoot 13-27 from three-point range, including a blistering 7-11 in a second half where they score 52 points. Butler assists on 20 of their 28 made baskets.
Standout Performance:
We'll give the shout-out to James Milliken in this one, as the senior continued his late-season surge with 15 points, four rebounds and three assists. The 15 points are the second-most he's scored this season and the fifth time in the last six games he's scored 9+ after an up-and-down season to that point. They came a bit unconventionally — he was 3-12 from the field and 2-8 from three-point range, but went 7-9 from the free throw line. He's only attempted (or made) that many free throws one other time in his Creighton career, in the game at DePaul last February when he was 9-10 from the line.
Recap & Analysis:
On a night when Creighton really, really needed a win, they played well enough offensively to come out with a win. They scored 46 second-half points, the most they've had in the second half of a Big East game this year since the opening game at St. John's where they had 47. They made nine three-pointers, tied for the second most they've made in a Big East game this year, and shot 36% from outside, the fourth-best shooting percentage they've had in a conference game in 2016.
Much has been said about their success in spite of poor three-point shooting, but on Tuesday night, they had one of their better nights and still got beat handily. Even their overall field goal percentage of 41.8%, while not great, was among their better nights — in 14 conference games, only six featured a better field goal percentage than what they shot against Butler. What's more, they were 20-26 from the line, which is tied for the second-most free throws they've made in a conference game this year.
All of that is a long way of saying the offense wasn't the problem on Tuesday. Far from it.
They've made great strides defensively over the last six weeks, but against Butler, they had one of their worst defensive performances of the year. The Bulldogs' 52 second-half points are the most any opponent has hung on them in any half — first or second — this year; the only game even close to this one was at Indiana, when the Hoosiers scored 51 first-half points. That's right, the second half last night was even WORSE than that terrible first half in Bloomington, which was about as bad as you could possibly play. Fun fact: the last time Creighton gave up more than 52 points to an opponent in a single half? Against Iowa State in November 2010, when they surrendered 54 second-half points to the Cyclones in Coach Greg McDermott's fourth-ever game as coach at CU.
Yuck.
The Bulldogs' 13 made three-pointers are the second most the Jays have given up in a game all year — not just conference games, all season long. The 27 attempts are the third most of any opponent, and the 48.1% they shot from long range is the second highest percentage the Jays have allowed all season. And lest you think it was just one of those nights where the Bulldogs were feeling it, the reason they attempted so many is because time after time, Creighton left shooters wide open on the perimeter, almost daring them to shoot. There's a reason why Butler's only attempted that many threes in a game one other time this season — no one else has left them as wide-open, as consistently, as the Bluejays did on Tuesday night.
CU spent the majority of the first half playing catch-up, with Kelan Martin leading the Butler charge by scoring 15 points with four 3-pointers, the last of which came at the end of the half after the Jays had clawed back to within four on a layup by Mo Watson. A blown defensive assignment left Martin wide-open, and he drained a three that made the halftime deficit 36-29 instead of 33-29 — a big difference both in momentum and in numbers.
That three loomed large when Creighton opened the second half on a quick 5-2 run; instead of making it a one-point game and putting Butler on their heels a bit, it was still a two-possession game. Three-pointers on three straight possessions — the first by Martin, the last two by Austin Etherington — pushed the Butler lead out to 10. The Jays came right back with James Milliken scoring seven straight points on a three-pointer, a drive to the rim and two free throws, and with 14:16 to go it was a three-point game.
They couldn't get another stop, as Etherington and Kellen Dunham drilled three-pointers on consecutive possessions, and the Jays were never as close again.
The poor defensive showing wasted good offensive games from Mo Watson (22 points, six assists), James Milliken (15 points), and Cole Huff (11 points, 8 rebounds). It drops them to 17-10 on the year and 8-6 in the league, and makes their already slim NCAA Tournament hopes that much tougher. On the plus side, they now get their longest break of the year, eight days, to rest and prepare for the final four games, as they attempt to finish strong in a season that has already exceeded most expectations, NCAA berth or not.
They Said It:
"Early, I thought we tried to attack on the first side way too much. When we did get it inside, we came empty a lot, which hasn't been the case most of the season. Those guys have been pretty effective and efficient when we've got it in there. Butler only had 11 points 14 possessions into the game. Unfortunately, I think we only had 10. There was an opportunity there in the first half to maybe create a little separation. Then in the second half, we scored 17 points in our first 10 possessions, but they scored 15. So we were only able to cut into that lead two points even though we were incredibly efficient." -Coach Greg McDermott on 1620AM Postgame
"We had a blown assignment at the end of the first half that led to a three by Dunham. 33-29 sounds a heckuva lot better than 36-29. But really, Etherington was something we weren't counting on. When Wideman goes to the rim off that high-ball screen, you've got Martin and Dunham — two of the better players in our league — on the wings you have to kind of pick your poison on who you're going to help with. We did that with Chrabascz' man early when they went to Etherington. To his credit, he knocked them down. He'd hit five 3-point shots in league play coming into tonight and made four tonight. So Butler played really good, they played desperate, and we weren't able to match it unfortunately." -Coach Greg McDermott on 1620AM Postgame
"Butler is the hardest team in the league for us to match up with when we go with small guards. The way that group has been playing together the last three or four games we just decided to ride 'em. Tazz got a couple of quick fouls, so that made it tough to use him more in the first half than we did, but there were some plays in the first half where the guys closing out on Martin were just too small. We got a backside rebound and were blocking out Martin with a guy 6'0″ and he's 6'6″. There's nothing we could do about it. Butler makes you pay for that more than anybody in our league. And Butler played really well. We've been really good defensively, and we were not good tonight, especially in the second half." -Coach Greg McDermott on 1620AM Postgame
"I don't think their zone bothered us tonight. We were pretty efficient against their zone. We scored 46 points the second half, so offensively we played plenty good enough. Even though they were making shots, and the crowd was into the game, we never really let them get away from us until the last six minutes or so. We'd get it to five or to four, and just couldn't quite get over the hump. They seemed to make big play after big play. We were a little flat-footed at times defensively, and that's disappointing. But we got beat by a good team tonight, and a good team that played well. Sometimes to have to just tip your hat to them." -Coach Greg McDermott on 1620AM Postgame
"I don't think we had trouble maintaining intensity tonight. I liked the way we came out of the locker room at halftime offensively. We scored on eight of our first ten possessions. From an efficiency standpoint and an execution standpoint, we did what we had to do on that end after a first half where we only scored 29 points on 37 possessions. So we fixed some things and made some adjustments to get our guys loose. Defensively, unfortunately they continued to make us pay and we tried to do a lot of different things with their ball screens, but they adjusted to our adjustments really well. The reality of it is, when you've got four guys standing out there making shots — you've got Roosevelt Jones with the ball in his hands, you've got Etherington making shots, Martin making shots, Dunham making shots, and Wideman's so athletic going to the rim, whatever we did ball-screen wise they made us pay for. Butler played really, really well tonight. They played like a team that needed a win. I don't think we were totally flat, it wasn't our best game of the year but it wasn't our worst either, we just played a Butler team that brought their 'A' game tonight." -Coach Greg McDermott on 1620AM Postgame
"We're banged up. Cole's problems are well-documented, he needs as much time off as he can get. Zach's been fighting foot problems, Geoff's still coming out of his ankle problems, Maurice dinged his knee and his ankle the other night, so we need for a few of our guys to just take a few days off. This eight-day break is also an opportunity for our staff to do some recruiting, which is important this time of the year. We'll take a couple of days off and get back after it Friday and Saturday, take Sunday off, and then do our prep for Marquette Monday and Tuesday. We've got four important games left, it's really going to be important to protect our home floor, and that starts with a Marquette team that I'm sure will want a piece of us when they get to Omaha. That was a game that could have gone either way so they'll come in hungry and ready to play. We need to be ready too, and need our crowd ready to go. We'll see if we can't finish this off." -Coach Greg McDermott on 1620AM Postgame
You Said It:
The seat & headphones are always ready for @NickBahe. Hand down, man down….but not for long. #prayers #Creighton pic.twitter.com/3SxTlIRFxf

— John Bishop (@JohnBishop71) February 16, 2016
Hey Butler, get off our bubble. @BluejayMBB #rolljays

— Connor Schultz (@schultzy14) February 16, 2016
what a wild & wacky first half of hoops. Butler gets a ~9 point lead, Creighton crawls back & gets within 4-5, rinse & repeat

— alex sindelar (@crimebait) February 17, 2016
Creighton is just standing around on defense. Completely lost.

— Dave Sund (@davesund) February 17, 2016
Creighton can live with Dunham launching contested 25-footers. Wide open looks for Austin Etherington though? No bueno.

— Matt DeMarinis (@mjdemarinis) February 17, 2016
Not enough has been made this season about Milliken constantly stepping up when the rest of the Creighton offense is doing nothing.

— Garrett Gordon (@GarrettGordon) February 17, 2016
Creighton can't close the gap because every time they get within 3-4 points, Butler exploits their lackluster D.

— Dave Sund (@davesund) February 17, 2016
This has not been our best game on a night on which we needed our best.#GoJays

— Alex Sass (@alexmsass) February 17, 2016
Pretty embarrassed by this performance Creighton

— Drew English (@yeti47) February 17, 2016
Creighton is going to have to find another gear these last 5 minutes, because Butler shooting almost 50% from long range tonight.

— Garrett Gordon (@GarrettGordon) February 17, 2016
Why is it so frustrating to be a Creighton fan? #gojays

— Melissa Hottovy (@melissahottovy) February 17, 2016
I'm pretty sure Creighton fans hate everything about Austin Etherington right now.

— RTC Big East (@rtcbigeast) February 17, 2016
Another open three by Butler, perimeter defense has been disgusting tonight for Creighton. Bulldogs took full advantage.

— Mike Vamosi (@MikeVmos) February 17, 2016
Creighton's inconsistency on the glass and defense will hurt this team from a tourney bid – baring a miracle Big East tourney run

— Kyle Niemann (@OmG_1tZ_NiN3MaN) February 17, 2016
Everything went right for Butler – everything went wrong for Creighton. All started with defense.

— Bluejay Buff (@BluejayBuff) February 17, 2016
This loss really sucks. Gut punch to what could have been a nice roll into Big East tourney. #ROLLJAYS

— John Quick (@John2Quick4Me) February 17, 2016
Creighton coach McDermott: "Etherington was the difference in the game." Ya think? #Butler

— David Woods (@DavidWoods007) February 17, 2016
Say what you want about sports, but if you're asking me, I always think winning is more fun than losing.

— Rob Simms (@IamRobSimms) February 17, 2016
Really thought tonight would have been a bit closer down the stretch. At any rate, #rolljays. Onto the next.

— Austin (@letitflycu) February 17, 2016
Creighton win next two, then swing for the fences!

— Joey Tempo (@TempoWBR) February 17, 2016
Missed opportunity for Creighton tonight at Butler. Jays will likely have to win 3 out of last 4 to be a serious at-large contender.

— Anthony Valentino (@AValentino3) February 17, 2016
@wildjays Safely into the NIT for sure with end of season projection. You have 2 (should be) wins coming and then chances for a marquee W.

— John Templon (@nybuckets) February 17, 2016
@nybuckets don't get me wrong I really still hope they steal the Big East tourney but the bounce back to the postseason shows progress.

— Patrick Marshall (@wildjays) February 17, 2016
Comments
Tagged in: