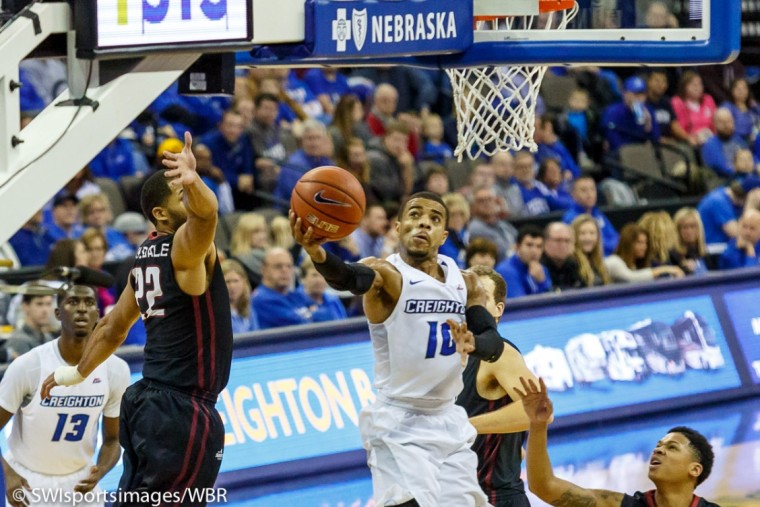 Morning After: Creighton 82, Seton Hall 67
Key Stats:
Statistically, Creighton had an edge pretty much everywhere you looked on Saturday, as they showcased their most complete performance of the season on both ends of the floor in dominating the Pirates. They had more points in the paint (42-30), more points off turnovers (12-7), more second chance points (8-7), and more fast break points (8-4). In more traditional numbers, they did what they needed to, also: the Jays had 17 assists on 29 made baskets, kept the rebound battle even (SHU had just two more offensive boards than the Jays, 12-10, and just one more rebound overall, 40-39), got the ball inside (21 of their 29 made baskets came inside the arc) and made enough three-pointers to keep the defense honest (8-19 from downtown, including 5-11 in the first half).
If you're feeling frisky, you could even say the Jays had an edge in number of players benched by their coach to prove a point, as Seton Hall sat Isaiah Whitehead, Angel Delgado, and Desi Rodriguez for the game's final 13 minutes with seemingly no explanation. But that'd just be mean.
Standout Performance:
The improvement in Maurice Watson, Jr. — and by correlation in the team — over the last month has been something else. The player that struggled, both offensively and defensively, in losses to Indiana, Arizona State and Loyola has clearly figured out his role now that the season is half-over. That role is, to borrow a phrase from baseball all-timer Reggie Jackson, to be the straw that stirs the drink. One night, he scores almost at will. The next night, he gets his teammates involved by dishing out a historic level of assists. Now he's added a new wrinkle, leading their defense by orchestrating their help defense much like you would an offense: making sure everyone is in the right spot, knowing their roles, and adjusting to the ball movement correctly.
Tuesday against Georgetown, he scored 27 points and took over the game with his scoring. Saturday, he had 14 assists and took over the game by creating shots for his teammates. Those 14 assists are three shy of the school record, the most by any Bluejay since 1974, and the most ever by any Bluejay not named Ralph Bobik. The early-70s great had 17 assists in a game twice (February 23, 1973 against St. Francis of PA, and January 22, 1974 against Bradley) and 16 against BYU on December 17, 1973. Next in the Bluejay record book is now Maurice Watson's 14 yesterday.
In the two wins over Georgetown and Seton Hall, Watson averaged 20.0 points, 4.5 rebounds, 9.0 assists per game and shot 60.0% from the field. He's been nothing short of terrific over the last three weeks offensively, but as his defense has improved, he's become sensational. Suddenly, with Watson playing at such a high level at both ends, all those bold predictions he made at Big East Media Day don't seem so far-fetched after all.
Recap & Analysis:
Over the first 12 minutes of the game, Creighton and Seton Hall looked to be engaging in another hard-fought, back-and-forth game, as the lead changed hands eight times. The last of those lead changes came courtesy of an 8-2 Seton Hall run as the game ticked under 10 minutes to go in the first half, giving the Pirates a 22-17 lead. As the run swelled and the Prudential Center crowd got loud, Greg McDermott decided he couldn't wait for the media timeout and called for one himself at the 8:30 mark.
Whatever he said or did in that huddle should be printed on a motivational poster and sold in the Creighton bookstore, because from that point forward the Bluejays took over the game. They rattled off 12 straight points to take a 29-22 lead, and by the first media timeout of the second half, they led by TWENTY — yes, two-zero — outscoring Seton Hall 41-16 over a roughly 12-minute span of game clock.
As they were running away from the Pirates, the Jays made 13 of their first 14 baskets to open the second half, while their defense forced SHU into contested shots that they (more times than not) rebounded to prevent second-chance points. Perhaps the deciding moment in the game came two minutes into the half, with the Jays up 47-37. Isaiah Zierden hit a corner three and drew a foul, then sank the free throw. As they jockeyed for rebounding position on the free throw, Geoff Groselle and Angel Delgado got tangled up under the rim, and Delgado shoved him to the ground, earning a technical foul. Zierden made one of two free throws this time, and then Groselle made a layup to convert the ultra-rare seven point play. When it was over, the Jays led 54-37, and for all intents and purposes the game was over too.
Watson led the way, obviously, but nearly everyone contributed something to the domination. Geoff Groselle scored eight of his 20 points during that 41-16 run, going a perfect 4-4 from the floor (what else is new?) and 7-8 for the game. Zierden added 16 points, going 3-6 from three-point range and 5-6 from the line and had four steals. Zach Hanson scored 10 points with six rebounds — four of them offensive. Khyri Thomas scored seven points and matched it with seven rebounds, while adding two steals.
It sets up a showdown with Providence on Tuesday in Omaha, where the Big East's two best point guards — Kris Dunn and Maurice Watson — will square off. It also puts the Jays in a position not many outside the program expected them to be in. They're now #40 in KenPom's ratings, favored to win four of their next five by his algorithms, and predicted to have an 11-7 record (20-11 overall). There was considerable discussion on social media among Jays fans about what that would mean for NCAA Tournament chances, with some lamenting the losses to Loyola and Arizona State while others attempted to dump ice water on the suddenly positive outlook by saying they still had little chance.
My take: 11-7 (and maybe even 10-8 if they beat enough of the right teams among those 10 wins) gets them in. But regardless, after being beaten down a year ago and seemingly having hopes dashed this year in the non-conference, it feels good to be having this discussion again doesn't it?
They Said It:
"We remembered (last year) going into this game. We got up to 20 points in this one. They put their best run up, and we did a good job of containing them. That's what helped us win this game." -Geoff Groselle on 1620AM Postgame
"There was a lot of emotion on this game, and we wanted it so badly. We came out a little bit out of our game, taking some contested shots. Those eight first-half assists were a credit to my guys that knocked down some shots, and I got some layups early, so I was just able to spread them out." -Mo Watson on 1620AM Postgame
"We can't get OK with what we're doing. We aren't doing anything we didn't expect of ourselves. Any time we start getting complacent is when a team can sneak up on us and win. We still have to be that team that is hungry." -Mo Watson on 1620AM Postgame
"We're moving in the right direction. We're far from a finished product. When you have success, there's more belief in what we're telling them. I like where we're at. I like the direction that we're moving, but we still have a long way to go, and we have a heck of a team coming in to play us Tuesday night." -Coach Greg McDermott on 1620AM Postgame
"I thought Zach and Geoff played great. It's a heck of a luxury to have them go 12 of 15, score 30 points and have 10 rebounds. That's really good basketball." -Coach Greg McDermott on 1620AM Postgame
"Late in the game, they got some easy ones. But for most of the game, I thought we made their looks at the basket difficult. I thought our help was in the right place, our rotations were good and our effort was good. Everything we talked about before the game that I was terrified about, our guys executed and then picked their spots." -Coach Greg McDermott on 1620AM Postgame
"I thought we settled down after the under-8 minute timeout in the first half. I thought up until then, we were shooting great shots and awful shots. There was no in-between. That was our message during the timeout, that we could get good shots. We thought we could get easier shots because of some of the ball-screen coverages." -Coach Greg McDermott on 1620AM Postgame
You Said It:
@wildjays @whitebluereview @SunValleyOmaha just read on my ride to arena. Great stuff, thanks for passing along. Enjoy the game today!

— Joe Davis (@Joe_Davis) January 9, 2016
Maybe this is why Watson outplayed Shabazz Napier head to head a couple years ago! He is so good right now! #RollJays #LetItFly — Terry Bueltel (@tbuelbaseball32) January 9, 2016
Creighton is so well-coached. I could listen to McDermott's huddle all day.

— Bryan DeNovellis (@bryandeno) January 9, 2016
I'm not the only one that thinks Zierden's shot looks different this year, am I? — Jacob Padilla (@JacobPadilla_) January 9, 2016
IZ's shot looks completely different from the beginning of the year.

— Matt Hoppe (@mhoppe02) January 9, 2016
This might be a game-changing stretch with Isaiah Whitehead on the bench in foul trouble. Seton Hall led 18-17 when he sat. — Matt DeMarinis (@mjdemarinis) January 9, 2016
I count two hero shots and three fouls for Whitehead. U4 Creighton 31, Seton Hall 26. Jays going to the line after the break.

— Big East Coast Bias (@becb_sbn) January 9, 2016
Creighton's offense is fast and in your face. They've scored 79 pts or more in all 11 of their wins this season.So far today, at 31. — Anthony Rushing Jr. (@AnthonySJD) January 9, 2016
Jays played pretty well during the stretch without Whitehead & Carrington on the floor. That's what you need to do. Take advantage.

— Dave Sund (@davesund) January 9, 2016
Toby Hegner was like "REALLY? You're going to leave me THIS OPEN?" — Dave Sund (@davesund) January 9, 2016
Wide gap in fundamentals in that half as Creighton leads 41-33. Jays shooting 48 percent. Hall needs to play smarter.

— Jerry Carino (@NJHoopsHaven) January 9, 2016
Half: #Creighton 41, Seton Hall 33. Maurice Watson Jr.: 7 points, 8 assists CU: outscored Pirates, 24-15, after Whitehead picked up 2nd foul — Matt DeMarinis (@mjdemarinis) January 9, 2016
Creighton scored 24 points over the final 8:30 of half. 3 points a minute is pretty good right?

— Chris McManus (@CerasolisGhost) January 9, 2016
Damn! @mauricewatsonjr has 8 assists at half! 😳 — Heath Gunderson (@heathwgunderson) January 9, 2016
As cold as Creighton started was as hot as they finished. From one extreme to the next. Bluejays wrapped the half by going 7/8. Lead 41-33.

— John Fanta (@John_Fanta) January 9, 2016
Teams scout well in conference play. Creighton came in with a clear plan to take Whitehead and Delgado out. https://t.co/pVdtcZJCk7 — Bryan DeNovellis (@bryandeno) January 9, 2016
He's leading the team in scoring too. He produced 28 points in the first half. Seton Hall only has 33. https://t.co/ge7AP5qomc

— Jacob Padilla (@JacobPadilla_) January 9, 2016
Add me to those impressed with Maurice Watson, of #Creighton , point guard looks every bit the floor general out here. #BigEast — Anthony Rushing Jr. (@AnthonySJD) January 9, 2016
Can't quit smiling at this performance #GoJays

— Jeremy Hauer (@jeremyhauer) January 9, 2016
Night and day difference between the Jays today and they Jays we saw against Nova a week ago #rolljays — Melissa Hottovy (@melissahottovy) January 9, 2016
Not sure what's gotten into Creighton defensively. They look good on that side of the ball today.

— Brian Otskey (@botskey) January 9, 2016
Not there in person obviously, but it feels like Creighton is sucking the life out of Seton Hall. — Matt DeMarinis (@mjdemarinis) January 9, 2016
Since going down 22-17, Creighton on a 30-13 run.

— Big East Coast Bias (@becb_sbn) January 9, 2016
The Creighton team of the last few minutes of the first half is a NCAA Tournament team. — Big East Coast Bias (@becb_sbn) January 9, 2016
Dear Committee, Please disregard all of Dec. 2-5. Focus instead on these 8 minutes in South Orange. Best, Bluejays https://t.co/lAKDRNgDUS

— truebluejays (@truebluejs) January 9, 2016
What's worse than leaving a good 3-point shooter open? Fouling him after he makes the shot. 51-37 Creighton. #HALLin #shbb — Jeremy Schneider (@J_Schneider) January 9, 2016
#ZFOR4 DOESN'T RHYME BUT IT'S STILL COOL

— 1620 the Jays (@1620theJays) January 9, 2016
Pirates look disinterested and unprepared. Pathetic showing in front of home fans. — Brian Otskey (@botskey) January 9, 2016
Mo's 10th dime of the day was a 10.

— truebluejays (@truebluejs) January 9, 2016
.@mauricewatsonjr already has a double-double in just 20 minutes. — Jacob Padilla (@JacobPadilla_) January 9, 2016
Could Creighton beat the 76ers?

— Tyler Anderson (@TylerA_Anderson) January 9, 2016
Creighton is playing with a lot of confidence right now. And they're making pretty much every shot they put up. Great start to the half. — Josh Peterson (@joshtweeterson) January 9, 2016
Extending your lead from 8 to 18 in 2 minutes and 51 seconds is pretty good. #GoJays

— Heath Gunderson (@heathwgunderson) January 9, 2016
Can confirm. https://t.co/rB6bUDcwjp — Matt DeMarinis (@mjdemarinis) January 9, 2016
Turning point is still McDermott's timeout at 8:30 after Seton Hall's 8-2 run. Has been all Jays ever since.

— Chris McManus (@CerasolisGhost) January 9, 2016
I know offense is clicking for @BluejayMBB, but I've been impressed with the different defensive looks #Creighton is throwing out. #GoJays — Rob Simms (@IamRobSimms) January 9, 2016
Creighton is up by 20. That is actually happening right now. #RollJays

— Austin Gaule (@austinomaha) January 9, 2016
There has to be so much change on the court from all these dimes Maurice Watson Jr. has dropped! — Heath Gunderson (@heathwgunderson) January 9, 2016
Maurice Watson Jr. is like a bottomless Pez Dispenser. Dropping goodies off to everyone all over the court — 11 assists in 22 minutes.

— Matt DeMarinis (@mjdemarinis) January 9, 2016
Creighton is annihilating Seton Hall by 20 points on the road right now. Quietly starting to look like a potential at-large team. — Jeff (BPredict) (@BPredict) January 9, 2016
I played 1-on-1 with my 6-year-old today & missed more shots than Groselle has in his last 5 games vs. D1 athletes. #Creighton #gojays

— Rob Simms (@IamRobSimms) January 9, 2016
Stop letting it fly and back short stuff down to the paint. https://t.co/a8ztzZjfLW — Garret Mueller (@mue11er) January 9, 2016
As good as Geoff Groselle has been this season, there has been almost no drop off when Zach Hanson replaces him. Two-headed monster for CU.

— Matt DeMarinis (@mjdemarinis) January 9, 2016
This is the Zach Hanson we hoped we'd see last season. — Dave Sund (@davesund) January 9, 2016
I think Seton Hall coach is trying to send a message to some of his "Superstars". Delgado and Whitehead have barely played this 2nd half.

— Heath Gunderson (@heathwgunderson) January 9, 2016
@HolyLandofHoops Willard is always trying to prove points. It shows lack of culture in that program. — Jeremy Hauer (@jeremyhauer) January 9, 2016
Full timeout from Willard. Seton Hall down 73-57 with 5:44 to play as fans start to head for the exits. Can you blame them?

— Chris McManus (@CerasolisGhost) January 9, 2016
@BluejayMBB Loved watching "Crazy" Ralph play. 6'7″ point guard. — Bruce Bartholow (@BBartho494) January 9, 2016
Mo Watson would have like 72 assists per game if he played with Doug.

— Tyler Anderson (@TylerA_Anderson) January 9, 2016
Mo Watson continues to climb up the Historical Creighton Point Guard Power Rankings: With today's performance, I have him above Andrew Bock. — Garret Mueller (@mue11er) January 9, 2016
Pretty good road win for Creighton if hold on vs. Seton Hall. Been saying: @BluejayMBB could be bubble team – & next year could win league.

— Reid Forgrave (@ReidForgrave) January 9, 2016
Tough to sort this out prior to the postgame. Willard benched 3 starters. Creighton landed one on the chin here and Watson is just awesome. — Jerry Carino (@NJHoopsHaven) January 9, 2016
Creighton was picked 9th in the 10-team @BIGEASTMBB and they're about to be 12-5, 3-1 in the league. Greg McDermott can coach.

— Adam Zagoria (@AdamZagoria) January 9, 2016
@JonRothstein #NovaNation was thrilled to get out of Omaha with a win last week. Toughest road venue in the league, underrated team. — Geoffrey Walsh (@Grindstone9) January 9, 2016
Creighton has exceeded my expectations this year. Just one bad loss — and huge road win today at Seton Hall. https://t.co/Ub7aDejTcK

— Jeff Goodman (@GoodmanESPN) January 9, 2016
ROLL JAYS!! great team win! way to step up fellas! let's stay hungry! — Maurice Watson Jr. (@mauricewatsonjr) January 9, 2016
Comments
Tagged in: