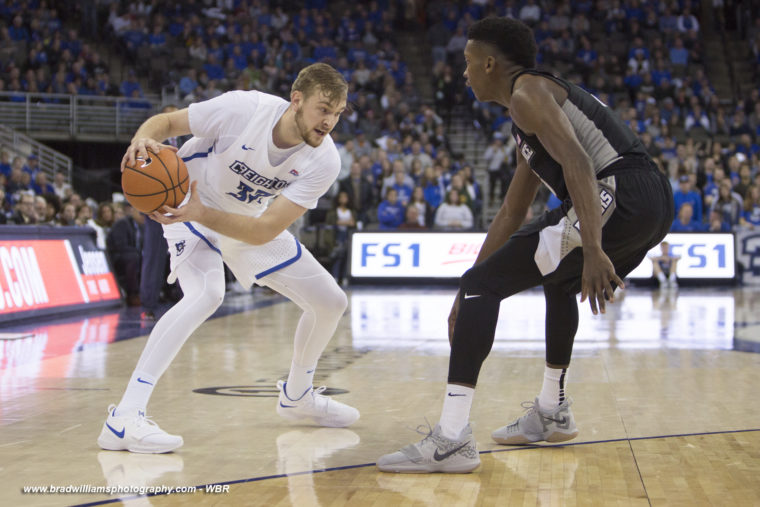 Morning After: Creighton Blows Out Georgetown Behind Barrage of Threes from Toby Hegner
Recap & Analysis:
In four previous trips to Georgetown since joining the Big East, Creighton had made 20 of their 93 three-point attempts (21%)…a stat that would look even worse if not for Doug McDermott and Co.'s 10-29 effort in 2014. They made 5-25 the next year, 4-21 in 2016, and 1-18 last year.
Given those shooting numbers, it's little wonder why the Hoyas were the only opponent they'd not beaten on the road since coming into the league.
Saturday morning, they made 10 of 22 in the first half alone, led by Toby Hegner — a senior who had played in three of those losses, and was a redshirt freshman for the other. Hegner had never made a three in D.C., going a combined 0-7 in three previous trips, but hit a pair of threes in the first four minutes of this one. Davion Mintz also hit two 3's in that span, and the Jays took a 12-3 lead to the first timeout.
Davion Mintz 3️⃣ counter…
🔥
🔥

Toby Hegner 3️⃣ counter…
🔥
🔥#GoJays #LetItFly #BIGEASThoops pic.twitter.com/QQ0OesGCCZ

— Creighton Basketball (@BluejayMBB) January 6, 2018
The Jays believed Hegner could cause problems for the Hoya defense, after watching film of what Marquette's stretch-big men were able to do against Georgetown. Early in the game, Hegner repeatedly set ball screens on the Hoyas' 6'10" big man Jessie Govan, allowing a guard to penetrate the lane — which forced Govan to stop the dribble penetration, and leave Hegner either open behind the perimeter or guarded by a smaller player.
"These NBA rims are a little bit different," Hegner said on the postgame radio show. "So it helped to make that first one, and then the couple after that were a little easier. But I give all the credit to my teammates for finding me in good positions to get shots up."
"I can't take any credit for that," Mintz commented to the Jays' radio announcers. "Toby hit every single shot that I passed to him!"
And when the Hoyas countered, Creighton attacked by throwing a lob over the top to Martin Krampelj for a dunk.
⬆️ Davion Mintz
⬇️ Martin Krampelj#GoJays #LetItFly #BIGEASThoops pic.twitter.com/rAGnbiMF3t

— Creighton Basketball (@BluejayMBB) January 6, 2018
Seven straight points from Khyri Thomas followed, including a three in transition thanks to a steal by Hegner — generally, those roles are reversed, but it was that kind of day — and with the Jays up 21-11, they forced Patrick Ewing into an early timeout.
Creighton's offense kept Georgetown off-balance all afternoon with some of their best ball-movement of the season. They had an assist on 14 of their first 15 made field goals, led by Mintz who dished out five dimes in the first half alone. Hegner nailed two more 3's during an 11-0 run late in the half, as the Bluejays built a 45-21 lead.
"My staff came in after our initial warm-up this morning and said that this is the most intense and locked-in we've been during warmups in a long time," Coach Greg McDermott said on his postgame radio show. "Obviously it showed at the beginning of the game. We were really crisp with our ball movement. I thought it was Davion Mintz' best half as a Bluejay. And when Toby is hitting shots, it changes everything they do defensively."
Ghosts of Georgetown Losses Past revisited them in the final moments of the half, as the Hoyas put on a full-court press and forced four turnovers in the last minute. CU had committed just three turnovers the first 19 minutes of the half, but much like the epic meltdown in 2016, they had trouble getting the ball inbounds against the Hoyas' press, and then once they did, they had trouble getting the ball across half court. The 6-0 Georgetown run to end the half gave them a bit of momentum, and cut the Jays' lead to 18 at 45-27.
But there would be no second half drama this time. Marcus Foster hit a three on the first possession, then stole the ball on the Hoyas' next trip downcourt and found Hegner for a layup. No one in Omaha saw this, mind you, as Fox Sports had technical difficulties during halftime and switched to a replay of the Georgetown-DePaul game from earlier in the week for several frustrating minutes. By the time they rejoined coverage, Mintz and Krampelj had each hit threes, as well, and the lead was 56-33 Creighton.
After that early barrage, the outcome was never in doubt, and the Jays were able to get Jordan Scurry, Manny Suarez, and most notably Kaleb Joseph onto the floor for an extended run. Joseph drove inside for a contested layup that pushed the lead past 30 for the first time.
Kaleb Joseph gets the layup to go! #GoJays #LetItFly #BIGEASThoops pic.twitter.com/iLrVpHk7rH

— Creighton Basketball (@BluejayMBB) January 6, 2018
Back-to-back buckets by Scurry and Suarez gave CU their largest lead at 90-58. Scurry's came on a reverse after driving the baseline:
Jordan Scurry with the reverse! #GoJays #LetItFly #BIGEASThoops pic.twitter.com/1cp8oRGCdi

— Creighton Basketball (@BluejayMBB) January 6, 2018
And Suarez' came on a dunk where the Hoyas seemed disinterested in guarding the paint — or from stopping dribble penetration by a lumbering big man. He shot-faked a defender behind the perimeter, then used two dribbles to get to the rim.
Manny Suarez with the slam! #GoJays #LetItFly #BIGEASThoops pic.twitter.com/Uf40xfOEov

— Creighton Basketball (@BluejayMBB) January 6, 2018
Moments later, Joseph showed off his athleticism with this ridiculous block (well, goaltend, but still…)
👀👀 Ok, it may have been a goaltend…but still… #GoJays #LetItFly #BIGEASThoops pic.twitter.com/78oqDG8ITE

— Creighton Basketball (@BluejayMBB) January 6, 2018
CU had been 0-4 at Georgetown, and the players were acutely aware of that fact. "We knew how important this win was for our seniors," Mintz said on the postgame show. "This is our first win at Georgetown, and the rest of the team knew we had to make things happen today to get a win for them."
Key Stats:
In the first half, Creighton had 16 assists on 17 made field goals, and on 20 of their first 22. The Jays' 24 assists for the game were their second-most in a game since joining the Big East.
Creighton hits on 10 of their first 22 three-point attempts (and 15 of their first 27). Some late misses dropped their percentage down to 16-36 for the game, but they were red-hot from three-point range when the outcome was in doubt.
Standout Performance:
Toby Hegner led the team in scoring with 19 points, two shy of his career high, and hit five 3-pointers. He also had three rebounds, two assists, a block and a steal. And while that's all good stuff, his work defensively on Jessie Govan should not go unnoticed. Repeatedly, he held his ground while playing behind the Hoyas' big man, and denied him the ball while playing in front of him. He battled and frustrated Govan, and was a big reason he was held to just seven shot attempts and seven total points. He'd been averaging 12 shots a game, and 18.1 points, and was held well under both numbers.
Davion Mintz also had a big afternoon, matching a career high with 17 points, while adding six assists and zero turnovers in 21 minutes. It was a heck of a response to sitting on the bench in favor of freshman Ty-Shon Alexander for the stretch run of Wednesday's win over St. John's.
Those two performances were even more huge since they came on a day where Marcus Foster struggled massively, scoring nine points on 3-14 shooting. It snapped a 33-game streak of scoring in double figures for Foster, and was just the third time in his Creighton career he's not scored 10 or more in a game.
They Said It:
You Said It:
When in our nation's capital, you see the sights… 🇺🇸🇺🇸🇺🇸#GoJays #LetItFly #BIGEASThoops#Timeout2vote #CoachGregMcDermott pic.twitter.com/Yd8QDGvBxI

— Creighton Basketball (@BluejayMBB) January 6, 2018
#Jays are 0-4 at Georgetown. Lost by 12, 15, 1 & 20 points. Creighton looking for a better result today, obviously pic.twitter.com/wNqqQgpCo7

— Jon Nyatawa (@JonNyatawa) January 6, 2018
Wearing my Pink Jordan XXXII for our Men Against Breast Cancer game today. It's a cause close to my heart. Lost my sister Pauline to the disease. pic.twitter.com/gzXIi0MCsE

— Patrick Ewing (@CoachEwing33) January 6, 2018
The #Jays have shot just 21.5 percent (20-of-93) from 3-point range in 4 games inside this building. Gonna need to hit a few today pic.twitter.com/7YhzyBh2zG

— Jon Nyatawa (@JonNyatawa) January 6, 2018
Not many coaches tall enough to look Patrick Ewing in the eye, but Creighton's Greg McDermott is one of them. pic.twitter.com/Z65sjncROZ

— Rob Anderson (@_robanderson) January 6, 2018
Nice of the Hoyas to play "Power" prior to tip. pic.twitter.com/UjwiS8MkMq

— Rob Anderson (@_robanderson) January 6, 2018
Already like the start better for Creighton this go around, and not just because they hit a couple threes. More bounce to their step than they had to start vs. St. John's.

— Matt DeMarinis (@mjdemarinis) January 6, 2018
It's raining 3s!

— Martin Swanson (@bigredtank72) January 6, 2018
No one should be shooting besides Toby and Davion.

— Tyler Anderson (@TylerA_Anderson) January 6, 2018
Toby/Davion 2020

— Michael McGoodtweets (@michaelkmcneil) January 6, 2018
so at the first media timeout TOBY! and Davion are leading Georgetown 12-3.

— alex sindelar (@crimebait) January 6, 2018
Jays tryna do some 2014 Villanova things out there or what?

— truebluejays (@truebluejs) January 6, 2018
Georgetown is playing like Patrick Ewing after the aliens stole his skills in Space Jam

— FakeBlueCrew (@FakeBlueCrew) January 6, 2018
Overheard at Georgetown/Creighton: "Now we know what it's like to be DePaul."

— Troy Machir (@TroyMachir) January 6, 2018
Creighton is on pace for about an 80-possession game. The Hoyas don't want to walk it up the floor, but the current pace is going to wear into them if they don't find a way to slow this baby down.

— Matt DeMarinis (@mjdemarinis) January 6, 2018
Georgetown has averaged 15.5 seconds per possession this season. If they want a track meet with the Jays while shooting abysmally from the field, they're doomed.

— alex sindelar (@crimebait) January 6, 2018
10 assists on 10 field goals for the #Jays. Only one turnover through the first 11 minutes.

— Matt DeMarinis (@mjdemarinis) January 6, 2018
Ty-Shon is still learning the point guard position and is just a freshman. But he's got to get better at not stopping his dribble.

— Heath Gunderson (@Heath_Gunderson) January 6, 2018
Someone make sure @crimebait doesn't have a TOBY! overdose today.

— Rob Anderson (@_robanderson) January 6, 2018
TOBY! FOR PRESIDENT

— alex sindelar (@crimebait) January 6, 2018
OH MY GOD TOBY!!!!!!!!!! HES FEELING INSPIRED

— alex sindelar (@crimebait) January 6, 2018
— FakeBlueCrew (@FakeBlueCrew) January 6, 2018
Toby Hegner got a transfusion of Ethan Wragge's blood and now Creighton's up 39-21 on the Hoyas. Georgetown can't stop anything defensively.

— Casual Hoya (@CasualHoya) January 6, 2018
Gaaaaahhhhhhh TOBY!!!

— Jays Hot Takes (@jayshottakes) January 6, 2018
Yes Toby Hegner is hitting his 3's but my lord is he battling against Govan down low! #GoJays

— Heath Gunderson (@Heath_Gunderson) January 6, 2018
TOBY! WANTS TO DESTROY CAPITAL(ISM) ONE ARENA'S RECORDS

— alex sindelar (@crimebait) January 6, 2018
Creighton has made 9 three-pointers. Georgetown has 7 field goals.

— Rob Anderson (@_robanderson) January 6, 2018
Toby Hegner couldn't have enjoyed watching the tape from the St. John's game. He has come out and brought it on both ends of the court! #GoJays

— Heath Gunderson (@Heath_Gunderson) January 6, 2018
i'm foaming at the mouth! TOBY!!!!!!

— alex sindelar (@crimebait) January 6, 2018
Marcus Derrickson's strategy for guarding Toby Hegner: "He'll miss one eventually."

— Matt DeMarinis (@mjdemarinis) January 6, 2018
TOBY!!!!!! pic.twitter.com/l6ziPGppN4

— Rob Simms (@IamRobSimms) January 6, 2018
Bronx cheer in DC after Hegner finally misses a 3-pointer.

— Rob Anderson (@_robanderson) January 6, 2018
Toby Hegner: Morning person

— truebluejays (@truebluejs) January 6, 2018
16 assists already and it's not even halftime. Incredibly unselfish and fun to watch! #GoJays #RollJays #LetItFly

— Jimmy Motz (@JimmyMotz) January 6, 2018
Creighton is assist-hunting. Marcus Foster had a wide-open bunny off of that jumpstop, but he dished it to a cutting Davion Mintz for a 3-point play. 16 assists on 17 field goals for the #Jays. Clinic.

— Matt DeMarinis (@mjdemarinis) January 6, 2018
I can't be the only one who kept hearing @JohnBishop71 bleeding through on the TV broadcast.

— Dave Sund (@davesund) January 6, 2018
TOBY! H3GN3R matches a career-high with 5 3-pointers in the first half as Creighton leads Georgetown 45-27 after 20 minutes played in D.C. #GoJays #LetItFly

CC: @crimebait

— Anthony Robinson (@ARobinson_) January 6, 2018
Creighton played the first 19 minutes of the first half and committed just 3 turnovers (all dead ball giveaways). Then… 4 turnovers in the final 60 seconds.

— Jon Nyatawa (@JonNyatawa) January 6, 2018
Pardon me, but this building makes me queasy. Need strong start out of the locker room. Let's put this one away, Jays!

— John M. Bishop (@JohnBishop71) January 6, 2018
Remember when playing on FS regional was a real treat? Now it feels like a demotion (without Casey's commercials). Hashtag progress.

— Rob Simms (@IamRobSimms) January 6, 2018
Pretty amazing I've made it this far in life without HD Special Ops glasses.

— Michael McGoodtweets (@michaelkmcneil) January 6, 2018
You mean to tell us there is a speaker without any wires or that incredibly hard Bluetooth!!!!! Where do we send the check!!!!

— FakeBlueCrew (@FakeBlueCrew) January 6, 2018
We've ordered 3 pairs of HD Vision Special Ops glasses.

— FakeBlueCrew (@FakeBlueCrew) January 6, 2018
Excited for my Boom Touch to come. It will pair well with my non-HD television.

— Tyler Anderson (@TylerA_Anderson) January 6, 2018
Hey Fakebluecrew turn your sound bar on.. oh we don't have a sound bar, we have a boom touch, just put the tv on top of it

— FakeBlueCrew (@FakeBlueCrew) January 6, 2018
I'm so going to order a Crank Chop in about never.

— Martin Swanson (@bigredtank72) January 6, 2018
This ad ran on the broadcast. And yeah, no. pic.twitter.com/fDpZKPsRXO

— Martin Swanson (@bigredtank72) January 6, 2018
There are few offenses I enjoy watching more than Creighton's when the Bluejays are rolling. Pace and space plus unselfish play makes them unstoppable.

— Kevin Sweeney (@CBB_Central) January 6, 2018
"We're having technical difficulties, what should we do?"

"Show them a replay of Georgetown-DePaul with an awful high-pitched noise in the background. That will keep people from changing the channel."

— Matt DeMarinis (@mjdemarinis) January 6, 2018
Fox Sports experiencing technical difficulties so now we're (at least those of us in Chicago) getting a replay of Georgetown-DePaul from Tuesday night. After the first half, can't say I complain.

— Casual Hoya (@CasualHoya) January 6, 2018
TECHNICAL DIFFICULTIES? HOW DARE YOU KEEP ME FROM WATCHING TOBY! ACHIEVE GOD MODE

— alex sindelar (@crimebait) January 6, 2018
You are punishing us with a replay of DePaul and Georgetown?!?!?! Whyyyyyyyy @FOXSports

— Tony Roth (@toneroth) January 6, 2018
First something breaks and they can't broadcast the game. Then they put salt on the wounds and make us watch DePaul?

— Tyler Anderson (@TylerA_Anderson) January 6, 2018
Banner day for Fox. Their app always sucks now they can't even air the game.

— Corey Lathrop (@cjlathrop) January 6, 2018
Hey, @FOXSportsGOHelp, the Creighton vs Georgetown game is showing DePaul vs Georgetown from last week.

— Derek Rayment (@PRspcDerek) January 6, 2018
Who is the guy at headquarters who says "Put DePaul on" when experiencing technical difficulties

— Michael McGoodtweets (@michaelkmcneil) January 6, 2018
Can someone at the Creighton v Georgetown game just live stream it? #GoJays

— Martin Swanson (@bigredtank72) January 6, 2018
GT immediately posts Govan, but Toby draws an offensive foul. Took an elbow to the face. And they're looking at it

— Jon Nyatawa (@JonNyatawa) January 6, 2018
If they review it they will just see a Georgetown vs DePaul game https://t.co/7xOggPPovT

— FakeBlueCrew (@FakeBlueCrew) January 6, 2018
Creighton is besting Georgetown by four touchdowns. I'll take it.

— truebluejays (@truebluejs) January 6, 2018
Ewing to John Thompson sitting courtside: pic.twitter.com/lzr9meYP4I

— Matt DeMarinis (@mjdemarinis) January 6, 2018
I think I've had about enough of this Hoyas-Creighton game. I think the Bluejays just made six passes, and hit a four-pointer with the bonus ball.

— #InBrotherhood (@Sempervive) January 6, 2018
Everyone will talk about their offensive numbers & shooting….but this Creighton team is really… really good defensively.

— Vin Parise (@VinParise) January 6, 2018
Creighton just absolutely worked Georgetown at their place, and the collective response by Jays fans is basically a big "meh." Imagine how insane that would've sounded five years ago.

— truebluejays (@truebluejs) January 6, 2018
Comments
Tagged in: