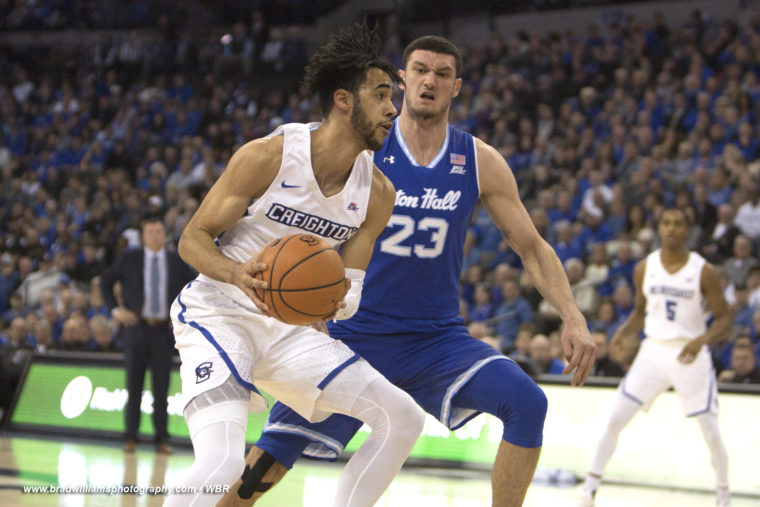 Morning After: Creighton Dismantles #19 Seton Hall 80-63
Bluejay Beat Wrap-Up Podcast:
Recap & Analysis:
Coming off their worst performance of the season (and one of the worst in Greg McDermott's tenure at Creighton), the Bluejays stormed out of the gates to score the game's first eight points, and led 20-4 after less than seven minutes of action. Martin Krampelj started the scoring with an alley-oop. Marcus Foster hit a pair of threes and got to the rim with ease for a layup. Khyri Thomas hit a three, too, and later drove to the basket for a layup. After a three by Ronnie Harrell, the Jays had made eight of their first 10 shots from the floor — and were blowing the doors off the 19th ranked team in the country.
🔥🔥🔥🔥

Call The Fire Department – This One's Out Of Control!@BluejayMBB 8-of-10 from the floor to start.#BIGEASThoops – @CBBonFOX pic.twitter.com/6ZdvvYVCsH

— #BIGEASThoops (@BIGEASTMBB) January 18, 2018
Pirate coach Kevin Willard called timeout to try and slow the Bluejay blitz, but instead found himself in another episode of the Seton Hall Soap Opera. Only the players and coaches know for sure what happened in their huddle, but reading between the lines of Jerry Carino's reporting in the Asbury Park Press, it seems to be a fair conclusion that Desi Rodriguez mouthed off to his head coach, and left Willard no choice but to send a message by benching his star.
Rodriguez, the team's leading scorer at 18.2 points per game, and coming off a 23 point night in the first meeting between these two teams, played just six minutes on Wednesday night. He'd scored all four of his team's points and grabbed two rebounds already in that short time, but also shown a questionable defensive effort and committed two turnovers, including one right before the timeout that preceded whatever happened in their huddle.
Willard didn't speak to the media after the game, but in his postgame radio interview on the Seton Hall network, he tried to downplay the incident. "He's been playing so well, so many minutes, he had that look on his face that he just didn't want to be out there," Willard told Pirate play-by-play announcer Gary Cohen. "When he gets that way, you just kind of let him regroup and refocus, and it just didn't happen [for him]."
A weird explanation, to be sure, but with most teams that would have been the end of it, at least publicly. Not with this Seton Hall team. Moments after Willard's quote began circulating on Twitter, Rodriguez responded:
Haha really funny , why wouldn't I want to be out there battling with my guys I love these dudes they are my brothers , we will be just fine trust me ✊🏽

— Desi Rodriguez (@desirodriguez6) January 18, 2018
We touched on it in the Primer a bit, and it was true again on Wednesday night: this group of seniors for Seton Hall are tremendously talented, but they wear their emotions on their sleeves. When they're on, they're one of the top 15-20 teams in the country, feeding off the energy of their successes (and each other) to become even better. But the reverse is true, too. When they're not on, often things spiral completely out of control — they lose composure, they pout, they get into arguments with one another and their coaches, and one or more of their stars usually wind up on the bench sulking. It's bizarre.
In their careers against Creighton, this has happened time after time. In a 2015 game in Newark that SHU ended up winning by one point, Angel Delgado was so distraught he sat in tears on the bench and openly refused to join his teammates in the huddle during timeouts. In the 2016 game in Newark, Delgado, Rodriguez, and Isaiah Whitehead were all benched in the second half of a 82-67 Creighton win; Willard's explanation was that he needed to "prove a point." And on and on.
With Rodriguez on the bench, and with Khryi Thomas blanketing Khadeen Carrington, and with Toby Hegner fronting Angel Delgado to deny him post touches, Seton Hall didn't have many experienced options for scoring the ball. Still, they crept back into the game slowly, and as foul trouble piled up on the Bluejays, inexperienced lineups played a role in Seton Hall's comeback.
Late in the first half, CU had Marcus Foster, Khyri Thomas, and Davion Mintz all on the bench with two fouls, and ran out a lineup with their two freshman guards (Mitch Ballock and Ty-Shon Alexander) and transfer Kaleb Joseph. It's a lineup that the Jays have barely, if ever, used in practice much less in a game, and it showed — with turnovers, poor decision making, and empty possessions. Joseph was the primary culprit, turning it over twice, and committing two fouls of his own, leaving Coach Greg McDermott no choice but to sub in Tyler Clement.
CU had been ahead 35-24 when the last of their three starting guards went to the bench; late in the half the Jays had to roll the dice by bringing Foster back in after the Pirates cut the lead to 37-32. Harrell gave them back some momentum at the horn with a driving layup, and they took a seven-point lead into the locker room.
Harrell would start the second half in place of Martin Krampelj, who exited late in the first with what looked to be a fairly benign injury but turned out to be bad enough to hold him out the rest of the game. Until results of an MRI are back there's not much known about the extent of that injury, but if Krampelj's facial expressions on the bench and McDermott's comments on his radio show about the prognosis "not being great" are any indication, the MRI will probably not be good news.
Krampelj's injury notwithstanding, CU began the second half on a 7-2 run, and then unleashed a flurry of knockout punches that left Seton Hall dazed and upset. Ronnie Harrell drained a long three to make it 53-40:
Don't be shy Ronnie! #GoJays #LetItFly #BIGEASThoops pic.twitter.com/A1tAY40C4M

— Creighton Men's Basketball (@BluejayMBB) January 18, 2018
Thomas went up and over a defender for a one-handed putback dunk:
WELL OK THEN KHRYI 😳 #GoJays #LetItFly #BIGEASThoops pic.twitter.com/P9jt0NPtbs

— Creighton Men's Basketball (@BluejayMBB) January 18, 2018
Then a tough, contested three from Foster:
😛😛😛😛😛#GoJays #LetItFly #BIGEASThoops pic.twitter.com/Iv8K8maB88

— Creighton Men's Basketball (@BluejayMBB) January 18, 2018
The haymakers weren't just on offense. They forced a shot-clock violation with 30 seconds of harassing defense. Twice, CU forced a five-second call — once on an inbounds play where they had every passing option covered, and once in space as Khyri Thomas completely enveloped Khadeen Carrington and made it impossible for the Seton Hall standout to shoot, or pass, or do anything at all. When the #Khyrifense Mixtape Vol. 2 drops, that play might appear more than once. It was that good.
With the rout on, a near-capacity crowd at CenturyLink Center was still roaring when Harrell nearly blew the roof off the building with a shot so dizzying that Myles Powell nearly fell over trying to defend it. He'd picked up a loose ball, dribbled the length of the floor, and then as he neared the basket, flipped the ball around his back, switching from his right hand to his left in one fluid motion, and then finished with a layup as Powell literally stumbled backwards.
Wait….. WHAT?! pic.twitter.com/EBS9HDxlTH

— FOX College Hoops (@CBBonFOX) January 18, 2018
The 17-point lead gave the Bluejays a huge resume win, moved them to 15-4 overall and 5-2 in the league, and slots them into a tie for second place. They're a perfect 12-0 at home so far this year, and against one of the favorites in the league, led wire-to-wire.
Key Stats:
Seton Hall's senior trio of Desi Rodriguez, Khadeen Carrington and Angel Delgado entered the night averaging a combined 46.6 points per game, but they would score 12 total as each man had just four points. Delgado was also held to four rebounds in the contest, nearly eight less than his league-leading average of 11.7 per game.
Delgado's streak of 17 straight double-doubles in Big East games ended, with the senior logging four points, four rebounds, and five turnovers. Toby Hegner was brilliant defensively against Delgado all night, fronting him to prevent post touches, blocking out to prevent offensive boards, and beating the star forward at his own game by being more aggressive. Hegner so frustrated Delgado that late in the game, Delgado shoved an elbow into Hegner's chest while fighting for a rebound. A harmless play, but an overly physical one, and it was called a flagrant-1. Delgado would spend the final eight minutes of the game on the bench, and then offer a one-word statement on Twitter afterwards:
Unbelievable

— Angel Delgado (@angelluis45) January 18, 2018
Standout Performance:
Marcus Foster scored 25 points, going 8-13 from the floor, 5-8 from three-point range, and 4-4 from the line. All night, he made clutch buckets, and with this three late in the game he moved into the 1,000 point club at Creighton.
Prior to this shot, Marcus Foster had 997 career points as a Bluejay. That is no longer the case. Congratulations, @Swaggy2_! #GoJays #LetItFly #BIGEASThoops pic.twitter.com/38nWcIhKsC

— Creighton Men's Basketball (@BluejayMBB) January 18, 2018
It took Foster just 54 games to score 1,000 points in a Bluejay uniform, the fastest player to do so since the late 1960s when Bob Portman got to 1,000 in 43 games. For the record: Doug McDermott needed 57 games to reach that mark, and Rodney Buford took 59.
They Said It:
You Said It:
#Jays-Seton Hall about to get going. Great crowd. Talented teams. Big game, for both. Should be fun.

— Jon Nyatawa (@JonNyatawa) January 18, 2018
Well, it's just a season making/breaking type of game. #GoJays

— Martin Swanson (@bigredtank72) January 18, 2018
Hate to put too much stock in a mid-January game, but this is Creighton's last potential resume booster until Feb. 1 (Nova), and last at home until Feb. 10 (Xavier). It's a must-win if they want to avoid future must-wins, if you will. #gojays #rolljays

— truebluejays (@truebluejs) January 18, 2018
Seton Hall wants to feed Delgado. Delgado is getting doubled every time. They're gonna have to try something else.

— alex sindelar (@crimebait) January 18, 2018
Not sure I've seen Mac that animated this season

— Bleeds Blue (@CUAlum81) January 18, 2018
Jays up 15-4 at the under-16. Marcus casually draining 3s that he definitely shouldn't be taking. pic.twitter.com/xxJTnHHjpp

— truebluejays (@truebluejs) January 18, 2018
— Derek Rayment (@PRspcDerek) January 18, 2018
Incredible start for Creighton. 6-of-7 from the field. Three 3s. About the only flaw early: All 4 of Seton Hall's pts came on 2nd-chance opportunities

— Jon Nyatawa (@JonNyatawa) January 18, 2018
Crowd is rocking here in Omaha. Helluva start for the Jays, scoring on 6 of their first 9 possessions. They're doing a phenomenal job bottling up Delgado. He's a bit frazzled. 15:38 left in the 1st, Creighton up 15-4. Foster with 8, on the money, and Tazz with 5.

— alex sindelar (@crimebait) January 18, 2018
Creighton drops Seton Hall with a 15-4 flurry to open the game. Exactly how the #Jays needed to come out in this one. The crowd is into it, but the Pirates are too experienced to quit after the first punch, as they proved in the first meeting.

— Matt DeMarinis (@mjdemarinis) January 18, 2018
Khyri and Marcus combine for 13 points in the first 4 minutes of the game. That's a recipe for success. Jays not even guarding Nzei either, and that's funny. Nzei gotta be embarrassed. #GoJays

— Tony Roth (@toneroth) January 18, 2018
Second foul on Angel Delgado. Crowd enjoys that. He'll have to sit for a bit

— Jon Nyatawa (@JonNyatawa) January 18, 2018
Hahahahaha suck it Delgado pic.twitter.com/8HXuqIEW8e

— FakeBlueCrew (@FakeBlueCrew) January 18, 2018
everything I've dreamed of is happening right now. Ronnie just needs to lay down a bunt and damn, I can die tonight.

— alex sindelar (@crimebait) January 18, 2018
Creighton 20
Desi Rodriguez 4
Everyone else in a Pirates uniform: 🤷🏻‍♂️

— Matt DeMarinis (@mjdemarinis) January 18, 2018
Ball on balls crime 😬 pic.twitter.com/Qwzoxu3Igk

— Barstool Jays (@BarstoolJays) January 18, 2018
Mintz is our guy tonight. Offense runs way better.

— Jays Hot Takes (@jayshottakes) January 18, 2018
the PA announcer just told the fine folks here in Omaha that Wichita State lost to SMU and the fans went bonkers. Seton Hall proceeded to get a 5-second violation, enough to make a ham sandwich.

— alex sindelar (@crimebait) January 18, 2018
Creighton starting to find itself in some foul trouble. Lot of guys with 2 fouls.

— Martin Swanson (@bigredtank72) January 18, 2018
All 3 of Creighotn's starting guards (Foster, Mintz, Thomas) have 2 fouls. Seton Hall's in the bonus and shooting free throws with CU up 35-22 and 4:10 to play in the first half.

— Creighton Men's Basketball (@BluejayMBB) January 18, 2018
So the Jays are going with Kaleb Joseph & the 2 freshmen in the backcourt. Not sure we've seen that yet this year https://t.co/jDWKm59AET

— Jon Nyatawa (@JonNyatawa) January 18, 2018
I don't really even remember seeing it in practice. Haha!

— Jon Nyatawa (@JonNyatawa) January 18, 2018
So, uh, Desi Rodriguez?

— Tyler Anderson (@TylerA_Anderson) January 18, 2018
Kevin Willard pulling the ol' Inexplicable Benching of Stars vs. Creighton out of his bag of tricks

— truebluejays (@truebluejs) January 18, 2018
Good to see Behind-the-Seton-Hall-Bench Guy back again this year, trying to start fights with season ticket holders (again) in the first half. #gojays

— Creighton Otter (@creightonotter) January 18, 2018
Knee on knee contact. But he did come down somewhat akwardly.

— Martin Swanson (@bigredtank72) January 18, 2018
Creighton's last eight possessions: 1-4 from the floor & 4 turnovers. Foul trouble definitely disrupted CU's flow. SH on an 8-0 run

— Jon Nyatawa (@JonNyatawa) January 18, 2018
Mac with a few extra words for official Jeffery Anderson before retreating to the locker room. First time I can recall this year Jays put opp. in double bonus in 1st half. Foster, Thomas, Krampelj & Mintz each with 2 fouls. CU 39-32.

— John M. Bishop (@JohnBishop71) January 18, 2018
Jays only up 7 after that start is disappointing. And the scary thing is that Seton Hall hasn't even started crashing the offensive glass yet.

— Tony Roth (@toneroth) January 18, 2018
The second Seton Hall realized that the referees weren't calling hand checks, they just went after it and it paid off. Meanwhile, we played the three least experienced ball handlers in the PG spot for the last 4 minutes of the game.

— Bluejay Buff (@BluejayBuff) January 18, 2018
Martin Krampelj hasn't come back out of the locker room for the second half

— Jon Nyatawa (@JonNyatawa) January 18, 2018
Martin comes out with his knee wrapped and ice on it. That's not a good sign.

— Tony Roth (@toneroth) January 18, 2018
Lord take us and not Martin

— FakeBlueCrew (@FakeBlueCrew) January 18, 2018
No Desi Rodriguez for Seton Hall, either. On the bench with a hoodie on

— Jon Nyatawa (@JonNyatawa) January 18, 2018
Martin out. Jays even thinner in the post. Sam Froling, wanna pull a Johntay Porter and reclassify for the second half of this Seton Hall game?

— truebluejays (@truebluejs) January 18, 2018
Martin Krampelj out for CU, Desi Rodriguez on the bench for the Pirates, foul trouble all over the place. This has been a strange night so far.

— Matt DeMarinis (@mjdemarinis) January 18, 2018
Saw Clement ask Martin if he just sprained his knee or if it was worse. Martin said he didn't know. Would be a biiiiiig loss for the Jays. And now you need Manny to step up. Woulda been nice if he would have gotten more than just mop up time to develop depth.

— Tony Roth (@toneroth) January 18, 2018
Myles Powell starting to feel himself — shooting first, asking questions later. He's up to 16 points, including a pair of threes in the second half. Greg McDermott might have to forget about Carrington and switch Khyri Thomas onto Powell to try and cool him off for a stretch.

— Matt DeMarinis (@mjdemarinis) January 18, 2018
The jays have 0 offensive rebounds and have 0 free throw attempts. That's tough to do.

— Tony Roth (@toneroth) January 18, 2018
Chants of RONNIE! ring out from the student section! BEAUTIFUL!

— alex sindelar (@crimebait) January 18, 2018
Crowd chanting "Ronnie, Ronnie"

— Patrick Marshall (@wildjays) January 18, 2018
Ronnie! Ronnie! Ronnie!

— Martin Swanson (@bigredtank72) January 18, 2018
The Ronnie Game

— truebluejays (@truebluejs) January 18, 2018
OH MY GOD RONNIE! OH MY GOD!!!!!

— alex sindelar (@crimebait) January 18, 2018
RONNIE FREAKING HARRELL! (jr)

— Martin Swanson (@bigredtank72) January 18, 2018
Ronnie Harrell just did magic with the basketball … Angel Delgado got called for an off-ball foul … And the crowd, on its feet, is roaring

— Jon Nyatawa (@JonNyatawa) January 18, 2018
Holy mother of…

Ronnie Harrell, Jr. just went coast-to-coast, switched hands behind his back to beat the defender and laid it in. The C'Link just broke the decibel meter.

65-47, Bluejays lead 19th-ranked Seton Hall with 8:29 to go.

— Matt DeMarinis (@mjdemarinis) January 18, 2018
Ronnie Harrell Jr. and the Showtime Bluejays.

CC: @1MrBigShot pic.twitter.com/35NQvlyOPw

— Josh Planos (@JPlanos) January 18, 2018
RONNIE! RONNIE! RONNIE! RONNIE! RONNIE!

— alex sindelar (@crimebait) January 18, 2018
RONNIE pic.twitter.com/9mV5yIiFdn

— Bluejay Buff (@BluejayBuff) January 18, 2018
Ronnie stuntin on 'em

— truebluejays (@truebluejs) January 18, 2018
Wow Ronnie wow

— 🎄Mike Vamo-si🎄 (@MikeVmos) January 18, 2018
Ronnie just took a huge dump on the entire state of N.J. with that move.

— Creighton Otter (@creightonotter) January 18, 2018
This is an all time great Creighton crowd tonight. Really. Top notch.

— Dave Sund (@davesund) January 18, 2018
Creighton on its way to boosting its home record to 12-0. Jays have one of the best homecourt advantages in the country. #BIGEASThoops

— John Fanta (@John_Fanta) January 18, 2018
Body language on that road bench right now is 👌

— Creighton Otter (@creightonotter) January 18, 2018
I'm so happy for Ronnie Harrell. Tonight was a culmination of being patient to wait his turn and working hard to get where he is today. It is all coming together and key to the rest of the season. #creighton #gojays

— Patrick Marshall (@wildjays) January 18, 2018
Big time W for the Jays tonight. Really impressed with how they contained Carrington. #GoJays

— Tony Roth (@toneroth) January 18, 2018
Kevin Willard on Desi Rodriguez:
"He's been playing so well, so many minutes, he had that look on his face that he just didn't want to be out there. When he gets that way, you just kind of let him regroup and refocus, and it just didn't happen [for him]." #shbb

— Chris McManus (@ChrisSHUhoops) January 18, 2018
Is that a real quote? Holy crap. So, he just didn't want to play? WHAT https://t.co/fkc9AhgI5w

— Creighton Otter (@creightonotter) January 18, 2018
Greg McDermott said Martin Krampelj will get an MRI tomorrow. Said it's a knee he had hurt once before in Slovenia and "felt it slide a little", though that's happened before.

— Rob Anderson (@_robanderson) January 18, 2018
🙏⬆️ for Tini #gojays c/o @bradwilliamsphotography https://t.co/8A7Xe04mDS pic.twitter.com/zqiKLiGOKG

— White & Blue Review (@whitebluereview) January 18, 2018
Thanks to @gocreighton students and our awesome fan base for making the Clink electric! Incredibly proud of our team. Please pray for Martin. He has worked extremely hard and deserves some good news.#RollJays #PrayersforMartin pic.twitter.com/BqTMRXmakK

— Coach McDermott (@cucoachmac) January 18, 2018
Comments
Tagged in: