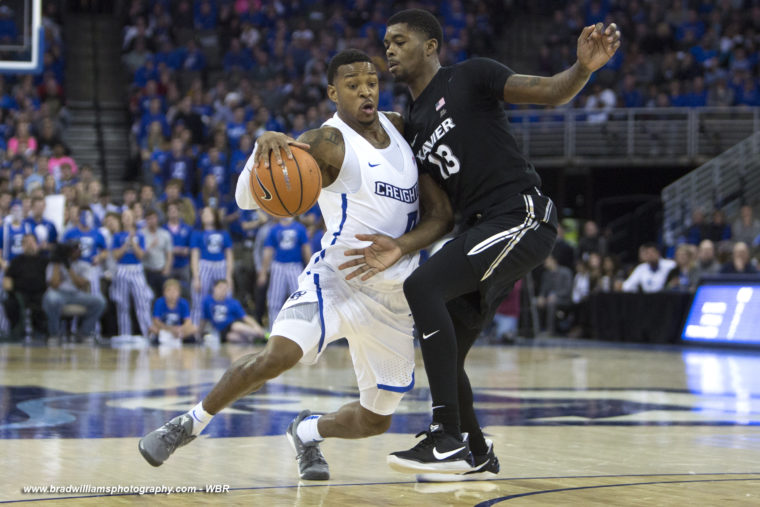 Morning After: Creighton Drops Heartbreaker to #5 Xavier After Questionable Call On Final Possession
Bluejay Beat Podcast:
Recap & Analysis:
After 39 minutes of play, Creighton and fifth-ranked Xavier were tied at 68 apiece. It wasn't the prettiest of games, but it was a hard-fought battle on both sides and it was setting up for an entertaining finish. As typically happens when these two teams meet — eighteen of the 26 all-time meetings have been within five points in the final minute, including four of the last five — someone from one team or the other was going to make a play to win the game for his team in the final minute, perhaps even on the final possession.
Would it be Marcus Foster hitting his second game-winner in four days, and a repeat of his shot to beat Xavier in last year's Big East Tournament? Or would J.P. Macura break Creighton hearts with a late three, as he did one year ago in Omaha? Maybe Trevon Bluiett, who'd been virtually shut out all afternoon by Khyri Thomas, would hit one when it counted most. Or perhaps Thomas or Ronnie Harrell would get their moment in the sun.
Alas, none of those exciting-slash-excruciating things happened, because the officiating crew of Pat Driscoll, Brian O'Connell, and Evon Burroughs put the spotlight on themselves instead, ensuring this game would end not with a bang, but with a whimper in the most anti-climatic way imaginable — at the free throw line.
Xavier took the lead, 70-68, on a putback by Macura who was inexplicably not blocked out during the scrum for a rebound of Sean O'Mara's missed shot. With under 30 seconds to play and now trailing 70-68, Foster pulled up for a jumper to tie it, corralled his own miss, and kicked it out to a wide-open Ronnie Harrell in front of the Creighton bench. Harrell's three misfired, but he was clipped by Bluiett as he closed out on defense. There wasn't a ton of contact, but there was contact on Harrell's hand as he shot the ball, and according to Article 2 of the college basketball rule book, that's a foul.
— Matt DeMarinis (@mjdemarinis) February 10, 2018
— Matt DeMarinis (@mjdemarinis) February 10, 2018
Still, Harrell needed to make all three free throws for Creighton to win, and that was far from a sure thing. Nearly one year ago to the day against this same Xavier team in this same building, he came up short in almost the exact same situation. With 20 seconds left in that one and the Jays trailing 79-78, Harrell was fouled as he streaked down the sideline for a would-be uncontested layup. He needed to make one free throw to tie and both to (potentially) win. But he missed the front end of the one-and-one, and the Jays lost (though they had two more chances to win, and didn't convert on either).
So this was no sure thing. But Harrell's a different player in 2018 than he was in 2017, and plays with a completely different level of confidence. This time, he calmly made the first one, and then Xavier coach Chris Mack attempted to "ice" the shooter by calling timeout before the next two attempts. It did not work. Just as calmly as the first, Harrell sank the next two, first to tie the game and then to give Creighton the lead 71-70.
Xavier still had four seconds to turn the game back in their favor. They got the ball in to Quentin Goodin, and CU executed their defensive plan precisely as Greg McDermott drew it up (and precisely how they practice it) — as Goodin raced to the hoop, the Jays swarmed to the ball, built a wall at the rim, and ensured both their arms and their bodies were straight up and down so they didn't commit a foul swiping for the ball.
— Matt DeMarinis (@mjdemarinis) February 10, 2018
Again, there's a bit of contact, but not a ton — especially on a day where the officials had consistently let that kind of contact go. They called just 24 total fouls on the two teams, and neither team attempted a free throw from the double bonus all day. But for whatever reason, the officials (and specifically Evon Burroughs) decided this, with 0.3 seconds left, was where they'd draw the line on contact and call a foul.
OK. Sure. You bet.
Fox Sports analyst Len Elmore exclaimed "Are you kidding me?" on the network FOX broadcast. Creighton radio analyst Brody Deren yelled "OH MY GOODNESS" on the radio call, while John Bishop explained the call with fire in his voice (and, I imagine, his eyes). 18,000 fans in the arena said, and yelled, much worse things, most of them unprintable.
Goodin made both free throws, and Xavier escaped with a 72-71 win.
"It's a fluke play. You hate to lose on one of those," Greg McDermott said diplomatically on his postgame radio show. "We almost won on a fluke play, where Ronnie got fouled shooting a three. But as I told the guys, control what you can control. We cannot control a lot of things that happen in a game — whether your shots go in or not, whether they make tough contested shots or they don't, how many times a referee blows his whistle versus how many times he doesn't. You can't control any of that. So be a man, take ownership of what you can control, and realize what you could have done differently to impact the outcome of the game."
Mac can't say it because he'll get fined and because it's a bad look for a head coach to publicly criticize an official, but neither of those things apply to me so here goes: that was a terrible call. Evon Burroughs made a mistake. It was not a foul, and should not have been called as such. Not with three-tenths of a second left, not with ten minutes to play in the game, not anytime. Here's the portion of the rulebook pertaining to this scenario; Article 10 seems the likely culprit, in Burroughs' estimation.
— Matt DeMarinis (@mjdemarinis) February 10, 2018
But here's my problem with it. Burroughs was behind the play, meaning his vantage point allowed him to see Harrell and Hegner defending — but not the contact, such as it was, or who initiated it. And the two officials who could see the entire play didn't think enough had happened to blow their whistles. They were apparently content with a "no call." The one with the worst sightline of the play made a call, which is unfortunate.
This one will hurt for a while. Some longtime Jays fans still have a pit in their stomachs years — decades! — later after similar endings to games. Remember the Southern Illinois debacle on Super Bowl Sunday in 2002? That's a game best remembered for DeAnthony Bowden's "foul" — quotation marks around the word foul for mocking emphasis — with one second remaining in a tie game. Kent Williams hit two free throws, missed the third intentionally, and the Jays lost as the Civic came unglued. That was 16 years ago and is still referenced from time to time by Jays fans unlucky enough to have witnessed it. Or what about the NIT game against Miami in 2006, where Johnny Mathies tied the game on a layup with 28 seconds left? That ending was eerily similar to Saturday's loss to Xavier. Miami's Guillermo Diaz drove the length of the floor, straight into a double team of Dane Watts and Anthony Tolliver at the rim, both with their arms and bodies straight up and down (sound familiar?)…and Watts was called for a foul with under two seconds left. Diaz made one free throw, Miami won, and then-coach Dana Altman chased the officials off the floor into the tunnel screaming "pleasantries" as some of the loudest boos in the history of the CLink rained down.
Mention "SIU 2002" or "Miami NIT" to a longtime Jays fan and images of those games instantly come to mind. Blood starts to boil all over again. Those are hard games to get over. And "Xavier 2018" is now part of that list.
UGH.
The ending obscures almost everything that preceded it. Xavier took a 30-20 lead in the first half, and then CU came out of a timeout with a toughness they hadn't shown in the first meeting, or in the early minutes of this second game. They rattled off a 10-0 run in the span of two minutes to tie it, getting threes from Thomas and Foster, and jumpers from Toby Hegner and Davion Mintz. They came back again after Xavier took a second-half lead, getting seven straight defensive stops and taking a 55-54 lead on Mitch Ballock's drive to the rim with 12 minutes to play.
But four of Xavier's last six made baskets came on second-chances they created with offensive rebounds, coinciding in part with a stretch where Creighton missed seven straight shots. That turned a 61-58 Creighton lead into a 66-61 deficit. And the most critical shot of the afternoon came on a second-chance opportunity, when Macura got an offensive rebound and putback with 20 seconds to play, giving the Musketeers a 70-68 lead.
When Coach Mac talks about "controlling the things we can control", that's the biggest one — if they clear that rebound, this is a different game with a different ending. If they clear that board, we're talking about an upset win, a ranked Creighton team on Monday, and moving up one or two seed lines in the NCAA Tournament. But they didn't, and we're not.
DOUBLE UGH.
Key Stats:
Xavier destroys Creighton in the paint, outscoring them 50-20. Creighton (mostly) offsets it by outscoring Xavier 33-9 on three-pointers.
Xavier outrebounded the Jays 42-29, including 14-7 on offensive boards, and had a 21-5 advantage in second-chance points.
CU assisted on 11 of their 27 made baskets and turned it over just 12 times; Xavier assisted on 11 of their made 31, and had 13 turnovers.
Standout Performance:
Marcus Foster took 25 — TWENTY FIVE! — shots, making 12, and scored 29 points. He also had eight rebounds, three of them offensive, and three assists in 39 minutes. He scored 20 of the Jays' 36 points in the second half, and took 15 of their 32 shots. But he missed three jumpers in the final two minutes, and four of his last five shots. He told media after the game fatigue was likely a factor, and that his "legs right now feel a little dead." 39 minutes and 25 shots will do that to you.
You only need to look back four days to see an example of Foster making a clutch shot to win the game. Sometimes it goes the other way, as it did in this one. The Jays will go as far as Foster can carry them offensively the rest of the way; most nights will have a better ending than this one.
From The Other Side:
Xavier blog Banners On The Parkway headlined their wrap-up "Xavier and the Refs beat Creighton" and subtitled a section on the final sequence "Not All Heroes Wear Capes." The first sentence of that section? "Apparently some of them wear stripes."
So…yeah.
They Said It:
You Said It:
Creighton Student section giving it to Macura already. If he has a big day, now you know.

— Patrick Marshall (@wildjays) February 10, 2018
In the silence before the national anthem, Creighton student yelled, "we're comin' for ya, JP!" J.P. was lined up for the anthem, had his back to the students but had to laugh. So did many fans.

— Pat Brennan (@PBrennanENQ) February 10, 2018
Don't know what it is about Xavier but Creighton has fumble-itis against this team. Unforced errors galore.

— John M. Bishop (@JohnBishop71) February 10, 2018
The #Jays went 4 straight possessions without any points. They've given up 3 offensive rebounds already. 2 turnovers for Marcus Foster. Just a bit sloppy early

— Jon Nyatawa (@JonNyatawa) February 10, 2018
The two trends I don't like today:

1. Creighton is using too much of the shot clock
2. They drive to the basket and look scared to death to fully take it to the hoop and try to draw the foul. Too unselfish

— Patrick Marshall (@wildjays) February 10, 2018
it's time to stack Jordan Scurry on top of Tyler Clement to have them play post defense because, holy shit, TOBY! is getting destroyed and the Aussie isn't certain which dippin' dots flavor is the best. maybe give 'em a dose of the Mad Dog? It's 30-20 with 6:59 left, all X.

— alex sindelar (@crimebait) February 10, 2018
#Jays in some early trouble. Just unable to find enough space offensively. Xavier swarms to the ball really well. 11 of CU's 19 FGA have been 3s.

— Jon Nyatawa (@JonNyatawa) February 10, 2018
Get me a GIF of that Marcus Foster fist pump STAT

— truebluejays (@truebluejs) February 10, 2018
Xavier basketball's favorite video game pic.twitter.com/hNhM9FxEJM

— Joe Doyle (@joe_doyle) February 10, 2018
#jays hitting jump shots. Maybe that'll loosen up Xavier's defense. 8-0 spurt for CU

— Jon Nyatawa (@JonNyatawa) February 10, 2018
HERE
COMES
THE
MAD DOG

— alex sindelar (@crimebait) February 10, 2018
There goes the Mad Dog https://t.co/RBaCotf42M

— Michael McGoodtweets (@michaelkmcneil) February 10, 2018
IN A MINUTE AND TEN SECONDS THE MAD DOG GETS HIS SECOND FOUL

— alex sindelar (@crimebait) February 10, 2018
And THAT'S why Manny shouldn't play

— Corey Lathrop (@cjlathrop) February 10, 2018
Don't play Manny. Assume the refs will make calls for Xavier all game.

— Bluejay Buff (@BluejayBuff) February 10, 2018
Again Marcus Foster will never get fouls called in his favor. Absolutely ridiculous. Should have had 2 FT at the end of the half

— Patrick Marshall (@wildjays) February 10, 2018
I mean come on, look at the top scorers in the Big East conference only. Marcus Foster has less than half the FT as the other players in this list. He is 23-26 in FT in Big East play. I call BS pic.twitter.com/rPuBljRdTg

— Patrick Marshall (@wildjays) February 10, 2018
Marcus just will never get a call. Mac stayed out a few extra seconds to let Pat Driscoll know that the whistle can be used on both ends of the floor. #Creighton

— John M. Bishop (@JohnBishop71) February 10, 2018
Yeah Creighton is getting eaten alive in the paint. This was always going to be a team weakness but it got even worse when Krampelj went down.

— Dave Sund (@davesund) February 10, 2018
Fox Sports crew talking about "Marcus Thomas" taking over the second half. Has this two-way superstar been sitting on the bench all season?!

— Ryan Holmgren (@ryanholmgren) February 10, 2018
Both teams score on each of their first 4 possessions of the 2nd half. Great start for each, offensively speaking

— Jon Nyatawa (@JonNyatawa) February 10, 2018
JP Macura is doing everything for XU. Tip your cap to him.

— John M. Bishop (@JohnBishop71) February 10, 2018
J.P. ➡️ The Lumberjack! @XavierMBB is looking for another #BIGEASThoops ROAD W on FOX right now. #LetsGoX pic.twitter.com/xZJewRAROP

— #BIGEASThoops (@BIGEASTMBB) February 10, 2018
Sorry but Ethan Wragge will be the only Lumberjack. https://t.co/uXTHJ2FJeu

— Patrick Marshall (@wildjays) February 10, 2018
Crowd has been great today. Helping the #Jays stay in it. CU now trying for the 3rd time to take its first lead since the 17-min mark of the 1st half

— Jon Nyatawa (@JonNyatawa) February 10, 2018
Pat Driscoll is the definition of Buzzkill

— FakeBlueCrew (@FakeBlueCrew) February 10, 2018
Xavier elbows Ty Shon. Foul on Ty Shon

— FakeBlueCrew (@FakeBlueCrew) February 10, 2018
Foul on Creighton pic.twitter.com/57hh4nAGHg

— Tyler Anderson (@TylerA_Anderson) February 10, 2018
Marcus. Foster. Gets. Buckets. #LetItFly @BluejayMBB pic.twitter.com/Uv5xYKdg6U

— #BIGEASThoops (@BIGEASTMBB) February 10, 2018
It's time to start including Creighton's Marcus Foster in All-American conversations.

— CJ Moore (@CJMooreHoops) February 10, 2018
Now it's the #Jays who are stuck in a funk. Nearly 4 minutes without points. 5 straight misses. CU looking for someone, anyone, to step up besides Foster

— Jon Nyatawa (@JonNyatawa) February 10, 2018
Bring the noise the last 4 minutes pic.twitter.com/MdKFtLn9tj

— Patrick Marshall (@wildjays) February 10, 2018
LOCK THE EXITS. NO ONE IS LEAVING

— FakeBlueCrew (@FakeBlueCrew) February 10, 2018
Marcus leaked out behind an oblivious Macura for that dunk. JP kind got caught… with his pants down.

— truebluejays (@truebluejs) February 10, 2018
29 pts for Marcus Foster now. He's been incredible today.

— Jon Nyatawa (@JonNyatawa) February 10, 2018
CLINK Omaha just played Jump Around and We Ready. One of these things is better than the other.

— Michael McGoodtweets (@michaelkmcneil) February 10, 2018
O'MARA TRAVEL. BLUEJAY BALL. 1:05 LEFT. FANS TEEMING FOR A BUCKET.

— alex sindelar (@crimebait) February 10, 2018
Back-to-back turnovers by Xavier (great rotation by Harrell to force the travel on that last trip down). Now CU has a chance to take the lead

— Jon Nyatawa (@JonNyatawa) February 10, 2018
Power of We Ready is real

— FakeBlueCrew (@FakeBlueCrew) February 10, 2018
Tied with the nation's No. 5 team with 37 ticks left on national TV. This is EXACTLY why Creighton joined the Big East.

— truebluejays (@truebluejs) February 10, 2018
Oh my goodness. Ronnie Harrell fouled behind the 3-point line. CU down 2. 4 seconds left

— Jon Nyatawa (@JonNyatawa) February 10, 2018
OH MY GOD

— alex sindelar (@crimebait) February 10, 2018
Harrell makes the first. Chris Mack calls timeout.

— Jon Nyatawa (@JonNyatawa) February 10, 2018
Chris Mack: still an ass

— Creighton Otter (@creightonotter) February 10, 2018
If you remember, Harrell missed the front-end of a one-and-one in the closing seconds vs Xavier last year.

— Jon Nyatawa (@JonNyatawa) February 10, 2018
I do. Thanks for making me puke a little tho Jon! https://t.co/2vPXPRPeSf

— Creighton Otter (@creightonotter) February 10, 2018
I can't even right now.

— Tyler Anderson (@TylerA_Anderson) February 10, 2018
Tie game. Harrell hits the second. WHAT DRAMA!!!

— Jon Nyatawa (@JonNyatawa) February 10, 2018
🎶I make Ronnie moves🎶

— truebluejays (@truebluejs) February 10, 2018
WE HAVE SANDSTORM ON CRACK AT THE CLINK

— Corey Lathrop (@cjlathrop) February 10, 2018
JUST DONT FOUL

— Bluejay Buff (@BluejayBuff) February 10, 2018
A foul is called. with 00.3 remaining. Oh my word.

— Jon Nyatawa (@JonNyatawa) February 10, 2018
Homered at home. Unbelievable.

— Tony Roth (@toneroth) February 10, 2018
I mean what the fuck you never see a foul called underneath in that situation. That's ridiculous.

— Tony Roth (@toneroth) February 10, 2018
Wow. That's an … interesting call with 0.3 seconds left.

— Jeff Borzello (@jeffborzello) February 10, 2018
Fucking highway robbery. Jesus.

— Dave Sund (@davesund) February 10, 2018
Absolute horseshit call

— Tyler Anderson (@TylerA_Anderson) February 10, 2018
Watched a lot of hoops in my life. Can't say I've seen that often.

— Creighton Otter (@creightonotter) February 10, 2018
Speechless

— FakeBlueCrew (@FakeBlueCrew) February 10, 2018
Incredible finish. I'm sure we'll be talking about the officiating in the final seconds for a while. No way we can't. Haven't seen any replays though

— Jon Nyatawa (@JonNyatawa) February 10, 2018
You're really gonna make that call with .3 left? OK then.

— Corey Lathrop (@cjlathrop) February 10, 2018
Foul my ass

— Adam Streur (@astreurphoto) February 10, 2018
Ridiculous. Zebras determined that outcome.

— Adam Streur (@astreurphoto) February 10, 2018
Absolutely robbed.

— Patrick Marshall (@wildjays) February 10, 2018
Creighton went ahead on a questionable call. Xavier gonna win on an extremely questionable call.

— CJ Moore (@CJMooreHoops) February 10, 2018
That wasn't a foul no matter how much time is on the clock.

— John Gasaway (@JohnGasaway) February 10, 2018
I've seen much more contact go uncalled at the end of the game than what was called on Creighton. Wow.

— Pat Forde (@YahooForde) February 10, 2018
It isn't controversial, it is simply a horrendous call. https://t.co/yuDelA3X28

— Doug Gottlieb (@GottliebShow) February 10, 2018
We are agreeing with Doug Gottlieb???? Oh my god https://t.co/9osWJB01wz

— FakeBlueCrew (@FakeBlueCrew) February 10, 2018
I'm not a blame the refs guy, but Creighton got robbed today. Hard to argue otherwise after seeing the replay.

— Corey Lathrop (@cjlathrop) February 10, 2018
The official assumed a block was going to happen & decided ahead of time he was going to blow the whistle.

— Corey Lathrop (@cjlathrop) February 10, 2018
They better grease the light poles in Omaha. A lot of salty Creightonians may take to the streets after that result.

— Brian Hamilton (@_Brian_Hamilton) February 10, 2018
Lol no we'll just get drunk. https://t.co/kjNABQ18pW

— Dave Sund (@davesund) February 10, 2018
Creighton is trending on Twitter in the United States because literally the entire country saw the refs blow this game.

— Ryan Holmgren (@ryanholmgren) February 10, 2018
Worst call ever in Clink? Yup

— Jays Hot Takes (@jayshottakes) February 10, 2018
Calling that a bad call is truly an injustice to bad calls.

— Rob Simms (@IamRobSimms) February 10, 2018
Bull**** call. Bull**** all the way. Donate that paycheck, stripes because you didn't earn it today.

— John M. Bishop (@JohnBishop71) February 10, 2018
Evon Burroughs on the whistle. Yes, call him out by name. Not good. Not good at all.

— John M. Bishop (@JohnBishop71) February 10, 2018
If John's eyes could kill, there would have been three murders at the CLINK with 0.3 seconds to play. Wow. https://t.co/ZZGReZrzbG

— Rob Simms (@IamRobSimms) February 10, 2018
I'd blow a gasket if I were @cucoachmac. Or ten.

— Fran Fraschilla (@franfraschilla) February 10, 2018
Xavier wins 72-71. Refs clowned all over that last minute. Creighton fans pissed, and they should be.

— Banners on the Parkway of Class (@BannersParkway) February 10, 2018
That was the most bush league call I've seen this year. Absolutely horrible! #GoJays

— Bob Harstad (@bobharstad) February 10, 2018
Wow……………………. pic.twitter.com/rF6FvkE3TO

— Jahenns Manigat (@JManigat12) February 10, 2018
Are you kidding me? This is terrible!!!!! https://t.co/HW4NELGmQx

— Justin Patton (@JustinPatton17) February 10, 2018
While I'm disappointed in today's outcome, we aren't about pointing fingers. We will continue to work on what we can control. Thanks so much for the incredible support of 18,000 strong. Four home games left, hope to see you there! #rolljays

— Coach McDermott (@cucoachmac) February 11, 2018
Comments
Tagged in: