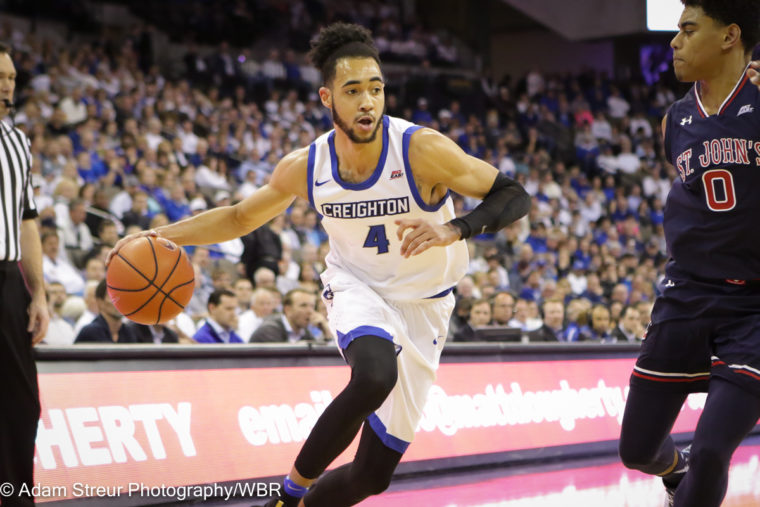 Morning After: Creighton Falls to Villanova in Big East Championship, 74-60
Key Stats:
Creighton committed 17 turnovers, leading to 21 Villanova points. They shot just 6-24 from three-point range (25%). In a game where they lost by 14, those two stats made the biggest difference in the outcome — particularly their outside shooting, because if they had made their season average of 40%, that would have been 12 additional points, and made this a closer game even with all the turnovers and sloppiness in the middle section of the game. Alas.
After the semifinals, we noted that Marcus Foster and Justin Patton combined to score 42 of Creighton's 75 points in that win over Xavier, with 21 apiece. To win close games in March, you need big-time players to make clutch shots, and time after time in that game Foster and Patton did so.
In the finals? Not so much. They combined for 23 points and were almost non-factors in the game — when the game was being decided in the first half, they had just 10 combined points, and attempted just 10 combined shots.
Standout Performance:
With Foster and Patton struggling, and both Davion Mintz and Tyler Clement having all kinds of problems executing offense against the Villanova defense, Creighton tried something new: they inserted Ronnie Harrell, Jr. at point guard.
The 6'8" forward has good ball-handling skills, brings a massive amount of energy and activity to the floor, and when he's on the "good" side of the inconsistent pendulum, he's a difference maker. The problem is they've never been able to count on that being the case every time he takes the court, and there's enough other options at his position who've played well this season that giving developmental minutes to him has been hard to do.
As the season has gone on, he's become more consistent both in practice and in games, and as both Toby Hegner and Cole Huff have struggled over the last two or three weeks, it's created an opening for Harrell to get on the court. Harrell had played just 42 combined minutes during Big East Conference games prior to the season's final week, when he saw 10 minutes of court time against both St. John's and Marquette.
In those games, his minutes have mostly come at the four, a natural spot for a 6'8" player with a long wingspan. But with the Jays down by 20 on Saturday, they let him be the primary ball handler and he immediately turned the game from a sure-fire embarrassing blow out into something more competitive.
He subbed in with the Jays down 46-26, and spearheaded at 16-8 run where he was directly responsible for 13 of the 16 points. Harrell scored eight himself, had assists on five more, and helped the Jays cut the deficit to 12. In the first ten minutes he was on the floor, he had nine points, six rebounds, two assists and a steal, and his play led Fox's Gus Johnson to ask viewers at home, "Where's this kid been?"
Recap & Analysis:
After 10 minutes of Saturday's Big East Championship game, Creighton had to feel great about the way the game was going. It was tied at 11, and their defense had put together one of its' longest sustained stretches of excellence all season. WBR's Matt DeMarinis charted that over that span, they had just one blown assignment, with everything else executed exactly as drawn up, and every shot contested. Big East Player of the Year Josh Hart had been held scoreless by Big East Defensive Player of the Year Khyri Thomas, and the game was tied.
Then Thomas came out for a breather, and Hart smelled blood in the water. He scored 11 consecutive points, taking (and making) shots on four straight possessions against defenders not named Khyri Thomas. That helped 'Nova build a 22-15 lead, but Creighton immediately fought back.
Patton connected on an alley-oop, and then a wild stretch where four Bluejays dove to the floor in an attempt to secure a loose ball led to a corner three from Cole Huff. It was 22-20, and it looked like we were in for a doozy of a championship game.
The "Basketball Gods" reward a hustle play with a Cole Huff trey at the Mecca of Basketball… #GoJays #TakeFlight #BIGEASThoops pic.twitter.com/Rys08anaRC

— Creighton Basketball (@BluejayMBB) March 11, 2017
Then the Jays committed turnovers on six of their next nine possessions, leading to a 14-2 Villanova run to end the half. What had been a highly-competitive two-point game was suddenly a 36-22 deficit heading to the locker room. The start of the second half only made things worse; over their first ten possessions after halftime, they committed six turnovers. Over a 19-possession span across both halves, they had 12 turnovers and just nine points.
Against the best team in America, that's not going to work, and Villanova blew the game open. They built a 46-26 lead as the Jays' made critical errors one after another — careless dribbles, rushed decision-making, poor passing, and selfish play-making. Against a team as good as the Wildcats, mistakes add up quickly because they're always ready to pounce. After cutting the lead to 22-20 on that wild scrum for the loose ball and three-pointer from Huff, the Jays were on the wrong end of a 24-6 run spanning the next 11 minutes of action.
Though Harrell came in and began making plays, turning the tide just enough to save them from the embarrassment of a 20 or 25 point defeat, the outcome was all but decided by the time he entered. 11 minutes against the (likely) top overall seed in the NCAA Tournament where you have more turnovers than points is no way to win a game.
As frustrating as it was — and based on the reactions on social media and the Underground, it was massively frustrating to almost everyone at some level — the Jays got what they needed to out of this weekend. They built momentum heading into the NCAA Tournament by virtue of two solid wins over likely tournament teams. They won those games in a manner they haven't done much of since mid-January, by grinding out a low-possession game and winning a thriller on their last shot, and by coming from behind in both games. And they almost assuredly earned themselves a six or seven seed in the NCAA's, which was their goal heading in.
BracketMatrix.com has them slotted as a likely "6" seed based on the 112 bracketologists they chart, and if that winds up being the case, their likely opponents on the "11" line would be Michigan State, Wake Forest, Middle Tennessee State, or USC. Interestingly, fellow Big East teams Seton Hall, Marquette, and Xavier are all on the "10" line,  which might make things tricky for the committee if the Bluejays are slotted for a "7". Thankfully, the prognostication ends today, and by late afternoon we'll know where the Jays are headed and who they're playing.
They Said It:
"First of all, I'd like to congratulate coach Wright, his staff and his team. Very deserving champion. You know, they're very — in a lot of ways, from a coaching perspective, the way they play is how we all aspire to get our teams to play a little bit more like they do. Because they're so disciplined. Their shot selection is incredible, attention to detail, their hustle plays.

And I thought our guys, for the most part, executed what we needed to do defensively. Hart shot a lot of jump shots the first half and made a lot of jump shots. I think they only had eight points in the paint at halftime. But our mistakes that allowed the baskets for them, that was 11 to zip points off turnovers and ended up 21-7 and we lose by those 14 points. That's too much to overcome against a team like Villanova. If you're going to be successful, you have to value the ball, you have to take care of the basketball and not allow them to have those easy scoring opportunities. So they're a very good team. And I'm really proud of my team for what they've accomplished this week. We just weren't quite up to the challenge today." -Coach Greg McDermott in postgame press conference
Q. Cole, when you're playing a team like Villanova and you know you have to be — you don't have to be perfect but you've got to play really well — is that tough to just sort of mentally bring that mentality or that idea into the game, thinking — does that ever weigh on you when you're on the court thinking that you've got to be assignment-sound and then take care of the ball and just because they don't make a lot of mistakes?
"We're conscious of it all the time. Whenever we watch film we see just how quickly things can turn when you play against this team because they're not going to beat themselves. So if you miss an assignment, if you miss a closeout or turn the ball over it's going to add up extremely quickly. And I think in the first half we turned the ball over a few too many times.

Part of it could be we were being careless with the ball, but I think we all just wanted it so bad we were trying to make things happen that weren't there. And it's tough when that happens. But you've got to tip your hat to them. They are the defending national champs, and it's another game we'll learn from and get ready for next week." -Cole Huff in postgame press conference
Q. Mac, what was going through your mind when you inserted Ronnie into the game at that point. It seemed like it gave you some life there late in the game, felt like it was going away?
"I talked to Ronnie last night, told him he needed to be ready. Some of the matchups, some of the switches are difficult for some of our guys. And Ronnie's length, athletic ability, work on the backboards I thought could have an impact today. And to his credit he was ready. And he gave us a chance.

The game was over if he doesn't come in and we get it back to 12 and at least have a shot at it. But his activity was great. He made three assists — he had 13 minutes and he leads us in assists. And those type of plays are the type of plays that are going to get him on the floor more, that and with his activity on the glass. So he was good today and he'll be important to us moving forward." -Coach Greg McDermott in postgame press conference
Q. What do you take away from the entire week, moving ahead?
"You know, as I told the guys I had so many of our fans come up to me last night or this morning almost with tears in their eyes because of the memories that we've created for them here this week.

You know, we've been in this league four times. We played in the championship game twice. We've had great followings out here every time we've come out to play. And it's a special place to coach, it's a special place to play. So I wanted them, while they're disappointed now, they've got to get over that in a hurry because they've accomplished a lot this week. Selection Sunday is tomorrow. There's 36 teams out of 350-some that will be selected as an at-large to the NCAA Tournament. We're going to be one of them.

That's hard to do. And you need to really enjoy it. So I want them to hold their heads high, to stick their chest out when someone congratulates them, I want a firm handshake and say thank you and understand that we lost to the defending national champ and the likely No. 1 seed in the NCAA Tournament. But we have nothing to hang our heads about." -Coach Greg McDermott in postgame press conference
Q. They have a lot of guys who can do things, big things, but what was it like to try and stop Josh Hart in this game?
"It's real hard when he's — I thought some of those jump shots early Khyri and sometimes Marcus who was switched onto him. I thought they were relatively challenged. But once he hits a couple he's so hard to stop because you always have the threat of him getting to the rim, he's so powerful when he gets there. And you have to respect the 3-point shot. And then to go with that, he's got that intermediate game where he can stop on a dime and rise up and shoot over you.

And he did that and Kris did that to us, Jalen hit a couple. They understand who they are. And they execute what they do. While it's relatively simple, their perfection makes them exceptional." -Coach Greg McDermott in postgame press conference
Q. Coach, Jay Wright with the seniors have been through this so many times. It's experience. Do you take that element into account trying to prepare your team for a game like this?
"Absolutely. We rolled two freshmen and a sophomore out there in the starting lineup. Ronnie played a bunch in the second half. He's a sophomore. Martin Krampelj is out there as a freshman. We're rolling some guys out there where this is an invaluable experience. It's one thing for me to talk about what it's like but to experience it and feel it, what the Garden is like on championship Saturday, it's something that's pretty incredible. And our experience here this week is going to help us moving forward and I think help us in the NCAA Tournament.

But those guys, I'd be remiss if I didn't mention how well that Kris and Josh and Darryl, what great ambassadors they've been for the Big East Conference. And the Villanova program in general, for a basketball purist like myself, the way they won it last year, team basketball, and just the way they carry themselves.

And it starts at the top with Jay, obviously, but that senior class, what they've accomplished, is incredible. And it makes the rest of us — and I think I speak for the other coaches in the Big East — when we watch what they did last year and how they've backed it up this year, it makes you proud to be part of this league because the team that's kind of been our shining star does it the right way. And they represent the game of basketball and our league in a very professional way. And it's been — it's hard to play against, but it's also fun to sit back and watch and enjoy." -Coach Greg McDermott in postgame press conference
Q. I just asked Cole about it, I know you said the turnovers were the difference or partly the difference. What did you see — why did it sort of spiral out of control for that stretch?
"Well, I mean, it's as simple as that. You know, those turnovers don't allow you to set your defense. And when you're trying to play against Villanova without setting your defense, you're mismatched, you've got the guys on guys you don't really want them on.

You're asking for trouble. And while we forced some turnovers with our defense, you know, that 14-point gap and points off turnovers is a big statistic. It's one thing when you make a mistake. But can you correct the mistake by getting a stop? And today we weren't able to do that.

And some of them, they were broken plays where they had an advantage and it was going to be hard for us." -Coach Greg McDermott in postgame press conference
Q. Ronnie, when you come in there, looked like at that point the game was pretty much in control, like there wasn't going to be much of a chance unless you guys got really hot from the perimeter or something. But you did, you know, through your hustle and effort plays, bring them kind of within striking distance. When you got in there, what were you looking to do? Did you think you could make enough plays to get you guys back in the game?
"I felt like I can, just kind of provide a spark for us in any way possible. I hit a 3 early, but it goes further than just shooting, trying to bring some pressure on the defensive end, grab some rebounds and help in areas I felt we were struggling." -Ronnie Harrell, Jr. in postgame press conference
Q. Coach, how much more either encouraged — or what do you feel about your team after this week looking ahead?
"Well, we won kind of a slugfest on Thursday against Providence. I don't think it was a pretty game but as I thought back I'm not sure we've ever played a pretty game against Providence. It's a result of how Ed gets his guys to play. And we ended up a shootout last night against Xavier. So we've seen some different things and we just played against one of the most disciplined teams in the country.

I think what that does to prepare you for the NCAA Tournament is invaluable. The negative is we've had a lot of guys play a bunch of minutes, and you could be leaving Tuesday morning for an NCAA Tournament site. So you don't have a ton of time to prepare.

But it's been an incredible experience for our guys, and while they're disappointed now, I think hopefully by the time they get off that plane and sit back in that plane and reflect on what's taken place and what's transpired this week, I hope they feel really good about what they've accomplished." -Coach Greg McDermott in postgame press conference
Q. Both players, considering all the distractions you guys have gone through in the last month, the injury and things like that, what did it take for you guys to kind of come together, put that in the rearview mirror and make sure that — because at the end when you're playing Villanova, you were the two teams that probably most of the league thought should be playing in the game this day, but the road wasn't smooth by any means. What did it take for you guys to get to this point?
"I mean, things happen. Stuff off the court, stuff on the court. You've just got to put it in the rear view. There's nothing we can do to change the past other than grow from it and learn from it. There's still more games to be played, and that was our mindset after every loss, after every win, after everything that was going on, there was still another day.

I mean, that's still our mindset now. And although it may be tough sometimes, especially when you have days like today where you're competing for a championship and we came up a little bit short, like Coach said, we put together a hell of a weekend. We just have to look at all the things that we did wrong and learn from it and make sure that next weekend we can accomplish some good things in the tournament." -Cole Huff in postgame press conference

"I would just say stay in the moment, focusing on what's in front of us. It's like you said, it's so easy to get caught up in everything that's going on around you that you forget what's happening in front of you.

So we've talked as a team, coaches included, about just staying in the moment. Having each other's back as well as having everybody else's back, so I think that was the main thing for us. And I think we've done a great job of that." -Ronnie Harrell, Jr. in postgame press conference
You Said It:
For the trophy! pic.twitter.com/b284XesMhP

— Jon Nyatawa (@JonNyatawa) March 11, 2017
We made to Saturday @PivOWH Bring us home! #Creighton #PivStrong pic.twitter.com/JzOdxuwzQx

— John Bishop (@JohnBishop71) March 11, 2017
Awesome send-off tonight! #GoJays pic.twitter.com/Yn6EDh0eRV

— Creighton Alumni (@CreightonAlumni) March 11, 2017
Hanging out pregame with some of the best in the business, @manajays! #GoJays #HonoraryManajay pic.twitter.com/jL79gwiada

— Kim Adams (@Kim_Adams1) March 11, 2017
The BIG EAST Tournament has been MAGICAL.

Watch @BIGEAST teams lip-sync to @BrunoMars​' awesome song '24K Magic' pic.twitter.com/rXLQBkgaaN

— FOX Sports (@FOXSports) March 11, 2017
Creighton has arrived at @TheGarden. pic.twitter.com/UDk5anRmvv

— Creighton Basketball (@BluejayMBB) March 11, 2017
Walking in to the Garden the last 2 nights I found a penny on the ground. 2 Wins.

Guess what I just found?

We got this.

— Double Jay (@DoubleJayAlum) March 11, 2017
Jays are sitting at the blackjack table and just turned 20 dollars into 200. Nothing to lose here, bet heavy and come out swinging

— FakeBlueCrew (@FakeBlueCrew) March 11, 2017
@BIGEAST colors on the Empire State Building in NYC tonight. Go Jays! @Creighton @BluejayMBB pic.twitter.com/HWwUQPRCBS

— Creighton President (@CreightonPres) March 11, 2017
Here we go…Villanova and Creighton! Big East Tournament Championship game at Madison Square Garden!

— Nick Bahe (@NickBahe) March 11, 2017
A sold out #MadisonSquareGarden!! So cool for the #Jays!! Hoping for a fuuuuun game!! #GoJays #MSG #BigEastTournament

— Tony Roth ™ (@toneroth) March 11, 2017
There is nothing better. Nothing. Another sold-out @TheGarden. It's time for the title game. #BEtourney pic.twitter.com/vOyc2Anx8q

— John Fanta (@John_Fanta) March 11, 2017
No place I'd rather be tight now than midcourt and front row at the world's most famous arena. #gojays pic.twitter.com/FQOIKHN5xb

— Rob Anderson (@_robanderson) March 11, 2017
About to get started in a soldout MSG pic.twitter.com/iDW0vU9Qg7

— Jon Nyatawa (@JonNyatawa) March 11, 2017
It doesn't get any better than this right here. #Creighton looks to cut down some nets and #HangABanner. pic.twitter.com/LVxT3kDarr

— Matt DeMarinis (@mjdemarinis) March 11, 2017
Looks beautiful. Win or lose, proud day for Creighton athletics. https://t.co/ar2qmUiXZ0

— Mike Sciandra (@MikeSciandra) March 11, 2017
What is great about this game today is that I feel so relaxed about it vs the first 2 games. But of course, expect a win. #gojays

— Patrick Marshall (@wildjays) March 11, 2017
@wildjays its fun playing with house money

— Tyler Anderson (@TylerA_Anderson) March 11, 2017
The @BIGEASTMBB championship game is underway! Who are you here rooting for at The Garden?! #MarchToMSG #BETourney pic.twitter.com/DtTETL4LG1

— MSG (@TheGarden) March 11, 2017
Through 8 minutes, this is a strong effort by Creighton's defense. Bluejays have held Villanova to perimeter shots. It's 9 all.

— John Fanta (@John_Fanta) March 11, 2017
With Khyri Thomas getting a breather Josh Hart has scored 8 straight points for Villanova to put them 19-15 with 7:39 left in the half.

— Matt DeMarinis (@mjdemarinis) March 11, 2017
Josh Hart is kinda good.

— Heath Gunderson (@Heath_Gunderson) March 11, 2017
Wow, Hart is just that damn good.

— Martin Swanson (@bigredtank72) March 11, 2017
Khyri Thomas went to bench at the 10:26 mark. Nova's tried 5 FGs since — all by Josh Hart (who made 3 of them for 8 pts). Not a coincidence

— Jon Nyatawa (@JonNyatawa) March 11, 2017
That play. Be still my heart. Four Bluejays on the floor, won a 50/50 ball that leads to a three by Cole Huff. That's how you hang a banner.

— Matt DeMarinis (@mjdemarinis) March 11, 2017
REBOUND!

— Martin Swanson (@bigredtank72) March 11, 2017
@bigredtank72 I'm just going to start scheduling this tweet for 20 minutes into each game

— Tyler Anderson (@TylerA_Anderson) March 11, 2017
Shoutout to @dougmcdermott for being such a great coach #blessed pic.twitter.com/xoukb1u3GR

— Barstool Jays (@BarstoolJays) March 11, 2017
It's not all bad, tho. pic.twitter.com/5eEvFXcGYS

— Garret Mueller (@mue11er) March 11, 2017
Jays must take care of the ball, and need to knock down some shots. Getting out roughed right now.

— Brody Deren (@BrodyDeren) March 11, 2017
Creighton 2-of-12 from three while Villanova is 7-of-16, Jays committed 10 turnovers to just five for the Wildcats.

— Mike Vamosi (@MikeVmos) March 11, 2017
These are bad things for Creighton. Also getting outscored 14-2 after getting it to 22-20 is bad. https://t.co/UH5PT7dYVM

— Rob Simms (@IamRobSimms) March 11, 2017
@toneroth @whitebluereview Dirk will find a Nebraska football comparison in this game.

— JayPak (@JayPakMan) March 11, 2017
Pretty embarrassing at this point, the inability to hold on to the ball.

— Creighton Otter (@creightonotter) March 11, 2017
Defense hasn't been exceptional but 26 points in 25 minutes will not get it done.

— Heath Gunderson (@Heath_Gunderson) March 11, 2017
I could steal the ball from Jays ball handlers today.

— Perch Jay (@perchjay22) March 11, 2017
How many times are we going to let them poke the basketball out coming in from behind?

— Joe Doyle (@joe_doyle) March 11, 2017
Too. Many. Sloppy. Turnovers.

— John Bishop (@JohnBishop71) March 11, 2017
Villanova is just so solid. There's not a team that makes you pay for mistakes more than them.

— Corey Lathrop (@cjlathrop) March 11, 2017
This was what I said with about 7 minutes left in the first half. https://t.co/G1OdgJZ15S

— Perch Jay (@perchjay22) March 11, 2017
Truly amazing what Ronnie does on some nights

— Tony Roth ™ (@toneroth) March 12, 2017
RONNNNNNNIIIIIEEEEEEE

— FakeBlueCrew (@FakeBlueCrew) March 12, 2017
Thank god for Ronnie Harrell Jr. right now. He's playing with a tremendous amount of heart for the Jays. 9 points and 5 boards in 6 minutes.

— Kim Adams (@Kim_Adams1) March 12, 2017
Ronnie looking like the best player in this game

— Tony Roth ™ (@toneroth) March 12, 2017
Ronnie got loose

— Mike.tweets (@michaelkmcneil) March 12, 2017
How many people are wondering why Ronnie Harrell Jr. hasn't played more?

— Scott Gutschewski (@GootchPGA) March 12, 2017
Basically everyone who has ever purchased Jays gear https://t.co/yhmxYi3fCp

— JoeJohns (@joejohns402) March 12, 2017
Hart is Algonquin for "never has to dribble"

— Creighton Otter (@creightonotter) March 12, 2017
How many times can a Wildcat slip before it's called a travel?? ANS: All the time.

— John Bishop (@JohnBishop71) March 12, 2017
Villanova is basically 1991 Wichita State baseball to us right now

— FakeBlueCrew (@FakeBlueCrew) March 12, 2017
Even after this loss, Creighton can take pride that it got to the championship game ane will be playing next week in NCAAs. #GoJays

— Martin Swanson (@bigredtank72) March 12, 2017
Not the banner we wanted to hang.
Not the tournament we wanted to win.
We've got bigger goals than that.
See you soon @marchmadness #RDJ pic.twitter.com/X0akk9bhS4

— Barstool Jays (@BarstoolJays) March 12, 2017
Villanova head coach Jay Wright congratulates and recognizes the Creighton fanbase following the Championship game #GoJays #BIGEASThoops pic.twitter.com/DVkwfQxdmt

— Creighton Bluejays (@gocreighton) March 12, 2017
Jay Wright just gave a shoutout to #Creighton fans during championship speech. It was actually kinda cool.

— HilltopRx (@HilltopRx) March 12, 2017
And then Jay Wright just said Doug McDermott again when referencing Greg. And Gus Johnson corrected him. 😂😂😂

— HilltopRx (@HilltopRx) March 12, 2017
I've decided to forgive Jay Wright for calling coach Mac "Doug." My wife yells "PHIL DUNPHEY" every time she sees Jay Wright on TV.

— Bluejay Buff (@BluejayBuff) March 12, 2017
I low-key enjoy Jay Wright. He actually seems like a pretty good dude. https://t.co/4nezwue1Ki

— Garret Mueller (@mue11er) March 12, 2017
Great run by the Jays in NYC… Thank you to all the #Creighton fans for representing our institution so well. Congrats to #2 Villanova.

— Kevin Sarver (@KASarver) March 12, 2017
Thanks for a great tourney @BluejayMBB. Looking forward to the dance! #GoJays

— Smitty (@JSmithberg) March 12, 2017
Hurts a lot right now to lose, but this was one of the best weeks of my life. Made so many memories at the Garden. Tomorrow is a new year!

— Joe Popovich, Jr. (@CMTJoe) March 12, 2017
I'm late to this, but Creighton did exactly what they had to do this weekend: build momentum for next week. Everything else was gravy.

— Corey Lathrop (@cjlathrop) March 12, 2017
Also created a moment that CU fans will remember for a long time. You can be disappointed in today's result, but be proud of what they did.

— Corey Lathrop (@cjlathrop) March 12, 2017
.@TheGarden was electric ! Thank you #NovaNation ! @BluejayMBB has a high powered offense – they're a strong team ! Good luck in the Tourney pic.twitter.com/jBgaQLC8ZI

— Jay Wright (@VUCoachJWright) March 12, 2017
While I'm disappointed in the final score….I couldn't be more proud of our team. It was a terrific week in NY City! #rolljays

— Coach McDermott (@cucoachmac) March 12, 2017
Very appreciative of everything in my life and excited for what's to come! Thanks for all the birthday love!

— Ronnie Harrell Jr. (@Sniper4_) March 12, 2017
Comments
Tagged in: