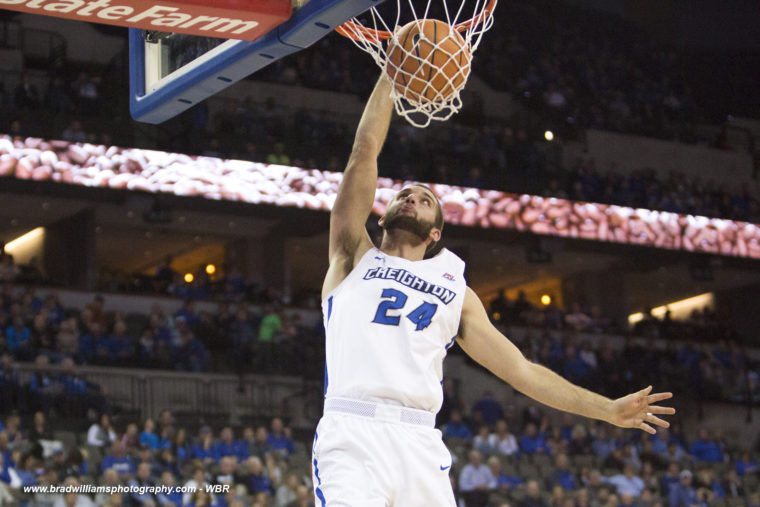 Morning After: Creighton Freshmen Come Up Clutch in 100-89 Win over #23 UCLA
Key Stats:
The Bluejays scored 1.19 points per possession, which is really good — and absolutely insane when you consider they didn't shoot the ball terribly well. They made "just" 11-29 from three-point range and 33-67 overall. They missed a dozen free throws (23-35). Their effective field goal percentage was 54.1%, which is good but not outstanding. And yet…1.19PPP. Wow.
They outrebounded UCLA 37-30, including 7-6 on offensive boards. They had 14 assists on 33 made baskets, and turned it over just eight times. And they outscored UCLA 36-34 in the paint.
And how about this? Creighton scored 100 on a ranked team for just the second time in program history, joining their 2014 win over #6 Villanova where they scored 101. It was also the first time anyone has hung 100+ on UCLA in a 40-minute game since Arizona did it in February of 2004 (they did surrender 101 to Central Arkansas last week, but that game went to overtime).
Standout Performance:
Creighton's three newcomers combined for 40 points. Ty-Shon Alexander scored 12 on 4-8 shooting and had three assists. Manny Suarez had six points and five boards. And Mitch Ballock had 22 points, three boards and three assists. It was Ballock who electrified both the crowd and his team, though, with four huge three-pointers and an array of drives to the rim.
When freshmen struggle early in their career (and they almost always do), it's because the speed of the college game is impossible to simulate in practice and hard to adjust to on the fly. Ballock and Alexander have jumped right in and become difference makers immediately, and a big part of the reason why is that the game doesn't appear too fast for them. They're aggressive in their play while still under control. Combine that with Top 100 talent and a fearless, gutsy attitude and you've got something special.
Just two weeks ago, we were talking about how Marcus Foster and Khyri Thomas would need to shoulder the load offensively, and that the Jays couldn't afford to have both of them on the bench at the same time. Two weeks later the Jays won a game against a top-25 team where Foster and Thomas played "OK" but not "great", thanks in no small part to the unexpected play of Ballock and Alexander.
Well, I should say, it's not unexpected anymore. Every time Ballock rose up for a three on Monday night, the huge contingent of Bluejay fans at the Sprint Center got out of their seats in anticipation of it going in. After just four games he's already "that" guy.
Recap & Analysis:
In front of what was essentially a home crowd at the Sprint Center in Kansas City, Creighton continued their early-season run of offensive explosions with a commanding 100-89 win over UCLA. They led for nearly 32 minutes of the game, including the entire second half, and turned back every UCLA run with a bigger run of their own.
With UCLA ahead 13-8 and playing at a high-level early on — they had no turnovers and got points from all four of their key players in Aaron Holiday, Kris Wikes, Thomas Welsh and Jaylen Hands in the first five minutes — Creighton responded by putting the clamps on defensively and using the stops to run in transition, where they excelled. The resulting 16-0 run gave them a 24-13 lead, and was jump-started by a steal and fastbreak layup from Marcus Foster. Buckets from Thomas and Foster grew the lead. And then the freshmen capped it off, with Ballock sticking a jumper and Alexander scoring on a putback and a three-pointer on consecutive possessions. After the last of those buckets, Alexander flexed to the Bluejay crowd and yelled in excitement as UCLA called for timeout. Rather than be intimidated by the opponent or by the moment, he was doing some intimidating of his own, and whether it was effective or not isn't really the point (it likely wasn't). In just his fourth collegiate game, Alexander was already playing with a little swagger, and you have to love that.
How did Ty-Shon Alexander do this?!? #HOFClassic https://t.co/m7aF1yGbT0

— Hall of Fame Classic (@HOFClassic) November 21, 2017
Coming out of that timeout, Steve Alford switched to a 1-3-1 zone. As it tends to do, the zone flustered the Bluejays. It slowed the Jays down. Their shot selection suffered, as they hoisted a series of three-pointers instead of getting into the paint as they'd done earlier in the game. They missed seven straight field goals at one point. They compounded things by getting careless with the ball and turning it over. And UCLA took advantage, using a 10-0 run of their own to erase CU's lead, and eventually take the lead 38-36 late in the half.
They desperately needed a spark, and Ballock provided one. He nailed a three to give them back the lead, 39-38, then found a driving lane and scored on a layup. Moments later, he followed his own miss, stole the ball back, and made a bucket to complete a personal 7-0 run:
Mitch Ballock: "Coach Mac wants us to get back. I kind of went against that a little bit… I might hear about it in film." pic.twitter.com/FOzV7nD03e

— Jon Nyatawa (@JonNyatawa) November 21, 2017
Creighton then scored the first seven points after halftime to complete a 14-0 run and go up 50-38 just 90 seconds in. That would prove to be the decisive stretch of the game, as it was never closer than two possessions the rest of the night. Ballock would score 10 straight midway through the half, making a pair of threes and going 4-4 at the line, and then UCLA's frustration began to manifest itself. Hands was whistled for a flagrant foul on Thomas as he drove to the rim on a fastbreak. Holiday all but tackled Thomas a couple of minutes later, and was likewise called for a flagrant foul. Those extra possessions helped the Jays maintain their lead despite UCLA continuing to score on the other end; a trio of Bruins had great individual performances in the second half that were for naught. Holiday scored 14 in the second half. Welsh scored 10 and grabbed eight boards after halftime. Wilkes scored 11 in the second. It wasn't enough because of a huge second half from Marcus Foster — 6-9 from the floor, 1-2 on threes, for 16 second half points — and Ballock, who made 3-5 from behind the arc en route to 13 second half points.
Somehow we've made it this far without mentioning Ronnie Harrell doing his best Paul Silas impression, with the Bluejay Hall of Famer sitting courtside. Harrell grabbed 15 rebounds, against a team with bigger (and longer) players, not by going underneath those bigger players but by boxing out, fighting for position, and then being aggressive in pursuing the ball — and being strong enough to hold on to it once he had it. It was a terrific effort, and the most rebounds in a game since Gregory Echenique grabbed 16 against UAB in November of 2012. Harrell's been overshadowed a bit through four games in part because he's been content to let others have the spotlight offensively, but he's done a lot of the dirty work that's easy to miss — he's played solid defense, made good decisions with the ball, and been a beast on the boards.
Creighton now moves on to play (gasp) Baylor, a team they last saw in the 2014 NCAA Tournament. It was a shocking, nightmarish, soul crushing end to that era of CU hoops, and a game I'd be content to never revisit. While a chance for a small sliver of revenge is exciting, I'd have been OK never playing Baylor again simply to not have to think about that game again. To never think about Steve Kerr, on the color commentary for Turner Sports, saying it was like watching a JV team against a varsity team. To never have to think about Doug McDermott, Grant Gibbs, Ethan Wragge and Jahenns Manigat playing the entire second half knowing they weren't going to win, that their Sweet 16 dreams wouldn't become reality, that their Bluejay careers were about to be over. The images of those four exiting the court in blowout defeat are tough to stomach even four years later.
Baylor remains a terrible matchup for the Jays, with their ability to defend using an aggressive zone — CU's kryptonite — and their length at all five positions. The Bears will do everything they can to drag this game into the trenches and keep the number of possessions as low as possible. This is a far more athletic Creighton team than the 2014 version, though, and was successful enough against UCLA's zone to give hope. Can they be patient enough to exploit the zone over a full 40 minutes, and get enough stops to score a few buckets in transition before Baylor can set up in their halfcourt defense?
They Said It:
You Said It:
Great Paul Silas & his teammates w/current Bluejays team @TheCBC Classic practice. At 74, Paul could probably still get 12 rebounds tonight. pic.twitter.com/MvAkmNCur4

— Fran Fraschilla (@franfraschilla) November 20, 2017
Generations of @BluejayMBB

From the Red McManus Jays to the @cucoachmac Jays. #Creighton pic.twitter.com/MrNSxrebZ7

— John M. Bishop (@JohnBishop71) November 20, 2017
It was a honor to meet and talk with Paul Silas. He was a rebounding machine! pic.twitter.com/o4ZVkKYMpJ

— Marcus Foster (@Swaggy2_) November 20, 2017
North Carolina takeover. It was an honor meeting Paul Silas (far right), former Creighton player as he got inducted into the College Hall of Fame here in Kansas City. pic.twitter.com/3O1Saa6AU6

— Davion Mintz (@deemintz1) November 20, 2017
Greg McDermott introduced 2017 @CBHOF inductee Paul Silas to this year's Creighton team following shootaround today. pic.twitter.com/BkdIVsi07z

— Creighton Basketball (@BluejayMBB) November 20, 2017
Jays fans lined up at team hotel for the Spirit Walk. There's plenty of Bluejays in KC. #Creighton pic.twitter.com/SXQOatXLax

— John M. Bishop (@JohnBishop71) November 20, 2017
Creighton Spirit Walk from KC. https://t.co/S1ld7RJzc1

— John M. Bishop (@JohnBishop71) November 20, 2017
A little @BluejayMBB entrance for your viewing pleasure. #GoJays pic.twitter.com/LxgdM47fuO

— Martin Swanson (@bigredtank72) November 20, 2017
Jays fans representing strong in KC. #Creighton pic.twitter.com/VMDvbUVM8H

— John M. Bishop (@JohnBishop71) November 20, 2017
Wish I was there so i could yell at Helmet Head in person, just like old times. #alfordsucks

— Creighton Otter (@creightonotter) November 21, 2017
Someone about halfway up the stands behind UCLA's basket was waving a Chinese flag as Aaron Holiday shot free throws.

— Brian Goodman (@BSGoodman) November 21, 2017
Remember when 3 UCLA players shoplifted in China? We remember 🇨🇳 pic.twitter.com/cEvhk66D6Q

— Barstool Jays (@BarstoolJays) November 21, 2017
Creighton has an incredible fan base. I know Kansas City is mighty close to Omaha, but this fan base just always TRAVELS. Just gave a rousing ovation to Paul Silas for his induction into college hoops HOF.

— Reid Forgrave (@ReidForgrave) November 21, 2017
One way to attack a zone…beat it down the floor!! Jays need to get more stops and then they can attack in transition.

— Nick Bahe (@NickBahe) November 21, 2017
UCLA can't buy or steal a bucket right now.

— alex sindelar (@crimebait) November 21, 2017
/rimshot https://t.co/NygX4fqQpL

— Jacob Padilla (@JacobPadilla_) November 21, 2017
I figured Mitch & Ty-Shon would be good. I wouldn't figure them to be this good, this early.

— Dave Sund (@davesund) November 21, 2017
I feel like we have more points than this. #gojays #letitfly pic.twitter.com/osfejFLiyw

— Rob Simms (@IamRobSimms) November 21, 2017
Mitch Ballock with a one-man 7-0 run to put the #Jays up 43-38 at the break. Alexander and Ballock combined for 14 points and 5 assists off the bench.

— Matt DeMarinis (@mjdemarinis) November 21, 2017
Eudora Kansas' finest, @Mitchbballin24, putting on a first-half show for the hometown-ish fans. #GoJays #SorryJayhawks

— truebluejays (@truebluejs) November 21, 2017
— Heath Gunderson (@Heath_Gunderson) November 21, 2017
Mitchell Ballock with an incredible 90 seconds! #GoJays #RollJays

— Jimmy Motz (@JimmyMotz) November 21, 2017
Mitch ballock is literally Grant Gibbs on steriods

— Alex Hardy (@HA_HA_RDY) November 21, 2017
"That's not Mitch Ballock. That's Chris Mullin!"@franfraschilla dropping some big time comparisons after the @BluejayMBB freshman finishes the 1st half on a personal 7-0 run. #BIGEASThoops #BIGEASTFeast pic.twitter.com/yozwuHxfFQ

— #BIGEASThoops (@BIGEASTMBB) November 21, 2017
SO. MANY. POINTS. https://t.co/cPvwEyg10U

— Jacob Padilla (@JacobPadilla_) November 21, 2017
the Sprint Center just played a Silas interview for too long out of the break and it resulted in a UCLA turnover. MORE PAUL SILAS OVER THE LOUDSPEAKERS!!!

— alex sindelar (@crimebait) November 21, 2017
Creighton's offense is a thing of beauty when they get it going. They're gonna score 100 daggone points tonight. And will be ranked next week.

— Reid Forgrave (@ReidForgrave) November 21, 2017
Creighton freshman Mitch Ballock is showing what he's capable of against UCLA. Talented wing get buckets from all three levels.

— Evan Daniels (@EvanDaniels) November 21, 2017
Will someone please get a flannel on Mitch Ballock and hand him an axe. #LetitFly #Lumberjack

— Schmitty (@burtsmustache) November 21, 2017
Mitchell Ballock has in the country range. He's feeling himself. Career-high 20 points already with 7:37 to go. #Jays up 83-73.

— Matt DeMarinis (@mjdemarinis) November 21, 2017
Mitchell Ballock has hit 4 threes. He has 20 points. He's a freshman going against a #23 UCLA team. It appears he has the confidence of a overly destructive bull in a very large China shop.

— alex sindelar (@crimebait) November 21, 2017
I still can't believe Creighton got this kid over Kansas.

— Dave Sund (@davesund) November 21, 2017
Oh lord Ballock is starting to flex for his home crowd! He's dangerous! #ShootersGonnaShoot … Also love seeing @THeggs_32 playing veteran coach from the bench. Love the culture @cucoachmac has right now #letitfly #RollJays

— Thomas Kierl (@kierl_t) November 21, 2017
#RollJays #LetItFly #BigBallockBrand pic.twitter.com/mlJAZlGBN7

— Mike Sciandra (@MikeSciandra) November 21, 2017
Mitch Ballock is better than you at basketball (yes, you). Don't argue with me.

— Bluejay Buff (@BluejayBuff) November 21, 2017
There's this preemptive buzz that you can hear every time Ballock rises up. Then the #Jays fans erupt when he knocks it down

— Jon Nyatawa (@JonNyatawa) November 21, 2017
not only does Khyri Thomas destroy worlds he's also drawn two flagrant fouls. seems like a bad idea against a real-life super hero.

— alex sindelar (@crimebait) November 21, 2017
Keep your hands off Khyri, UCLA. I'll fight every one of you.

— Jacob Padilla (@JacobPadilla_) November 21, 2017
"C-U, C-U, C-U" chant ringing out after Khyri Thomas nails that 3. UCLA timeout. #Jays up 97-87 w/ 90 seconds left

— Jon Nyatawa (@JonNyatawa) November 21, 2017
Prince Ali fouls out. pic.twitter.com/Cu1t3BLIBd

— Dave Sund (@davesund) November 21, 2017
I know y'all see my @BluejayMBB putting in work

— Terence Crawford (@budcrawford402) November 21, 2017
Creighton's a top-20 team right now. They look absolutely terrific. We'll see if their lack of size inside catches up, but they are just so, so good offensively.

— Sam Vecenie (@Sam_Vecenie) November 21, 2017
Creighton vs Marquette O/U 200 with 50 3s https://t.co/3lm4Fav0CL

— Doug Gottlieb (@GottliebShow) November 21, 2017
Think we may have underestimated Creighton in the Big East race. I know it's early, but Bluejays look every bit as good as Xavier, Nova and any other contender in that league

— Aaron Torres (@Aaron_Torres) November 21, 2017
Greg McDermott has one of the best offensive minds in the country. Not sure how anyone beats @BluejayMBB on the night they just put together. This freshman class has been exceptional. #Creighton's won two straight games over Top-25 teams. Impressive.

— John Fanta (@John_Fanta) November 21, 2017
LOVE Creighton's four-long lineup with Foster, Thomas, Ballock, and Alexander. Four guys who can be queens on a chessboard. And Greg McDermott is Bobby Fischer.

— Jon Rothstein (@JonRothstein) November 21, 2017
Creighton might be better than last year when Patton/Watson we're together. FOSTER AND THOMAS are legit. Krampelj and Saurez are awesome. Harrell kicks ass. Ballock and Alexander are the X. #ROLLDAMNJAYS

— Drew English (@yeti47) November 21, 2017
Knew Marcus Foster and Khryi Thomas were awesome at Creighton, but had no idea the freshmen looked like THAT. Freshmen play close to today's level all year, Bluejays could be a 2nd weekend-type NCAA Tourney team

— Aaron Torres (@Aaron_Torres) November 21, 2017
@BluejayMBB with solid W over @UCLAMBB suuporting @jeffborzello @espn theme @BIGEAST is going uptown !

— Dick Vitale (@DickieV) November 21, 2017
I think coming into the season, everyone was asking who would fly with Thomas and Foster. I think the answer is…they are all flocking together #letitfly #gojays

— Patrick Marshall (@wildjays) November 21, 2017
Rolljays!!

— Antoine Young (@AY30) November 21, 2017
BIG WIN BOYS! #RollJays #OnToTheNextOne @BluejayMBB

— Jahenns Manigat (@JManigat12) November 21, 2017
Bluejay fans!!! Thank you!! We are having home games in Kansas!! #GoJays 🏀

— Martin Krampelj (@MartinKrampelj) November 21, 2017
😂😂😂 pic.twitter.com/EhC89VWxV3

— Jon Nyatawa (@JonNyatawa) November 21, 2017
Creighton grads 9-13 from three tonight in the NBA, Jays beat UCLA and kid in CU jersey wins the knockout game In KC and draws a CU chant during the Baylor/Wisconsin game. #RollJays

— #TeamDana Prez (@mkaup04) November 21, 2017
Daily News backpage @dougmcdermott pic.twitter.com/QInFb1k0Kz

— Stefan Bondy (@SBondyNYDN) November 21, 2017
Comments
Tagged in: