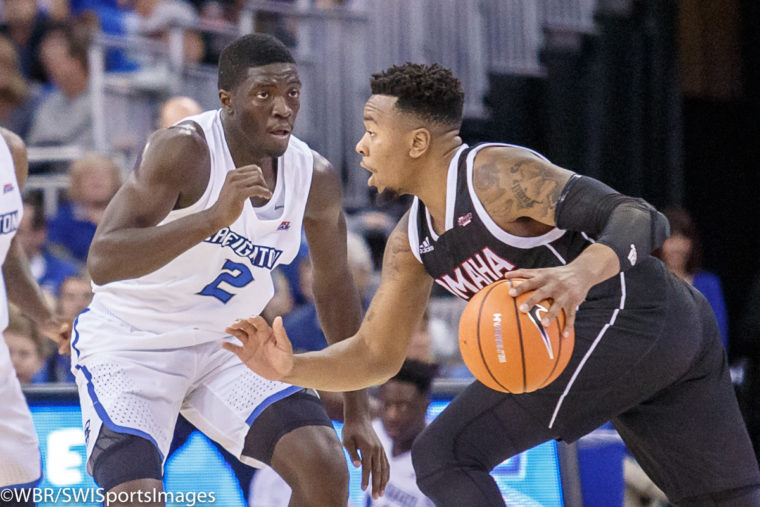 Morning After: Creighton Gets Tough Test from UNC-Pembroke, Pulls Away For 93-70 Exhibition Win
"Bluejay Beat" Postgame Podcast:
Recap & Analysis:
Coach Greg McDermott said in his postgame radio interview that as a coaching staff, you never know what type of game you're going to get when you schedule a DII team for an exhibition. Sometimes you get an overmatched, undersized team that you wind up blowing out early. Sometimes, you get a scrappy team with shooters that hangs around and makes things interesting. And sometimes, you get UNC-Pembroke, a Top 25 team in DII with good size and length who makes you fight for rebounds, pushes you out from the basket defensively, and hits tough shots.
UNC-Pembroke made seven of their first 10 shots, as their bigs created space for mid-range jumpers and got position for layups, then converted. The Braves led 17-12 after five minutes of action, and a late-arriving crowd no doubt wondered what the heck was going on.
Khyri Thomas scored 8 of CU's first 14 points to keep pace with the quick-starting visitors, and then CU's bench gave them a spark, as first Ronnie Harrell and then Manny Suarez spearheaded a game-changing 15-2 run. Harrell checked in less than four minutes into the game, and grabbed rebounds to end two consecutive Brave possessions; the first resulted in a three-point play for Khyri Thomas. He assisted on a nifty layup by Suarez moments later to cut the deficit to 17-16.
Two possessions later, Harrell drew a foul and hit a pair of free throws to put the Jays up 19-17, then grabbed a rebound on the other end, and assisted on a bucket by Marcus Foster to make it 21-17. He drew another foul on the the next possession, hit two more free throws, and suddenly it was 23-17 Jays — thanks in large part to a tremendous four minute stretch from Harrell, but also thanks to their defense, who held UNC-P to two field goals over 13 possessions following that 7-10 start.
Foster and Thomas took the game over from there. Thomas, in particular. Here, he dribbled through traffic to create his own shot:
Khyri Thomas' handles: 💯#GoJays #LetItFly pic.twitter.com/M979iq3TE7

— Creighton Basketball (@BluejayMBB) November 4, 2017
And here, as Foster stole a pass and threw an outlet to Thomas for the dunk:
Marcus Foster ➡️ Khyri Thomas…you know the rest #GoJays #LetItFly pic.twitter.com/ArjFCEnyqf

— Creighton Basketball (@BluejayMBB) November 4, 2017
And here, as he used #Khryifense to come up with a steal and an uncontested dunk:
#Khyrfense ➡️ #TazzSlam #GoJays #LetItFly pic.twitter.com/AEaqcWtARr

— Creighton Basketball (@BluejayMBB) November 4, 2017
Foster and Thomas' explosion pushed the lead out to 44-32, and it looked like despite UNC-Pembroke's best efforts, the home team was finally pulling away. A late flurry of turnovers let the Braves back in the game, keyed by a sloppy pass from Ty-Shon Alexander and a sloppy bit of ball handling by Foster where the Braves' Micah Kinsey picked his pocket as Foster tried to dribble out the clock.
Up 49-41 at the break, Creighton came out blazing to start the second. They began the half on a 16-6 run to go up 65-49, highlighted by a pair of three-point plays from Foster, including this one:
AND ONE! #GoJays #LetItFly pic.twitter.com/yhcmnyJq0g

— Creighton Basketball (@BluejayMBB) November 4, 2017
They capped the run with a fun sequence where Thomas fed Martin Krampelj for a dunk, then Krampelj grabbed an offensive rebound the next possession and assisted Thomas on a three:
Khyri Thomas ➡️ Martin Krampelj
Martin Krampelj ➡️ Khyri Thomas#GoJays #LetItFly pic.twitter.com/norGo4bc99

— Creighton Basketball (@BluejayMBB) November 4, 2017
From there, the Jays put the game into cruise control. They showcased some slick ball movement:
That ball movement tho… #GoJays #LetItFly pic.twitter.com/D36HBolTj7

— Creighton Basketball (@BluejayMBB) November 4, 2017
Found Alexander for a breakaway slam in traffic:
👀👀 Ok Ty-Shon… #GoJays #LetItFly pic.twitter.com/sHuCpt6QCm

— Creighton Basketball (@BluejayMBB) November 4, 2017
And got a LONG three from fellow freshman Mitch Ballock:
🔥🔥🔥
🏀🏀🏀

Mitch Ballock from WAY downtown! #GoJays #LetItFly pic.twitter.com/CSWQNkUmvt

— Creighton Basketball (@BluejayMBB) November 4, 2017
They got meaningful contributions and double-digit minutes from 10 players, including:
22 points, three rebounds and two steals by Thomas. His defense made him All-Big East caliber a year ago, but his offense has taken a massive leap forward this year, and that's scary for opponents.
19 points, four rebounds and three steals by Foster. Through two exhibitions, he's still shown the same explosive ability offensively to score at all three levels, but is doing it more efficiently on fewer shots and creating more for his teammates. The Jays are damn lucky to have Thomas and Foster to lean on while they sort out the point guard position. Damn lucky.
13 points, 12 rebounds (five offensive) by Suarez. We'll talk more about Manny below, but he's quickly becoming an important part of the rotation. He's already shown that he's their best offensive player in the post. He's active defensively, and has the size to bang with anyone, though he needs to defend without fouling.
7 points, 8 rebounds, three assists by Harrell. He's shown flashes of his versatility and game-changing playmaking ability during his first two years, but always seemed to make enough dumb mistakes to cancel out his positive plays. He's making smarter decisions with the ball this year, and that gives CU a great weapon at the '4' — he's perhaps their best rebounder, he can dribble and handle the ball like a point guard, and he can create havoc defensively. Like Suarez, he needs to defend without fouling. If he can…look out.
10 points on 2-3 shooting from three-point range, three rebounds and two assists by Ballock. Through two games he's shown the passing ability and court awareness he was touted for in high school, and looks ready to contribute from Day One. If anything, he's almost *too* unselfish, which is the opposite problem most freshmen have when they step on the court. He's going to be really, really good and a real pain in the butt for opponents the next four years.
It was in many ways the perfect exhibition game, giving the Jays the best of both worlds: a big enough win to get lots of playing time for the newcomers, but a win they had to work hard enough for to give the coaches lots of film to break down.
Key Stats:
Creighton out rebounds UNC-P 42-39 and was even on the offensive glass 11-11 against a team that was +7.4 on the boards in DII a year ago (and returned nearly everyone). Pembroke was tenacious and forced Creighton to fight for rebounds and be physical, and the Jays did alright. Not great, but better than a week ago against UNO, and much better than two weeks ago against Minnesota. They showed improvement, and for a facet of the game as important as rebounding — a facet expected to be a weakness for this Bluejay team — improvement, even incrementally, is welcome.
CU turned it over nine times in a sloppy first half, leading to 12 UNC-P points. The Jays cleaned things up significantly, committing just four turnovers in the second half, leading to just two points for their opponent.
Standout Performance:
Manny Suarez had a double-double in just 17 minutes of action, scoring 13 points and grabbing 12 rebounds — five of them offensive. This after going for 14 and 8 against UNO. He's quickly become a fan-favorite, earning the nickname "Mad Dog" on Twitter (courtesy of the always-hilarious Fake Blue Crew), and after a second straight game where he provided huge energy and production off the bench, what's not to like? He's a big man who hustles, scraps, claws, and fights for rebounds, plays aggressive defense with decent footwork, and has a nice touch shooting the ball.
It's doubtful those kinds of numbers are sustainable against the better teams on CU's schedule — teams like Northwestern, Gonzaga, UCLA, Baylor, Wisconsin, you know, the teams they'll play the next three weeks — but they don't have to be for Suarez to make a huge difference for this team. Expecting him to replace what Justin Patton provided is absurd. But can he replace what Zach Hanson gave them as a big man off the bench? Hanson averaged 5.4 points and 2.3 rebounds in 10.2 minutes a year ago, and I don't think it's going out on a limb to say Suarez can give the Jays that. If anything, that might be aiming a tad too low.
He's looking like one helluva pickup for a late spring grad transfer.
They Said It:
You Said It:
#gojays pic.twitter.com/qq7hEDJUOa

— Cale Ferrin (@cale_ferrin) November 4, 2017
It's always a nice night for Jays basketball in the Clink! Jays exhibition vs UNC Pembroke! pic.twitter.com/83vLDDx8Yt

— Bleeds Blue (@CUAlum81) November 4, 2017
Hello old friend. #GoJays #LetItFly pic.twitter.com/B8yZoIYBem

— Rob Simms (@IamRobSimms) November 4, 2017
College 🏀: The Return #AllDevicesInUse #GoJays #GoMystics #GoDragons pic.twitter.com/Q2wDbEQbNQ

— Doug Swenson (@CommonSwense) November 4, 2017
When you first see Creighton's Court #GoJays @HilltopRx @HilltopJr pic.twitter.com/cXi2MmL0Y4

— HilltopAlum (@HilltopAlum) November 3, 2017
Mad Dog goes double double tonight we think. pic.twitter.com/95n0X8Xo8U

— FakeBlueCrew (@FakeBlueCrew) November 3, 2017
Lordy, UNC Pembroke is very active in passing lanes. Getting a lot of tipped passes.

— Austin (@letitflycu) November 4, 2017
Let Ronnie cook pic.twitter.com/Jnd1P5Wkyt

— Not a Fake Coach Frost account (@michaelkmcneil) November 4, 2017
in his 5 minutes on the floor, spaceman slim has acquired 4 rebounds, one offensive. he also has 2 assists. he's… very good at basketball.

— alex sindelar (@crimebait) November 4, 2017
Chef Ronnie has it going pic.twitter.com/MnvM6iAfNC

— Not a Fake Coach Frost account (@michaelkmcneil) November 4, 2017
MORE MAD DOG SUAREZ

— FakeBlueCrew (@FakeBlueCrew) November 4, 2017
an outlet pass to TOBY! ends in bodies flying as TOBY! gets tripped up trying to catch the pass at half court. he's wincing a bit.

— alex sindelar (@crimebait) November 4, 2017
College basketball isn't ready for the havoc this man is going to wreak this season. https://t.co/7E70lkj8ND

— Jacob Padilla (@JacobPadilla_) November 4, 2017
The 1st half has been sloppy and glorious play all at the same time for Creighton.

— Martin Swanson (@bigredtank72) November 4, 2017
Losing when Mad Dog comes in, winning when he comes out 🤔🤔🤔🤔🤔🤔🤔🤔

— FakeBlueCrew (@FakeBlueCrew) November 4, 2017
Mad Dog is lit #gojays

— Patrick Marshall (@wildjays) November 4, 2017
McSLAM! #Knicks pic.twitter.com/h4mxZQkIp2

— NBA (@NBA) November 4, 2017
McSlam. pic.twitter.com/qfi2EhHWCh

— NEW YORK KNICKS (@nyknicks) November 4, 2017
Josh Jackson baptized by McBuckets.

Dr. J approves. https://t.co/7rnMn2isFl

— Matt DeMarinis (@mjdemarinis) November 4, 2017
Ewwweeee!!!! https://t.co/3PzpkUOPp8

— Nick Bahe (@NickBahe) November 4, 2017
@cucoachmac used to dunk before road games when I worked for him. I recall it looking something like this. Give or take… @dougmcdermott https://t.co/ilqf0654K3

— T.J. Otzelberger (@coachotz) November 4, 2017
Asked Coach Mac about his son's slam & stare tonight.

His response: "Genetics." https://t.co/7rnMn2isFl

— Matt DeMarinis (@mjdemarinis) November 4, 2017
My son just asked why @JohnBishop71 makes every Creighton play sound so perfect. I don't know son. I don't know. #GoJays

— Martin Swanson (@bigredtank72) November 4, 2017
Ronnie's going to have a really big season if he can stay out of foul trouble, isn't he?

— Jacob Padilla (@JacobPadilla_) November 4, 2017
Ronnie and Mad Dog is going to be the greatest buddy cop movie duo ever

— FakeBlueCrew (@FakeBlueCrew) November 4, 2017
"And coming up next Mad Dog and Ronnie have to deal with the chief after causing rebounding hijinx in the jail. Only on FOX"

— FakeBlueCrew (@FakeBlueCrew) November 4, 2017
Hot take: Mitchell Ballock sees the floor extremely well. My goodness.

— Austin (@letitflycu) November 4, 2017
We need an official ruling on this, @Wragge34. He already has the beard and the range. How many more of these before he gets #BallockBomb? https://t.co/wM0wH2HQpz

— Matt DeMarinis (@mjdemarinis) November 4, 2017
Mitch Ballock is just a really good basketball player. Hard to peg as a specialist in any particular area. Does a lot of things really well.

— Matt DeMarinis (@mjdemarinis) November 4, 2017
I'm sold on Mitchell Ballock. @NickBahe is absolutely right. Top five on the roster – no doubt.

— Austin (@letitflycu) November 4, 2017
I'm really looking forward to Ballock's year. I think he's gonna sneak up on some people. As much as a Kansas player of the year can.

— Dave Sund (@davesund) November 4, 2017
Mitchell Ballock just received a baseline feed from Foster, did a 360 in the air, then dished it to a waiting Krampelj, who laid it up. fun!

— alex sindelar (@crimebait) November 4, 2017
"Ty-Shon and Mitchell" will undoubtedly be a 3-4 season show that a lot of people in Omaha will watch religiously.

— alex sindelar (@crimebait) November 4, 2017
In tonight's #MeetTheBluejays, @cale_ferrin sits down with Marcus Foster & Khyri Thomas to discuss comedy and dance moves! #GoJays #LetItFly pic.twitter.com/aItmOKkSFD

— Creighton Basketball (@BluejayMBB) November 4, 2017
The dude steals the show. https://t.co/IHEPlXWowl

— Patrick Marshall (@wildjays) November 4, 2017
Too many people sleeping on @Khyri_2 this year as if he isn't one of the best two way players in all of college basketball

— J.Scurry (@Jordan_S09) November 4, 2017
I've been saying that to anyone who will listen, man. They have no idea what's coming this season.

— Jacob Padilla (@JacobPadilla_) November 4, 2017
It's because Tazz is humble and let's his playing do his talking for him. Soon ppl will find out 👀

— J.Scurry (@Jordan_S09) November 4, 2017
Comments
Tagged in: