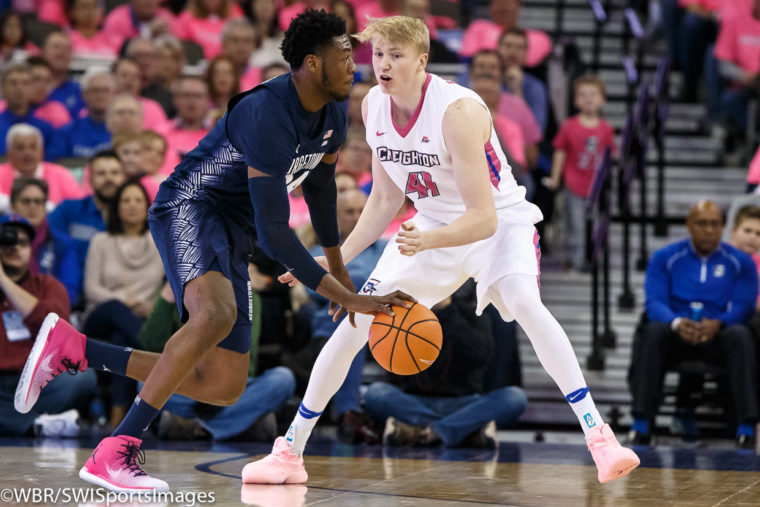 Morning After: Creighton Holds Off Late Georgetown Rally to Win 85-77
Bluejay Beat Podcast:
Recap & Analysis:
In the eighth-annual Creighton versus Cancer "Pink-Out", Marcus Foster and Khyri Thomas combined for 50 points, the Bluejays held off a late rally by Georgetown with clutch plays on defense and near-perfection from the free throw line in the final minute, and they picked up an 85-77 win to move to 17-5 overall (7-3 in the Big East.)
But while all of that is good stuff, it feels like burying the lede.
6'11" freshman Jacob Epperson is no longer a redshirt — he's going to play the rest of the year and try to give the Jays back some of what they lost when Martin Krampelj's season ended with a torn ACL. The possibility of Epperson taking the floor has been a hot topic on the Bluejay Underground ever since Krampelj went down, but with Epperson rehabbing from minor surgery and not in game shape until recently, it was unclear how realistic of a possibility it really was. But late in the week, he quietly began running reps with the starters in practice, and on Friday his time was spent exclusively with that group instead of the scout team, leading observers to wonder what was up.
Six minutes into the game, all 18,518 fans in attendance (and the TV audience at home) found out what was up. Epperson ripped off his warmup shirt and headed towards the scorers' table — the Jays' were burning his redshirt.
Redshirt: burned.

Jacob Epperson checks in for the first time as a Bluejay. He took all of his reps in practice yesterday with the regular rotation. pic.twitter.com/5rifTUlzru

— Matt DeMarinis (@mjdemarinis) January 28, 2018
And for the first time, @JacobEP41 checks into an NCAA game pic.twitter.com/n5iWE40ov7

— Barstool Jays (@BarstoolJays) January 28, 2018
When he checked in, he received a standing ovation from the CenturyLink Center fans. And on his very first offensive possession, he showed off some of the raw skills that could make him an X-Factor in the final 15 games of the season. He was active, setting two ball screens and rolling to the rim after both of them hoping for a lob — something Justin Patton did all the time a year ago, and Martin Krampelj had become adept at this year. The possession ended with Davion Mintz finding him all alone in the center of the Hoya defense, and Epperson throwing down a dunk.
JACOB 👏 EPPERSON 👏 FIRST 👏 CAREER 👏 POINTS 👏 #GoJays #LetItFly #BIGEASThoops pic.twitter.com/Bf5yg0IOno

— Creighton Men's Basketball (@BluejayMBB) January 28, 2018
The standing ovation he received just for checking in was one of appreciation — burning a redshirt 20 games into a season is a tough decision and a team-first move, as he'll never get those 20 games back. The standing ovation he received after the dunk, on the other hand, was one of hope — Creighton's been a different team post-Krampelj, lacking a big man that defenses have to respect above the rim. And on that very first possession against the big frontline of the Hoyas, he gave them that.
It was just one possession, sure, but suddenly a second consecutive season of lessened opportunity for March glory following an injury to a starter had new life.
Those would be the only points he scored in nine minutes, adding two rebounds. He had two missed chances at the rim for easy buckets that didn't connect — whether it was nerves, or the speed of the D1 game, it's hard to say — but the fact that he created scoring chances for himself off of ball screen activity, even though he couldn't capitalize, is promising for the rest of the season.
"We had a long talk with Jacob's parents on Thursday night and again on Friday morning," Greg McDermott said after the game. "It's a really an unselfish decision by him and his parents. And if he or they had said no, we wouldn't have done it."
Epperson's mother, Katherine, echoed that sentiment in a tweet:
We totally support coach McDermott ,staff and players, we couldn't of chose a more caring , team focused coaching staff and group of young players, so proud of jacob, the program blessed for Jacob to be part of the Creighton program & debut on Creighton's pink game a privilege

— katherine epperson (@katherineeppers) January 28, 2018
Epperson's dunk gave the Jays a 20-13 lead; they'd jumped out to an 8-2 lead two minutes in thanks to four baskets in the paint. Three were layups (one each from Toby Hegner, Ronnie Harrell, and Marcus Foster, the latter coming after Foster stole the ball on defense and raced down court). The fourth was an alley-oop to Foster. But Georgetown was resilient, tying the game twice and taking the lead halfway through the first stanza 25-23. The Hoyas were red-hot from behind the arc, making seven of their first 10 three-pointers, and the jumper by Jagan Mosely to give them that 25-23 lead capped a span of six straight possessions where they scored.
CU switched to a 1-3-1 zone, and though Georgetown got a three-pointer from Jahvon Blair in their first possession against the zone, it would be the only one — over roughly five minutes of action, the Hoyas were flummoxed. They missed five straight shots after Blair's three, they committed two turnovers, and the Jays took advantage. A jumper by Foster tied the game at 28; Khyri Thomas cleared the defensive glass on the next possession and stuck a jumper on the other end to give them the lead 30-28. CU did switch back to a man-to-man defense with the Hoyas ahead 33-30 and 3:45 to play, but that confused Georgetown even more. They missed six straight shots to end the half. The Bluejays made six of eight. And the resulting 16-0 run — capped off by two Foster three-pointers in the final 42 seconds, including one at the horn — gave Creighton a 46-33 lead at the break.
It's a #PinkOut, but @BluejayMBB is RED HOT

They end the half on a blistering 16-0 run. pic.twitter.com/UYq8QLYqOu

— CBS Sports Network (@CBSSportsNet) January 28, 2018
Georgetown didn't spend much time dwelling on that run. They emerged from their locker room while Red Panda was still entertaining fans with her bowl-flipping, unicycle-riding skills, and hung out in the tunnel; they began their second half shoot around with almost eight minutes left on the halftime clock. Although brief, whatever head coach Patrick Ewing said to them clearly made a difference. "We didn't start the game out with the intensity and with the right frame of mind that I would have liked," Ewing said in his postgame press conference. "In the second half, we came with a lot more intensity, a lot more effort, a lot more focus."
They clogged up the interior, for starters. After getting 20 points in the paint in the first half, Creighton managed just eight in the second. 12 of their 22 shot attempts were threes, and they made just four of them. And the Hoyas began dominating the glass, grabbing seven offensive rebounds in the second half.
Still, Creighton maintained a 15 point lead after eight minutes. Then the whistles started. In the span of three minutes, the Hoyas attempted 10 free throws, making nine of them, and began chipping into the lead. McDermott had been riding the officials hard for most of the game, and finally crossed a line as with 9:40 to play he was assessed the rare (for Mac, anyway) technical foul. It did nothing to stop the Hoyas momentum, or the way the game was officiated, unfortunately. And with 4:25 left, the Hoyas had cut the lead to a single point, 68-67, after a three from Jonathan Mulmore.
They'd get no closer, though the final minutes were tense.
Hegner answered with a three for the Jays, and was in turn answered by Jahvon Blair with a three 20 seconds later. It was 71-70 Bluejays, and after Thomas missed a jumper, the Hoyas had the opportunity to take the lead.
Thomas had other ideas. He stripped the ball from Blair in front the Georgetown bench, somehow kept both the ball and his feet in bounds along the sideline, and raced down court for a tumbling, acrobatic layup — drawing a foul on top of it. His three-point play gave the Jays a 74-70 lead.
"He picked up his dribble pretty high, and I just waited for Pickett to move up and go catch it," Thomas said afterwards. "He didn't have any choice but to throw it — the clock was winding down — and I was like, 'oh, this is going to be one' and I got it."
#Khyrifense ➕ 1️⃣ #GoJays pic.twitter.com/skZhqI0fPY

— Michael Murakami (@MichaelMurakami) January 28, 2018
On the next defensive series, he went toe-to-toe with Marcus Derrickson in the paint and forced the 6'7" forward who had scored 15 second-half points into a bad shot. Thomas corralled the rebound, and though the Jays couldn't score on the other end, that did nothing to diminish the genius of those two back-to-back defensive possessions by Khyri Thomas. When his team needed it most, against two completely different types of players, the defending Big East Co-Defensive Player of the Year made two equally brilliant defensive plays to seal the game and offered yet more evidence for why the "Co" has to be dropped from that title this March.
Not to be left out of the fun, Harrell came up with a steal on the next trip down, and found Davion Mintz for a long jumper to push the lead out to 76-70. Harrell explained the play after the game. "My main objective was to use my quickness to get around him and make his catches tough. They started going to a high-low play and I caught onto that. I knew once Govan caught it up top that I could do a little spin love and tip it back towards [Toby]."
Big time steal by Ronnie Harrell Jr. (@Sniper4_) at a crucial moment. Body positioning when guarding Derrickson was a major emphasis during practice this week. Clearly Ronnie listened. #GoJays pic.twitter.com/ErzwRPzryo

— Michael Murakami (@MichaelMurakami) January 28, 2018
They'd make nine of their 10 free throw attempts in the final minute, and run off with an important victory.
They Said It:
Video – Creighton freshman Jacob Epperson discusses his collegiate debut: https://t.co/MGBeaBuSix

— Rob Anderson (@_robanderson) January 28, 2018
Greg McDermott had Jacob Epperson in his office yesterday. Here's the @BluejayMBB freshman on his redshirt getting lifted. #Creighton pic.twitter.com/7RCYtwoiRn

— John Fanta (@John_Fanta) January 28, 2018
You Said It:
Our favorite setup of the year, tune in to watch our annual Pink Out Game at 7 vs Georgetown on CBS Sports Network! #CreightonVsCancer #PinkOut #Timeout2Vote #CoachGregMcDermott pic.twitter.com/7tWypQmUMb

— Creighton Managers (@manajays) January 27, 2018
A special night to honor & remember special people. #PivStrong #Creighton #GoJays #PinkOut pic.twitter.com/tm5TdKiw7I

— John M. Bishop (@JohnBishop71) January 27, 2018
#GoJays #beatcancer pic.twitter.com/vO6E6GJArM

— Rob Simms (@IamRobSimms) January 28, 2018
One of college basketball's best atmospheres. A Sea of Pink at The Link! @gocreighton @BluejayMBB pic.twitter.com/bXTBgqwhhu

— John Fanta (@John_Fanta) January 28, 2018
the legend @John_Fanta is here. pic.twitter.com/lhhxGmhbcd

— alex sindelar (@crimebait) January 28, 2018
Pink shirts are in the dress code tonight. Red shirts? Don't need 'em, thanks.

— truebluejays (@truebluejs) January 28, 2018
We don't like the color red anyway tbh… #GoJays #LetItFly #BIGEASThoops

— Creighton Men's Basketball (@BluejayMBB) January 28, 2018
— Brian Norton (@nortonbrian) January 28, 2018
Tonight's Scout for Georgetown. He's beaten Ewing before pic.twitter.com/sXGs8NIJ49

— FakeBlueCrew (@FakeBlueCrew) January 28, 2018
💯 x 10 !!!#Marcus pic.twitter.com/uSGvHrxwyx

— Rob Anderson (@_robanderson) January 28, 2018
It's sad. Of all games….

— Martin Swanson (@bigredtank72) January 28, 2018
Jacob Epperson off the bench and at the scorer's table

— Jon Nyatawa (@JonNyatawa) January 28, 2018
BURN BURN BURN BURN BURN BURN

— FakeBlueCrew (@FakeBlueCrew) January 28, 2018
THE REDSHIRT IS OFF OF JACOB EPPERSON

— alex sindelar (@crimebait) January 28, 2018
Standing ovation for Epperson. Wow. The redshirt has been lifted — and the fans appreciate it

— Jon Nyatawa (@JonNyatawa) January 28, 2018
Epperson sighting in Omaha…whoa! #Jays

— Nick Bahe (@NickBahe) January 28, 2018
It may be game 22, but Jacob Epperson just went to the scorer's table to check in for his Creighton debut. He will NOT redshirt.

— Rob Anderson (@_robanderson) January 28, 2018
Jacob Epperson joined the a very exclusive club along with me: He's now part of the Creighton Basketball pull your redshirt during the season club. But what a great first basket as a Jay! #GoJays #RollJays #LetItFly

— Jimmy Motz (@JimmyMotz) January 28, 2018
How many games in until your first dunk Jimmy?

— TJ McDougal (@tjmcdougal) January 28, 2018
Still waiting….. https://t.co/Gc8XLOQwTo

— Jimmy Motz (@JimmyMotz) January 28, 2018
Let's hope his is better!

— Jimmy Motz (@JimmyMotz) January 28, 2018
Let's fugggging goooooooooooooooo

— Creighton Otter (@creightonotter) January 28, 2018
Nothing like a first touch, first bucket jam for Jacob Epperson to get the juices flowing.

— John M. Bishop (@JohnBishop71) January 28, 2018
The Aussie freshman didn't take long to endear himself to the Omaha faithful, throwing down a two-handed dunk. The C'Link's roof is compromised. #Jays lead Georgetown 20-15 with 11:56 left in the 1st half.

— Matt DeMarinis (@mjdemarinis) January 28, 2018
First bucket is a dunk. Seems about right. https://t.co/ltbFQDRuAR

— Ravi Lulla (@ralulla) January 28, 2018
Brought a tear to my eye to see the Bluejays running the spread offense🏀😢😁#GoJays

— Doug Swenson (@CommonSwense) January 28, 2018
Burning Epperson's redshirt tells you how much the staff felt the frontline situation was relatively dire.

— Nick Bahe (@NickBahe) January 28, 2018
MLB has polluted my mind, and obviously you handle a college kid differently than a pro, but I like Mac putting Epperson out there. With Marcus, Khyri, etc., Jays' window for a March run is NOW. Don't let the lack of one piece undermine that.

— truebluejays (@truebluejs) January 28, 2018
Interested how this plays out. @NickBahe told me when I was there Epperson is a special talent. https://t.co/rZg5Tnc9fU

— CJ Moore (@CJMooreHoops) January 28, 2018
Sky is the limit for this kid. Great feel, great skill, can run, good hands. Just needs to develop physically from a strength and weight standpoint. https://t.co/VkyayZsz2R

— Nick Bahe (@NickBahe) January 28, 2018
Great feel from Epperson to pass it right back to Thomas in transition there.

— Nick Bahe (@NickBahe) January 28, 2018
Halftime: #Jays 46, Georgetown 33. Marcus Foster — who now has 20 pts — buries a 3 at the buzzer. CU ended the 1st half on a 16-0 run

— Jon Nyatawa (@JonNyatawa) January 28, 2018
Marcus Foster is a bad man!!!!

— Nick Bahe (@NickBahe) January 28, 2018
Like I was saying…Foster!! 🔥🔥🔥 https://t.co/wukvT7mRvB

— Nick Bahe (@NickBahe) January 28, 2018
Wow…@Swaggy2_ is a baaaaad man

— Tyler McKinney (@tylersmckinney) January 28, 2018
Marcus going Jordan against the Monstars in front of Ewing

— FakeBlueCrew (@FakeBlueCrew) January 28, 2018
#redpanda #creighton pic.twitter.com/EB0ak9cf9q

— Patrick Marshall (@wildjays) January 28, 2018
RED 🐼 🐼 🐼 pic.twitter.com/j7BzELBpfo

— Tony Roth (@toneroth) January 28, 2018
Red Panda got nothing on @Swaggy2_

— John M. Bishop (@JohnBishop71) January 28, 2018
"I'd like to see you drag Walton & Lanier up the court for 48 minutes a night (while on a unicycle)." – Kareem Abdul-Jabbar (sort of)

— Rob Anderson (@_robanderson) January 28, 2018
We might have what the kids call a "future"

— Martin Swanson (@bigredtank72) January 28, 2018
The crowd's enthusiasm every time Jacob Epperson checks in , touches a ball, or almost touches a ball is contagious.

— Rob Anderson (@_robanderson) January 28, 2018
Jacob Epperson (rebound) to Ty-Shon Alexander (on the break) to Mitch Ballock in the corner for a three. Creighton's future in about 5 seconds. #Jays lead 57-41 with 13:01 to play.

— Matt DeMarinis (@mjdemarinis) January 28, 2018
RONNIE IS WEARING #22 FOR SOME REASON

— alex sindelar (@crimebait) January 28, 2018
Another pinkout game, another jersey change. Ronnie wearing #22 now pic.twitter.com/W9YUDmFuP6

— Patrick Marshall (@wildjays) January 28, 2018
Like to see the Jays repeatedly leaving it near the rim for Epperson to finish like they would with Krampelj or, last year, Patton. In-game finishes aren't there yet, but the attempts suggest some faith in his ability.

— truebluejays (@truebluejs) January 28, 2018
Georgetown is starting to heat up again. Creighton's 16-point lead is down to one. 68-67 with 4:12 to play. CU is 6-18 from the field in the second half.

— Matt DeMarinis (@mjdemarinis) January 28, 2018
7 offensive rebounds for Georgetown in the 2nd half. CU's lead is down to one. 68-67. 4:12 left. Anybody's game

— Jon Nyatawa (@JonNyatawa) January 28, 2018
It's strange to see this. Creighton's only got 6 field goals in the second half. Jays haven't been in sync offensively, shooting 33%. Georgetown's length has bothered them.

— John Fanta (@John_Fanta) January 28, 2018
Alexa: has Georgetown shot 42% or higher with 10 or more makes from 3 any other time this season? (Against decent competition)

— Creighton Otter (@creightonotter) January 28, 2018
Mac getting The Jays A Good Look Out Of A Timeout, Vol. 8 Gajillion

— truebluejays (@truebluejs) January 28, 2018
Creighton gets some much-needed #Khyrifense to push their lead to 74-70 with 2:56 to go. Tazz with a pick six and one.

— Matt DeMarinis (@mjdemarinis) January 28, 2018
Show me a better defender in the league. Hell, in the country. Go ahead; I'll wait. #khyrifense

— truebluejays (@truebluejs) January 28, 2018
Big time defensive play by Ronnie Harrell, Jr. fronting Derrickson, then denying the lob on the high-low action. Davion Mintz stretches the lead to 6 with a shot from just inside the arc.

— Matt DeMarinis (@mjdemarinis) January 28, 2018
Foster and Thomas were studs tonight. Jays continue to be tough at home. Still undefeated at the century link center.

— Nick Bahe (@NickBahe) January 28, 2018
No matter how the game goes or how the #Jays play, they always come back out of the tunnel to embrace the community that helps make this day special. pic.twitter.com/JvaQPMddx5

— Matt DeMarinis (@mjdemarinis) January 28, 2018
Jacob said after that his mom is a big fan of the "Pink Out." Safe bet she didn't mind seeing her son make his Creighton debut with a big dunk as the cherry on top. https://t.co/KCWtfQZ4g0

— Matt DeMarinis (@mjdemarinis) January 28, 2018
Huge crowd at the @BluejayMBB #Pinkout game! Please drive safe! #OPD via @OPDOfcFehrman pic.twitter.com/NETmWrguzQ

— Omaha Police Dept (@OmahaPolice) January 28, 2018
Comments
Tagged in: