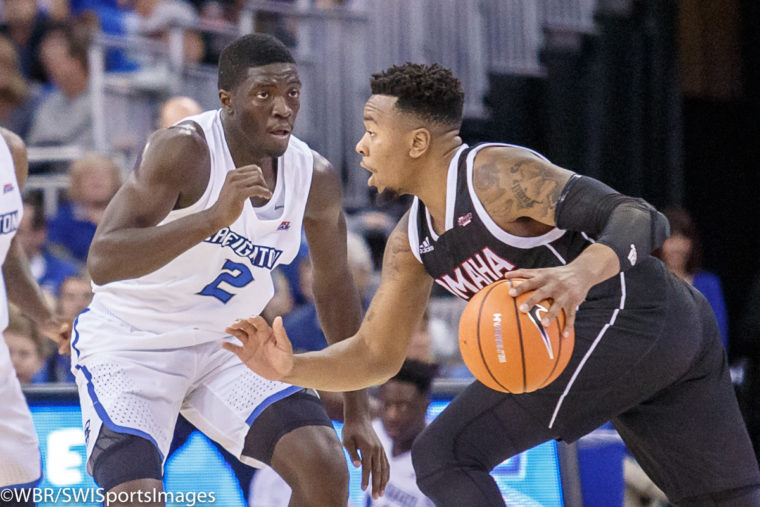 Morning After: Creighton Impresses in Opening Night Win over Yale, 92-76
Bluejay Beat Wrap-Up Radio:
Key Stats:
Creighton pushed the pace of the game to a faster level than Yale was comfortable with all night long, and it led to a 23-6 edge in fast break points. The Jays also assisted on 20 of their 40 made baskets, and had just 11 turnovers.
Their shooting percentage was 60.6% in the first half (20-33) and a nearly identical 20-35 in the second (57.1%). They had just two games a year ago that were better than that, and before the final eight minutes where Greg McDermott subbed in the back half of the rotation, they were over 66% for the game — which would have been better than any game from last year. As it was, their 40 made baskets equaled their two best games a year ago (the back to back whoppers against NC State and Ole Miss in the Paradise Jam).
Creighton may be replacing five key contributors, but to borrow a phrase from Led Zeppelin, The Song Remains The Same.
Standout Performance:
Khyri Thomas made a name for himself as a sophomore for his consistently stifling defensive play, shutting down an opponent's best guard on a regular basis. Through two exhibition games and one regular season game as a junior, he's begun asserting himself more on offense, and if the start of the season is any indication he's going to have one of the greatest two-way seasons for a Bluejay in program history.
When you think of the great Jays of the past 25 years, they've been elite scorers or great defenders but never both. Think about what Thomas did on Friday night: shot 10-12 from the floor, made 2-3 from three-point range, and had three assists on his way to 22 points. Defensively, he frustrated Yale's best player, Miye Oni, to the tune of a 3-12 shooting night where he didn't get an uncontested look or an opening to put the ball on the floor and drive to the rim all night.
The thing is, Thomas performed that sort of defensive wizardry all season a year ago. Now that it appears his offensive game is on the same level, there's no nice way to say this, so I'll just come out with it: Someone on the Preseason All-Big East first team is losing their spot, because Khyri Thomas is taking it. Sorry, not sorry.
Recap & Analysis:
On the opening night of the 2017-18 season, Creighton wasted little time settling in. They made eight of their first 12 baskets, including back-to-back threes from Khyri Thomas and Toby Hegner — both assisted by Marcus Foster — to begin the night. The last of those eight made baskets in the opening salvo was this gem from Foster where he was simply stronger than Yale's defender:
MARCUS. FOSTER. Too strong. 💪💪 #GoJays #LetItFly pic.twitter.com/4GMpvD2BYW

— Creighton Basketball (@BluejayMBB) November 11, 2017
Up 22-18 with just over 11 minutes to play in the first half, Creighton's defense stiffened. With no game film to prepare with thanks to this being Yale's first public game, exhibition or otherwise, and two of their best players in Makai Mason and Jordan Bruner not playing (leading to heavy minutes for more unheralded, and less scouted, players), there was a lot of trial and error in the opening possessions on defense for the Jays. In the first three minutes alone, Yale scored on two dunks and a mostly uncontested layup, and 12 of those first 18 points came in the paint.
Having seen eight minutes of Yale in action, the Jays didn't so much adjust strategy as simply execute better. Their plan to switch on ball screens in their man-to-man defense blew up time after time when the Yale player setting the screen rolled to the rim, leading to those easy, early baskets. The breakdowns were fewer and further between as the night went on, and after scoring 12 of their first 18 points in the paint, Yale got just 10 more points inside the rest of the night.
Nursing that 22-18 lead, the Jays forced Yale into a 1-11 shooting stretch that allowed their offense to build a 33-21 edge. Foster scored on back-to-back possessions, and then freshman Mitch Ballock started a fast break by grabbing a rebound and feeding it to Mintz in transition, who found Martin Krampelj streaking down the floor; Krampelj slammed home this dunk:
Alley ➡️ Davion Mintz
Oop ➡️ Martin Krampelj#GoJays #LetItFly pic.twitter.com/1gc1iEHSU9

— Creighton Basketball (@BluejayMBB) November 11, 2017
Ballock's first points in his CU career came next on a three:
This is Mitch Ballock's first bucket as a Creighton Bluejay. Odds are there will be more just like it… #GoJays #LetItFly pic.twitter.com/wYd9Mabh5b

— Creighton Basketball (@BluejayMBB) November 11, 2017
And then Thomas scored seven straight points on an array of moves in the paint and beyond the arc to extend the Jays' lead.
Handles ☑️
Recovery ☑️
Range ☑️#GoJays #LetItFly pic.twitter.com/o8urvVJQ9T

— Creighton Basketball (@BluejayMBB) November 11, 2017
Creighton made nine of their first 11 shots to begin the second half, including this gem from Thomas where he jumped a passing lane for an interception, and raced down court for a dunk:
#Khyrifense ➡️ #TazzSlam #GoJays #LetItFly pic.twitter.com/yUEVLMZjt3

— Creighton Basketball (@BluejayMBB) November 11, 2017
By the time Ballock hit a three to surpass the 75-point total needed for season ticket holders to win free pizza, Thomas and Foster had 20 points apiece on 17-22 shooting. The Bluejays have unsettled issues in the post and at point guard, but with those two on the wings, they're going to be in every game, and win more than their share.
As for those unsettled issues, they looked at least on this night to be a bit less unsettled than previously thought. Krampelj was a rebound shy of a double-double with 12 points and 9 boards, running the floor on the break for easy transition dunks on more than one occasion and simply jumping over and around opponents for rebounds time after time. Defending without fouling remains a concern, as does boxing out when the rebound isn't coming his way, but if he can play just a half-step slower, he'll give the Jays a solid post player to build a rotation around.
At point guard, Davion Mintz looked more comfortable and more assertive than at any point in his freshman season. He had eight points and five assists in 19 minutes, and for the most part had none of the defensive breakdowns that plagued him a year ago. At least on opening night, freshman Ty-Shon Alexander got the bulk of the backup minutes, and he showed flashes too — five assists and one turnover in 12 minutes, though he struggled defensively as most freshmen do. Kaleb Joseph, still fighting a hamstring injury, saw four minutes of action late in the game and scored his first points as a Bluejay on this eye-opening slam:
🙂😯😧😲😳😱😵
Well hello Kaleb Joseph… #GoJays #LetItFly pic.twitter.com/G8HxAkqyGw

— Creighton Basketball (@BluejayMBB) November 11, 2017
Even without Mason and Bruner, Yale remains a very solid club that will win a ton of games. For whatever reason, there's more negativity in regards to what this team can accomplish from Bluejay fans than there usually is at this point of the season. But with two of the 10 best players in the Big East on your roster, the floor for what this team can be is really high. Where the ceiling is depends on the complimentary pieces, and if you're anything but encouraged after Friday night, I can't help you.
They Said It:
You Said It:
Hey @JManigat12 , what are we wagering on this game? #RollDawgs #BullDogsEatBlueBirds https://t.co/VEXz1jQCEn

— Justin Sears (@Jussears5) November 9, 2017
6 pack? #RollJays! https://t.co/dZbwzC5xww

— Jahenns Manigat (@JManigat12) November 10, 2017
Best of luck to @BluejayMBB as they kick off their season tonight! I know the Link will be ready. #Family

— Doug McDermott (@dougmcdermott) November 10, 2017
Goodluck to my boys today!!@bluejaymbb #Rolljays #rockstarlifestyle #BeHumble #JP24 @… https://t.co/q3BYX7ZfHU

— Justin Patton (@JustinPatton17) November 11, 2017
Getting ready for @BIGEASTMBB with @NickBahe on @FOXSports net @BluejayMBB vs @Yale 8central pic.twitter.com/3qceWm5zw2

— Steve Physioc (@StevePhysioc) November 11, 2017
Khyri Thomas has been known for being a lockdown defender, but you'll see him break down defenses much more often this year. Nice pass by the @BluejayMBB star to find Davion Mintz for a 3.

— John Fanta (@John_Fanta) November 11, 2017
Yale's Miye Oni is 0-for-2 from the field with a turnover through the first 8+ minutes. Averaged 12.9 points per game on 40% shooting from three last season as a freshman. #Khyrifense

— Matt DeMarinis (@mjdemarinis) November 11, 2017
Spot-on with Khyri's mid-range game. That was his go-to in HS and the more comfortable he gets the more he's gone to it for Creighton.

— Jacob Padilla (@JacobPadilla_) November 11, 2017
1. Bahe is a pro.
2. Khyri's mid-range game will get him to the NBA. Such a huge differentiator.

— Mike Sciandra (@MikeSciandra) November 11, 2017
Davion Mintz doing his best to put the point guard battle to rest if that early stretch is an indication of what's in store — 5 points, 3 assists, 0 turnovers; pushing the pace, but not getting out of control.#Jays lead Yale, 37-27, with 3:47 left in the first half.

— Matt DeMarinis (@mjdemarinis) November 11, 2017
I learned to temper expectations with creighton in 2016. This team might be really good, they play (cough) Defense. With a deep bench, guys, gonna win some games again. Pin this lol#letitfly

— Drew English (@yeti47) November 11, 2017
I've watched 5 minutes of this Jays game and Mitch Ballock is already my favorite Creighton player of all time

— Riley Bowden (@riley_bowden) November 11, 2017
Marcus Foster is like a Create A Player.

— Jays Hot Takes (@jayshottakes) November 11, 2017
Yale is currently 3-11 from three. that's a nice homage to the Omaha-based band! #ska

— alex sindelar (@crimebait) November 11, 2017
my dad's best friend's sister's stepdad's dog once barked along to one of their songs and then threw up

— alex sindelar (@crimebait) November 11, 2017
This is a bunt reference away from being one of the most Alex tweets Alex has ever tweeted. https://t.co/N5HgJax4wJ

— Jacob Padilla (@JacobPadilla_) November 11, 2017
The champ knows what's up. https://t.co/cnQENpYVVh

— Jacob Padilla (@JacobPadilla_) November 11, 2017
Good first half. #Yale looks out it sync without Makai Mason. The two plays the #Jays called to end the half were awful. A Tini fadeaway & a Toby off balance air ball 3. Love that #Creighton is pushing the pace.

— Heath Gunderson (@Heath_Gunderson) November 11, 2017
Are you implying this could be his final year at Creighton?

— Brian Metz (@Bluejay1994) November 11, 2017
I've been implying that since the first organized workout this summer. He's above average at basketball things. https://t.co/ETGsQSVweX

— Matt DeMarinis (@mjdemarinis) November 11, 2017
Shhhhhhhhh. We all know. Trying to bask in his greatness without looking at the elephant in the room.

— Michael Golka (@MGolka13) November 11, 2017
I've already tipped off security that they need to remove the Hornets scout two seats to my right from the building and ban him for the rest of the season. https://t.co/v5XN91tZnb

— Matt DeMarinis (@mjdemarinis) November 11, 2017
The big question for @BluejayMBB is who can be that third weapon behind Marcus Foster & Khyri Thomas. Davion Mintz has complemented the backcourt well tonight. #Creighton

— John Fanta (@John_Fanta) November 11, 2017
Toby has been working on his post up game. He really has evolved in his time at Creighton.

— Patrick Marshall (@wildjays) November 11, 2017
In tonight's #MeetTheBluejays, Cale Ferrin (@cale_ferrin) gets to know Jacob Epperson who teaches him how kangaroos bounce #GoJays #LetItFly pic.twitter.com/J5OagGy8WH

— Creighton Basketball (@BluejayMBB) November 11, 2017
Cale needs a cartoon character. #creighton

— Patrick Marshall (@wildjays) November 11, 2017
You get the sense from the crowd that there's more belief in this Creighton team with every passing minute.

— Rob Anderson (@_robanderson) November 11, 2017
Marcus Foster and Khyri Thomas have 35 points on 20 shots. To draw a comparison of how ridiculous that is, Yale needed 37 shots in the first half to score their 35 points.

— Matt DeMarinis (@mjdemarinis) November 11, 2017
MITCHELL BALLOCK GETS THE PEOPLE PIZZA! Jays up 76-53 lol

— alex sindelar (@crimebait) November 11, 2017
Mitch Ballock gives Creighton fans pizza with 10:11 left in the game. Smart way to endear yourself to the locals.

— Matt DeMarinis (@mjdemarinis) November 11, 2017
— FakeBlueCrew (@FakeBlueCrew) November 11, 2017
A healthy Martin Krampelj is fun to watch! #Jays

— Heath Gunderson (@Heath_Gunderson) November 11, 2017
Not even the Yale kids could figure out what the f that timeout promotion was.

— Creighton Otter (@creightonotter) November 11, 2017
I'm thinking we just get rid of the tic tac toe game now Creighton.

— Martin Swanson (@bigredtank72) November 11, 2017
It's one game, but Yale isn't a cream puff. Impressed with Martin and Davian tonight. Played with a ton more confidence.

— Brian Metz (@Bluejay1994) November 11, 2017
Saving Mad Dog for the big games is brilliant

— FakeBlueCrew (@FakeBlueCrew) November 11, 2017
"I wish I could play defense for everyone." Khyri Thomas

Me too, Khyri. Me too. #Khyrifense

— Creighton Otter (@creightonotter) November 11, 2017
– Khyri Thomas is Creighton's best player right now.
– Alexander & Ballock are fitting in seamlessly.
– Mintz played pretty well tonight.
– Krampelj & Hegner showed some flashes of good post play.
– Harrell is just a man possessed on the boards.

— Dave Sund (@davesund) November 11, 2017
Alley ➡️ Davion Mintz
Oop ➡️ Martin Krampelj#GoJays #LetItFly pic.twitter.com/1gc1iEHSU9

— Creighton Basketball (@BluejayMBB) November 11, 2017
Yeeeeeaaaaaa TINI 😂💪🏽 @MartinKrampelj https://t.co/2Lg9qburgt

— Davion Mintz (@deemintz1) November 11, 2017
Great pass 👀

— Martin Krampelj (@MartinKrampelj) November 11, 2017
Quick Facebook Live thoughts on Creighton's win over Yale https://t.co/CSGBcXNhDb

— Nick Bahe (@NickBahe) November 11, 2017
Comments
Tagged in: