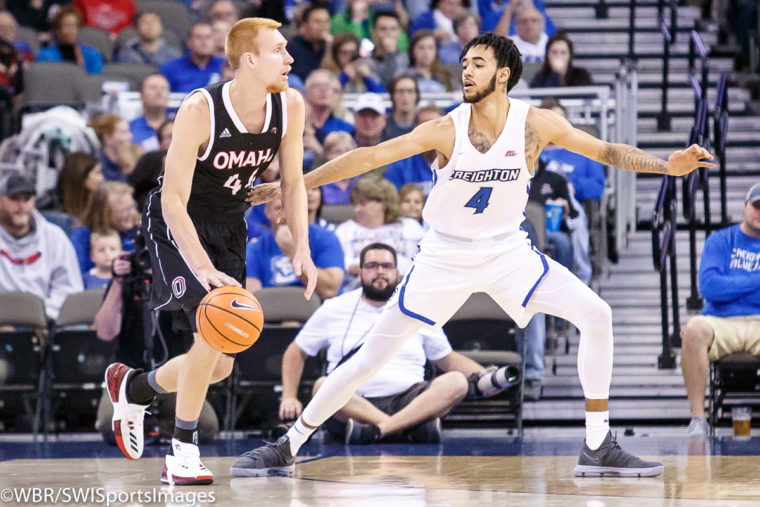 Morning After: Creighton Leads Most of the Game, Comes Up Short Late in 65-59 Loss to Baylor
Key Stats:
Creighton made 5-30 from three-point range (16.7%), and that's the big, flashing marquee stat in this one. Their 22-64 overall shooting was awful, as well (34.4%). How does that compare to the 2014 blowout loss to Baylor in the NCAA Tournament? They were an eerily similar 5-24 from three (20.8%) and 22-55 (40.0%) overall in that game.
The Bluejays infamously lost that one by 30, but led or were tied in this one for 34 of the 40 minutes. The difference? They defended superbly (holding Baylor to 24-52 overall shooting and 5-16 from three) and rebounded the ball (Baylor edged them out 38-34 on the glass, and the Jays outrebounded them 12-7 on offensive boards). Creighton was dominated in both facets in that 2014 game; Baylor made 30-47 from the floor and 11-18 on threes, and outrebounded the Jays 32-22.
Just as in the 2014 meeting, CU had a catastrophic game offensively. In order to win that one, the Jays would have needed to make about 20 more shots than they did. Tuesday night in Kansas City, one or two more baskets would have given them a "W" — a 7-30 night from three point range instead of 5-30, or 25-64 overall night instead of 22-64, and the Jays might have won. That's an encouraging sign, because they're not going to face a worse matchup the rest of the year than Baylor, they're not going to shoot this poorly very often, and even with those two things being the case, they were *right there*.
That's a testament to how good this team is overall, not an indictment of their offense, and certainly not a reason to suddenly be pessimistic for the rest of the season. Future opponents might opt to zone the Bluejays, but no one else on their schedule has the personnel to do it as effectively for 40 minutes as Baylor.
Standout Performance:
Khyri Thomas struggled offensively, making just five of the 14 shots he attempted (and two of 10 three-pointers). But given how much energy he expended in completely dominating Baylor's top scoring threat (and the top scorer in the Big XII), Manu Lecomte, on defense you can hardly blame him for not having much left offensively. Thomas was incredible. He basically eliminated Lecomte from the game the way a shutdown corner eliminates a star receiver in football. And it isn't like the Bears weren't trying to implement creative ways to get shots for their star — they did. They ran off-ball screens for him on what seemed like every possession, and often ran three or four screens on the same possession, all with the intent of freeing him up. They ran ball screens, too, on what seemed to be every possession. Thomas was in his face every time, his footwork so fundamentally sound and his lateral quickness so ridiculous that Lecomte never had an inch of free space to hoist a shot, even when by all rights Thomas should have been taken out of position.
Lecomte only attempted eight shots all night. He made just two.
Recap & Analysis:
Creighton used an early 16-4 run to build a nine-point lead halfway through the first half, executing a smart gameplan nearly perfectly. On offense, they got the ball into the paint either off the dribble or via pass to one of the bigs near the foul line, then used that player to find an open shooter on the perimeter, or a cutter driving towards the rim, or, if all else failed, shooting a short jumper themselves. Against a 1-3-1 like Baylor ran in the first half, it was effective in extending the Bears' guards out — and thus creating space for movement closer to the basket.
Simple? You bet. Effective? Oh yeah.
They led by as many as 12 in the first half, and took a 33-24 lead into halftime. Just over 1/3 of their shot attempts came from behind the arc, as they were able to get to the rim nearly any time they wanted to. They had an assist on 10 of their 13 made baskets. If there was a flaw, it was in execution, not in plan; they missed far too many baskets from six feet and in. Ronnie Harrell missed two layups in the first half. So did Martin Krampelj. Marcus Foster missed three close-range jumpers. Davion Mintz missed two. All in the first half. CU had a great plan for attacking the zone, and succeeded in beating it right up until the point of making baskets.
Defensively, they forced 11 turnovers and gave up just three offensive boards. They held Baylor to 0.67 points per possession. They were — dare I say? — dominant defensively, and a few missed shots away from blowing out the Bears.
In the second half, Creighton took a 40-28 lead two minutes in following a three-pointer by Thomas and it looked like that rout might be on. Then Baylor made an adjustment to tighten and compact their zone (switching between a 2-3 and a 1-1-3).
The aim? To cut off the Jays' ability to penetrate off the dribble by compacting the zone — rather than extending out as they had in the first half, leaving gaps for quick guards to dribble through, they tightened those gaps. That left space for whoever was playing the "4" to beat them, by design, because there wouldn't be cutters driving to the rim to pass to, and wouldn't be open shooters on the perimeter. They were essentially daring Ronnie Harrell, who played that spot most of the second half, to beat them.
He could not.
Harrell missed all four of his shot attempts, and appeared to make rushed decisions with the ball when he kicked it out. They missed nine straight shots after that switch to the compacted zone, and a 10-0 Baylor run mostly erased the Jays' 12-point lead.
They missed 15 consecutive three-pointers, spanning almost the entirety of the second half. After Thomas' three that gave them that 40-28 lead, they didn't make another until Mitch Ballock hit one with eight seconds left in the game. The only way to loosen a zone that compact is to make three-pointers, and the Jays had one of their worst halves from behind the arc in recent memory. Foster and Thomas, in particular: they combined to shoot 1-12 from three-point range in the second half.
And yet, despite all of that, CU led until there were three minutes left in the game because their defense and their rebounding kept the game close. They had a great gameplan, they executed well, and the difference was a shot or two going in (or not). That's a recipe you can go to battle with in March and be confident in, because there won't be many, if any, nights where they miss this many shots.
They Said It:
You Said It:
CU going with Krampelj & Suarez at the 4 & 5. Not seen that before

— Jon Nyatawa (@JonNyatawa) November 22, 2017
Ronnie Harrell on the boards is just such a great presence. Really feeds the offense.

— Dave Sund (@davesund) November 22, 2017
The "C-U" chants are really loud on TV, folks. Keep it up. #rolljays

— Austin (@letitflycu) November 22, 2017
So far this is exactly like San Antonio, except that it's Creighton getting anything they want offensively and limiting Baylor to one and done when their on O.

Mac going big with Manny and Martin on the floor together. Working so far — #Jays lead 16-9 with 10:50 left in 1H.

— Matt DeMarinis (@mjdemarinis) November 22, 2017
Been a lot of tipped rebounds by Creighton. Good sign for the collective mindset of the the team on the glass.

— Nick Bahe (@NickBahe) November 22, 2017
Marcus goes up for a contested lay-in on a fastbreak, rims out, Khyri trailing right behind him, gets the offensive board, puts up contested lay-in, gets fouled, ball goes in. Just like they drew it up. Jays up 24-15, up 16-9 on the glass on a VERY long Baylor squad. good start.

— alex sindelar (@crimebait) November 22, 2017
These aren't your first-born child's Bluejays (circa 2014). Creighton had 20 points at halftime in San Antonio. Tonight, they already have 24 with 6:30 to go in the first half and they'll be going to the line for more after a timeout. Getting a balanced contribution once again.

— Matt DeMarinis (@mjdemarinis) November 22, 2017
Creighton's just 1-of-7 from 3-point range — but it's finding other ways (w/ good spacing, cutting & passing) to attack Baylor's zone. A few transition buckets have helped too

— Jon Nyatawa (@JonNyatawa) November 22, 2017
LOVE the hustle out of Khyri Thomas here. Creighton WANTS the #HOFClassic @franfraschilla #GoJays #LetItFly pic.twitter.com/qskXu2piCv

— Six Wins In March (@SixWinsInMarch) November 22, 2017
They've missed some easy bunnies and open shots. Need to knock those down! But I like their hustle so far in this game!

— Coley Schuler (@ColeySchuler) November 22, 2017
Baylor's length and shot blocking has made Creighton rush finishes around the rim. https://t.co/GvlbdWvm66

— Nick Bahe (@NickBahe) November 22, 2017
Stop me if you've heard this story before, but Baylor leading scorer Manu Lecomte has 2 points and 2 turnovers so far in 12 minutes. #Khyrifense 🔒

— Matt DeMarinis (@mjdemarinis) November 22, 2017
All of the backups in the Baylor huddle CLEARLY care more about the frat bros chucking up 3s than the Xs and Os Scott Drew is drawing up.

— truebluejays (@truebluejs) November 22, 2017
Khyri Thomas of Creighton is a special competitor. Could watch him any day of the week.

— Eric Bossi (@ebosshoops) November 22, 2017
Khyri Thomas is the best defender in the country — @ me.

— Matt DeMarinis (@mjdemarinis) November 22, 2017
Kinda think Fake Manu would agree right now. https://t.co/6qgmIOvGXb

— Creighton Otter (@creightonotter) November 22, 2017
Tazz is just stealing Lecomte's lunch-money out there. #Khyrifense

— Jacob Padilla (@JacobPadilla_) November 22, 2017
Taz 👀👀.. best on ball defender in the country. Don't @ me

— Coach Albers (@_coachalbers_) November 22, 2017
#khyrifense will be trending before the end of the night @franfraschilla

— Patrick Marshall (@wildjays) November 22, 2017
Khyri Thomas, legit NBA prospect. Let's talk about it.

— Chris Novak (@ChrisMNovak) November 22, 2017
Stay away and shutup https://t.co/gfv5qCAXrj

— Not a Fake Coach Frost account (@michaelkmcneil) November 22, 2017
If the Jays could finish better at the rim and bury a couple more threes, this game would be a rout. Great effort on defensive end – Tazz doing his thing on Baylor's Lecomte (1/2 FG in first half – avg 21.5 per game) #Creighton

— John M. Bishop (@JohnBishop71) November 22, 2017
First half observation: Khyri Thomas is the glue of this year's team. He's carrying this group and the rest have bought in. #GoJays #RollJays #LetItFly

— Jimmy Motz (@JimmyMotz) November 22, 2017
There is no way that Manny Suarez is not actually Zach Hanson #DoubleNegative

— Kim Adams (@Kim_Adams1) November 22, 2017
This game is stupid right now. Just nothing going offensively. Even point blank shots are missing wide.

— Bluejay Buff (@BluejayBuff) November 22, 2017
Knew there would be stretches like this tonight, but this stretch is really long without scoring. Baylor forcing Creighton to settle for 3-pt shots they can get anytime.

— Patrick Marshall (@wildjays) November 22, 2017
OKAY LET'S TAKE A BREAK FROM THREES FOR A BIT

— Bluejay Buff (@BluejayBuff) November 22, 2017
SO 👏 MANY 👏 MISSED 👏 OPEN 👏 SHOTS

It would hurt way less if it were any team other than Baylor#GoJays

— #GoJays #LetItFly (@Omaha1stCU4Ever) November 22, 2017
The final length on that CU scoring drought: 7:13. The #jays missed 9 straight shots. Their 12-point lead was cut to 2

— Jon Nyatawa (@JonNyatawa) November 22, 2017
This goes for you too, Baylor. https://t.co/WX4tnBgQaL

— Jacob Padilla (@JacobPadilla_) November 22, 2017
Krampelj with the moves! A Slovenian SPINNNN. #GoJays #LetItFly

Creighton is holding onto its lead in the #HOFClassic – and down the stretch we go! pic.twitter.com/jFMIsYiILE

— Six Wins In March (@SixWinsInMarch) November 22, 2017
MARTIN PUTTIN' EM THROUGH THE SLOVENIAN SPIN CYCLE. extra soapy

— alex sindelar (@crimebait) November 22, 2017
People are going to say Jays can't play against a zone. Did they settle too much in 2nd half? Yes. But almost all of those shots we settled for are ones that fell in first 4 games.

— Perch Jay (@perchjay22) November 22, 2017
The entire Big East doesn't have the personnel Baylor does and Creighton isn't going to shoot this poorly all season I'd bet.

— Jacob Padilla (@JacobPadilla_) November 22, 2017
Baylor took away transition opportunities and their zone forced long, contested jumpers. There is your difference. With that said, this Jays team will be just fine. #GoJays #RollJays #LetItFly

— Jimmy Motz (@JimmyMotz) November 22, 2017
One big takeaway from Creighton – Baylor: Bluejays' lack of consistent post play is why they've struggled to break the zone. You can either live by the 3 or mix that in with the high-low. Jays haven't had the same rhythm from beyond the arc that they did last night.

— John Fanta (@John_Fanta) November 22, 2017
People are going to say Jays can't play against a zone. Did they settle too much in 2nd half? Yes. But almost all of those shots we settled for are ones that fell in first 4 games.

— Perch Jay (@perchjay22) November 22, 2017
Don't think you can say they didn't play well tonight. Defensive effort was best we've seen this season and I can't wait to hear what Drew says about Khyri and Marcus on that end of the floor.

— Perch Jay (@perchjay22) November 22, 2017
If Marcus and Khyri go a combined 3-19 from deep ever again I will lick Greggggg Marshall's hair. Great game Jays.

— Perch Jay (@perchjay22) November 22, 2017
My eyes legitimately hurting after watching that game. Poor shooting and dumb highlighted uniforms.

— Bluejay Buff (@BluejayBuff) November 22, 2017
Just finished Baylor-Creighton and man, that was a really well-coached second half by Scott Drew. Tweeked the zone, went away from Khyri and gave Bluejays fits with that double-high ball-screen.

— Rob Dauster (@RobDauster) November 22, 2017
Welp. At least we never employed Art Briles. #GoJays pic.twitter.com/aCBlgCmtj2

— truebluejays (@truebluejs) November 22, 2017
Am I the only one that didn't see this as "Creighton cant play against a zone?" They got a ton of great looks. They didn't make any of them. Then they started forcing stuff late out of desperation.

— Jacob Padilla (@JacobPadilla_) November 22, 2017
Harrell makes any of those 4 footers and they win. Tough night for him.

— Brian Henningsen (@_bhenningsen) November 22, 2017
Shots were there. Sometimes they don't drop. More an unfortunate coincidence than anything else I thought.

— Not a Fake Coach Frost account (@michaelkmcneil) November 22, 2017
If Ronnie Harrell could consistently make that 8-footer in the paint, Jays might've won by 20. How many of those misses (or opportunities he shied away from) did he have? Big Jo makes that tougher, but still.

— Ryan Holmgren (@ryanholmgren) November 22, 2017
Hot take: 2014 Creighton would've lost by 30 to this Baylor team, too. Coach McDermott and staff have recruited very well since joining the Big East. Jays were nearly even on the glass tonight; were outrebounded by double digits three years ago. Far better defense, too.

— Ryan Holmgren (@ryanholmgren) November 22, 2017
Great learning experience for Creighton. Did the right things, were not rewarded, got frustrated and didn't stick with it as much as they should have. Baylor made good adjustments. Unfortunate result but not the end of the world.

— Jacob Padilla (@JacobPadilla_) November 22, 2017
But they also have dudes that could have hit some of those tough threes they took, and if two or three more go down they win. Sometimes basketball is really that simple.

— Rob Dauster (@RobDauster) November 22, 2017
Thing that impressed me the most about @BluejayMBB is that the can play fast and in the 1/2 court are an excellent passing team and tough and physical defensively. Complete.

— Seth Greenberg (@SethOnHoops) November 22, 2017
Score won't be indicative of the level of competition that took place. The Blue Jays went cold from 3, but they are likely a Tournament team. Baylor's length & zone became lethal late. Look forward to joining Raft next Tuesday in Cincinnati for @XavierMBB and @BaylorMBB @FS1

— Tim Brando (@TimBrando) November 22, 2017
there will come a day where Creighton will beat Baylor and it will be good. perhaps not today, or tomorrow, but someday. and on this day we will enjoy the ceremonial hoisting of Greg McDermott upon a player's shoulders, for he will finally have caught his white whale.

— alex sindelar (@crimebait) November 22, 2017
Glass half full of blue kool-aid from the three-game stretch (away from Omaha) against #20 Northwestern, #23 UCLA, and #22 Baylor:

Creighton led for 99:50, trailed for 13:03, and finished +10 on the glass despite getting out-shot 46.0% to 45.2% & only finishing +3 in turnovers.

— Matt DeMarinis (@mjdemarinis) November 22, 2017
Throw a ranking next to that Bluejay team after this week. please and thanks.

— Maurice Watson Jr. (@mauricewatsonjr) November 22, 2017
Best fans in the nation! Thanks for your support! We love you ! https://t.co/EoltCfMful

— Martin Krampelj (@MartinKrampelj) November 22, 2017
I hate the result of the game…..but I absolutely love this team! We will keep grinding. #rolljays

— Coach McDermott (@cucoachmac) November 22, 2017
The reason these freshmen are so good? They're not freshmen, they are robots. From the bus ➡️court at 3:00 AM. pic.twitter.com/slIgrneFG3

— Creighton Managers (@manajays) November 22, 2017
Comments
Tagged in: