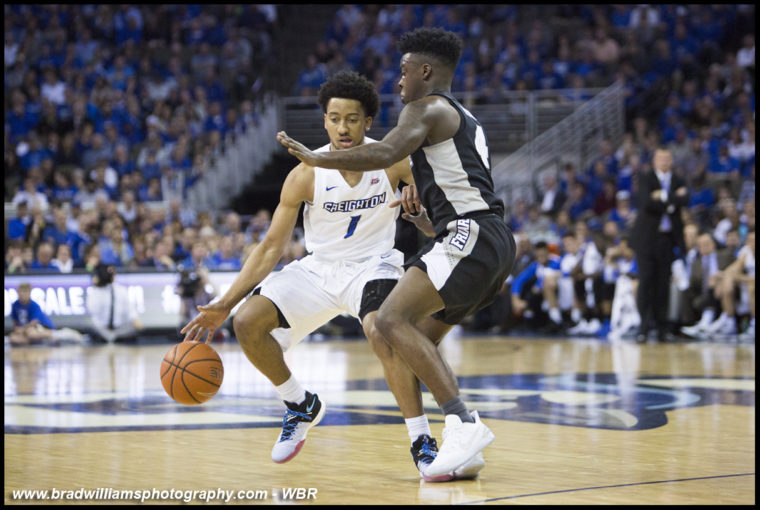 Morning After: Creighton Loses to Providence on Final Possession for Second Straight Year, 68-66
Key Stats:
Creighton scored 18 more points in the paint than Providence (34-16), outscored Providence 11-0 on fast break points, forced three more turnovers than they committed, were basically even on the glass (-2), went on a 24-3 run in the first half, and held Providence to just one field goal over the final 5:44 of the game.
Problem was, that one field goal was the game-winner by Kyron Cartwright.
How do you lose a game where you have all those advantages, most of which play right into your strengths?
Recap & Analysis:
Wednesday, February 22, 2017 was not one of the better days in the history of Creighton Basketball. The one-two gut punch of Maurice Watson, Jr. being suspended from all athletic-related activities including Senior Night next week, and losing at home on a buzzer-beater hours later, is a lot to take. They're now 4-5 since Watson's injury, with three of the losses at home.
It's the second-straight year that Providence has won in Omaha on a last-second shot. Last January, Kris Dunn won the game for the Friars with a jumper from the elbow that bounced around the rim and fell through the net as time expired to give them a 50-48 win. This time, it was the player who took over for Dunn, Kyron Cartwright, nailing a long three off a broken play with two seconds left to give the Friars a two-point lead and eventually the win.
This one hurts particularly bad because it was a game the Jays dominated statistically and stylistically for large portions of the night. After Providence took a 20-12 lead with 11 minutes to go in the first half, Creighton ripped off a 24-3 run — a TWENTY-FOUR to THREE RUN! — spanning nine minutes to take their largest lead of the game, 36-23. During that run, CU pushed the tempo, played fast, and forced Providence to match their pace. The Friars couldn't do it, at least not successfully, and got sped up on both ends, leading to high-percentage shots for Creighton and out-of-rhythm shots for Providence. Davion Mintz was the catalyst, dishing out four assists and coming up with one steal over a five-minute period, a 13-1 spurt that gave them the lead.
One of Creighton's reoccurring problems this season, even when Maurice Watson was playing, has been closing out first halves and starting fast in the second half. It's hurt them time after time, and it did again on Wednesday. After taking that 36-23 lead, Providence scored the final six points of the half to seize momentum.
The Friars then scored the first eight points of the second half, and took the lead 37-36 just two-and-a-half minutes in on a three-pointer from Emmitt Holt. Creighton had the opportunity to put enough separation between themselves and the Friars at the end of the first half to make a win pretty likely; they didn't do it and found themselves in the sort of back-and-forth battle that rarely seems to go their way.
After a turnover in that opening sequence, Mintz went to the bench in favor of Isaiah Zierden, and as usually happens with Zierden at point, the speed and pace of the game slowed considerably. Against a Providence team that prefers a slower pace, that unwittingly played right into their hands; the 64 possessions in Wednesday's game are the second-fewest in any of the Jays' 28 games this season. A grind-it-out game was precisely what the Friars wanted, and it's not surprising they were better at it than the Jays were.
There's been an increasing amount of arm-chair-quarterbacking going on in regards to Creighton's point guard situation, with a vocal segment of CU's fanbase clamoring for Mintz to get more minutes than he does (and by extension, fewer minutes for Zierden at point, allowing him to slide over to the two-guard where his skill set appears better suited). Greg McDermott's answer to those opinions?
"We come to a decision based on what happens in practice," McDermott told the Omaha World-Herald's Tom Shatel earlier this week. "We have an opportunity to see more possessions at practice than our fans get to see in games."
Mintz checked back in with six minutes to play and the Jays clinging to a 60-59 lead; when he headed to the scorer's table, he received a standing-ovation-level cheer that doubled as a Bronx cheer of sorts directed at Coach Mac's insistence on sticking with other options he trusted more than the freshman. A second, louder cheer — so loud it elicited a comment from the FOX TV crew — went up when he checked in. I've watched Creighton in person for going on a quarter-century, and I can't recall another moment where such a large segment of the fans in attendance tried to send a message to the coaches via applause for a player. It was a fascinating moment.
Thing is, McDermott's not totally off-base, as much as I and dozens of other fans vent on Twitter during games about the short leash Mintz has. Our Matt DeMarinis, who attends practice as much as anyone outside of the team and staff, shared some insight in a series of tweets last night:
@mhoppe02 No, but if fans were there they'd think Mintz's first name was "Come on, Davion" because that's what you hear most of the time.

— Matt DeMarinis (@mjdemarinis) February 23, 2017
@mhoppe02 Of course. You think Khyri and Justin were this good on their first day of practice? Davion turns 19 on June 30th. Let him learn.

— Matt DeMarinis (@mjdemarinis) February 23, 2017
@mhoppe02 He has been playing. Averaging more minutes since Watson went down than Khyri was at this point last season.

— Matt DeMarinis (@mjdemarinis) February 23, 2017
@mhoppe02 Because what people saw as a short leash on Khyri last year (many wanted him over Z) has yielded some awesome results this season.

— Matt DeMarinis (@mjdemarinis) February 23, 2017
From the outside, though, it's tough to see the good things Mintz does in games and not wish he'd play more. Creighton took a 66-62 lead after he checked back in, and upon Mintz leaving three minutes later, would not score again because of four consecutive empty possessions to end the game. Patton committed a turnover when he misdirected a pass towards a wide-open Thomas off a backcut. Patton then missed three point-blank shots in the span of 30 seconds, two on one possession. Foster missed a jumper out of a timeout after Providence took away what they'd drawn up, forcing the tough shot. And then on the decisive possession, a scramble led to a wide-open (albeit long) three that Cartwright nailed.
Would Mintz have made a difference on any of those possessions? Possibly, but missed layups had nothing to do with point guard play. Neither did their center airmailing a pass to a wide-open guard that would have led to an easy bucket.
Point guard play is the headline topic following the game, but there's a litany of other problems that led to the loss. Providence made 12-24 from three-point range after shooting in the mid-30s on average coming in; one of those 12 threes won the game when Cartwright nailed his long game-winner. Allowing the game to be played in the 60s, both on the scoreboard and in number of possessions, favored Providence. After getting Providence into the bonus six minutes into the second half, Creighton attempted just four free throws the rest of the game and none in the final nine minutes. They missed far too many shots at or near the rim; Patton and Thomas combined to miss eight shots from 10 feet or closer.
As it usually is, there's lots of blame to go around when a close game goes the other way, and as three losses in three weeks that were decided late shows, CU has yet to figure out a way to close one out.
They Said It:
"The last two or three minutes of the first half, and the first three or minutes of the second half were the turning point in the game. We had an opportunity late in the first half, because they went with a small lineup. They had Rodney Bullock at the 'five'. We really got caught in some mismatches. We put them on the line twice, Bullock got to the rim once one one of our big guys, and then we turned it over on two out of the first five possessions to start the second half. They scored on four of their first six. And all of a sudden, what was a 13-point lead was now a two-point deficit. Our execution in that part of the game was really poor." -Coach Greg McDermott on 1620AM Postgame
"In the first half, we moved the ball well, and then attacked after the move. We had nine assists and just two turnovers. In the second half, I don't know if we were a little fatigued or what, but we weren't as willing to move the basketball and got caught in a lot of one-on-one isolations. Early in the half, I think we drew six fouls after four minutes. They ended up winning the game at the line by making 10-12 down the stretch while we didn't shoot any. I just thought the ball movement was poor; we had four assists against I think seven turnovers the second half. The first half we did what we set out to do. The second half the ball didn't move as well. Defensively, for the most part, we were solid, but obviously the scramble play at the end where Cartwright gets loose is a tough way to lose." -Coach Greg McDermott on 1620AM Postgame
"The ten minute stretch where Bullock was out of the game with four fouls, they hung around because some other guys stepped up and made shots. It's not like we're built at the power forward spot to take advantage of somebody in the post, that's not what Cole and Toby do. They're more perimeter-fours, and Providence played four guards a lot tonight. In some ways that was difficult for us. We got beat on the flex-cut a couple of times and fouled. We were late closing out on Jalen Lindsey a couple of times. The center's two three-point shots we have to live with. He hasn't been a good shooter all year, and he shot two air balls after those first two that he made. This is now three games that we were one play away from winning. We've just got to find a way to get it done." -Coach Greg McDermott on 1620AM Postgame
"We competed well on the glass. And all the numbers — we outscored them 34-16 in the paint, 14-13 off turnovers, 13-10 on second-chance points, 11-0 on fast break points — if you'd have shown me those numbers beforehand, I'd have said we're winning the game. We've been a much better three-point shooting team than they have. But tonight they shot it extremely well and we shoot 20% the second half. And we missed a lot of shots around the basket. Justin had opportunities in the last four or five possessions down close, and took little soft shots that he usually makes but tonight they bounced off the rim." -Coach Greg McDermott on 1620AM Postgame
"Providence really forced us in, where they stretched us out and took away jump shots, almost saying to us that someone was going to have to beat them off the dribble. When we ran some pressure-release type things, they did a pretty good job of covering it up where we couldn't get the back-door cut we wanted. We did have one late where Tazz was open on a back-cut, but Justin turned it over. Tazz made a great cut and Justin just didn't throw it high enough. Those are young players trying to make plays, and it didn't go so well tonight." -Coach Greg McDermott on 1620AM Postgame
"At this point, I'm not really worried about who we're playing. I'm worried about us and trying to figure out a way to get us better as we get closer to Big East Tournament time. That's what we're concerned about right now, and that will be our focus in practice tomorrow. Villanova is pretty simple in what they do and in their approach to things, but what they do they do it extremely well and they execute extremely well. We'll have our work cut out for us." -Coach Greg McDermott on 1620AM Postgame
You Said It:
Pushing, shoving, talking. Old school Big East basketball at the CLink tonight.

— Martin Swanson (@bigredtank72) February 23, 2017
The supervisor of officials for the Big East is in attendance. I wonder if he can explain what Marcus Foster has to do get to the FT line.

— Matt DeMarinis (@mjdemarinis) February 23, 2017
Providence big men stick out their elbows on every screen but they're going to call it on JP

— Tyler Anderson (@TylerA_Anderson) February 23, 2017
Oh we are gonna do that let the other team shoot lights out thing? God we love sports

— FakeBlueCrew (@FakeBlueCrew) February 23, 2017
Opponents love shooting and making 3's @centurylinkoma

— Patrick Marshall (@wildjays) February 23, 2017
Good god, Providence is just letting it fly tonight. Shoot me.

— Austin (@letitflycu) February 23, 2017
Student section needs some Donnie Johnson's dad tonight.

— FakeBlueCrew (@FakeBlueCrew) February 23, 2017
Complete garbage call against Patton.

— Jacob Padilla (@JacobPadilla_) February 23, 2017
Well that was hot garbage…..

— John Bishop (@JohnBishop71) February 23, 2017
Did they really just call that foul on Patton?? He came from the weak side and blocked a weak ass layup. How's that a foul???

— Tony Roth ™ (@toneroth) February 23, 2017
— Creighton Basketball (@BluejayMBB) February 23, 2017
I'm writing an angry letter to Val, and I'm going to use my good paper.

— Bluejay Buff (@BluejayBuff) February 23, 2017
How is that a foul on Justin Patton? His 2nd, huge break for Friars with @BluejayMBB rallying #pcbb

— Kevin McNamara (@KevinMcNamara33) February 23, 2017
Justin Patton is good so they invent fouls on him to help the opponent

— Mike.tweets (@michaelkmcneil) February 23, 2017
Officiating incompetence changes another game. JP was dominating. PC has no answer for him.

— Jacob Padilla (@JacobPadilla_) February 23, 2017
That could be the worst foul call in college basketball this year! #GoJays

— Bob Harstad (@bobharstad) February 23, 2017
The CenturyLink Center crowd is a little extra feisty tonight

— Jon Nyatawa (@JonNyatawa) February 23, 2017
Providence has just one point on their last nine possessions, and it came on a terrible call against Justin Patton. 17-1 run by #Creighton.

— Matt DeMarinis (@mjdemarinis) February 23, 2017
Someone is getting T'd up tonight

— Tyler Anderson (@TylerA_Anderson) February 23, 2017
My wife T'd me after the Phantom foul and made me give her the remote. She dropped it. Ball don't lie. https://t.co/AkNWzcPz1l

— Martin Swanson (@bigredtank72) February 23, 2017
Cole Huff with a nifty spin move in the lane. The NBA scouts all looked up at to see the replay before the ball was through the cylinder.

— Matt DeMarinis (@mjdemarinis) February 23, 2017
Cole Huff is the college basketball Benjamin Button.

— Bluejay Buff (@BluejayBuff) February 23, 2017
Cole Huff is playing like he's not injured anymore or that he hates not scoring anymore or that he just finished reading "Gravity's Rainbow"

— alex sindelar (@crimebait) February 23, 2017
Looks like #Creighton has finally found a point guard to back up Davion Mintz…Marcus Foster.

— Heath Gunderson (@heathwgunderson) February 23, 2017
@heathwgunderson He's on another level right now. Finding shooters and his shot looks good. Couple 3's in and out tonight

— Jeremy Hauer (@jeremyhauer) February 23, 2017
Refs missed one foul on Creighton and two (on purpose) on the Friars. No calls . Jays 42, PC 40 #pcbb

— Kevin McNamara (@KevinMcNamara33) February 23, 2017
Marcus Foster just got intentionally fouled to stop a breakaway and he still didn't get the call. Even Bullock couldn't believe the no call.

— Matt DeMarinis (@mjdemarinis) February 23, 2017
Providence's Kyron Cartwright holding up six fingers as he heads to the bench at the under-16 timeout. 6 fouls on PC, 0 on CU this half

— Jon Nyatawa (@JonNyatawa) February 23, 2017
It's 6-0 Providence fouls in the 2nd half. Check back in a few minutes. Let's see if that "evens out"

— John Bishop (@JohnBishop71) February 23, 2017
Marcus Foster going to the free throw line. Any minute now we should see some unicorns on the court. pic.twitter.com/sUZnmuZFjC

— Matt DeMarinis (@mjdemarinis) February 23, 2017
@TylerA_Anderson As one who sits on the baseline I find it hard to believe calls can be that inaccura-… 😂😂 can't do it w/a straight face

— Adam Streur (@astreurphoto) February 23, 2017
So playing Z at point makes us grind it out. Isn't that exactly what Providence wants???

— Harry Hoch III (@hoch_iii) February 23, 2017
Just because.. #Taz pic.twitter.com/EdRE7RJSBr

— Damon Benning (@damonbenning) February 23, 2017
The crowd just cheered when Mac told Davion to come in!! 😂😂😂😂

— Tony Roth ™ (@toneroth) February 23, 2017
THANK YOU JESUS PLEASE DONT SCREW THIS UP MINTZ

— Bluejay Buff (@BluejayBuff) February 23, 2017
DAVION LIVES!

— Jacob Padilla (@JacobPadilla_) February 23, 2017
Biggest applause of the game was Z getting pulled out of the game

— FakeBlueCrew (@FakeBlueCrew) February 23, 2017
kyron cartwright uses his clutch genetics to put the friars up 68-66 with 2.2 seconds left.

— alex sindelar (@crimebait) February 23, 2017
Of course.

— Jacob Padilla (@JacobPadilla_) February 23, 2017
Bad bad bad….

— Bleeds Blue (@CUAlum81) February 23, 2017
Disastrous home loss tonight. With news of Watson and now this, season has gone off the rails it seems. Just so unexpected all of it. #Jays

— Derek Rayment (@PRspcDerek) February 23, 2017
Is it just me .@gocreighton fans, but I feel every year #Providence has our number and it comes down to #missedchances @whitebluereview

— Liam Dawson (@xcbluejay) February 23, 2017
MAN. Ed's got Mac's number.

— truebluejays (@truebluejs) February 23, 2017
Pictured (L – R):@cucoachmac, that game & a top-2 BET seed, Coach Cooley#mintz pic.twitter.com/gl1mYeBhOy

— JoeJohns (@joejohns402) February 23, 2017
Coach Mac can talk about practice all he wants, he's obviously having trouble winning GAMES when plays Z at PG as much as he does

— Bluejay Buff (@BluejayBuff) February 23, 2017
Remember when we had a double digit lead and Z played the whole second half and lost

— FakeBlueCrew (@FakeBlueCrew) February 23, 2017
@HolyLandofHoops Not a shocker. Creighton playing not to lose (and losing) is something of a trend at this point.

— Jacob Padilla (@JacobPadilla_) February 23, 2017
As if to make Creighton fans feel better after a tough home loss, @FSMidwest throws immediately to SIU-Illinois St. in Carbondale. Woof.

— truebluejays (@truebluejs) February 23, 2017
#Creighton scored on three of their last 10 possessions. Not an ideal way to finish a close game on your home floor.

— Matt DeMarinis (@mjdemarinis) February 23, 2017
Should be 8-2 over past 10 games instead of 5-5. The 7/10 game in the NCAA's will be tough.

— Patrick Marshall (@wildjays) February 23, 2017
Ugh dude, this game and the X Game at home are just murderous to think about. Missed chances.

— Austin (@letitflycu) February 23, 2017
My mood after the Jays game: meh. Four conference home losses: 🤔🤔🤔🤔#GoJays #toughness

— Jimmy Motz (@JimmyMotz) February 23, 2017
I love being a Creighton Bluejay through the ups and downs… Wouldn't want to be at any other school!

— Marcus Foster (@Swaggy2_) February 23, 2017
Comments
Tagged in: