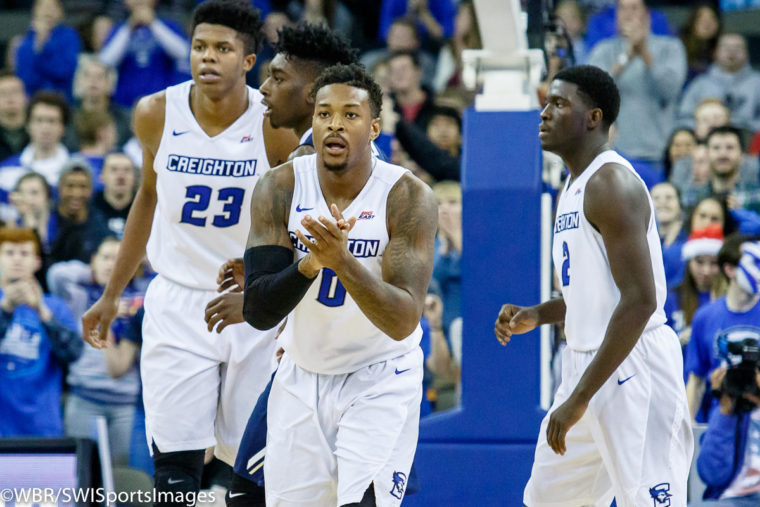 Morning After: Creighton Turns Up Heat in Second Half, Storms Past Providence 70-58
Key Stats:
There was a whole lot of ugliness on both sides in this one. Creighton made one of their first 11 three pointers, and four of 20 for the game, while Providence made four of 21 from outside. Creighton missed 13 (!#$%!) free throws, going 20-33, while Providence missed 12 in going 14-26. Overall, CU made 23-54 from the field (37.9%), and PC made 20-50 (42.3%). Creighton tied a season-high by being whistled (notice I didn't say "committed" there) for 25 fouls, and Marcus Foster played just 10 of the game's final 25 minutes due to severe foul trouble. Justin Patton and Isaiah Zierden frequently joined him on the bench and ended with four fouls; Toby Hegner fouled out after 14 minutes of action; Davion Mintz saw his first-half time cut after two quick fouls.
But the Jays separated themselves by converting 22 — yup, TWENTY TWO — Providence turnovers into 26 points. 15 of those turnovers came in the second half, thanks to nine Bluejay steals.
And the most important stat? Creighton 70, Providence 58. Survive and Advance, baby.
Standout Performance:
Cole Huff's mom watched the game from a hospital after suffering a stroke, and the Bluejays' senior forward told WBR's Matt DeMarinis in New York that her message to him was simple:
"Do what you need to do to get a win."
Did he ever. The overall stat line doesn't jump out — 10 points, five boards and a steal in 29 minutes — but he made winning plays down the stretch for a team that has sometimes found them hard to come by.
With 5:08 to play and the Jays holding onto a 56-50 lead against a Friar team that had scored on three straight possessions, the pressure was mounting. The Bluejays needed an answer. Mintz took an open three that missed, but Huff fought through a pair of Friars to grab the offensive board; his putback was the answer they needed. But he wasn't done.
💪 COLE HUFF 💪 #GoJays #TakeFlight #BIGEASThoops pic.twitter.com/B9wCQjcDIz

— Creighton Basketball (@BluejayMBB) March 10, 2017
Two possessions later, Providence's Kyron Cartwright missed a pair of free throws, and Huff secured the rebound. He started a fast break that led to a layup for Foster — though he missed that shot, he got his own rebound and tipped it in to push the lead out to 60-51. Huff cleared the next possession, too, securing a rebound amidst two Friars underneath following a missed layup from Isaiah Jackson.
At a critical point in one of the most critical games of the year, Huff did what he needed to do to get his team a win. On this night it wasn't a three-pointer, or the jab-step midrange jumper he's known for. It was three rebounds in the span of 90 seconds as the game wound down that his team needed, and Huff got them.
Please keep her in your prayers… https://t.co/NIFODKEmqU

— Coach McDermott (@cucoachmac) March 10, 2017
Recap & Analysis:
Thursday night's final quarterfinal game was one of the Bluejays' worst halves of basketball this year, if not the worst. They committed nine turnovers, shot 1-11 from three-point range, and after an assist by Marcus Foster on their very first shot — a lob play to Justin Patton — the Jays went without an assist for the final 19:43 of the half.
Missed shots, turnovers, and zero ball movement resulted in exactly the type of game Providence loves to make you play — a down-in-the-mud, grind-it-to-a-halt low scoring affair where the toughest team wins. That team is usually Providence, because no one is tougher or grittier than Ed Cooley's Friars.
Truthfully, the Friars had been just as bad as the Bluejays in the first half, going 3-11 from three-point range and missing six free throws. They had a chance to bury the Jays, or at least create comfortable separation between the teams, but instead led by just three at the break, 30-27.
That left the door open, and the Jays busted through. An impassioned speech at halftime from Marcus Foster got the team revved up. The team collectively offered encouragement to freshman point guard Davion Mintz, who looked overwhelmed by the bright lights of the Big East Tournament early on and picked up two quick fouls. And they reassured themselves they had the focus and discipline to beat Providence at their own game.
They came out after halftime flying around the court, and the combination of their own defensive efforts and uncharacteristically poor decision making by the Friars got them in the open court. And they capitalized.
CU scored the first eight points of the half to take a 35-30 lead. Three free throws from Mintz and Khyri Thomas, a steal by Justin Patton that led to a three from Huff after this baseline drive:
🔙🔛🔝 #GoJays #TakeFlight #BIGEASThoops pic.twitter.com/nMrhQw5p1N

— Creighton Basketball (@BluejayMBB) March 10, 2017
and a jumper in transition by Thomas forced the Friars to call timeout just three minutes in. A dunk by Patton out of the timeout pushed the lead to seven:
JUSTIN PATTON 🔨 #GoJays #TakeFlight #BIGEASThoops pic.twitter.com/7UlcfcfftK

— Creighton Basketball (@BluejayMBB) March 10, 2017
The run would eventually extend to 17-4 over the first nine minutes of the half. Mintz played a huge role, consistently pushing the pace on Friar turnovers or after his defense got a stop. He had steals on back-to-back possessions that led to the Jays' first double-digit lead — one at the 12:14 mark that he converted into a layup himself and the second turning into a transition layup for Zach Hanson.
Davion Mintz steal ➡️ Davion Mintz ball fake ➡️ Davion Mintz finish #GoJays #TakeFlight #BIGEASThoops pic.twitter.com/Bde438tQSW

— Creighton Basketball (@BluejayMBB) March 10, 2017
Mintz had eight points, two assists and three steals, all in the second half, and his determination to attack the open floor after Providence turnovers was the difference in the game. In the locker room after the game, Coach Greg McDermott praised him in his postgame speech.
"You grew up a lot tonight, son," his coach said, to the roars of his teammates.
🙌🙌 Greg McDermott postgame locker room speeches 🙌🙌 #GoJays #TakeFlight #BIGEASThoops pic.twitter.com/DfYMkHanet

— Creighton Basketball (@BluejayMBB) March 10, 2017
The Bluejays' defense was solid, but not all of the Friars' 22 turnovers were caused by defense. They threw at least three passes wildly past their intended targets and into the baseline seats. They bobbled passes that should have been caught cleanly. They committed a double-dribble in the backcourt, 90 feet from the basket. Hell, they even threw a pass off the face of a teammate. But the Jays did have nine steals, and that's a big reason they built a lead with Foster on the bench nursing both foul trouble and an off-shooting night, and then held onto it with Foster and Patton taking turns on the bench with foul trouble.
Huff helped turn back the Friars with his three big rebounds late, and then the Jays made their free throws when it counted — making seven of their last eight from the line over the final 1:35. This steal by Thomas with under two minutes to go was one of his best of the year — the Big East Defensive Player of the Year switched on a cut, left the deadly Kyron Cartwright, and stepped right into the passing lane to intercept the pass.
#Khyrifense #GoJays #TakeFlight #BIGEASThoops pic.twitter.com/CFvzov47yJ

— Creighton Basketball (@BluejayMBB) March 10, 2017
It wasn't pretty, but the result was a 70-58 win that advances the Bluejays to the Big East Semifinals. Their opponent Friday night is the seven-seed Xavier Musketeers, fresh off a thrilling last-second upset of Butler. The Jays and Musketeers split two meetings in the regular season, with Xavier's 82-80 win in Omaha still stuck in the craw of many CU fans. Creighton dominated large swaths of that game, only to be done in by a late rally fueled by three-pointers from Trevon Bluiett and J.P. Macura.
They Said It:
"I'm extremely proud of our team. We kind of won a rock fight tonight. Neither team shot free throws well. Particularly in the first half neither team shot well. But I talked to the team at halftime. They had scored 30 points in 36 possessions the first half, and I felt like if we continue with that defense, that things would loosen up a little for us offensively.
And we were able to force some turnovers — Khyri was terrific defensively. And I thought Davion, after maybe having some freshman jitters playing in this tournament the first time in the first half, I thought he really settled in and was great on both ends of the floor the second half.
So extremely proud of the team to get back to the semifinals, to have an opportunity to play in another championship game." -Coach Greg McDermott in postgame press conference
Q. Really the first time you dominated a great team since losing Watson. You have a sophomore and freshman there but did it a different way. Only seven assists but both had three steals. This man did great from the line. Is the team learning to win a different way than you did with that 18-1 start when you had the senior passer to run things?
"While we've scored some games, we probably don't have the spreadability that we had prior to Maurice's injury. But we've had to reinvent ourselves. And I've said it many times, Khyri and Marcus, in particular, the first 20 games of the season they were secondary bought in, secondary decision makers. And the last 12 or 13 they're primary decision makers and ball handlers.

And that's quite a change to make 20 games into a season. And there's been some peaks and valleys to that. There's been games they've been terrific. There's been games where they turned it over a little bit too much.

But they've gotten better. Davion went from not playing much to playing a significant role. Isaiah is playing some point guard he wasn't before. Tyler Clement is playing a bit. We've had to move pieces around but they've stayed together. That's a credit to the leadership in our locker room and these young guys. As you said I've got a freshman and sophomore up here. They've grown up fast." -Coach Greg McDermott in postgame press conference
Q. Khyri, you didn't guard Cartwright much in Omaha the last meeting, but tonight you were switching off him and Bullock. And Bullock goes 1-for-8. Khyri turns the ball over six times. What were you doing tonight to make things chaotic for both of them?
"For Bullock, I wasn't really doing a whole lot. I don't think he was being as aggressive the first two times we played him. And Cartwright he's super quick. He blew by me every time. But with him I just kind of laid off his shot and laid back off the 3-point line and made him drive. And he kind of made some tough shots and missed some as well." -Khyri Thomas in postgame press conference
Q. What does it say about your team that you were able to win this game when your leading scorer was on the bench with foul trouble and really not on the court when you made that big game-changing run early in the second half?
"Well, you bring a guy like Isaiah Zierden, who's in his fifth year off the bench. Isaiah has played every role we've asked him to play. He's dealt with three major injuries during the course of his career. He's led us in minutes last year. He's coming off the bench. He just does what he does.

He was instrumental in that run. He brings a calmness to our team. But we had to balance a lot of foul trouble. And while Marcus was in foul trouble, he was our best cheerleader over there on the bench, talking to the guys at every timeout and never became unengaged in the game while he was sitting on the bench with foul trouble. And that's the sign of a pretty mature player." -Coach Greg McDermott in postgame press conference
Q. You had eight free throws in the first half, jumped up to 25 in the second half. Was being aggressive and getting to the line one of your points of emphasis in the second half?
"When you're not shooting 3s well you better do something different. Obviously the threat of our ability to shoot the 3, because we've been one of the better teams in the country all season, opens things up and allows us to maybe get to the rim a little bit more than some teams. But Khyri was terrific. Justin was active, slipping out of some ball screens and getting to the rim and putting pressure on the rim. But without question, getting into the bonus early was really critical for us that second half." -Coach Greg McDermott in postgame press conference
Q. Davion, coach just mentioned you got some turnovers to start the second half, but looked like you were just playing with a little bit more energy as a team. I guess, did you notice that? And why do you think you got off to such a good start in the second half?
"I want to say I have best teammates in the nation because the first half it was ugly for me. When I came into the locker room they uplifted me and calmed me down. I came out a little anxious, just ready and excited. But once I calmed down and got my groove, that's when I could hype myself up and it started with them. I thank them and the coaching staff for sticking with me." -Davion Mintz in postgame press conference
Q. What does it say about the league the same day that the 2, 3, 4 seeds get knocked off?
"I said it a long time ago, when we lost Maurice and Xavier lost Edmond, you could take — obviously Villanova separated themselves on the top, and DePaul, while they got a lot better, didn't win a lot on the bottom. But you could take the other eight and put us all in the hat and pick us out any night. There's not much difference and any given night anything could happen. I think that's what you've seen happen in the league over the course since those two injuries have taken place.

But there's great basketball in this league. And I think that's going to be evident when Selection Sunday rolls around." -Coach Greg McDermott in postgame press conference
Q. You talked leading up to this about 50/50 balls and wondering why not everybody is kind of sacrificing their bodies. And I think at one point in the second half there was a possession where all five of your guys touched a loose ball at half court. You pushed it to 10. Did you feel like that was when the game switched in your favor, and what's changed in the days leading up to that?
"We've talked about it after the last game. And those guys that made those hustle plays at Marquette fueled something that in everybody in the program — and that possession was a great microcosm of the game for us.

We talked about, really simple before the game, you don't have a lot of time to talk to your team when they have 20 minutes to get ready. So we talked about intelligence and toughness, shot selection, being in the right spot, communication, and then winning the 50/50 plays. And for the most part tonight we were able to do that." -Coach Greg McDermott in postgame press conference
Q. You've alluded to this a little bit, but in a game like this, where you don't play your best, to find a way, just how important is that, and what does it say about your team that you were able to get this win?
"This time of year you try to survive. You're trying to get to the next day. And that's going to be the case this weekend and then next week the NCAA Tournament is the same way. You see what you've got that night. Do you have your A game? Do you have your B game, shooting the basketball? And you just adjust and you try to find a way to win.

But our guys really competed tonight. And we were playing a team, Ed's done an unbelievable job especially these last three, three and a half weeks of the season to take a team that was 4-8 and get them into the NCAA Tournament. They're the hottest team in the league. And for us to be able to frustrate them with some of our defense is really a credit to our team." -Coach Greg McDermott in postgame press conference
You Said It:
Affinia. Stewart. Whatever the hell you call it, this place is lit tonight. #gojays

— Creighton Otter (@creightonotter) March 10, 2017
The #Creighton MBB fans have assembled in the lobby for the @BluejayMBB send-off to @TheGarden for tonite's game v Providence #BlueYorkCity pic.twitter.com/k1AjFWpteJ

— Kevin Sarver (@KASarver) March 10, 2017
@Mintzy_10 Go Jays!!! pic.twitter.com/BrcvOx5YJ2

— SandyM (@mintz_sandy) March 10, 2017
The Stewart lobby is the place to be!! @BandOfBluejays #GoJays #BlueYorkCity pic.twitter.com/ORIXLVFEF4

— Matt Eck (@BlueJayHawk5) March 10, 2017
#GoJays pic.twitter.com/eg8CM5z6rj

— Harry Hoch III (@hoch_iii) March 10, 2017
Let's roll Jay's! #GoJays pic.twitter.com/8QXrPHdTu3

— HappyOrr (@Happyorr) March 10, 2017
.@BluejayMBB is heading out to @TheGarden through the masses here at the team hotel #Creighton #GoJays #BEtourney #BlueYorkCity pic.twitter.com/YAyInxgr1Z

— Kevin Sarver (@KASarver) March 10, 2017
@JaysDancers #BlueYorkCity pic.twitter.com/XSuE10j6b9

— Alynne Wize (@Awize1) March 10, 2017
MSG is about 80% full and hardly any of the seem to care what is going on between Butler & Xavier. #Jays #Friars #BETourney pic.twitter.com/wT0YLSD898

— Matt DeMarinis (@mjdemarinis) March 10, 2017
Creighton taking the court here at the Garden pic.twitter.com/uyVKoFqFjM

— Jon Nyatawa (@JonNyatawa) March 10, 2017
The fans behind me have already called Justin Patton a "monster".

Twice.

In 2 minutes.

— Rob Anderson (@_robanderson) March 10, 2017
Not even two minutes into his #BEtourney debut and the Justin Patton Show has begun @TheGarden. @BluejayMBB pic.twitter.com/KNp9ltnnyi

— #BIGEASThoops (@BIGEASTMBB) March 10, 2017
Knicks play 41 games a year on these rims? Explains a lot #GoJays

— Doug Swenson (@CommonSwense) March 10, 2017
That half of #BETourney play was not enjoyable to watch.

— Rob Simms (@IamRobSimms) March 10, 2017
if only the jays had bought fewer iphones

— Patrick Murray™ (@pbmrry) March 10, 2017
First half observs: Justin Patton had 2 FGA after the opening two minutes; Bullock had a Bullock type 1st half; the Friars missed 6 FT!

— Kevin McNamara (@KevinMcNamara33) March 10, 2017
Second half adjustments:. Play tougher and hit some shots. And get 4 more points than the other team.

— Patrick Marshall (@wildjays) March 10, 2017
GREAT EFFORT! LET'S FREAKING GO!

— Martin Swanson (@bigredtank72) March 10, 2017
Holy cow … an entire flock of Bluejays fighting for a 50/50 ball. That's a sight to behold for the coaching staff.

— Matt DeMarinis (@mjdemarinis) March 10, 2017
Ref show. Let's all sit back and enjoy shall we?

— Martin Swanson (@bigredtank72) March 10, 2017
I told y'all to be patient

— Austin (@letitflycu) March 10, 2017
So maybe #Creighton is better off trailing at halftime???

— Heath Gunderson (@Heath_Gunderson) March 10, 2017
Impressive start to the second half for the Jays. They have Providence all out of sorts.

— Josh Peterson (@joshtweeterson) March 10, 2017
Disastrous start to 2nd half for Providence: 0-4 FG, 4 turnovers. Creighton 8-0 run, take 35-30 lead

— Kevin McNamara (@KevinMcNamara33) March 10, 2017
Heck of a halftime speech and adjustments so far from Coach Mac. #GoJays

— John Schulte (@j_a_schulte) March 10, 2017
I like how we have started the 2nd half! #GoJays

— Bob Harstad (@bobharstad) March 10, 2017
Nice ovation from the Creighton fans at MSG when @CreightonVB senior Lauren Smith is recognized as the female scholar athlete of the year.

— Matt DeMarinis (@mjdemarinis) March 10, 2017
The pace of @BluejayMBB has taken over these last few minutes. Oh, and that Patton guy is superhuman. #BEtourney

— John Fanta (@John_Fanta) March 10, 2017
If they foul Cartwright out I'll buy everyone in MSG a beer. #gojays

— Creighton Otter (@creightonotter) March 10, 2017
Local unbiased New Yorkers started to taunt the Providence section after Justin Patton slammed that one home. This city keeps you in check.

— Matt DeMarinis (@mjdemarinis) March 10, 2017
Creighton on a run with Foster on the bench.

— HolyLandofHoops (@HolyLandofHoops) March 10, 2017
Isaiah Zierdan looks like he's a character from Deadwood.

— Rob Dauster (@RobDauster) March 10, 2017
LOOK! LOOK AT WHAT THE REAL POINT GUARD CAN DO!

DO YOU SEE IT!!!

— Garret Mueller (@mue11er) March 10, 2017
MINTZ!!!!!!!!!!!!!!!!!!!!!!!!!!!!!!!!!!!!!!!!!!!!!!!!!!!!!!!!!!!!!!!!

— JoeJohns (@joejohns402) March 10, 2017
Davion Mintz has so much potential

— Clint Parks (@Brotherhood05) March 10, 2017
This second half offense has been in Mint(z) condition

*see's self out

— Tyler Anderson (@TylerA_Anderson) March 10, 2017
Also, was that Mintz' dad that they showed? My man looks like he could deadlift 525 easy.

— Garret Mueller (@mue11er) March 10, 2017
Gotta love a true point guard playing point guard am I right Jays fans?

— Martin Swanson (@bigredtank72) March 10, 2017
I started drinking this half. I have never had alcohol during a Creighton game. It must be helping. Time for another.

— Patrick Marshall (@wildjays) March 10, 2017
What a response by Creighton. The Jays trailed by 3 at half and have opened up a 10 point lead over Providence. Shooting 60% this half 🔥

— Kim Adams (@Kim_Adams1) March 10, 2017
Creighton has gotten loose in transition. Game changed.

— Nick Bahe (@NickBahe) March 10, 2017
It's hard enough having to deal with @BluejayMBB's pace off a make. You turn it over, and good luck. Davion Mintz providing a boost.

— John Fanta (@John_Fanta) March 10, 2017
So if Mintz wouldn't have been in foul trouble were they planning on playing him all 40 minutes? I'm a big Mintz fan but get him a breather.

— Heath Gunderson (@Heath_Gunderson) March 10, 2017
That's a fun twist to this month long saga. https://t.co/cX6qhGW1p2

— Matt DeMarinis (@mjdemarinis) March 10, 2017
This half of #BETourney play has been more enjoyable to watch.

— Rob Simms (@IamRobSimms) March 10, 2017
Providence has 10 second half turnovers against just 4 made field goals. Creighton shooting 53.3% from the field this half #pcbb

— Mike Hopkins (@pcbb1917) March 10, 2017
I'm going to start giving free throw lessons. Someone has to.

— HolyLandofHoops (@HolyLandofHoops) March 10, 2017
Think Khyri is playing with a little chip on his shoulder after not getting recognized on one of the all Big East teams?

— Patrick Marshall (@wildjays) March 10, 2017
#Providence has gotten 3 points from Rodney Bullock. Khyri Thomas seems to be able to defend ok. #GoJays

— Heath Gunderson (@Heath_Gunderson) March 10, 2017
That steal from Thomas. What a freaking play.

— Josh Peterson (@joshtweeterson) March 10, 2017
The Creighton contingent is LOUD

— Big East Javier Baez (@becb_sbn) March 10, 2017
Khyri Thomas just does it all. So glad we get to watch him for two more years.

— Heath Gunderson (@Heath_Gunderson) March 10, 2017
Khyri Thomas has been terrific tonight for Creighton. Combination of cold shooting and foul trouble meant he… https://t.co/79wSrDxY3J

— Jeff Borzello (@jeffborzello) March 10, 2017
.@whitebluereview @BluejayMBB all-around team play tonight. Has me like…. pic.twitter.com/lmxENMmf3c

— Liam Dawson (@xcbluejay) March 10, 2017
Creighton second half. pic.twitter.com/Q13808swno

— Garret Mueller (@mue11er) March 10, 2017
Have aged 3 years in the last 2.5 hours but worth it. #Creighton moving on to the #BIGEASThoops semifinals after defeating PC @TheGarden

— Kevin Sarver (@KASarver) March 10, 2017
Creighton went 4-20 from 3 and beat Providence. Amazing.

— Mike.tweets (@michaelkmcneil) March 10, 2017
Holy hell the Creighton Bluejays just engineered a second-half comeback against Ed Cooley. #GoJays #BEtourney

— truebluejays (@truebluejs) March 10, 2017
The loss of Mo Watson didn't end Creighton's season. Jays beat Providence by 12 to advance to play Xavier in the BE semis Friday at MSG.

— Jon Rothstein (@JonRothstein) March 10, 2017
JAYS WIN
JAYS WIN
JAYS WIN #GoJays #BEbasketball

— Molly McGuire (@MollyMcGuire20) March 10, 2017
Holy crap we won!! #GoJays pic.twitter.com/iV6jaIMJs7

— Elizabeth H (@ehilpipre) March 10, 2017
Hurry up Justin, it's almost midnight!!! – Tazz, probably pic.twitter.com/JnOnuJMOfd

— Rob Anderson (@_robanderson) March 10, 2017
Moving on!!! pic.twitter.com/ihGslzdii1

— Rob Anderson (@_robanderson) March 10, 2017
Unsung hero tonight–Cole Huff. Holy cow, for all he's gone through, felt like he played 40 minutes. Hit shots when needed. Tough D

— Patrick Marshall (@wildjays) March 10, 2017
Gutsy win tonight! Everyone contributed. #GoJays

— Bob Harstad (@bobharstad) March 10, 2017
Following tonight's @BluejayMBB victory tonight, Coach McDermott had nothing but love for the passionate Creighton fanbase #GoJays pic.twitter.com/OIV4Fefg7w

— Creighton Bluejays (@gocreighton) March 10, 2017
Lavin suggesting dollar beer night for Creighton fans at MSG-priceless!

— Joe Bezousek (@wdwjoe) March 10, 2017
Dollar beer night at MSG tomorrow

— FakeBlueCrew (@FakeBlueCrew) March 10, 2017
You heard it on @FS1 . $1 beer night @TheGarden tomorrow night. #BlueYorkCity

— Patrick Marshall (@wildjays) March 10, 2017
Great call tonight @JohnBishop71 and @NickBahe but please turn around and smack the Providence fan screaming behind you.

— Ian Aeillo (@IanAeillo) March 10, 2017
They can take their smack back to Rhode Island cuz they got no reason to be here no more! #Creighton https://t.co/1scW2hSAe1

— John Bishop (@JohnBishop71) March 10, 2017
Creighton vs Xavier. Jays owe them an ass whoopin. Can't wait!!

— Tony Roth ™ (@toneroth) March 10, 2017
Khyri Thomas Vengance Tour, step 1.

— Creighton Otter (@creightonotter) March 10, 2017
Comments
Tagged in: