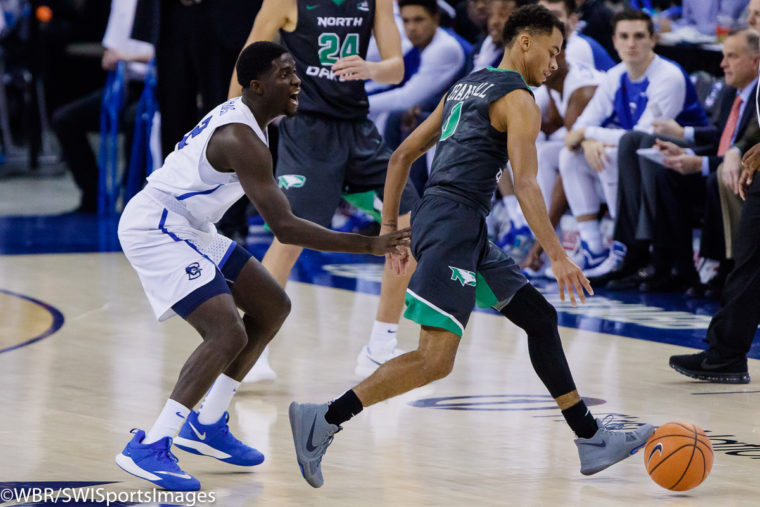 Morning After: Creighton's Hot-Shooting Second Half Buries North Dakota in 111-68 Win
Bluejay Beat Podcast:
Recap & Analysis:
The pace that Tuesday's game was played at shouldn't have been much of a surprise, as both Creighton and North Dakota rank among the fastest tempo teams in college basketball. The Bluejays had 82 offensive possessions — around two per minute, which is pretty amazing when you think about it — and scored 111 points, the seventh-most in program history.
Four minutes into the game, the teams were tied at 11, with both of them shooting lights-out from the tip. UND made it's first five shots, but that's uncharacteristic for them as we touched on in the Primer. They like to play really fast, but they're a solidly average shooting team that hasn't capitalized on turning their pace of play into easy baskets so far this year because they tend to be undisciplined in their shot selection.
Sure enough, a combination of Creighton playing a bit better defense and UND's shooters regressing to the mean resulted in the Fighting Sioux following that 5-5 start by making just three of their next 16 shots. WBR's Matt DeMarinis commented on Twitter that North Dakota looked like their gas pedal was stuck to the floorboard, as they were playing fast but out of control. The Jays did some good things defensively, as Toby Hegner and Martin Krampelj were disruptive in the paint at altering shots and helping on ball screens to force UND into tough looks. And Khyri Thomas was his usual disruptive presence defensively, holding Geno Crandall to just three points on five shot attempts while guarding him, and forcing him into six turnovers. But as a team, they weren't nearly as active or vocal as they normally are.
With UND's offense stalled, CU began to pull away. A three-pointer by Krampelj nine minutes into the game gave Creighton their first double-digit lead at 26-15, and after former Bluejay Marlon Stewart answered with a bucket at the other end, Khyri Thomas hit a three to make it 29-17. The game was never closer than 12 the rest of the night.
CU built a 51-31 lead late in the half, but North Dakota used a 6-0 run to end the half to slice the deficit to 14, and they refused to go quietly as the second half began. They made six straight field goals midway through the second, and with 10:35 to play trailed 75-61. That bucket seemed to wake up the Bluejays, who turned on the afterburners and outscored UND 36-7 the rest of the game to win 111-68.
The Jays scored 10 straight points over the next two minutes, fueled by four points from Mitch Ballock (on a pair of free throws and a nifty up-and-under driving layup) and three's from Ronnie Harrell and Khyri Thomas to push the lead to 85-61. Another 10-0 run followed shortly after to make it 100-66; a 9-0 run ended the game. It wasn't so much a case of the Jays' defense smothering North Dakota as it was North Dakota crashing a car into a brick wall at 120MPH time after time, taking quick (and often bad) shots that allowed Creighton to run in transition time after time.
When the Jays are able to sprint down the floor consistently they're almost unstoppable. That was the case in the second half, and particularly the final 10 minutes. They scored 60 points on 63% shooting after halftime, had 13 assists on 22 made baskets, and scored 1.54 points per possession.
Key Stats:
Creighton scores 48 of their 111 points in the paint, as Marcus Foster (7-10 on two-pointers), Martin Krampelj (5-6), Ty-Shon Alexander (4-5), Mitch Ballock (2-2) and Ronnie Harrell (2-2) dominated UND inside the arc.
Rebound margin is a misleading stat, as Ken Pomeroy wrote in The Athletic this week. Following that line of thought, the Jays' plus-19 margin on the glass against UND isn't the story. Instead, look at the rebound percentage — they grabbed 88.6% of available defensive rebounds. That IS impressive, as it accomplishes two things vital to their success. It kept their opponent from high-percentage second-chance shot attempts, and let them run in transition to set up their own high-percentage shots. If they can do that 90% of the time, they'll be thrilled.
Standout Performance:
Martin Krampelj stuffed the stat sheet in this one, scoring 15 points, grabbing 14 rebounds, dishing out three assists, and coming up with two steals. He was 6-9 from the floor and even made a three-pointer.
Mitch Ballock ➡️ Martin Krampelj ➡️ 💸 #GoJays #LetItFly pic.twitter.com/xVFiRfMcyi

— Creighton Men's Basketball (@BluejayMBB) December 6, 2017
But let's be honest here. The standout performance was Billy Bluejay riding a sled down the steps of the CenturyLink Center during a second-half timeout. It conjured up memories of the Civic Auditorium days where instead of video boards and on-court promotions to entertain fans during timeouts we had Billy Bluejay being a badass. He'd rappel from the rafters — one time he climbed up inside of the hanging center court scoreboard and rappelled down to deliver the game ball to the refs. He'd ride a unicycle despite having enormous feet far too large to efficiently turn the pedals. He'd put on dunk exhibitions and posterize students unlucky (or lucky?) enough to be props in his game. And yes, sometimes he'd ride a snow sled down the steps.
The latter has been a long-running gag on Twitter among some loyal WBR readers like @FakeBlueCrew and @BluejayBuff, who for years have kept the memory of those days alive with periodic tweets trying to convince CU's mascot to return to the glorious days of sledding down the arena steps.
During a timeout in the second half on Tuesday, a subtle but noticeable buzz began picking up steam in a sideline section of the lower bowl. What was going on? Soon enough, people began to realize what was happening, and an excited roar went up — I heard someone seated a few rows behind me exclaim "HOLY ****, BILLY HAS A SLED!" And then this happened:
— Billy Bluejay (@Billy_Bluejay) December 6, 2017
Glorious.
They Said It:
You Said It:
It was a relatively quiet night on Twitter during this game, and then Billy Bluejay rode a sled down the steps, Tommie Frazier was shown on camera wearing a Bluejay pullover, and ALL HELL BROKE LOOSE. (Insert rolling-laughter-emoji here)
Sparse crowd at the C'Link for Creighton vs. North Dakota — probably fewer than 10k in the seats. #Jays will have to create their own energy to avoid any lulls.

CU Starters: Davion Mintz, Marcus Foster, Khyri Thomas, Ronnie Harrell, Jr., Martin Krampelj.

OUT: Kaleb Joseph.

— Matt DeMarinis (@mjdemarinis) December 6, 2017
How long until Ty-Shon starts at point? Thinking after winter break.

— Tyler McKinney (@tylersmckinney) December 6, 2017
You ever want to have Mac call a timeout after this type of start and have everyone run lines? #GoJays

— Martin Swanson (@bigredtank72) December 6, 2017
North Dakota is taking the same approach to offense as I take to playing first person shooters on the xbox: run around and shoot a lot, who cares if you're going to hit anything. 29-17 Jays, 10:24 left in the first.

— alex sindelar (@crimebait) December 6, 2017
Watching Khyri Thomas play defense is a lot like watching Doug McDermott play offense. #Khyrifense

— Jacob Padilla (@JacobPadilla_) December 6, 2017
Great activity on the defensive end by Toby Hegner and Martin Krampelj. Hegner has forced a couple misses on easier looks in the paint and Krampelj has been disruptive in the passing lanes & helping on ball screens. Both have a combined 17 points as well. #Jays lead 34-18.

— Matt DeMarinis (@mjdemarinis) December 6, 2017
Marcus out there lookin like he bout to clean THE HELL outta some dirty laundry. #spincycle

— truebluejays (@truebluejs) December 6, 2017
.@NickBahe just let the FS2 viewers know that Marcus Foster is 6-9 from the field.

— Corey Lathrop (@cjlathrop) December 6, 2017
That was nice of him. Or awfully nice, as Coach Altman would say.

— Matt DeMarinis (@mjdemarinis) December 6, 2017
Don't think he's happy with effort/focus, bet be plays a lot in 2nd half

— Tyler McKinney (@tylersmckinney) December 6, 2017
Adding pun insult to injury: Khyri misses another layup; Bahe mentions the Benson grad's third missed "bunny."

— truebluejays (@truebluejs) December 6, 2017
Martin Krampelj…quietly having a really good start to the year. Great finisher rolling to the rim. #Jays

— Nick Bahe (@NickBahe) December 6, 2017
You better watch out… #GoJays #LetItFly pic.twitter.com/MkNLlOe9qZ

— Creighton Men's Basketball (@BluejayMBB) December 6, 2017
The Jays murdered North Dakota 111-68, and Billy went sledding 🛷 #RDJ pic.twitter.com/z6oU8ukBLi

— Barstool Jays (@BarstoolJays) December 6, 2017
— Billy Bluejay (@Billy_Bluejay) December 6, 2017
YESYESYES https://t.co/gkpOPBrw92

— Bluejay Buff (@BluejayBuff) December 6, 2017
Someone's gonna need to carry @FakeBlueCrew out the arena tonight, dude's dream came through.

— Tyler Anderson (@TylerA_Anderson) December 6, 2017
BILLY YOU OLD DOG YOU. WE LOVE YOU

— FakeBlueCrew (@FakeBlueCrew) December 6, 2017
BILLY JUST SLID DOWN THE STEPS AND WE ARE BACK IN THE CIVIC. Next up the ConAgra foods halftime shootout with indoor pyro

— FakeBlueCrew (@FakeBlueCrew) December 6, 2017
WE ARE GOING TO THE FINAL 4. ALL CAUSE BILLY WENT SLIDING DOWN THE STEPS LIKE THE GOOD DAYS

— FakeBlueCrew (@FakeBlueCrew) December 6, 2017
Can we get some damn popcorn in the Jaybacker room? https://t.co/cZtrEDOriE

— Rick (@RickInOmaha) December 6, 2017
Billy sledding down the steps is a start. Popcorn in the Jaybacker hall of fame room is next. Jay reopening is the final step

— FakeBlueCrew (@FakeBlueCrew) December 6, 2017
Cool 😎

Welcome to CenturyLink Center Omaha, Tommie. #GoJays #LetItFly pic.twitter.com/w2O4arwLVC

— Creighton Men's Basketball (@BluejayMBB) December 6, 2017
Oh no… https://t.co/HB9zPqsV6e

— Robin Washut (@RobinWashut) December 6, 2017
(Note: you'll want to click through and look at the dozens and dozens of replies to those last two tweets from Nebraska fans who were really, really upset about the sight of Touchdown Tommie in Jays gear. Their GIF game was strong, as was their feeling of betrayal. There's far too many to include here. Some of the best responses from Bluejay fans are below.)
Hoo boy this is gonna make some fans angry…

(Nebraska plays Creighton on Saturday) https://t.co/DUoaAoNquC

— Dave Sund (@davesund) December 6, 2017
Husker fans trying to mentally process this 😂 pic.twitter.com/KKaUu8zpSt

— #GoJays #LetItFly (@Omaha1stCU4Ever) December 6, 2017
Much like St Paul's later in life conversion – it's always great to see someone turn away from evil and towards the light. Looking good in blue, Tommie. https://t.co/RQXUZ1mHJc

— Schmitty (@burtsmustache) December 6, 2017
Frost did say he wanted to unite the state. 🤷🏻‍♂️ https://t.co/0fpQV9TWvc

— Matt DeMarinis (@mjdemarinis) December 6, 2017
Tommie Frazier in Creighton gear sitting front row at the Jays game? Probably just a coincidence on the timing, right?

— Rob Anderson (@_robanderson) December 6, 2017
The hero to the 90s huskers just showed up in nWo colors. Saturday can't get here soon enough pic.twitter.com/5zqTuQG6NG

— FakeBlueCrew (@FakeBlueCrew) December 6, 2017
oh my god this tweet is going to get so much use in the next four days https://t.co/VvgBQ31eIQ

— alex sindelar (@crimebait) December 6, 2017
Hello @JackMitchellLNK https://t.co/fTG2uwVLYB

— John M. Bishop (@JohnBishop71) December 6, 2017
— Jack Mitchell (@JackMitchellLNK) December 6, 2017
Tommie just past Turner as my favorite Husker QB

— John M. Bishop (@JohnBishop71) December 6, 2017
I'm glad Tommie has the right gear on for Saturday.

— Martin Swanson (@bigredtank72) December 6, 2017
This couldn't have dropped during a better week. https://t.co/D0CbEKRATd

— Corey Lathrop (@cjlathrop) December 6, 2017
It's over. Blue state. https://t.co/0l36GQV4jl

— Bluejay Banter (@bluejaybanter) December 6, 2017
Before Billy went sledding and Tommy rocked Jays gear "this is a boring game on Twitter" After those two events happen pic.twitter.com/5MnrrG2f5h

— FakeBlueCrew (@FakeBlueCrew) December 6, 2017
Billy Bluejay sledding down the stairs. Tommie Frazier wearing #Creighton gear. WHAT THE HELL IS GOING ON TONIGHT??? #GoJays

— Heath Gunderson (@Heath_Gunderson) December 6, 2017
Comments
Tagged in: