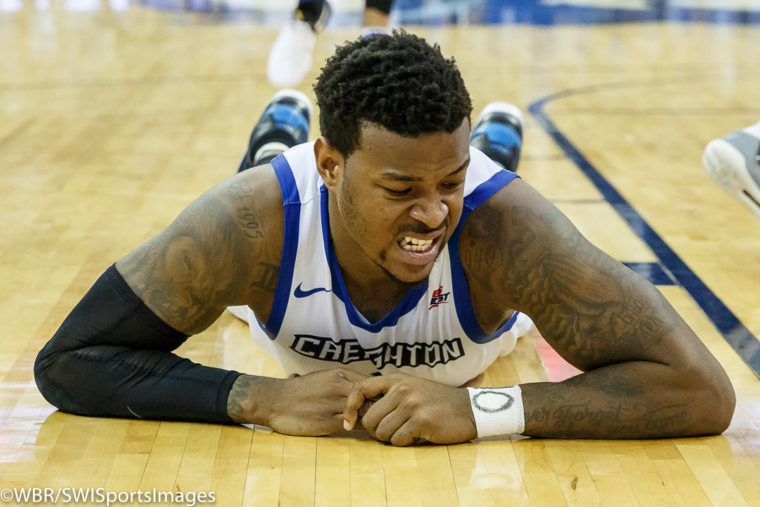 Morning After: Disastrous Second Half Dooms #25 Creighton in 91-74 Loss to #15 Gonzaga
Key Stats:
The first and second half splits tell the story here. First half: 11-17 on two-pointers, 7-14 on three-pointers, 13 assists on 18 made baskets and a -1 rebounding margin.
Second half: 6-18 on two-pointers, 5-11 on three-pointers, four assists on 11 made baskets, and a -8 rebounding margin with nine turnovers.
Recap & Analysis:
Yuck.
With the exception of three ties, Creighton led for the first 23 minutes of the game, and by as many as eight points. But after taking a 44-37 lead at halftime, they were steamrolled in a second half that saw them give up 54 points.
On their first 10 possessions of the second half, they had four turnovers, had three shots blocked at the rim, and found themselves caught in an avalanche of their own creation.
"All of those resulted in runouts the other way for them, where now your defense isn't set, you're scrambling, you're mismatched," Coach Greg McDermott said on his postgame radio show. "And most of the resulting shots were layups."
The resulting 21-4 run for the Bulldogs, turning a 46-39 Creighton lead into a 60-50 Gonzaga advantage, happened fast and the Jays seemed helpless — or hapless — in trying to stop it. And the McCarthey Athletic Center crowd that CU had done such a good job of quieting in the first half suddenly became a huge factor.
"We kept the crowd out of the game the first half," McDermott said. "It seemed like any time they scored, we were able to answer. We shot a really high percentage, we got into the teeth of their defense and made some layups which is so hard to do against them. But in the second half, we contributed to the crowd getting into the game because of our turnovers, and because we tried to challenge them at the rim and lost that battle."
The second half blowout erased what had been a tremendous first half of basketball. They dictated tempo and scored easy buckets in transition before Gonzaga could set up their defense. They made crisp, decisive passes to set up teammates for open shots, which they knocked down. They defended well and held the Bulldogs' top two scorers in check — Josh Perkins missed the only shot he attempted, and Johnathan Williams worked extremely hard for his seven points (3-8 shooting). The player we identified in the Primer as the guy you'd be OK becoming a volume shooter because he had been the least efficient scorer in their rotation, Silas Melson, did just that. Of course, he had his best game of the year (5-5 from the floor, 3-3 on three's for 16 first half points) but in Coach Mac's system, those are the tradeoffs you're happy to make in exchange for shutting down their top options. Sometimes it works, and sometimes it doesn't.
Meanwhile, Martin Krampelj scored on an array of good looks around the rim in that first half as the Jays' guards got the ball to him in position to score. Marcus Foster scored 15 first-half points, taking great joy in silencing the crowd time after time with big shots just when it looked like Gonzaga was putting momentum together. And Toby Hegner returned weeks ahead of schedule from his ankle injury, giving them a big boost defensively and hitting two huge three-pointers early in the game.
Krampelj's success in the paint forced Gonzaga into a zone defense, which the Jays sliced and diced as well as they've done in recent memory. Hegner, Krampelj, and Khyri Thomas hit mid-range jumpers from the middle of the zone, and later they connected on five out of six 3-pointers that were wide open after dribble penetration collapsed the zone.
"Their frontline does a great job of staying vertical," McDermott said on his postgame show. "They're long, they're athletic, and there's typically not much to be had in the paint. So you're either going to have to take that mid-range 15-footer, or you're going to take it in off the dribble and set your feet and when the defense collapses, spray it around to an open shooter."
That's precisely what they did in the first half. Unfortunately, they couldn't sustain it for another 20 minutes, and combined with Gonzaga's halftime adjustments which seemed to surprise CU — they went away from the zone to a straight man-to-man defense, and began switching on ball screens to take away the open looks at the rim for Creighton's big men — their offense found itself stuck in the mud.
And as things snowballed, Foster and Thomas tried to do too much by themselves. The plan of driving inside not to make a play for yourself but rather to make a play for someone else, which had been so successful in the first half, now became a recipe for poor shots either blocked or altered by Gonzaga's frontline. Foster was 0-7 on two-point shots in the second half, and Thomas was 2-5 inside the arc. They had just four second-half assists as a team, scoring primarily on iso plays instead of making plays for each other.
It's hard to look at the long game the morning after a frustrating loss like this. But despite a 17-point road loss, the toughest part of CU's non-conference schedule is over, and the Jays stand at 5-2. They split four games against ranked foes, picking up a true road win over a likely NCAA Tournament team (or, at worst if their early scuffles continue, an NIT team) in Northwestern and a neutral court win over another likely NCAA team in UCLA. Go back and look at predictions on social media and the Bluejay Underground from three weeks ago prior to this stretch of games; the prevailing opinion was splitting these four games would be a huge step for this team, with an awful lot of the more skeptical fans predicting just one win or even an 0-for.
They got a split, and will now spend the second month of the non-conference at home preparing for Big East play with a pretty decent resume already in their pocket. One of those five games in December features a team hanging around the "Also Receiving Votes" portion of the Top 25 poll in UT-Arlington. Another is against Nebraska, who despite all their usual struggles for relevancy, is a power conference foe that should provide another chance at a Top 150 win. They'll be favored in all five, should win all five, and if they do will enter Big East play at 10-2.
It feels disappointing because the Baylor game slipped through their fingers and because they led for such a long period last night. But Creighton accomplished more or less what they needed to in the first month of the season, and set themselves up well for the rest of the season.
They Said It:
You Said It:
Jays/Zags joint watch party in Denver. pic.twitter.com/liQhycRnQp

— Garret (@mue11er) December 2, 2017
In my own Jaybacker room in Lincoln. The popcorn isn't free here either but it's plentiful.

— Martin Swanson (@bigredtank72) December 2, 2017
Love Mac letting Ronnie grab and go. A big man who can rebound and start the break himself is so tough on a defense.

— Jacob Padilla (@JacobPadilla_) December 2, 2017
ronnie get every board

— Maurice Watson Jr. (@mauricewatsonjr) December 2, 2017
Toby Hegner checked in for the first time since suffering an injury against Northwestern last month, and took a charge less than a couple of minutes from when he stepped on the court.

— Anthony Robinson (@ARobinson_) December 2, 2017
Hegner immediately showing his value, drawing a charge on his first defensive possessions. Veterans know where to be, even if they're not 100 percent

— Jon Nyatawa (@JonNyatawa) December 2, 2017
Back already from a high ankle sprain. This kid is tough. https://t.co/e83wSYqGlB

— Jacob Padilla (@JacobPadilla_) December 2, 2017
TOBY I MISSED YOU

— Alex Hardy (@HA_HA_RDY) December 2, 2017
TOOOOOBBBBBBBYYYYY

— Dave Sund (@davesund) December 2, 2017
TOBY! alert @crimebait

— Corey Lathrop (@cjlathrop) December 2, 2017
TOBY pic.twitter.com/MeREf3EgJC

— Alex Hardy (@HA_HA_RDY) December 2, 2017
toby, except in capital letters and followed by exclamation points

— truebluejays (@truebluejs) December 2, 2017
How big is it that Toby made it back early from his injury?!? Eight early points, a pair of threes, and some good defense.

— Tom Nemitz 🏀 (@WBR_Tom) December 2, 2017
First #khyrifense reference tonight by @TheEricRothman

— Patrick Marshall (@wildjays) December 2, 2017
#Khyrifense mention on the broadcast.

— Jacob Padilla (@JacobPadilla_) December 2, 2017
Now they know what it's like to come into the Link. New Year's last year was insane and it would've sucked to be Villanova there for the most part of it.

— #1 Jaguars Liker (@JonathanSnover) December 2, 2017
This Creighton Gonzaga game is 🔥🔥🔥

— Nick Bahe (@NickBahe) December 2, 2017
You rarely see Gonzaga not dictate the tempo, nor alone at the Kennel. @BluejayMBB continues to get whatever it wants offensively #Creighton

— John Fanta (@John_Fanta) December 2, 2017
Figures Silas Melson shoots terribly all season and comes out 5-5 against Creighton.

— Jacob Padilla (@JacobPadilla_) December 2, 2017
Martin Krampelj has been outstanding in this half.

— Nick Bahe (@NickBahe) December 2, 2017
HALF: Creighton leads Gonzaga, 44-37. One of the best halves of basketball from any Big East team this season.

— Big East Coast Bias (@becb_sbn) December 2, 2017
Boy or girl, my next kid is named #Khyri

— Creighton Otter (@creightonotter) December 2, 2017
Khyri Thomas forces turnovers with his mind. He is The Last Jedi. #Khyrifense

— Matt DeMarinis (@mjdemarinis) December 2, 2017
#khyrifense so good that Perkins has been warned to stop complaining to the refs or he'll get thrown out.

— Brian Norton (@nortonbrian) December 2, 2017
Khyri Thomas is one of the best 2 way players in college basketball. #Creighton

— Tony Patelis (@CollegeHoopNews) December 2, 2017
That was the most impressive half I have seen after Doug (AD). Marcus Foster and Krampelj are unstoppable.

— Derek Rayment (@PRspcDerek) December 2, 2017
AD = After Doug. Love it. https://t.co/cDJi5cTZaq

— White & Blue Review (@whitebluereview) December 2, 2017
Sloppy sloppy sloppy start to the half for Creighton. Turnovers and bad fouls. Jays now on the ropes a bit.

— Nick Bahe (@NickBahe) December 2, 2017
so
Uh
Creighton hasn't scored since I turned it on

— Anonymous Eagle (@AnonymousEagle) December 2, 2017
have you considered turning it off https://t.co/bAzeTjvmpX

— Big East Coast Bias (@becb_sbn) December 2, 2017
Mark Few coming out of halftime. pic.twitter.com/AkenJ4YLqW

— Garret (@mue11er) December 2, 2017
Greg McDermott coming out of halftime. pic.twitter.com/o8ehrxnxqs

— Garret (@mue11er) December 2, 2017
That's not how a top 25 team plays in the second half against another top 25 team. Nope.

— Bluejay Buff (@BluejayBuff) December 2, 2017
I mean can you look worse in a half?

— Creighton Otter (@creightonotter) December 2, 2017
Obviously #Creighton is going to have to get better on the defensive end but can they be successful in the #BigEast without a legitimate back to the basket post threat? A lot of teams aren't going to let them run. Can they be successful enough in the half court?

— Heath Gunderson (@Heath_Gunderson) December 2, 2017
Gotta love when Creighton starts settling for jacking up 3s. Not sure why Mac's teams fall into these ruts.

— Brian Norton (@nortonbrian) December 2, 2017
Live by Marcus Foster's shot selection. Die by Marcus Foster's shot selection. The louder an opposing crowd gets, the quicker his trigger

— Dirk Chatelain (@dirkchatelain) December 2, 2017
For context, this tweet was sent from Scott Frost's mom's lawn. https://t.co/cS4xI5lA44

— Garret (@mue11er) December 2, 2017
— HilltopAlum (@HilltopAlum) December 2, 2017
— Kosta Katsiris (@KostaKat) December 2, 2017
Are we watching the same game? Defense and turnovers the problem. Not Marcus' shot selection.

— Nick Sabatka (@nickrolled82) December 2, 2017
Story for me tonight is how Creighton couldn't get themselves to the line while giving up too many 3-point plays. Zags 63% shooting 2nd half, Jays 40%

— Patrick Marshall (@wildjays) December 2, 2017
Creighton is a legit Top 25 team and Zags just ran Jays off the floor. I'm convinced Gonzaga is top 10 good. Maybe top 5.

— CJ Moore (@CJMooreHoops) December 2, 2017
Didn't expect to win but didn't expect to lose like that. Better watch some film Coach. Either way, Go Jays!

— Smitty (@JSmithberg) December 2, 2017
No FG in the final 4:32 of the game before the bucket with 2.6 seconds left. Play great 1st halves but use so much energy the 2nd half they run out of gas. Even go back and rewatch UCLA & NW games.

— Patrick Marshall (@wildjays) December 2, 2017
From 7 up to 17 down? I mean …

— Creighton Otter (@creightonotter) December 2, 2017
Quit moving ball around in 2nd half, no rebounding, agree on failure to get to line. First time this year totally non competitive.

— JayPak (@JayPakMan) December 2, 2017
Creighton Held Perkins and Williams to 6-16 from the field…and lost by 17. The other Zags killed the Jays. Creighton turned it over too much too. Tough 2nd half. Side note…Gonzaga is really impressive.

— Nick Bahe (@NickBahe) December 2, 2017
Creighton 9-15 from 2 pt range tonight right before halftime @kenpomeroy

— Patrick Marshall (@wildjays) December 2, 2017
'Twas not to be. 17-35 for the game. The Zags' streak of opponents missing at least half their 2's is up to 31. https://t.co/Zu3dNnntKw

— Ken Pomeroy (@kenpomeroy) December 2, 2017
the one victory tonight: josh perkins will see khyri in his nightmares for the remainder of his days

— alex sindelar (@crimebait) December 2, 2017
Welp, the top 25 was nice while it lasted. But I'd rather have an under-the-radar Big East contender or Sweet 16 squad than an early-season darling. #GoJays #RollJays

— truebluejays (@truebluejs) December 2, 2017
No doubt. But when you have a decent lead at the half and get killed at the restart of the second, it is really tough to digest.

— Double Jay (@DoubleJayAlum) December 2, 2017
BUT WHAT IS LIFE LIKE IN WOOD RIVER TONIGHT?

— Creighton Otter (@creightonotter) December 2, 2017
Any day Creighton loses is a good day.

— Dan Hoppen (@danhoppen) December 2, 2017
You must not have a lot of good days https://t.co/95WceULxjg

— FakeBlueCrew (@FakeBlueCrew) December 2, 2017
Comments
Tagged in: