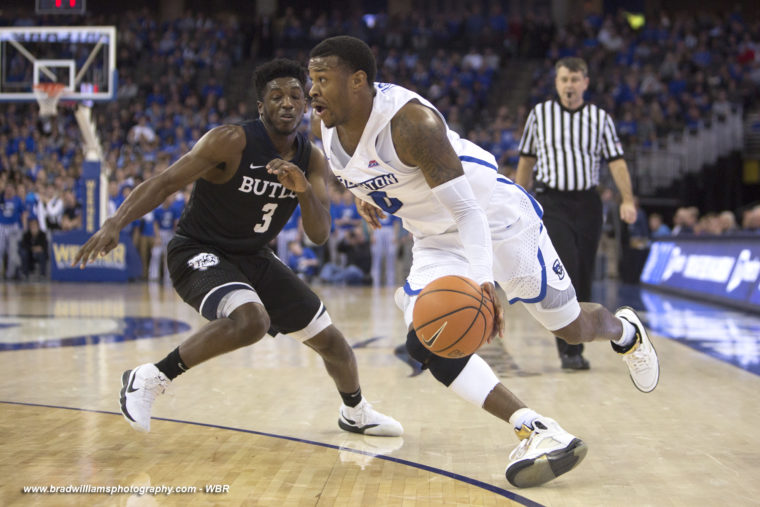 Morning After: Electric First Half, Late Defensive Stand Key #25 Creighton's Win over Butler
Bluejay Beat Podcast:
Recap & Analysis:
In front of a jam-packed, extra-juiced crowd on "Dollar Beer Night", Creighton had an electric first half that featured players seemingly trying to one-up each other on highlight reel plays. They led 19-18 coming out of the under-12 media timeout, and then scored on 10 straight possessions with a dazzling array of offensive power. On one play, Marcus Foster took the ball 75 feet and dribbled through the entire Butler defense for a layup:
🏃‍♂️💨💨💨💨💨💨#GoJays #LetItFly #BIGEASThoops pic.twitter.com/ew9E8Kbz7J

— Creighton Basketball (@BluejayMBB) January 10, 2018
A three by Foster moments later gave CU its first double-digit lead of the night at 32-22. Then Khyri Thomas exploded through Butler's defense for this dunk, which elicited a roar from the crowd that rivaled any play this season and left multiple Butler defenders with shocked looks on their faces. Don't believe me? Check out this shot from WBR's Brad Williams:
And then watch the carnage for yourself:
O
H

M
Y

G
O
O
D
N
E
S
S#GoJays #LetItFly #BIGEASThoops #SCtop10 pic.twitter.com/r3esT2oLWE

— Creighton Basketball (@BluejayMBB) January 10, 2018
A three-pointer from Davion Mintz gave the Jays a 39-24 lead, and then Thomas blocked a shot by Butler's Kelan Martin, ripped away the rebound, and fed the ball to a streaking Ronnie Harrell who took two dribbles and threw an alley-oop to Foster:
#Khyrifense ➡️ Oop to Marcus. Basketball is fun. #GoJays #LetItFly #BIGEASThoops pic.twitter.com/rddtPzge65

— Creighton Basketball (@BluejayMBB) January 10, 2018
For his next act, Thomas poked the ball away from Martin at the top of the key, dove to the floor to recover the loose ball, and started a fastbreak that led to a layup by Foster:
#Khyrifense ➡️ Layup by Marcus. Basketball is still fun. #GoJays #LetItFly #BIGEASThoops pic.twitter.com/IKBX72VXgD

— Creighton Basketball (@BluejayMBB) January 10, 2018
To recap: in just under two minutes of game clock, Thomas:
Exploded through three defenders in the paint for a vicious dunk
Used his length to first disrupt and then block a shot by Butler's leading scorer, fight to get the loose ball, then start a fastbreak
Stole the ball from Butler's leading scorer, dove to the floor to recover the ball, and started a fast break
Goodness. My heart.
They led 49-32 at halftime, but Butler's been a good second-half team all year and Wednesday was no exception. They were down by 26 to Purdue in December in the second half, and rallied to cut it to single digits at nine before losing. They were behind by 10 with two minutes left against Ohio State, rallied to tie it, then won in overtime. They trailed Georgetown by 18 at halftime, rallied to tie that one, too, and again won in double overtime. Against a Creighton team that was a little gassed, they nearly staged another big comeback.
The Bulldogs shot 17-29 to open the second half, and of the 12 misses, they secured an offensive board on five of them. The damage was done almost entirely inside, with 28 of their first 34 points coming in the paint. Creighton had no answer — over a span of 17 possessions across nearly 11 minutes of game clock, Butler scored 14 times. Creighton's 15-point lead was trimmed to six. Luckily, they had enough of a cushion, and made enough baskets of their own, to keep the defensive problems from proving fatal.
"I think the biggest change in the second half is that they turned up their intensity defensively," Coach Greg McDermott said on his postgame radio interview. "They got into the ball a little bit more. And it took us a while to understand how to combat that. They weren't going to quit."
After Kelan Martin's jumper cut CU's lead to 74-68 with just under four minutes left, Marcus Foster scored his first basket of the second half to answer. He'd scored 21 in the first half, but found other ways to contribute in the second after Butler adjusted their defense.
"In the first half, they were trying to plug up the gaps and stop Tini from getting his lobs for dunks and easy buckets that he usually gets," Foster said on the postgame radio show. "In the second, they started spreading out and getting closer to our shooters. Tini was able to slip off a couple of times, and I was able to find him for buckets. And Davion told me during one of the breaks that he noticed Butler was having trouble guarding him on back-cuts — I hit him three times and he scored twice, I think."
One of those back-cuts by Mintz came on the next possession, as CU followed up a defensive stop with Foster threading a pass to Mintz for a jumper that made it 78-70 Creighton. Another defensive stop led to another Foster assist, this time to Martin Krampelj for the exclamation point on a big victory:
🔙🆙🔟 #GoJays #LetItFly #BIGEASThoops pic.twitter.com/KnYo0LKwKu

— Creighton Basketball (@BluejayMBB) January 10, 2018
They'd make five out of six at the line over the final 40 seconds to clinch it. Foster wound up with just two points in 17 second half minutes, but dished out six assists and had eight for the game — a game-high for Foster in a Creighton uniform.
"I wouldn't have expected Marcus to have that kind of game last year, but this year I do," McDermott said on his postgame radio show. "His game has matured. As a good offensive player, if you can take what the defense is doing to try to stop you, and use that against them? That's really deflating."
Key Stats:
Creighton had just one turnover in the first half, and converted seven Butler turnovers into 11 points. For the game, CU committed just seven turnovers — none from their point guard duo of Davion Mintz and Ty-Shon Alexander, who combined for five assists and zero giveaways.
Khyri Thomas' defensive wizardry against Kelan Martin continued, holding Butler's leading scorer (19.2 points per game entering Wednesday night) to 10 points on 12 shots, and forced him into six turnovers.
Standout Performance:
Marcus Foster had 23 points and 8 assists, and was the key contributor to the win — he scored 21 first-half points on 9-14 shooting, and instead of forcing shots when Butler schemed to take away his open looks in the second, he used their scheme against them.
"Coach Mac and I talked about my struggles at Georgetown right before the game tonight, and he told me to let it go," Foster said of his nine-point outing on Saturday where he made just three of 14 shots. "There's so many games in this league, and there's going to be bad ones and good ones. Just focus on the next one. Tonight I got it going early."
Was he angry about that performance? He certainly had that look in the first half, but he told John Bishop and Josh Dotzler there was something else behind it.
"The snarl on my face after a couple of those buckets in the first half was because some of the Butler players were talking trash and saying I was going to miss it. So that's why I made that face, and then cracked a little smile."
And it was another game with another double-double for Martin Krampelj, as he had 14 points and 14 rebounds in just 22 minutes.
"Martin was the most improved player on our team this summer, and he's played even better than I thought he would," McDermott said after the game. "Nobody anticipated double-double after double-double from him, or what he's brought to our offense with his ability to attack the rim and set that ball-screen and dive. An now he's a passer and a ball-handler at the top of the dribble-handoffs, too. He's understanding both the game and where he fits in our offense. And he's rebounding the daylights out of the basketball."
One of the biggest question marks before the season was how the Bluejays would replace Justin Patton. After 17 games, which is roughly the mid-way point of the season, how's Krampelj doing?
Patton: 12.9 points, 6.2 rebounds, 1.4 blocks, 2.05 dunks in 25 minutes per game (35 games)
Krampelj: 12.8 points, 8.5 rebounds, 0.6 blocks, 1.88 dunks in 23.8 minutes per game (17 games)
To be fair, that's a full season for Patton and a half-season for Krampelj. But if we look at just the first 17 games side-by-side — 12 non-conference games and the first five Big East games for both — here's what it looks like:
Patton: 14.0 points, 6.2 rebounds, 1.6 blocks, 2.5 dunks in 26.1 minutes per game
Krampelj: 12.8 points, 8.5 rebounds, 0.6 blocks, 1.88 dunks in 23.8 minutes per game
Patton's numbers dropped slightly in the second half of the season as the combination of Maurice Watson's injury, hitting the freshman conditioning wall, and Big East defenses scheming to slow him down all caught up to him. And Krampelj's numbers may come down a bit, too, as the grind of Big East play wears on him. But so far, there's been little to no drop-off between what Patton gave them statistically and what Krampelj is giving them. It's so impressive.
"Martin is just playing at such a high level," McDermott gushed on his postgame show. "He's shooting the three a little bit better, his free throw shooting has improved, and now you're even seeing some passing that you didn't see from him the first few games this year like that left-handed pass tonight to Tazz in the post. When you've got a center making those kind of plays? Wow. I've been hard on him, and I've demanded a lot from him. And I told him after the game tonight that I'm going to continue to be hard on him because I don't think he's even close to reaching his potential. I don't want him to be satisfied. I think there's a lot more to his game yet to unlock. He's a student of the game and he wants to get better."
They Said It:
You Said It (Steve Lavin Edition):
VIDEO || @kevinburkhardt, @jimjackson419 & @cjacobsen23 break down #25 Creighton's 85-74 victory over Butler tonight on @FS1! #GoJays #LetItFly #BIGEASThoops pic.twitter.com/6uLiINydlB

— Creighton Basketball (@BluejayMBB) January 10, 2018
The interview you've all been waiting for…@cucoachmac & @SteveLavin64#GoJays #LetItFly #BIGEASThoops #Timeout2vote #CoachGregMcDermott pic.twitter.com/kpyeeqF6aF

— Creighton Basketball (@BluejayMBB) January 10, 2018
Great having you in Omaha, @SteveLavin64!#GoJays #LetItFly #BIGEASThoops #Timeout2vote #CoachGregMcDermott pic.twitter.com/9cEEBUpS5o

— Creighton Basketball (@BluejayMBB) January 10, 2018
The man, the myth, the legend @SteveLavin64 enjoying #DollarBeerNight #GoJays pic.twitter.com/2ctxoh4IYk

— Heath Gunderson (@Heath_Gunderson) January 10, 2018
#GoJays welcome to $1 beer night @SteveLavin64 pic.twitter.com/vcBnS4Xpky

— Robbie Lane (@Lfizgd4) January 10, 2018
Great to talk to my buddy @SteveLavin64 !! I think we should have our hairstylists compare notes and dress alike next time! 🏀💙 #GoJays pic.twitter.com/NnUKd9q5oy

— Cale Ferrin (@cale_ferrin) January 10, 2018
Steve Lavin is launching a T-Shirt Cannon in Omaha, Nebraska, and all is right with the world. #BIGEASThoops #LetItFly pic.twitter.com/MyArnKCEf7

— John Fanta (@John_Fanta) January 10, 2018
Oh no, @SteveLavin64… #GoJays #LetItFly #BIGEASThoops pic.twitter.com/kASGbdQZcf

— Creighton Basketball (@BluejayMBB) January 10, 2018
Meanwhile in Omaha, $1 🍻 Night is underway! @BluejayMBB honorary guest @SteveLavin64 is at the Link for @CBBONFOX! pic.twitter.com/Q5baStEWO9

— #BIGEASThoops (@BIGEASTMBB) January 10, 2018
Great meeting @SteveLavin64 in person at Dollar Beer Night. Thanks for coming to Omaha for the game! #GoJays 🍺🍻 pic.twitter.com/q2BH4ETCpP

— Tom Nemitz 🏀 (@WBR_Tom) January 10, 2018
If those are empty, this man is the real MVP. 🍺🍺🍺 pic.twitter.com/UxzKYsaMbx

— Matt DeMarinis (@mjdemarinis) January 10, 2018
Yo @FS1 thanks for brining @SteveLavin64 to hang out. We're petitioning to make Coach Lav our Social Chairman. @jimjackson419 our Cigar Czar.

— HilltopAlum (@HilltopAlum) January 10, 2018
Can't wait for FOX Sports' version of 30 for 30: @SteveLavin64 at Dollar Beer Night.

This interview is emotional 😂🍻

— Kim Adams (@Kim_Adams1) January 10, 2018
"Shooting the T-shirts out of that bazooka here in Omaha, Nebraska, is something I never imagined I'd do." You and us both, @SteveLavin64. You and us both.

— truebluejays (@truebluejs) January 10, 2018
Dollar beers for everyone pic.twitter.com/9UfoD4KRcZ

— FOX College Hoops (@CBBonFOX) January 10, 2018
"The night's still young." –@SteveLavin64 #DollarBeerNight https://t.co/L7LpOFwF0G

— Ryan Holmgren (@ryanholmgren) January 10, 2018
You Said It:
Dollar beer. Let's stay loud

— FakeBlueCrew (@FakeBlueCrew) January 10, 2018
This place is absolutely juiced tonight. I guess that's what happens when u say 7:30 tip off on the tickets, but actual time is 7:45. #GoJays

— Tony Roth (@toneroth) January 10, 2018
No pregame dap between Khyri Thomas and Kelan Martin. I like it.

— Matt DeMarinis (@mjdemarinis) January 10, 2018
Butler is 2 points away from tying their athletic directors Clink record of 11 points scored in one half. #Nebrasketball

— FakeBlueCrew (@FakeBlueCrew) January 10, 2018
Fast start to this one. Both teams huffing and puffing already. Butler has done a good job getting back on defense, but the #Jays are still 4-of-8 from the field and 2-of-5 from three to start.

— Matt DeMarinis (@mjdemarinis) January 10, 2018
Krampelj running the break one possession and feeding Khyri in the post the next. Creighton's offensive interchangeability is exasperating.

— truebluejays (@truebluejs) January 10, 2018
Death, taxes, #Khyrifense.

— Matt DeMarinis (@mjdemarinis) January 10, 2018
KELAN MARTIN IS GETTING UPSET

— alex sindelar (@crimebait) January 10, 2018
KHYRIDICULOUS! We've got an #SCTop10 nominee, @Sportscenter. @BluejayMBB's Khyri Thomas throws the hammer down! #BIGEASThoops pic.twitter.com/hRkfGvdHKl

— #BIGEASThoops (@BIGEASTMBB) January 10, 2018
Khyri… Oh no.

— Jon Nyatawa (@JonNyatawa) January 10, 2018
Thomas just rose up in the lane and brought the house down with a powerful 1-hand slam in traffic. Creighton's scored on 8 straight possessions now

— Jon Nyatawa (@JonNyatawa) January 10, 2018
My goodness, Khyri

— Tyler Anderson (@TylerA_Anderson) January 10, 2018
KHYRI THOMAS JUST KILLED A GUY! OH MY GOD THIS PLACE IS GOING ABSOLUTELY INSANE!

— alex sindelar (@crimebait) January 10, 2018
Khyri Thomas just dunked all over anything that has ever stepped foot in Hinkle Fieldhouse. That was one of the loudest moments in C'Link history.

— Matt DeMarinis (@mjdemarinis) January 10, 2018
Khyri Thomas just murdered the entire Butler basketball team. Tragic, really.

— Corey Lathrop (@cjlathrop) January 10, 2018
THE NATIVE SON HAS THIS PLACE ABSOLUTELY ROCKING

— alex sindelar (@crimebait) January 10, 2018
Khyri just murdered someone. Literally murdered him. BAH GAWD HE HAD A FAMILY

— FakeBlueCrew (@FakeBlueCrew) January 10, 2018
.@Khyri_2 pic.twitter.com/XrGALCIYnI

— Fast Eddie (@fake_ed_servais) January 10, 2018
That might be the highest I've ever seen Tazz jump. He cleared the No. 2 dude. Had to stop myself from jumping out of my seat. https://t.co/33yOBSwTHc

— Jacob Padilla (@JacobPadilla_) January 10, 2018
KHYRESUS MARY AND JOSEPH

— truebluejays (@truebluejs) January 10, 2018
there was an audible "OH!" from @mjdemarinis after this https://t.co/RyXst8EMOX

— alex sindelar (@crimebait) January 10, 2018
Khyri. That man has a family. Lawd. #GoJays

— Michael Murakami (@MichaelMurakami) January 10, 2018
.@Khyri_2 you made me wake up my baby

— Michael McGoodtweets (@michaelkmcneil) January 10, 2018
No joke — people are still on their feet trying to contemplate what Khyri Thomas just did.

— Matt DeMarinis (@mjdemarinis) January 10, 2018
Basketball is fun when you can make shots, pass, dunk, rinse and repeat.

— Martin Swanson (@bigredtank72) January 10, 2018
Butler deploying the 3-2-0 zone defense

— Jays Hot Takes (@jayshottakes) January 10, 2018
Hard to imagine an offensive-minded player who wouldn't want to play at Creighton. Not to mention the top-notch academics.

— Rob Anderson (@_robanderson) January 10, 2018
If Kelan Martin slept at all last night, he won't tonight. Khyri Thomas is going to be haunting that dude's dreams once again. #GoJays

— Tony Roth (@toneroth) January 10, 2018
Creighton has 14 assists on 17 baskets and they just committed their first turnover of the game with 2:12 left in the first half. The #Jays are going to rip open an Omaha-sized wormhole if they keep this up.

— Matt DeMarinis (@mjdemarinis) January 10, 2018
HALF: Creighton 49, Butler 32.
Marcus Foster: 21 points on 9-14 FG; Khyri Thomas: 6 points, 3 assists, 3 steals, and the Dunk of the Year in the Big East.#Jays have 14 assists and 1 turnover. Butler has 4 assists and 7 turnovers that have resulted in 11 points for CU.

— Matt DeMarinis (@mjdemarinis) January 10, 2018
From @gasisk

Khyri Thomas defense on Kelan Martin
0p
0/2 FG
1 rb
2 as
3 to#Creighton

— John M. Bishop (@JohnBishop71) January 10, 2018
I 😍 ball movement. And #Khyrifense. And Marcus.

— Creighton Otter (@creightonotter) January 10, 2018
In tonight's #MeetTheBluejays, @cale_ferrin sits down with Kaleb Joseph and Ronnie Harrell Jr. to discuss what they do and don't want to hear Coach Mac say during practice…and dance of course! #GoJays #LetItFly #BIGEASThoops pic.twitter.com/c2xqyMf5fo

— Creighton Basketball (@BluejayMBB) January 10, 2018
Not the start to the 2nd half that CU wanted. 3 turnovers. 1-4 from the field. Butler's only trimmed 4 off the deficit — but it has plenty of life, certainly

— Jon Nyatawa (@JonNyatawa) January 10, 2018
Butler cuts it to 6 and Davion Mintz makes two huge plays for the #Jays — tips ball away from Tyler Wideman underneath the rim and hits a reverse layup on the ensuing possession. CU up 80-70 with 42.0 left. Game-changing.

— Matt DeMarinis (@mjdemarinis) January 10, 2018
THE @CUPepBand PLAYED GAME OF THRONES

— alex sindelar (@crimebait) January 10, 2018
No, Marcus, slow it down.
No, Marcus, slow it down.
No, Marcus, slow it down.
YES, MARTIN, THROW IT DOWN.
(That fast break, in a nutshell)

— truebluejays (@truebluejs) January 10, 2018
Martin Krampelj has more of a positive impact on this team than Patton did.

— Jays Hot Takes (@jayshottakes) January 10, 2018
Davion Mintz is averaging 9.8 points, 2.6 rebounds, and 3.6 assists per game with an 18:4 assist-to-turnover ratio through five games in Big East play.

— Matt DeMarinis (@mjdemarinis) January 10, 2018
Comments
Tagged in: