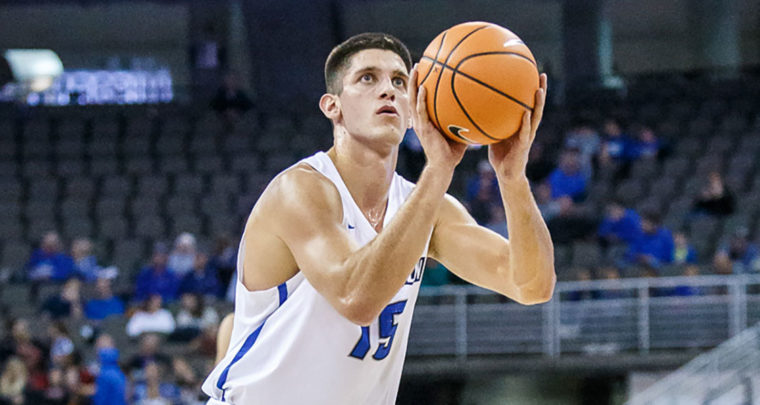 Morning After: Five Dunks and 20 Points From Martin Krampelj Key Creighton's 103-66 Win over SIUE
Bluejay Beat Podcast:
Key Stats:
After a sputtering, disjointed first half (seven turnovers, 4-14 on three-pointers including 0 for it's first seven from long range), the Bluejays buried SIUE in the second. They scored 60 points, had just four turnovers, made 8-14 of their shots from outside and 18-26 overall, scored 1.54 points per possession, and assisted on 16 of their 18 made baskets. They were more active defensively, too; the Jays had five steals and two blocks after halftime.
Here's a crazy stat that Jacob Padilla pointed out on Twitter: Creighton now has 113 assists on 198 made baskets through six games. They've been remarkable at sharing the basketball, and logging an assist on 57% of their baskets indicates just how much they put each other in position to score.
Standout Performance:
Martin Krampelj scored a career-high 20 points, making nine of the 10 shots he attempted, including five dunks. He got into the boxscore early, scoring on the first play of the game by rolling to the basket and then delivering a two-handed slam. It looked an awful lot like the plays they ran for Justin Patton a year ago, because schematically it was — he peeled off a ball screen, rolled towards the rim and scored on a dunk all in one fluid motion.
His dunks stole the show, obviously, but he also showed off a sweet little Eurostep in the second half that we'll likely see again:
Krampelj. Martin "Euro-step" Krampelj. #GoJays #LetItFly pic.twitter.com/5K0iyKQZSj

— Creighton Basketball (@BluejayMBB) November 25, 2017
"Martin's come a long way," Coach Greg McDermott noted on his postgame radio show. "Part of his development has been physical, but there's been a huge jump from a mental standpoint too. As a player, it's big when you can go from just reacting to something as it happens as opposed to thinking about it, and then reacting. Martin is now beyond the point where he has to think. He's reacting. He sees a ball screen, or he sees a defender jump, and he reacts. And on defense, he's doing whatever we ask of him. He's low, he's active, and he's engaged with his communication. His ability to help his teammates vocally is off the charts."
Recap & Analysis:
This was the classic setup for a hangover game: A struggling low-major opponent sandwiched in between four games against ranked foes, and coming two days after the Thanksgiving holiday. It's human nature to struggle to be locked in for games like this, and the Jays certainly had that look for one half on Saturday. They missed their first seven 3-pointers, didn't play with much energy on defense and had trouble finding a rhythm once SIUE switched to a zone defense midway through the half.
Krampelj carried them during that stretch where they couldn't hit a shot from outside, scoring 10 first-half points all on either dunks or high-percentage looks at the rim, with eight of those points coming during the first seven minutes of the half. Because he was able to score almost at will inside, CU led 18-10 despite cold shooting from behind the arc. Eventually they heated up — Mitch Ballock hit their first three of the day with 9:04 to play in the half, and Davion Mintz followed with another on the next possession — though SIUE hung around because of extra opportunities off of seven Bluejay turnovers.
Creighton's defense was the story to begin the second half, as they got stops on nine of SIUE's first 12 possessions, forcing four turnovers. Meanwhile their offense began doing things like this:
#Khyrifense ➡️ 🙈 pass ➡️ Martin slam! #GoJays #LetItFly pic.twitter.com/SLX8pwMvou

— Creighton Basketball (@BluejayMBB) November 25, 2017
They scored on five of their first six possessions, including twice where they secured an offensive rebound to get themselves a second chance at points. Five minutes into the half, their lead had swelled to 20 and the game was essentially on ice. The zone defense SIUE had used to slow them down in the last eight or nine minutes of the first half was no match in the second. All but two of their 18 field goals in the second came off of an assist, as their crisp passing dissected the zone and created good looks. Krampelj added 10 more points in the second despite playing only nine minutes; Manny Suarez saw extended time and scored nine points, making all four of his shot attempts, to go along with three boards.
All players dressed for the game played at least six minutes, and all eleven scored. Key among them: Kaleb Joseph played a season-high 11 minutes, including an extended run in the first half with the starting unit, and scored 12 points with a pair of three-pointers and 6-7 from the line. Joseph also had three assists and no turnovers.
"I said before the season that the decision on who to start at point guard was a tough one," McDermott said on his postgame show. "And it wasn't because anyone was playing poorly. They were all about the same. You saw it tonight: Kaleb has three assists and no turnovers, Davion has four assists and no turnovers, Ty-Shon has two assists and no turnovers. The numbers are really good. There's not a lot of difference."
McDermott noted that Joseph's first half minutes were the result of Mintz screwing up a play call out of a timeout which made him mad, and credited Joseph for taking advantage of the opportunity.
"He's handling a difficult situation in about as mature a way as you can," McDermott said. "He knows his opportunity is coming, and he has to stay ready. This certainly isn't the way he pictured it in his mind when he transferred here from Syracuse but sometimes things happen in life that are beyond your control. His hamstring injury put him behind the other guys. Those guys got lots of reps because of that, and did well. Until something changes, this is going to be his role. He and Tyler Clement are superstars on the scout team. And if you watch him on the bench, he's coaching Davion and Ty-Shon when they come off the floor, pointing things out."
They Said It:
You Said It:
SIU game day. Nothing better. Beat the Saluk………………………… wait when did SIU add a -E to their name?

— FakeBlueCrew (@FakeBlueCrew) November 25, 2017
Do you guys think SIU-E makes I H8 CR8TN shirts but spells it correctly? Like bizzaro world Salukis

— FakeBlueCrew (@FakeBlueCrew) November 25, 2017
.@BluejayMBB back home today @centurylinkoma vs SIUE (3:30 pm tip). Doors open at 2 pm and two good reasons to arrive early: get through the venue's enhanced security screening and watch @CreightonVB go for its 4th straight @BIGEASTchamps title on the big screen (1:30 pm, FS2) pic.twitter.com/91Ka3kOaUj

— Kevin Sarver (@KASarver) November 25, 2017
Watching the @BluejayMBB game while our row has the VB game streaming #creighton #gojays

— Patrick Marshall (@wildjays) November 25, 2017
BACK-TO-BACK-TO-BACK-TO BACK @BIGEASTchamps !

RECAP: https://t.co/yPX4Vc38pk pic.twitter.com/XsmpjL5Mzh

— Creighton Volleyball (@CreightonVB) November 25, 2017
Back to Back to Bavk to Back!
Big East Champions!
Congratulations @CreightonVB
🍦🍦🍦🍦

— Bleeds Blue (@CUAlum81) November 25, 2017
Kirsten Bernthal Booth > Tom Emanski#BackToBackToBackToBack

— Rob Anderson (@_robanderson) November 25, 2017
"I agree" – Fred McGriff pic.twitter.com/oAWdoLkfVm

— Rob Simms (@IamRobSimms) November 25, 2017
ICYMI…the crew at Fox Studios discussed Creighton Basketball during halftime #GoJays #LetItFly pic.twitter.com/mXx8z4sZDT

— Creighton Basketball (@BluejayMBB) November 25, 2017
.@SteveLavin64 is physically incapable of talking Creighton hoops without touting the merits of Dollar Beer Night. And I love it.

— truebluejays (@truebluejs) November 25, 2017
our boy @SteveLavin64 dropping a few dollar beer night references. Can't wait to see Coach in Omaha this year #GoJays

— Joey Tempo (@TempoWBR) November 25, 2017
🍺 🍻🏀

— Steve Lavin (@SteveLavin64) November 26, 2017
Tyler Clement & Mitch Ballock sit down with @cale_ferrin to discuss Tyler's reputation, Mitch's college choice & tell jokes #MeetTheBluejays pic.twitter.com/kv1EzQp8TP

— Creighton Basketball (@BluejayMBB) November 25, 2017
what's on a Slovenian pizza? I ask because Martin just got season ticket holders a free baby pizza!

— alex sindelar (@crimebait) November 25, 2017
Mitch Ballock with 6 assists and 8 minutes still to play, he had 5 assists total through his first 5 games with @BluejayMBB. #GoJays #LetItFly

— Rob Simms (@IamRobSimms) November 25, 2017
Ballock can just do it all. #Mitchapalooza

— Heath Gunderson (@Heath_Gunderson) November 25, 2017
My nephew & niece are visiting for Thanksgiving, and enjoyed @Creighton @BluejayMBB this afternoon #GoJays pic.twitter.com/OqsqPa0sfD

— Creighton President (@CreightonPres) November 26, 2017
Yo Krampelj legit turned into the Hulk today. #GoJays https://t.co/r0FXv4WBpJ

— Sean Phifer (@seanphifer) November 26, 2017
Creighton MBB had 9 dunks today.

5 by Martin Krampelj; 2 by Manny Suarez, and one each from Marcus Foster & Khyri Thomas.#LetItFly #LetItDunk

— Rob Anderson (@_robanderson) November 26, 2017
Honoring noted high-flyer @cucoachmac on his birthday. https://t.co/UYWgekx1aK

— Jacob Padilla (@JacobPadilla_) November 26, 2017
HAPPY BIRTHDAY COACH MAC! I miss you! @cucoachmac #GoJays pic.twitter.com/HKzNoVCIyZ

— Cale Ferrin (@cale_ferrin) November 25, 2017
Coach Mac, #53 in life, #52 on the court, but #1 in our hearts! Happy birthday @cucoachmac!!! pic.twitter.com/mwLtmblFRB

— Creighton Managers (@manajays) November 26, 2017
Thanks for all the birthday wishes. So thankful for family, friends and the Creighton family. #Blessedfor53years

— Coach McDermott (@cucoachmac) November 26, 2017
Comments
Tagged in: