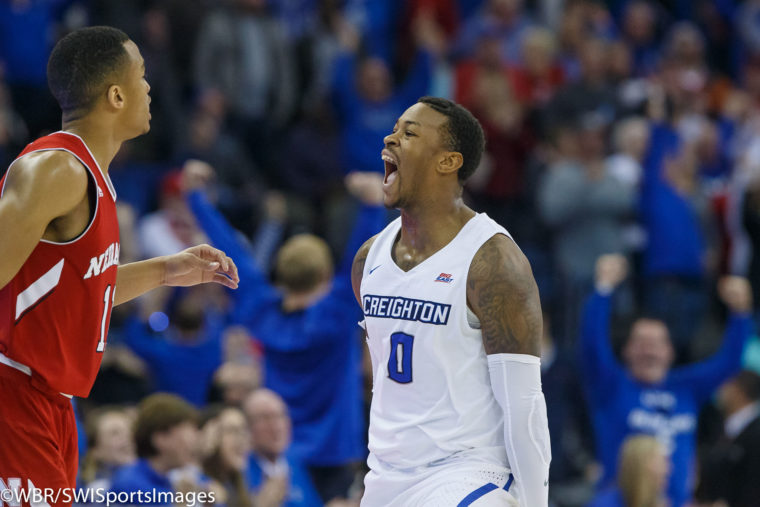 Morning After: It's A Blue State For the Seventh Straight Year as Creighton Once Again Beats Nebraska, 75-65
Bluejay Beat Podcast:
Recap & Analysis:
Creighton played about as badly as they could play in the first half against Nebraska on Saturday. They had 10 turnovers, made just two out of 13 from three-point range, and missed five free throws. Both Martin Krampelj and Khyri Thomas were hampered by foul trouble, they got zero points with four turnovers from their point guard duo of Ty-Shon Alexander and Davion Mintz, and two points on 1-5 shooting from Marcus Foster. The Huskers took the lead with 15:46 left in the half and were either tied or ahead the rest of the way.
And yet…there was a sense inside CenturyLink Center that they'd blown an opportunity to put the game out of reach, or at least create enough separation to weather an inevitable Creighton run. To play as badly as the Bluejays had played and to only be down five was kind of amazing, really.
They were able to hang around partially because Nebraska had foul trouble of it's own — starting center Jordy Tshimanga played just six minutes in the first half after picking up two quick fouls, starting guard James Palmer saw his minutes limited by two fouls, and Isaiah Roby somehow picked up more fouls (3) than minutes played (2). But the Jays were also able to hang around because they got six points and nine rebounds in 13 first-half minutes from Ronnie Harrell, and solid defense from Mitch Ballock who was forced into action guarding Glynn Watson after Thomas headed to the bench with two fouls.
Never was that more evident than on this play, as Ballock raced down court to contest a breakaway basket by Watson. Harrell threw an errant pass that was intercepted by the Husker guard, and Ballock ran stride for stride with him down court — and blocked his shot at the rim.
OH. MY. 😳😱🤯#GoJays #LetItFly #BallockBlock pic.twitter.com/aTm8jnBsKb

— Creighton Basketball (@BluejayMBB) December 9, 2017
"I saw Watson read the passing lane, because I was behind him," Ballock said on the postgame radio show. "I tried to size him up, and I thought he was just going to lay it up, you know? But he tried to dunk on me. So I met him at the rim and tried to get a piece of it. I got a piece of it (laughing)."
Plays like that kept the game closer than it had any right to be, and allowed them the opportunity to regroup at halftime. Nebraska had dictated the tempo from the start, and turned it into a grind-it-out game much like Baylor had done in Kansas City earlier this season. The difference here was while Baylor dropped into a zone to slow pace, Nebraska sent all five players back on defense immediately after a miss to take away transition opportunities. CU's guards were attacking one-on-three or three-on-five, and in trying to force pace despite not having the numbers to really attack, wound up turning it over.
"They're programmed to 'go go go go!' so at halftime we settled them down," Greg McDermott noted on his postgame radio show. "Our adjustment was telling them to run if we had numbers, but slow things down if we didn't. Nebraska does a great job collapsing on the dribble. When you jump in the air, they start to recover. They got deflections, they got steals in the first half. In the second half, when our guys got downhill, they set their feet and then the defense couldn't recover which allowed us to pitch it out and attack on the second side."
That seemingly little adjustment made all the difference in the world. Playing a slower, more fundamentally-sound offensive attack, they began to find their footing and even get points in transition, as Thomas converted a three-point play to cut the deficit to 36-34. Isaac Copeland answered with a dunk on the other end, and Foster responded with a dunk of his own to keep it a two-point game. And then another adjustment by McDermott, this one out of a timeout — drawing up a play they'd not run all year, to get a shot for Ballock who'd been struggling the last few games — made a more immediate difference. He drilled the shot and CU retook the lead 39-38, going in front for the first time since early in the game.
Palmer made a jumper for Nebraska to give them the lead right back, but it was short lived — 22 seconds to be exact — as Ballock put the Jays right back ahead with a jumper on their end. It was 41-40 Creighton, and though the game would be tied twice more, Nebraska never led again.
CU's defense had a lot to say about that. Following Ballock's shot for the lead, they forced a shot clock violation with 35 seconds of stellar halfcourt defending, denying the Huskers from either a clean look at a shot or an opening to drive.
Better decisions with the ball were also key. After 14 turnovers in the first 27 minutes of the game, the Jays had zero in the final 12:47 — and CU outscored them 32-22 during that final stretch.
Foster had been held to two first half points, but scored 17 in the second — eight in the final 3-1/2 minutes — and hit one clutch shot after another in the final minutes of the game. With the Jays clinging to a 55-54 lead and 3:51 to play, he made this ridiculous shot on a drive into the paint, and converted the free throw for a three-point play:
Marcus Foster…AND ONE! #GoJays #LetItFly pic.twitter.com/vT9yYJNPbh

— Creighton Basketball (@BluejayMBB) December 9, 2017
Up 62-59, he bulldozed his way to the rim and got another layup. And with 1:17 to play, he hit the dagger by burying a three-pointer against Nebraska's 1-3-1 zone, which they'd not used all afternoon before that possession. Thomas drove towards the middle of the zone to collapse the defenders, and kicked it out to a semi-open Foster who nailed a catch-and-shoot three. The CenturyLink Center erupted, as Foster celebrated while he ran down court, his team up 69-63.
"That 1-3-1 is Xavier's zone. Mike Lewis (Nebraska assistant) was at Butler, and they took that scheme from Xavier," McDermott explained on his radio show. "We practiced against it this week because they've used it enough this year that we felt we needed to prepare for it. To our guys credit, they adjusted on the fly. I didn't want to take a timeout there because Nebraska didn't have any left. Had we not prepared for it, I'd have taken a timeout there to set something up. But we practiced for it, our guys knew what to do, and they executed."
THIS MAN HERE! #GoJays #LetItFly pic.twitter.com/TvCuU7Vp6U

— Creighton Basketball (@BluejayMBB) December 9, 2017
Key Stats:
Creighton turns it over 14 times, but none in the final 12:47 of the game. CU outscores Nebraska 38-26 on points in the paint, 14-4 on second chance points, and 12-2 on made free throws. CU outrebounds Nebraska 43-33 and has 15 assists on 29 made baskets, including nine of their 17 second-half buckets.
Standout Performance:
There were lots of big performances in this one. Ronnie Harrell (12 points, 11 rebounds) and Martin Krampelj (10 points, 11 rebounds) both had double-doubles.
No one on Creighton's roster with more utility than Ronnie Harrell Jr.

Jays needed everything he had today and he delivered on both ends. pic.twitter.com/ZM3KBNBDhq

— Josh Planos (@JPlanos) December 9, 2017
Mitch Ballock scored 13 points with six rebounds and four assists, and became just the fifth Creighton true freshman to score in double figures against Nebraska since 1981 — and the first since Terrell Taylor.
Since 1981, only five true freshmen have scored in double figures for the #Jays in a win over Nebraska:
1. Terrell Taylor – 21 (won 89-72)
2. Chad Gallagher – 14 (won 88-73)
3. Mitch Ballock – 13 (won 75-65)
4. Ben Walker – 12 (won 84-73)
5. Matt Roggenburk – 11 (won 78-66)

— Matt DeMarinis (@mjdemarinis) December 10, 2017
But Marcus Foster's second half was something else. 17 points on 6-10 shooting, eight of them coming in the decisive final four minutes. Both teams hit big shots down the stretch, but Foster hit more of them, and that was a big reason — perhaps the biggest reason — Creighton won.
They Said It:
You Said It:
Gameday! #LetItFly #GoJays pic.twitter.com/yJnuccCYFw

— John M. Bishop (@JohnBishop71) December 9, 2017
My apologies for any Husker hoops fans tuning into 1620AM or 101.9FM in Omaha today. It definitely will NOT be an unbiased broadcast. #bluestate #makeit7inarow

— Brody Deren (@BrodyDeren) December 9, 2017
Who knows what today is!? It's time to keep it a Blue State! @BluejayMBB #RollJays #LetItFly pic.twitter.com/xByuc72zDK

— Isaiah Zierden (@IsaiahZierden21) December 9, 2017
Good luck @BluejayMBB! Keep Nebraska a #BlueState! #GoJays pic.twitter.com/8GI0JdfdDU

— Geoffrey Groselle (@GGroselle) December 9, 2017
Good luck to @BluejayMBB today! Keep Nebraska a #BlueState! #GoJays #LetItFly pic.twitter.com/mSyjSzp7JF

— Ethan Wragge (@Wragge34) December 9, 2017
Keep Nebraska a #BlueState! Good luck to @BluejayMBB! #LetItFly pic.twitter.com/FBrYSXTrMt

— Jahenns Manigat (@JManigat12) December 9, 2017
LOL Steve Lavin cannot talk about Creighton without talking about dollar beer night.

— Dave Sund (@davesund) December 9, 2017
🍺 + 🏀 + 🔑 = Bluejay's W

— Steve Lavin (@SteveLavin64) December 9, 2017
This analyst on the Nebraska-Creighton game obviously hates one of these teams, but I can't decide which one. #goodjobNick

— Kevin Kugler (@kevinkugler) December 9, 2017
I swear it's Deja Vu. I remember Mac asking at least ONCE a game. How many screen we set? How many backcuts and flares lol.

— Maurice Watson Jr. (@mauricewatsonjr) December 9, 2017
creighton has ten turnovers already. ten. nebraska has just two points off those ten turnovers. this could be a lot worse.

— alex sindelar (@crimebait) December 9, 2017
If Mac doesn't break his clipboard at half we will for him

— FakeBlueCrew (@FakeBlueCrew) December 9, 2017
Mac has these young PG's playing too damn fast. I get they like to run, but there's a difference between running and being out of control.

— Tony Roth (@toneroth) December 9, 2017
Welcome back to CenturyLink Center Omaha, @JustinPatton17! #GoJays #ProJays #LetItFly pic.twitter.com/olceIU3KRt

— Creighton Basketball (@BluejayMBB) December 9, 2017
Someone sneak Patton Eppersons jersey

— FakeBlueCrew (@FakeBlueCrew) December 9, 2017
I guess we got the 2nd half meltdown taken care of in the 1st half. #GoJays

— Martin Swanson (@bigredtank72) December 9, 2017
Time to strike. Drown out these "GO BIG RED" chants, please.

— Austin (@letitflycu) December 9, 2017
Nebraska calls timeout as Creighton's got a 43-40 lead with 13:44 to play.

CU is 6-for-9 this half from the field, while NU is 3-for-13.

— Creighton Basketball (@BluejayMBB) December 9, 2017
— Danny O'Byrne (@dannyobyrne) December 9, 2017
*Slaps floor in the living room*

LET'S GO! @BluejayMBB

— Jahenns Manigat (@JManigat12) December 9, 2017
Bend those knees buddy! #GoJays

— Dan Holke (@danholke) December 9, 2017
God I miss the floor slaps!!!

— Amy Hogrefe (@Laneys_Momma) December 9, 2017
I miss those court slaps my dude

— Matt Sueper (@mattsueper) December 9, 2017
This is so lit https://t.co/kiDsopymgJ

— Austin (@letitflycu) December 9, 2017
Ronnie came to play today. Seems to just care more about securing a rebound than Nebraska's whole team put together

— Karen (@karen_sass) December 9, 2017
I'm just gonna retweet myself rn #GoJays https://t.co/Fp96lH0Q5o

— Karen (@karen_sass) December 9, 2017
Ronnie's so smooth

— william artino (@WillArtino31) December 9, 2017
Ronnie doin' some work.

— Corey Lathrop (@cjlathrop) December 9, 2017
Weirdly, people at this Pittsburgh bar are not as into this Creighton-Nebraska basketball game as me.

— Danny O'Byrne (@dannyobyrne) December 9, 2017
It's rather loud in here after that shot clock violation by Nebraska.

— Jacob Padilla (@JacobPadilla_) December 9, 2017
"It's OK to take bad shots." –@CoachMiles

I agree. Follow that advice, Huskers!

— Ryan Holmgren (@ryanholmgren) December 9, 2017
Tim Miles's in game huddle pic.twitter.com/PNptM1gn4f

— Jays Hot Takes (@jayshottakes) December 9, 2017
💪💪💪💪💪 #GoJays #LetItFly pic.twitter.com/74YvwWqsh3

— Creighton Basketball (@BluejayMBB) December 9, 2017
And oooooooooooooonnneeeeeeeeeeee! https://t.co/VW12JvfWH8

— Jahenns Manigat (@JManigat12) December 9, 2017
Yo… I miss college!

— Jahenns Manigat (@JManigat12) December 9, 2017
Well, Nebraska tried a zone. Didn't work. Foster nails the dagger

— Jon Nyatawa (@JonNyatawa) December 9, 2017
Marcus Foster pic.twitter.com/8lH5sRvYOF

— Tyler Anderson (@TylerA_Anderson) December 9, 2017
Foster!👌👌👌👌👌👌👌#GoJays #BlueState

— Jimmy Motz (@JimmyMotz) December 9, 2017
Our house. Our state.

JAYS WIN! Creighton gets its seventh-straight victory over Nebraska with a 75-65 win over the Cornhuskers! #GoJays #LetItFly pic.twitter.com/ZOcE7hadYz

— Creighton Basketball (@BluejayMBB) December 9, 2017
Well would you look at that. Creighton beat Nebraska in basketball.

— Corey Lathrop (@cjlathrop) December 9, 2017
Death. Taxes and McDermott over Miles. #GoJays

— TJ McDougal (@tjmcdougal) December 9, 2017
Me liking all the #Creighton over #Nebrasketball tweets. #GoJays pic.twitter.com/W22DcfB9d5

— Rob Simms (@IamRobSimms) December 9, 2017
— Adam Streur (@astreurphoto) December 9, 2017
.@cucoachmac in the postgame interview: "The most important thing for you, Lav, is that we're having two dollar beer nights, rather than one." All Mac does is win.

— truebluejays (@truebluejs) December 9, 2017
Live look in at the @BluejayMBB locker room after the Nebraska game pic.twitter.com/EngIunR13o

— Matt Hoover (@Matt_Hoov) December 9, 2017
"Once
Buford
Sears
Korver
McKinney@JimmyMotz
Funk
Tolliver
Bahe
Josh Jones
McDermott
Artino
Watson
Hegner
Refs
Leave this state is ours!!!" – UNL fans today

— FakeBlueCrew (@FakeBlueCrew) December 10, 2017
Tim Miles on Khyri Thomas "I think he got to Glynn…there's no doubt he's a terrific defender."

— Rob Anderson (@_robanderson) December 9, 2017
Khyrifense https://t.co/appGG5tuNM

— FakeBlueCrew (@FakeBlueCrew) December 9, 2017
Man I️m so happy for this kid right here. If you know Slim tho you know this is just a tease https://t.co/c3WkDvpE1e

— Cole Huff (@colehoops) December 9, 2017
Great basketball game today. Nebraska showed some serous toughness and grit. Copeland is a stud! Jays found a way to win a grinder. Ballock and Harrell were the difference for Creighton & Marcus Foster was clutch down the stretch. Had a blast on the call.

— Nick Bahe (@NickBahe) December 9, 2017
Never gets old beating the #Huskers. Take series lead & paint the state blue……Again! #GoJays #RollJays #LetItFly #BlueState https://t.co/4xlTe7ZPIh

— Jimmy Motz (@JimmyMotz) December 9, 2017
#BLUESTATE! As it should be. Proud of the young fellas!

— Jahenns Manigat (@JManigat12) December 9, 2017
5-0 against Nebraska, 26-25 all time record, feels good to put CU up one in win column! Forever a BLUESTATE! pic.twitter.com/BmJbD0Evnf

— Toby Hegner (@THeggs_32) December 9, 2017
Woodmen building is well aware of the fact that it is…….. a BLUE STATE #RollJays pic.twitter.com/qy4fsdFlSx

— 〽️itchell Ballock (@Mitchbballin24) December 10, 2017
Comments
Tagged in: