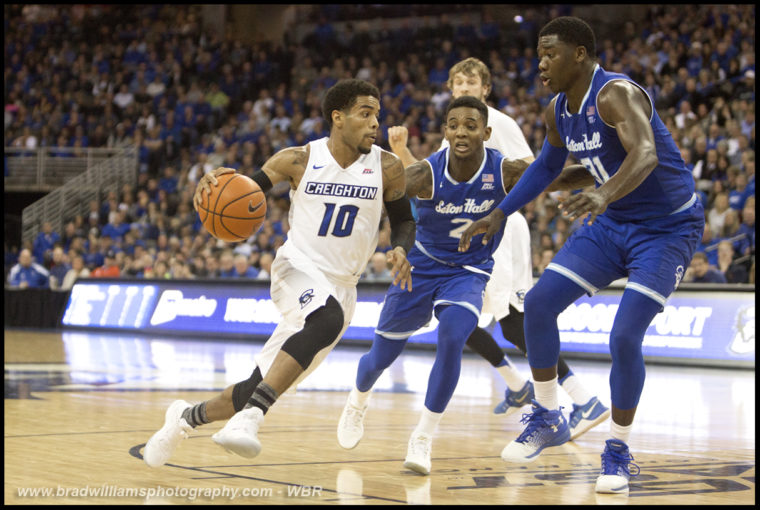 Morning After: No. 10 Creighton Turns Back Seton Hall to Stay Unbeaten, Set Up Showdown With No. 1 Villanova on NYE
Key Stats:
Creighton turned Seton Hall over 18 times while committing just 10 turnovers themselves. The Bluejays turned those 18 Pirate miscues into a +18 advantage in points off turnovers.
Of the 18 Seton Hall turnovers, 13 came from Creighton steals; the baker's dozen swipes were a season-high for the Jays and the second-most in a game during the Greg McDermott era (17 vs. Tulsa in December 2012).
Individually, all three members of Creighton's starting backcourt of Maurice Watson Jr., Marcus Foster, and Khyri Thomas were credited with three steals. Justin Patton and Isaiah Zierden added two apiece for the Bluejays, who continue to see their man-to-man defense improve over seasons past while hovering around the low-70s in KenPom.com's Adjusted Defensive Efficiency ratings.
Standout Performance:
The maestro. The wizard. Plain ol' Wop. Whatever you want to call him, make sure to add "Big East First-Teamer" when talking about Maurice Watson Jr.
Division I's active leader in assists and the nation's current leader in assists (118), assists per game (9.1), and assists per 40 minutes (11.7) had himself another signature night. After committing an uncharacteristic 5 turnovers against Arizona State a few days after coughing it up 7 times against Oral Roberts, Watson righted the ship and offset his 2 turnovers against Seton Hall with 10 dimes.
Watson worked the Pirates into the ground, threading through the Hall's defense repeatedly and finishing with either a layup, a teardrop, or a step back jumper. Or, you know, the dish to one of his teammates.
All told, Watson Jr. went for 21 points, his second 20-plus output of the season (25 vs. Nebraska), and logged his seventh straight double-digit scoring effort. He recorded his fifth double-double of the season and added a season-high 5 rebounds to the mix (including a season-high 2 offensive boards).
All while playing a season-high 38 minutes.
Through 13 games, Watson is among the Big East leaders in:
Assists (9.1 APG, 1st)
Assists/Turnover Ratio (2.4, 4th)
Steals (1.7 SPG, 5th)
Scoring (13.5 PPG, 18th)
Watson's piloting one of the nation's most potent offenses toward uncharted territory for the school; win against Villanova this weekend, and the Jays are almost assured a spot in the top 5 of a national poll for the first time in the program's history.
Recap & Analysis:
From Matt DeMarinis' post-game recap, "Creighton Wins Big East Opener Limiting Turnovers and Capitalizing on Seton Hall's":
After practice on Monday, Creighton senior point guard Maurice Watson Jr. talked about not feeling any pressure to keep the loss column clean as December comes to a close.  On Wednesday in front of a standing-room only crowd of 18,084 fans, he and his Bluejays turned up the pressure on reigning Big East Tournament Champion Seton Hall to open conference play with an 89-75 home win.

The Philadelphia native, along with his starting back court mates, sophomore Khyri Thomas and junior Marcus Foster, each had a game-high three steals, and Creighton turned 18 Seton Hall giveaways into a +18 advantage in points off turnovers.

Creighton got off to a good start inside as well. While fronting the post on Seton Hall big man Angel Delgado with senior forward Cole Huff and rotating a double team from freshman center Justin Patton on the defensive end, they also got plenty of touches on the low block on their end of the floor. The seven-foot tall Patton had a dunk and beat Delgado on a nice up and under move to help the 10th-ranked Bluejays open up a 10-5 lead after around five minutes of action.

The Bluejays continued to stay up on the boards and limit Seton Hall second-chance opportunities midway through the first half, but the Pirates hung in there thanks mainly to hitting four of their first six shots from downtown to head into the under-12 timeout trailing by just one at 18-17. Junior forward Toby Hegner made a couple of key plays — a blocked shot on one end and a 3-pointer from the left wing on the other — to put Creighton in front.

Junior guard Khadeen Carrington put Seton Hall back in front with a pair of free throws at the 11:04 mark, but Patton answered with a layup to make it 20-19, Bluejays.

Nearly two minutes later, senior guard Madison Jones answered for the Pirates with a basket in the paint before Watson Jr. hit a pull-up 3-pointer from the top of the key to make it 23-21, Creighton, with 8:49 to go.

But Creighton again turned up the heat defensively and in the paint offensively. Over the final eight minutes of the first half the Bluejays produced 12 points in the paint and eight more off of Seton Hall turnovers to extend their lead to 50-37 heading into the locker room.

Creighton ended the first half with 1.32 points per possession, a 22-12 edge in points in the paint, and an 11-4 advantage in points off turnovers after coughing it up only three times compared to Seton Hall's nine.

To start the second half, junior forward Desi Rodriguez caught fire for the Pirates as he tried to dig his team out of a double-digit hole. The 6-foot-6 lefty scored 15 of his his 24 points after intermission, including six during a 10-1 run right out of the locker room to help trim Creighton's double-digit halftime lead down to 51-47 with 17:01 still to play. Carrington matched his teammate's scoring production in the second half by scoring 15 of his game-high 27 points after the break, but the reigning conference tournament champions would not get any closer than four points the rest of the way.

The Bluejays stretched the lead back to double digits at the midway point of the final period the same way they built it at the end of the first. After Seton Hall cut it to a four-point game, Creighton answered with 12 of their next 15 either off of turnovers or in the paint, while the other three came on drives to the rim that resulted in trips to the free throw line.

Over the final 10 minutes, the closest Seton Hall got was nine points when Rodriguez knocked down a deep, contested 3-pointer from the top of the key to make it 81-72, Bluejays, with 3:57 remaining before the home team closed the game on an 8-3 run.

Against what was perceived to be a more physical, defensive-minded team than themselves, the Bluejays finished with a 16-point advantage in points in the paint, an 18-point advantage in points off turnovers, and limited Seton Hall to only eight second-chance points despite giving up 11 offensive rebounds.

Maurice Watson Jr. led Creighton with 21 points on the night, and finished tied with Seton Hall's entire team in assists with 10 to register his fifth points-assists double-double of the season. Khyri Thomas added 17 points, eight rebounds, and three steals, while his roommate Justin Patton matched him with 17 points and one-upped in rebounds with nine.
You Said It:
Kevin Willard: "I texted (McDermott) on Christmas and said the best way for someone to ruin Christmas is to try to prepare for your team."

— Jerry Carino (@NJHoopsHaven) December 27, 2016
Seton Hall came out with the hoods up!!

— Tony Roth ™ (@toneroth) December 29, 2016
Nothing gets the old, white Creighton fanbase fired up for Big East basketball like "Thunderstruck."

— Garret Mueller (@mue11er) December 29, 2016
Packed house in Omaha tonight as 10th-ranked #Creighton puts its undefeated record on the line to open Big East play against Seton Hall. pic.twitter.com/xTCgE4qbar

— Matt DeMarinis (@mjdemarinis) December 29, 2016
#TwoBoysFromOmaha #GoJays #TakeFlight #BIGEASThoops pic.twitter.com/3GhqBuhktv

— Creighton Basketball (@BluejayMBB) December 29, 2016
Patton with the extra pass to Khyri instead of taking a wide open dunk; interesting choice, but you've gotta respect the extra pass.

— alex sindelar (@crimebait) December 29, 2016
Creighton doing just fine on the boards in the early minutes. Keeping SH out of the paint, too. Gotta keep that up. #Jays lead 10-8. 14:57

— Jon Nyatawa (@JonNyatawa) December 29, 2016
TOBY! WITH THE REJECTION! IT'S LIKE ME ON PROM NIGHT.

i was the ball

— alex sindelar (@crimebait) December 29, 2016
Jays have to speed this game up. Seton Hall can't run with them. Not in shape or disciplined enough.

— Tony Roth ™ (@toneroth) December 29, 2016
Santa brought us Rebounding for Christmas!

— FakeBlueCrew (@FakeBlueCrew) December 29, 2016
The reigning @BIGEAST Player of the Week doing player of the week things… #GoJays #TakeFlight #BIGEASThoops pic.twitter.com/Q755w7Zw88

— Creighton Basketball (@BluejayMBB) December 29, 2016
Tazz, gimme those cookies

— Jeremy Hauer (@jeremyhauer) December 29, 2016
Creighton's providing a nice blueprint for Big East teams on defending him. https://t.co/uFcJEUiZQ0

— Big East Coast Bias (@becb_sbn) December 29, 2016
Apparently, all the Jays needed to improve on free throws was a trip to the curtain of distraction. #GoJays pic.twitter.com/KuO1NXR8My

— Brian Norton (@nortonbrian) December 29, 2016
2016-17 Toby Hegner is my favorite Creighton player of all time.

— Pat Murray Christmas (@pbmrry) December 29, 2016
Jays holding their own on the glass and playing tough D. If Seton Hall weren't shooting the 3 far above their average, could be a blowout

— Brody Deren (@BrodyDeren) December 29, 2016
Want to get on the #GoJays board?
•Wear Creighton gear
•"Bluejays" is one word
•Don't dab/make weird faces
•Don't lie in post (I'm not dumb)

— Michael Murakami (@MichaelMurakami) December 29, 2016
Having a moment here with time to kill. This place is filled from the first row to the last — fortunate to cover hoops in this environment.

— Matt DeMarinis (@mjdemarinis) December 29, 2016
Mo Watson wizardry level: Gandalf the Grey

— alex sindelar (@crimebait) December 29, 2016
"No you may not," said Justin Patton to Angel Delgado. #GoJays #TakeFlight #BIGEASThoops pic.twitter.com/gXsZyT56YI

— Creighton Basketball (@BluejayMBB) December 29, 2016
THAT HUSTLE PLAY FROM MO WATSON MY GOODNESS

— Bluejay Buff (@BluejayBuff) December 29, 2016
I know Josh Hart is the *best* player in the Big East, but Maurice Watson is the most fun to watch.

— Robert O'Neill (@RobertONeill31) December 29, 2016
Maurice Watson Jr. with the steal and dish to Foster…FOR THREE! #GoJays #TakeFlight #BIGEASThoops pic.twitter.com/XFJoQ3huAM

— Creighton Basketball (@BluejayMBB) December 29, 2016
Seton Hall deploys their half court zone trap. Maurice Watson responds by waltzing right through it.

— alex sindelar (@crimebait) December 29, 2016
The last time Creighton started a season 13-0, they still had a football team.

— Dave Sund (@davesund) December 29, 2016
JAYS WIN! No. 10 Creighton improves to 13-0 as the Bluejays defeat Seton Hall, 89-75. #GoJays #TakeFlight #BIGEASThoops pic.twitter.com/0jhDqM8dzW

— Creighton Basketball (@BluejayMBB) December 29, 2016
Mo Watson has played a lot of really good games the past 2 years. This ranks near the top. #Creighton

— Dirk Chatelain (@dirkchatelain) December 29, 2016
WE WANT NOVA, WE WANT NOVA pic.twitter.com/TeCxHWRRgj

— FakeBlueCrew (@FakeBlueCrew) December 29, 2016
Thought Toby Hegner was real good for Creighton tonight. Strong game on both ends.

— Brian Otskey (@botskey) December 29, 2016
It was her first Jays game all the way from Okinawa! Hasn't seen them lose! Wants to be in @whitebluereview Morning After! #GoJays pic.twitter.com/MavEABwt1m

— Michael Golka (@MGolka13) December 29, 2016
@mauricewatsonjr controlled the game tonight. Strong opening performance towards cementing his case as top PG in the #BIGEAST

— Brody Deren (@BrodyDeren) December 29, 2016
My Blue @Sharpie tells me that the @GoCreighton @BluejayMBB team is sure off to a great start this season!!#GoJays pic.twitter.com/T8vTM2dfbb

— Dave Wenthold (@Wenthold) December 29, 2016
Khyri Thomas is averaging 17.0 points & 5.3 rebounds while shooting 76.2% overall, 75.0% from three, & 92.9% at the line vs. the RPI Top 50. https://t.co/O3ueFgBDfG

— Matt DeMarinis (@mjdemarinis) December 29, 2016
First defending nat'l champ in Omaha since the 40's.
Only 2nd #1 team to play in Omaha & last was in 1980.
Both teams 13-0.
Yeah, it's big.

— John Bishop (@JohnBishop71) December 29, 2016
Comments
Tagged in: