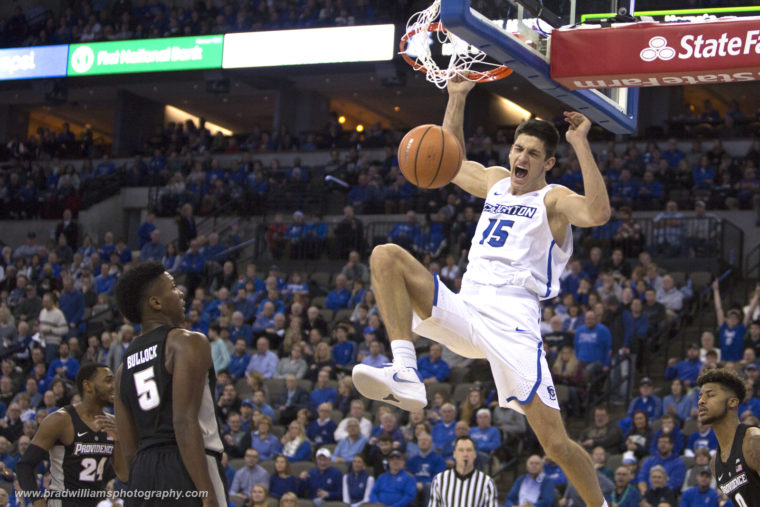 Morning After: No Blown Lead This Time As Creighton Leads Start to Finish in 83-64 Win over Providence
Bluejay Beat Wrap-Up Show:
Recap & Analysis:
Creighton got off to a quick start against Providence on Sunday afternoon, scoring the game's first five points. In doing so, they showed there was no hangover from blowing a big lead at Seton Hall and losing a chance for a huge road win.
"It took some time to get over the disappointment of Seton Hall, which is human nature," Coach Greg McDermott said on his postgame radio show. "But in our game where there's another game two days later you've got to turn the page pretty quick. To their credit, we were able to watch the film on Seton Hall the morning after the game and get it over with. We answered all of their questions, and made sure they understood where we needed to make some changes. Then we turned the page to Providence and didn't talk about Seton Hall anymore."
Toby Hegner drilled a three to open up the scoring, and then Martin Krampelj dunked on back-to-back possessions. On the first, Davion Mintz passed to a trailing Krampelj, who caught the ball near the free throw line, took one dribble, and then exploded through the rest of the Providence defense for the slam. The second one saw him curl around a defender, rise up for a lob, and throw down an emphatic dunk.
Martin campaigning to make 2018 the Year of the Krampelj… #GoJays #LetItFly #BIGEASThoops pic.twitter.com/SFzg6hATnq

— Creighton Basketball (@BluejayMBB) December 31, 2017
But Providence hung around, and when Kyron Cartwright found Rodney Bullock for an open three with 13:10 to go, the Friars were down just 16-14. Moments later Cartwright tweaked his right ankle and headed to the bench; without him on the floor the Friars missed their next 11 shots and went nearly seven minutes without a point. Some of that was good defense by the Jays, as they forced Providence into nine first-half turnovers, blanketed Bullock with #Khyrifense, and face-guarded Jalen Lindsey as much as they could. Some of it was also just incredibly poor shooting, too, if we're being honest. PC entered the game making over 41% of their three-pointers, 18th best in college basketball, and misfired several good looks among their 20 misses from outside.
And though there was a nagging feeling the Jays hadn't fully taken advantage of that long dry spell by the Friars, they did manage to put together a 9-0 run that created some separation. Ronnie Harrell was the catalyst, scoring or assisting on seven of the nine points during that stretch, including this steal and long pass to Khyri Thomas for a bucket:
Khyri "Euro Step" Thomas #GoJays #LetItFly #BIGEASThoops pic.twitter.com/cqW3nS5qKQ

— Creighton Basketball (@BluejayMBB) December 31, 2017
CU led 39-29 at the half, and as the teams headed to the locker room FS1 put up a graphic showing Creighton's three blown double-digit leads this year and noted their 10-point advantage in this one. Like it or not, that's going to be a storyline for this Bluejay team until they can consistently put teams away after halftime. On Sunday, they did just that.
Similar to how they began the first half, Hegner hit a three to open the scoring and then Krampelj slammed home a dunk — and was fouled.
Martin Krampelj with the authoritative "slam one" 😱 #GoJays #LetItFly #BIGEASThoops pic.twitter.com/14Xlnx8KPU

— Creighton Basketball (@BluejayMBB) December 31, 2017
The Friars were held scoreless on their first four possessions, and after a three by Lindsey to break into the scoring column, Marcus Foster answered with five straight points including a three from well beyond NBA range. The 11-3 Creighton run out of the locker room gave them a 50-32 lead and brought the capacity crowd to its feet, as the Jays had effectively put any doubts about blowing another big lead to rest.
"It's not bad if you can get it to a one or two possession game [early in the half]," Providence coach Ed Cooley said after the game, "but when you're down 10 and they push it to 16, it's very, very difficult to overcome on the road."
McDermott agreed. "We executed a couple of plays to open that second half, with Toby hitting a three and Martin slipping in for a dunk-and-one. And we got four straight stops on defense. That took a 10-point game and made it 16 — if it goes the other way, they've got momentum for a comeback, but instead it turned it into an uphill climb."
The Jays never led by fewer than 14 the rest of the way, and ran away with an 83-64 win. Along the way, they provided some more fireworks at the rim, starting with this ferocious dunk by Foster:
Lane open ☑️
Unguarded basket ☑️
Marcus Foster with the ball ☑️

You know what happens next… 😳 #GoJays #LetItFly #BIGEASThoops pic.twitter.com/nzuJP1cFXj

— Creighton Basketball (@BluejayMBB) December 31, 2017
Later in the half, Foster found Krampelj for another lob dunk:
Marcus Foster ⬆️
Martin Krampelj ⬇️#GoJays #LetItFly #BIGEASThoops pic.twitter.com/xkBFwt5lBE

— Creighton Basketball (@BluejayMBB) December 31, 2017
In the half, Creighton grabbed 18 of the available 21 defensive rebounds, which combined with their defensive effort (and Providence's cold shooting) effectively iced any chance of the Friars making the score closer. It was one of, if not the, most complete 40 minutes of basketball the Jays have had this year, and it sets them up to potentially build a head of steam in the Big East. The next three games are all very winnable, with a banged up St. John's team at home followed by the scuffling Georgetown Hoyas on the road and then Butler at home on the second $1 Beer Night of the season. Speaking of those dollar beers, will FS1's Steve Lavin be in the house for that game? Inquiring minds want to know…
Hey @SteveLavin64, where you at?! #DollarBeerNight @BluejayMBB pic.twitter.com/sz099LsjRK

— #BIGEASThoops (@BIGEASTMBB) December 31, 2017
Key Stats:
Creighton's three starting guards (Davion Mintz, Marcus Foster, and Khyri Thomas) combined for 41 points, nine rebounds, 10 assists and zero turnovers.
Providence makes 3-23 from three-point range, including 1-11 in the second half, and nearly 4 of every 10 shots they attempted were a three-pointer. That was fortunate, as they were able to score inside on the Jays. Points in the paint and second-chance points combined were 44-39 in favor of the Friars.
Standout Performance:
Martin Krampelj is averaging 18 points and nine rebounds a game through the first week of Big East play, and while those numbers aren't totally sustainable once the sample size gets bigger, it's incredibly encouraging to see him emerge as a legitimate scoring threat inside. His explosiveness around the rim for dunks gets the attention, but his rebounding is more important to the success of this team — as teams try to slow down the pace, being able to clear the glass after a missed shot gives the Jays an opportunity to run.
Krampelj's emergence as a true post threat is one of the most promising things to come out of the first half of the season; while depth behind him is an issue, that won't be a problem next year when Jacob Epperson debuts, and those two combined could turn post play into the strength of CU's attack.
How improved is Martin Krampelj?

He led Creighton with 36 total points & 18 rebounds in 2 BIG EAST games this week.

In CU's 21 games against @BIGEAST foes last year (including 5 DNP's), he had TOTALS of 26 points & 19 rebounds. pic.twitter.com/9JfqGHo16v

— Rob Anderson (@_robanderson) January 1, 2018
They Said It:
You Said It:
A beautiful day for basketball in Omaha! #packtheLink #dollarbeer

— Coach McDermott (@cucoachmac) December 31, 2017
@SteveLavin64 consider this your personal invite from Coach Mac. https://t.co/zjfTw2ziFK

— Perch Jay (@perchjay22) December 31, 2017
It's game day. pic.twitter.com/vEwECQNlnG

— Bluejay Buff (@BluejayBuff) December 31, 2017
Beer and Jays! Life is good! #GoJays pic.twitter.com/zrGtiNJAF6

— Bob Harstad (@bobharstad) December 31, 2017
Waiting for doors at @centurylinkoma to open like… #GoJays #LetItFly pic.twitter.com/VdGzsNQjmn

— Creighton Basketball (@BluejayMBB) December 31, 2017
why are they making you wait outside at the ballpark, billy? billy please go inside! it's -3 degrees out there and you don't even have a coat on! billy! BILLY! 30 minutes of exposure can give you frostbite in this weather! oh no, he can't hear me. BILLY! GET INSIDE!! https://t.co/U2ixbw5hAz

— alex sindelar (@crimebait) December 31, 2017
Expecting New Year the best way possible🏀#GoJays #SloveniaIsReady @MartinKrampelj @BluejayMBB pic.twitter.com/1fYnRRVzE0

— joze krampelj (@jozekrampelj) December 31, 2017
My dad's English is really getting better 🙂 go jays https://t.co/EhYyGiRwHS

— Martin Krampelj (@MartinKrampelj) December 31, 2017
Dollar beer thoughts pic.twitter.com/hxsh7Sr8MX

— FakeBlueCrew (@FakeBlueCrew) December 31, 2017
Gotta end 2017 on the Jumbotron #gojays pic.twitter.com/elCkeus9zc

— Creighton Otter (@creightonotter) December 31, 2017
*BREAKING NEWS* Marcus Foster is wearing sweatpants while everyone else is wearing shorts. He's living in 2018 while we're stuck here in 2017. pic.twitter.com/wx1gNE7Q3G

— alex sindelar (@crimebait) December 31, 2017
Good energy in the stands at the C'Link today for #Jays–#Friars. Dollar beers on New Year's Eve will bring that out of you. Nice of Creighton to host everyone's pregame for tonight.

— Matt DeMarinis (@mjdemarinis) December 31, 2017
You're only saying that b/c Ed Cooley reads your tweets.

— Corey Lathrop (@cjlathrop) December 31, 2017
I think Creighton might score more points in the first half than their entire home game against Providence a couple years ago. Maybe.

— Dave Sund (@davesund) December 31, 2017
#ronimal pic.twitter.com/chb1EcJ4Ou

— Michael McGoodtweets (@michaelkmcneil) December 31, 2017
holy smokes this is a great game. Jays up 19-14, but man it's a brawl underneath the basket. Creighton 4-8 from three, Providence struggling, shooting just 5-15. If Cooley wanted a rockfight he isn't gonna get it right now.

— alex sindelar (@crimebait) December 31, 2017
Providence going to some of their flex stuff on offense to try muddy things up inside the arc. No second chance points yet, but they already have 5 offensive boards. #Jays have a 19-14 lead behind 50% shooting. Good balance as well — no one with more than 4 points.

— Matt DeMarinis (@mjdemarinis) December 31, 2017
That last sequence by Khyri Thomas was absurd. Forced the turnover with his ball denial then pulled a filthy move on the other end. That's NBA stuff.

— Jacob Padilla (@JacobPadilla_) December 31, 2017
Khyri Thomas with the 1-2 Step!@BluejayMBB up 11 early on Providence.

Catch #BIGEASThoops and @CBBonFOX! pic.twitter.com/XbkJh2gJqq

— #BIGEASThoops (@BIGEASTMBB) December 31, 2017
Holy… Khyri Thomas to the cup with a slick euro step on the break. #Jays up 25-14 with 7:43 left in the first half. 9-0 run — seven of which came with Kyron Cartwright on the bench getting his gimpy ankle checked out. Friars shooting 24% from the field.

— Matt DeMarinis (@mjdemarinis) December 31, 2017
I couldn't make that move that Kyhri made on a video game.

— Martin Swanson (@bigredtank72) December 31, 2017
What move was that from Khyri Thomas??? Niiiiccceeee

— Jon Nyatawa (@JonNyatawa) December 31, 2017
Facing a double-digit deficit midway through the first half, Providence has Creighton right where the Friars want them.

— Garret (@mue11er) December 31, 2017
Gotta blow on the cartridge.

— Corey Lathrop (@cjlathrop) December 31, 2017
Ronnie Harrell is carving up the Friars — 5 points, 5 boards, 3 dimes in 10 minutes so far. #Jays are trying to find him mismatches with the dribble handoffs on the perimeter. 32-25, CU, 3:42 to go before halftime.

— Matt DeMarinis (@mjdemarinis) December 31, 2017
Halftime: #Jays 39, Providence 29. Kinda sloppy and disjointed all around, but CU's had good energy/effort throughout. Harrell: 8 pts, 6 rebs, 3 assts

— Jon Nyatawa (@JonNyatawa) December 31, 2017
Good news Jays fans!! The team hasn't blown a 2nd half lead when leading by 10 points at halftime!! #GoJays

— Tony Roth (@toneroth) December 31, 2017
A double digit lead against Providence has never backfired for Creighton so they might as well end the game now.

— Corey Lathrop (@cjlathrop) December 31, 2017
Creighton should be up quite a bit more than it is right now. That was an atrocious half of offensive basketball by Providence.

— Jacob Padilla (@JacobPadilla_) December 31, 2017
I put the over under at 4 minutes that Creighton gives up the lead to Providence

— livinginthecity (@daumprulz) December 31, 2017
Martin Krampelj posterizes Kyron Cartwright after Toby Hegner buries a corner three. #Jays coming out of the locker room with the foot on the gas. Lead up to 16 points.

— Matt DeMarinis (@mjdemarinis) December 31, 2017
Please, #SlovenianSledghammer, don't hurt 'em.

— truebluejays (@truebluejs) December 31, 2017
Ayyyy, Martin Krampelj just did Kyron Cartwright dirty. Dunked on him.

— Jon Nyatawa (@JonNyatawa) December 31, 2017
Jays lead 50-32 at the first media timeout. Somehow the halftime lead has grown even though everyone said it was going to dissipate?? I'm confused.

— alex sindelar (@crimebait) December 31, 2017
After Lindsey knocked Krampelj over on a screen…
Cooley: "What'd he do???"
Ref: "He ran right through him"
Cooley: "Tell him to get in the weight room"

— Jon Nyatawa (@JonNyatawa) December 31, 2017
captain's log: 12 minutes remaining
message: providence has gone zone. the rim that marcus abused is currently crying. the day has grown cold.

— alex sindelar (@crimebait) December 31, 2017
@austinomaha @RamblingGent @BluejayMBB pic.twitter.com/D2xAjUPXmN

— My Name Is (@MrBlakeCarver) December 31, 2017
$1 beers and now free pizza. Happy New Years, Jays fans.

— truebluejays (@truebluejs) December 31, 2017
Mass exodus at The Link. I don't Providence is coming back this time, you guys.

— Corey Lathrop (@cjlathrop) December 31, 2017
Solid win. Good rebound by the Jays. Yeah, I know what I did there. #GoJays

— Martin Swanson (@bigredtank72) December 31, 2017
VIDEO || Creighton head coach Greg McDermott (@cucoachmac) breaks down today's 83-64 victory over Providence with Mike Hill (@ItsMikeHill) and Jim Jackson (@jimjackson419) on @FS1…and calls out @SteveLavin64 #GoJays #LetItFly #BIGEASThoops pic.twitter.com/pIfoLT1Z37

— Creighton Basketball (@BluejayMBB) December 31, 2017
Marcus Foster is the first Creighton player to start his senior season with 14 or more straight double-figure scoring games since Bob Harstad (27) in 1990-91. pic.twitter.com/EQaOh0k8Sd

— Rob Anderson (@_robanderson) December 31, 2017
I knew today was gonna be good for bro @Swaggy2_. New Years. Bigger goals. Time to lock down, focus, and go get everything you've dreamt of #GrindHouseBasketball https://t.co/3IfZiJizW3

— Marcus Walker (@GrindHouseBB) January 1, 2018
@Swaggy2_ got himself a 20 sec highlight today 👀 check it out. (Its worth watching it twice or more times) https://t.co/uxLs1iL4U9

— Martin Krampelj (@MartinKrampelj) January 1, 2018
Happy New Year everyone. Let 2018 bring many blessing. 🎈🎉

— Khyri Thomas  (@Khyri_2) January 1, 2018
Comments
Tagged in: