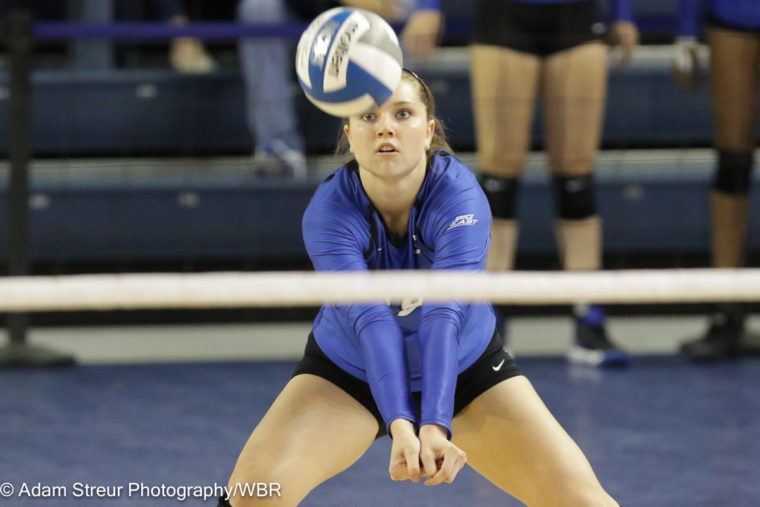 Morning After, Volleyball Edition: Jays Dominate #3 Washington in Top Ten Battle
Saturday night, Creighton volleyball dominated #3 Washington to take the Husky Invitational in Seattle. The 25-22, 25-17, 14-25, 25-23 four-set victory was impressive enough on the face of it, but consider this: UW had won 81 straight non-conference matches entering Saturday night, dating back to 2008, and had not lost a non-conference home match since 2001. They were 49-3 all-time in the month of August, and undefeated (16-0) at home in August.
Until Saturday, that is, when the Jays matter-of-factly beat them in front of nearly 3,000 partisan fans 3 sets to one.
Knocking off highly-ranked opponents is nothing new for Bluejay volleyball, a highly-ranked squad themselves, but Saturday's nationally-televised win drew a lot of eyeballs (and attention on Twitter). Here's some of your tweets recapping the win.
Anyone got a good guess what time the fight will start tonight?

— Nick Bahe (@NickBahe) August 26, 2017
Yep – Creighton and Washington start at 9:00. https://t.co/jur3OVydJt

— Lance Raabe (@Chieftainlinks) August 26, 2017
Tonight will be Creighton Volleyball's first match as a top 10 team against another top 10 team.

— Rob Anderson (@_robanderson) August 26, 2017
The coach's daughter has thoughts on her dad ducking the Jays! https://t.co/ka65chz0iu

— Danny O'Byrne (@dannyobyrne) August 26, 2017
There is a reason that this is the year Cook decided to throw UNO a bone and avoid Creighton.

— Danny O'Byrne (@dannyobyrne) August 26, 2017
Sure the one year that Creighton is really really good in VB, better than usual……they don't play the Huskers!!!

— desiree (@desilars1) August 27, 2017
Creighton-Washington living up to the hype so far. Both teams playing at a high level, no separation yet. #Jays lead 15-14 midway thru set 1

— Matt DeMarinis (@mjdemarinis) August 27, 2017
In round #1 of the Creighton/Washington fight the judges score it 25-22 for the Jays.

— Lance Raabe (@Chieftainlinks) August 27, 2017
Creighton steam-rolled Washington in that second set. #GoJays

— Jacob Padilla (@JacobPadilla_) August 27, 2017
Holy crap. Holy crap. Holy crap. 2 down 1 to go!!! #GoJays https://t.co/R1HDIalrSi

— Alex Sass (@alexmsass) August 27, 2017
Creighton strolls into the locker room with a 2-0 lead over 3rd-ranked Washington. Taryn Kloth & Marysa Wilkinson have 19 kills & 0 errors.

— Matt DeMarinis (@mjdemarinis) August 27, 2017
Hell yes!!!!! Let's. Go. Jay's!!!! Next weekend will be so much fun!!! #GoJays pic.twitter.com/hNoJCTzlRR

— Alex Sass (@alexmsass) August 27, 2017
#9 Creighton topples #3 Washington in 4 sets as Huskies serve long. Jays win the Husky Invitational!!!!! pic.twitter.com/M6Oy9auyNq

— Creighton Volleyball (@CreightonVB) August 27, 2017
Dem Jays! #gojays @CreightonVB

— Tyler Anderson (@TylerA_Anderson) August 27, 2017
Yessssss!!!!!!!!!! #gojays https://t.co/g87yi0UlVa

— Patrick Marshall (@wildjays) August 27, 2017
Well done Ladies!! https://t.co/Jb9FF7v5UT

— Coach McDermott (@cucoachmac) August 27, 2017
Big win for #9 @CreightonVB at #3 Washington tonight in Seattle 👍 Congrats #Creighton #GoJays pic.twitter.com/QgOfTV7n5p

— Kevin Sarver (@KASarver) August 27, 2017
Congrats to @SammyBohnet for the great start to the season. Keep up the great work ladies. #RollJays #Creighton

— Will Schademann (@WillSchademann) August 27, 2017
Congratulations! #proud https://t.co/ro98UHI35M

— Creighton President (@CreightonPres) August 27, 2017
You: "It's too early in the season to be sending out Creighton Volleyball photoshops."

Me, Sitting on a Lightly-Used Photoshop Account: pic.twitter.com/Kijc5VwVf8

— Garret Mueller (@mue11er) August 27, 2017
Creighton knocked off No. 3 Washington last night. Tomorrow, Jays will have highest ranking in program history. https://t.co/r5OspF7Bdg

— Jeff Sheldon (@OWHJeffSheldon) August 27, 2017
Creighton could be ranked ahead of Nebraska for the first time ever when new AVCA poll comes out this week… https://t.co/4yXH6hP2IX

— Doug Belsaas (@dugb26) August 27, 2017
Creighton VB will be a top 5 team next week – and ahead of Nebraska. https://t.co/pah4EkJx0A

— Sam McKewon (@swmckewonOWH) August 27, 2017
.@CreightonVB knocks off #3 on the road! Blue Jays have come to play this year!! #RollJays

— Matt Novotny (@MENovotny) August 27, 2017
Not boxing related post…Creighton volleyball is for real yo.

— Mike Sciandra (@MikeSciandra) August 27, 2017
Creighton Volleyball getting it done! Keep it rolling #rolljays #Boothisthegreatest

— K geb (@kgeb9) August 27, 2017
The loss to Creighton ends a remarkable streak for @UWVolleyball: the last regular season non-conference loss for UW was on 9/23/2008…

— VB Addict Ed Strong (@DawgoneCrazy) August 27, 2017
…a day on which they suffered a 3-2 loss at Hawaii. It's been almost 9 years since @UWVolleyball suffered a reg season NC loss…

— VB Addict Ed Strong (@DawgoneCrazy) August 27, 2017
UNREAL STAT…Washington had won 81 straight regular-season non-conference matches by my count before #Creighton.https://t.co/1rKBCthZVY

— Rob Anderson (@_robanderson) August 27, 2017
It was also Washington's first non-conference home loss in the regular-season since Sept. 1, 2001!! #Creightonhttps://t.co/L024SJSCVc

— Rob Anderson (@_robanderson) August 27, 2017
Washington entered was 49-3 all-time in the month of August. Including a 16-0 mark in home matches … until tonight. #Creighton

— Matt DeMarinis (@mjdemarinis) August 27, 2017
Yipes, the Jays are good. https://t.co/9n4ehDjRaQ

— Anonymous Eagle (@AnonymousEagle) August 27, 2017
Booth is god.

— Danny O'Byrne (@dannyobyrne) August 27, 2017
Most discussed topic in Omaha right now: Creighton https://t.co/tR1XgEsEx4

— Omaha Now (@topOmahaNow) August 27, 2017
Creighton Volleyball, @creightonvb is now trending in #Omahahttps://t.co/Y6NO8TwxBC pic.twitter.com/N5TBtjn7sW

— Trendsmap Omaha (@TrendsOmaha) August 27, 2017
Volleyball: Coach Cook Postmatch vs Creighton https://t.co/TYxaPXYKEK

— Husky Sports Now (@HuskySportsNow) August 27, 2017
Is No. 9 @CreightonVB for real? Yup! They just defeated No. 3 Washington in Seattle in four sets! pic.twitter.com/MZE83BazEh

— AVCA (@AVCAVolleyball) August 27, 2017
Here's what Kirsten Bernthal Booth had to say after tonight's win at #3 Washington. pic.twitter.com/KqWekPFdQr

— Creighton Volleyball (@CreightonVB) August 27, 2017
Comments
Tagged in: