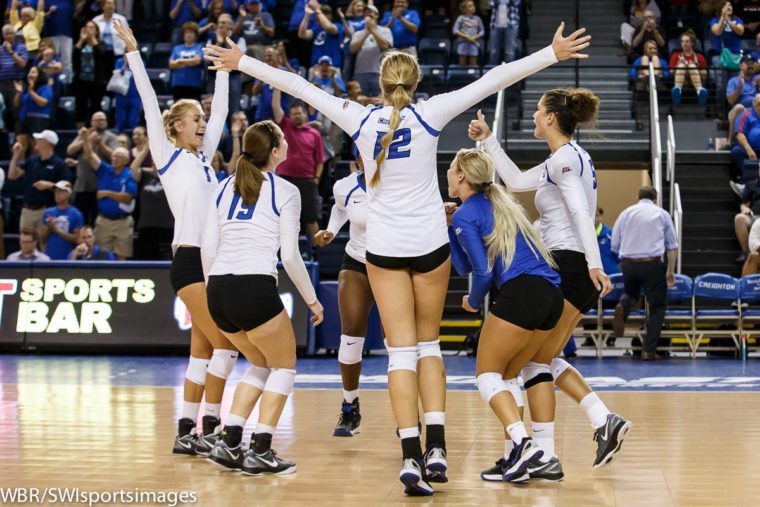 Nationally-Ranked Bluejays Dominate Butler to Kickoff Six-Match Homestand
If ever there was a week where the Creighton volleyball team would succumb to the outside distractions and fall on the court as a result, it was this one. After a 12-o start to Big East play, the Bluejays jumped into the top 25 and returned home to hear their family, friends, and people around campus tell them how great they are doing.
That didn't deter the team even a little bit as they turned in a nearly flawless performance in a 25-12, 25-14, 25-17 victory over Butler, sweeping the Bulldogs for the second time this season.
"Last weekend I thought we played solid, but not incredible, and we talked about that," Creighton head coach Kirsten Bernthal Booth said. "We said we're doing some good things, but we've got to do better. I thought we played a great match tonight. To only have two errors after two games, those are things we've been talking about; limiting our unforced errors, not giving points away. I was really impressed with that."
The Bluejays finished their fifth-best attack percentage in program history, hitting at a .415 clip in the three sets against the Bulldogs. They committed only one error in both the first and second set, and finished the match with eight in their 94 total attempts. Sophomore outside hitter Jaali Winters led all players with a match-high 11 kills to go along with nine digs. She was joined in double figures by fellow sophomore outside hitter Taryn Kloth who chipped in 10 kills on 19 swings without committing an error all night. Five different Creighton players hit over .500 for the match, including junior setter Lydia Dimke who also finished with a match-high 36 assists.
The transfer from Purdue wasn't the least bit surprised by her team's high-powered performance on Friday night.
"I even told someone in the locker room that we got better this week at practice," Dimke said. "Part of it was from the coaching — they had good, intense drills, and we were just working our butts off the whole time. I think that showed tonight. We were ready for anything that Butler was going to throw at us. We got better this week and this weekend."
Other than for the first serve of each game at 0-0, the only time Creighton and Butler were ever tied was when the score was 1-1 in the third set. The Bluejays scored the first four points in each of the first two sets, and jumped out to 15-5 leads in both before cruising to double-digit victories in both games before halftime. They were on their way to doing it again in set three, but Butler saved match-point four times before Winters finished off a 25-17 set-three win with her final kill of the evening.
Creighton's defense held the Bulldogs to a .079 attack percentage — 336 percentage points below their own. Butler sophomore outside hitter Anna Logan entered the match ranked fourth in the nation with 485 kills. She led all players with 16 in the first meeting against the Bluejays back on October 1st. On Friday, she was limited to six kills and an .080 attack percentage — both season-lows for the Indianapolis native.
"She ate us up a decent amount the last time we played," Booth said. "I thought we did a great job against her. We ran a different defense against her that we switched to in the middle of the match last time, and we stayed with the whole time tonight.
"She's so crafty with her shots, and the defense we moved to covers the court a little bit better. I really think that kid is a great player, and I don't think the crowd got to see how good she is tonight. I don't know if she thinks that she just didn't play well, but I thought we did a lot of things to disrupt her some."
The Bluejays improved to 19-6 overall and 13-0 in conference play on the season. They haven't dropped a match since falling in four sets at No. 1 Nebraska all the way back on September 17th. At this point, it's starting to appear as if they only team in the Big East that can trip them up is the one they practice against every day at D.J. Sokol Arena.
However, despite the temptation to get complacent, they still find plenty of motivation on a daily basis to improve upon their run to the Sweet 16 for the first time in program history last December.
"We hold ourselves to a really high standard," Jaali Winters said. "Even though we are beating teams, that's not enough for us. We want to beat teams and feel really good about the way that we played at the same time."
"One thing that [assistant coach Ryan Meek] asked us was, 'how are we going to go from being pretty good to something really special?' So we come in every day thinking of how we can get better and be something special."
Creighton has five more matches left in the regular season, and all of them are at home. They'll return to the court on Sunday at 1:00 p.m. to wrap up the weekend against Xavier. The Musketeers won at Providence in four sets on Friday night, and currently sit at 15-11 overall and 9-4 in Big East play.
With a win over Xavier on Sunday, Creighton will clinch at least a top-two finish in the Big East standings for the fourth consecutive season.
Comments
Tagged in: