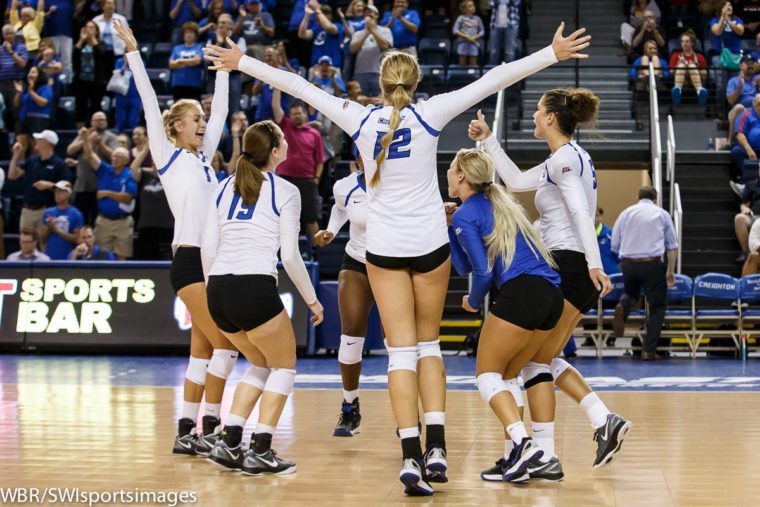 No. 21 Creighton Survives Five-Set Classic With Northern Iowa to Advance in NCAA Tournament
"Character."
That was the first word out of Jaali Winters' mouth when she was asked what it took for the 21st-ranked Creighton Bluejays to get over the fact that they had blown a 2-0 lead in the match, including a 24-22 lead in set three that could have clinched it, and win set five by a score of 15-12 to defeat the Northern Iowa Panthers on Thursday afternoon in Lawrence, Kansas and advance to the second round of the 2016 NCAA Tournament.
"It took a lot of heart," the sophomore outside hitter from Ankeny, Iowa added. "We've been in these five-set situations before. We knew we had been there, we knew we had practiced for this. Just to see everyone stay together, especially during that tough fourth-set loss, it was really cool."
Winters led all players with a match-high 24 kills, a mark that also set a program record for most kills in an NCAA Tournament match. Eight of those terminations came late in the games one and two to help the Bluejays take a commanding two sets to none lead at intermission after winning game one, 25-16, and erasing a four-point deficit to win game two, 25-20. Winters had 14 kills on 30 swings through those first two games — eight more than any other player who saw any action on the court up to that point. She was a handful from the opening serve for the Panthers.
"The thing with Jaali is she's that kid who looks like she has no approach, but she's going to bring heat," Northern Iowa head coach Bobbi Peterson said. "We talked about that at the beginning, but being out there you just don't understand that. You just don't see a lot of kids that can have no approach and still hit every angle, and still bring a lot of heat."
After being held to .029 and .000 attack percentages as a team in the first two sets, Northern Iowa found their rhythm offensively after regrouping in the locker room. The Panthers hit .311 in game three and never let Creighton put together any back-breaking runs after intermission. Still, it started to look like they were going to fall short of avoiding the sweep and extending their season, but they found new life at the end on kills by sophomore outside hitter Bri Weber and sophomore middle hitter Piper Thomas to save match point twice and even the third set at 24-24.
Thomas, who led the Panthers with 14 kills on the day, found the floor twice more immediately after tying the set to complete the comeback and send her team to a game four. Northern Iowa stayed in control early in the following set before blowing it wide open with a 12-2 run that turned a slim 9-8 lead into a 21-10 foregone conclusion. At that point for Creighton, it was time to move on and refocus for a decisive fifth set.
"As we saw the fourth game getting away, and as players were subbing out, we grabbed them and said, 'let this go, we've got to regroup,'" Creighton head coach Kirsten Bernthal Booth said. "I didn't know that we'd win, but I sure knew that we weren't going to fold. We always say the best and worst thing about volleyball is you go back to zero. I knew we'd come out and fight."
Neither team clicked offensively in the final game, which made for some compelling back and forth action. Creighton got kills from Jaali Winters and junior right side hitter Marysa Wilkinson, along with a pair of combo blocks, to jump out to a 6-2 lead, but Northern Iowa answered right back with a 5-1 run to tie it up at 7-7. Sophomore outside hitter Taryn Kloth floored a pair of kills on the next two points put Creighton back in front, 9-7, but Northern Iowa again found a way to work back to even on two more occasions — 10-10 and 12-12 — before an ace by senior Amanda Foje and a combo block by senior Lauren Smith and redshirt freshman Megan Ballenger seal the 21st consecutive win for the Bluejays.
"It was a long five sets, but all I was really thinking about was that our season wasn't over yet and we have to all play for each other," Wilkinson said of how she dealt with any potential fatigue. The native of Lincoln, Nebraska led all players with four kills in the final set.
"All of our hard work paid off," she added. "At the beginning of the season we weren't winning those fifth sets, so it's great to see how far we've come and how much more we can do."
The junior, who often rotates between right side hitter and middle blocker, finished the match with a career-high 18 kills and by far the best attack percentage of any player on the court on Thursday at .394. She seemed to be the only player that no scheme or block adjustment could find an answer for throughout the match.
"Jaali was really effective early, and I thought they made some adjustments — they started releasing out to her, putting more hands into, and started to dig her," Kirsten Bernthal Booth said. "For Marysa, they really never had an answer. When she is one on one she is lethal. To some degree teams have to make decisions, and I get that, because if they had started doubling there we would have gone some place else, but I thought Marysa really stepped up at end game and it was great to see."
Defensively, Bluejay libero Brittany Witt shined as a true freshman in her first NCAA Tournament match. The range-y, defensive whiz from Omaha Marian had a career-high 32 digs to help Creighton out-dig a Panther squad that led the nation in digs per set.
"Brittany is a winner," the Creighton head coach said. "We recruited her not only because she was a great libero, but because we had seen her in tight situations and saw how she responded. How she played did not surprise me. I thought she followed game plan. She had different setups on a couple of their hitters, and I thought she was locked in and made plays based on that. She wants the ball and that's what you want from a libero."
With another day to play, Creighton will return to the Horejsi Family Athletics Center on the campus of Kansas University for a 6:30 p.m. second round match-up with the site host and fifth-overall seed in the entire tournament in the Kansas Jayhawks.
Kansas eliminated Samford in straight sets after Creighton dispatched Northern Iowa. It will be the second meeting this season between the two teams this season.  The Jayhawks won the Bluejay Invitational in early September in Omaha thanks to a five-set win over the Bluejays at D.J. Sokol Arena.
Comments
Tagged in: