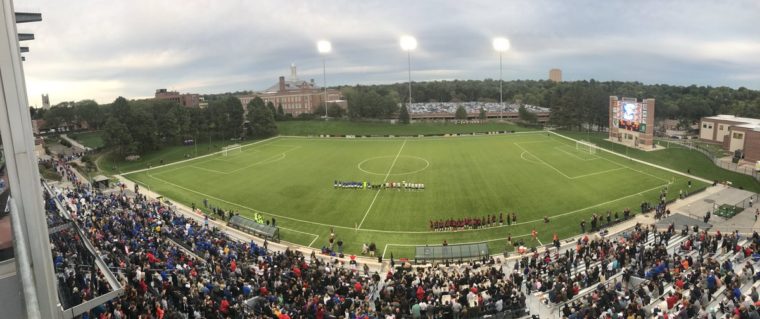 No. 25 Creighton Edges No. 24 UNO in Omaha Soccer Showcase at Caniglia Field
Passion and pride were on full display both in the stands and on the pitch when 25th-ranked Creighton bested 24th-ranked Nebraska-Omaha, 1-0, in front of an announced crowd of nearly 5,000 people at Caniglia Field on Tuesday night.
With the cross-town squaring off for the second season in a row after a 33-year hiatus, a sea of red & black and white & blue filled up the seats, bleachers, and grassy hill surrounding the field for the highly anticipated rematch of last September's 1-1 draw at Morrison Stadium. On this night, senior goalkeeper — and Omaha native — Michael Kluver recorded a clean sheet for the Bluejays and senior defensive back Lucas Stauffer found his long-time teammate in senior forward Ricky Lopez-Espin on the end of a cross to produce the only goal of the match after just over 77 minutes of action.
"A lot of blood, sweat, and tears," Creighton head coach Elmar Bolowich said when asked what it took to earn the result. "It was really a tough contest. Well-played by both teams, I thought; very energetic. I felt like both defenses did a very, very good job to the point where neither keeper really had to make a save in the course of the 90 minutes. It was more like eliminating each other almost instead of one team having the upper hand for the duration of the match."

"It was difficult for us to get a grip on the game. I thought our midfield eventually settled down and we controlled a little bit of the pace, at least in the middle-third, but we were lacking the punch offensively. It was just that one play with Stauffer and Ricky Lopez-Espin that made the difference."
The Mavericks and their fans seemed to feel a little different about the sequence that led to Lopez-Espin's eventual game-winner. That's because at the start of the play, senior forward Emmanuel Hamzat went down on the play with an apparent lower leg injury, but the Bluejays pressed on the attack anyway with Hamzat about 40 yards behind the play. With the referee opting to let things play out, Stauffer raced to the end line along the left flank and connected with an unmarked Lopez-Espin for a header in the box.
"Out of my peripheral vision I saw that a guy was down … but I've always been told to play until the whistle blows," Stauffer said. "It didn't blow so I just kept playing, and focused on getting to the end line and getting that cross in. Ricky did a great job finishing it."

"I felt like if it was serious the referee would have called it. Not to say that he wasn't hurt or whatever, but I really think that players should play until the whistle and shouldn't just stop. At least that's how I was raised as a player."
Like his teammate and roommate of seven years, Lopez-Espin didn't feel any remorse given what was transpiring in the run of play in Nebraska-Omaha's defensive third.
"We didn't hear any screaming, nobody said anything, and it wasn't a head injury, so you don't stop the play right away," the senior co-captain said. "The bottom line is if we're on the attack we're not going to stop. I didn't even know where the injury was [on the field]. I gave the ball to Lucas and what a great cross he put in. I got my head to it and luckily it went in."
Knowing how stout Nebraska-Omaha's back line had been all night up to the point, especially in the air, the Bluejays weren't about to take their foot of the gas with time winding down in the second half of a scoreless match.
"I think that was the only header I won all night," Lopez-Espin said. "As a forward you're always looking for the next one. I know there centerbacks are really good in the air, so I knew I had a task. You just have to keep going and Lucas played a brilliant ball in. I came in a little late, so I was a little unmarked and luckily it went in. I'm happy to get the win."
While the result will produce heated debates from both factions for years — perhaps even decades — to come, it is all a byproduct of the enthusiasm for the event itself. The match between Creighton and Nebraska-Omaha, affectionately dubbed the "Dodge Street Derby", has produced an average official attendance of 4,876 over the last two seasons. It creates a top notch atmosphere and experience for the athletes involved, and if both teams happen to be in the midst of successful campaigns — as was the case for the Top 25 matchup on Tuesday — then it's even better.
"I really do think it's very good for the soccer community and you could tell," Stauffer said. "I mean, there were 5,000 people here tonight. They were loud, they were rambunctious. We had a great turnout of Creighton people that came, and they had a great turnout of students. It was a fantastic atmosphere. You couldn't really ask for much more as a player."

"Pride was on the line tonight. … Yes, it's a rivalry. Yes, you want to compete and you want to win, but you want to cheer for each other as well. If the city of Omaha and their teams are doing well, then that's great to say when recruits come to both schools. Obviously they have a good program here. They work extremely hard. I would compare them to kind of like a Stanford almost."
No doubt the rivalry is one of the healthier ones this state can currently produce, but it's going to run into a snag in the short-term as Creighton has already filled up its plate for next season. That means the Bluejays, Mavericks, and local soccer fans will have to wait until at least the fall of 2019 before the Dodge Street Derby goes down again. While Elmar Bolowich wasn't chasing down a pen to sign any agreements after the match, he did seem open to future tussles with his cross-town adversary, especially given the support the event has generated in the community.
"Jason and I have to talk about it, because we have nothing on the agenda for 2018 at the moment and our schedule is full already as is," the Creighton coach said. "We have to look at 2019 and 2020 if we want to continue the series, but certainly we need to sit down and talk about it. I don't rule it out."

"The environment would certainly have something to do with it. We wanted to see that the community supports this, of course, and they did. I think UNO did a good job of marketing and managing the game, and to have that kind of crowd and atmosphere was great. Certainly when we play at home we are used to those kinds of crowds, so we don't necessarily need to play a UNO to get good crowds, but it is nice to see."
Despite it being his final time facing off against the Mavericks — unless of course they meet up later on this season in the NCAA Tournament — senior Ricky Lopez-Espin hopes to see the two programs face off many more times long after his collegiate playing days are over.
"When you're playing a derby match it's awesome on both ends," the Miami native said. "I mean over 4,000 people I think I heard, that's awesome. Not only for us, not only for them, but the community. I know they were up for it. We were up for it. It was just a really fun game to play. It's what you want as a player."
Full Postgame Interviews (courtesy of Creighton Athletics)
Comments
Tagged in: