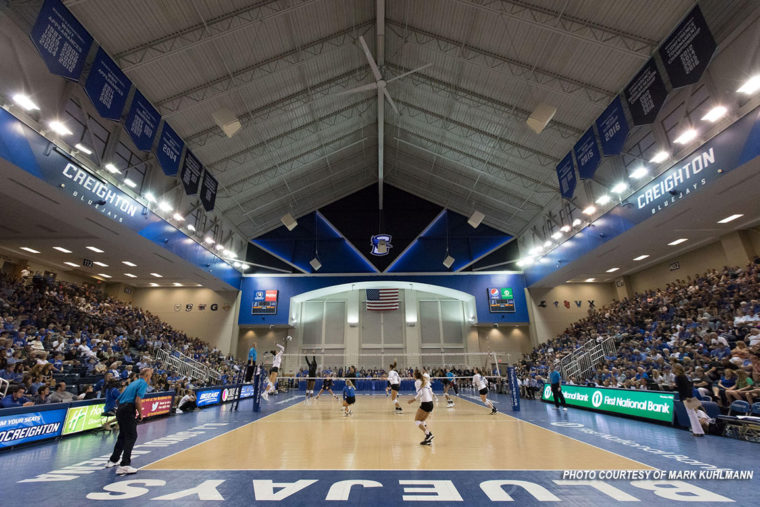 No. 7 Creighton sweeps No. 13 Kentucky in front of a record crowd at D.J. Sokol Arena
Creighton players themselves couldn't help but wonder about how they would handle the emotions of playing in front of rare packed house at D.J. Sokol Arena that was expected on Friday night. The answer was an offense that hit at a .353 clip in a 25-20, 26-24, 25-20 sweep of 13th-ranked Kentucky in front of a sold-out, arena-record crowd of 2,578 in the nightcap of day one of the 2017 Bluejay Invitational.
Junior outside hitter Jaali Winters led the way with 15 kills on the night, including a joust ball on game point of a tightly-contested second set. She was one of three Bluejays to finish with an attack percentage of .333 or higher on at least 15 swings, giving the rowdy local contingent a lot to cheer about throughout the match.
"It definitely is a night that I will never forget," Winters said of the atmosphere. "It was a lot of fun. I honestly did not know if it would affect us at all, emotionally, with all those fans screaming all the time, but we handled it really well and definitely used it to our advantage."
One team that certainly looked to be struggling to handle the environment early were the visiting Wildcats. While the Bluejays committed only three attack errors in set one, Kentucky hitters committed seven to go along with three miscues from the service line. One particular tough stretch came with the scored tied, 9-9. Two unforced errors by outside hitter Leah Edmond, plus a service error by Kaz Brown, helped push the seventh-ranked Bluejays out to a 14-10 lead that would not get any closer than two points the rest of the game. After a combo block by seniors Marysa Wilkinson and Lydia Dimke, Kentucky called its final timeout, trailing 22-18.
It appeared as if they were about to trim the lead to three points, as a shot off the block sailed towards the Creighton bench, but junior outside hitter Taryn Kloth ran it down and popped the ball back in play along the sideline. Wilkinson did the rest. After getting the touch on the block that started the whole sequence, the senior from Lincoln, Nebraska, tracked the ball off Kloth's hands, dug it over her right shoulder where it narrowly cleared the net then landed across the court for a kill.
"That was awesome," Winters approved. "Hustle points."
Marysa Wilkinson with the casual behind-the-back, cross-court kill! #GoJays #ContinueTheClimb pic.twitter.com/3pm2Ads2XZ

— Creighton Volleyball (@CreightonVB) September 2, 2017
Creighton finished off the 25-20 win in set one, then carried the momentum into game two where a strong serve and that same offensive efficiency helped build a 19-13 lead just before intermission. But Kentucky would step up their play from the service line to make things interesting. Three kills by Edmond and a pair of aces by Merideth Jewell and McKenzie Watson sparked a 9-4 run that tied game two at 24-all.
But just when it appeared that the momentum was swinging away from home team's side of the net, true freshman Naomi Hickman came up with a stuff block and Winters followed by terminating a joust ball to give a 26-24 game two win and a 2-0 lead in the match. It certainly wasn't the cleanest way to get the job done, but a solid display of moxie on the second weekend of the season against a top 15 team.
"At that point it was all mental," Winters said of the team's psyche after the big set two lead disappeared. "We just had to stay locked in and just focus on what we needed to do on the next point. Fundamentals."
BLOCK gives Creighton set point at 25-24! #GoJays #ContinueTheClimb #NCAAvb pic.twitter.com/v4VVs9QMnj

— Creighton Volleyball (@CreightonVB) September 2, 2017
Set 2 ➡️ Creighton

#7 Bluejays take a 2-0 lead in the match with 26-24 win in set 2️⃣ over #13 Kentucky! #GoJays #ContinueTheClimb #NCAAvb pic.twitter.com/cvcRdNRpaf

— Creighton Volleyball (@CreightonVB) September 2, 2017
The third set featured 12 ties and four lead changes, but a 7-2 run late in the game — capped off by two more kills from Winters and an ace by junior Samantha Bohnet — gave the Bluejays a commanding 23-18 lead on their way to finishing off the Wildcats in straight sets to improve to 4-0 on the season for the first time since 2013.
Kentucky outside hitters Leah Edmond and Avery Skinner combined for 32 kills and hit at combined clip of .328, but the Bluejays did enough with their block setup and kept the Wildcats out of system with an aggressive approach from the service line that final scores indicated more control than Creighton head coach Kirsten Bernthal Booth felt from the sideline.
"I think that is what's special about this team is that they figured out ways — if we weren't in system — to still be able to get sideouts," Booth said. "I thought we served well. Obviously we hit at a high clip and we were really low error. Those things are pretty special. We sided-out at 70% or over in every game — those are incredible numbers against a really, really good team that served aggressively.

"There were lots of good things, but it didn't feel totally right, if that makes sense. I think we've got another level that we can go to, and need to go to, but I think Kentucky caused a lot of those issues that we had. It was because of them and not necessarily because of us. I think they put some pressure on us, which is really good. I liked how we responded."
Creighton returns to the friendly confines on Saturday at 12:30 p.m. to take on the previously unbeaten and 18th-ranked Southern Cal, who fell in four sets to Northern Iowa in earlier Bluejay Invitational action on Friday evening. Another packed house is expected between the Trojans and Bluejays, a trend that Kirsten Bernthal Booth hopes continues even when her team isn't facing an opponent with a number in front of their name.
"I think these players and the players before this have earned this," the 15-year Creighton coach said of the spike in fan support. "I think that's awesome. I was really pleased to see how many students came out. I think to have an incredible game day atmosphere you need students. I hope that they will return. I think they will, but you want it to be obnoxious and crazy, and you want them to have such a fun time. I think that's been a goal for the program. My goal is that our tickets become a commodity and difficult to get, and I think that's a realistic goal.

"It's a great product; I think our marketing staff does a great job. We're in a volleyball community, so I hope it doesn't take the 13th-ranked team to be on the other side of the net for this place to be full. I think if you love volleyball it's a great atmosphere. You can be a Husker fan and come be a Creighton fan. We well take you. Come wear your blue and maybe you'll morph. It's not an us versus them.

"We want people to come and support these guys. I say this over and over, but you are supporting the most amazing women. I can't say enough about these young woman that I get to work with. They are all fantastic people, and again, what do we want out of student-athletes? We want great people, not just great athletes, and I think they epitomize what we want in NCAA sports."
Check out these highlights from tonight's match against #13 Kentucky! #GoJays #ContinueTheClimb #NCAAvb pic.twitter.com/vsqlznnNSl

— Creighton Volleyball (@CreightonVB) September 2, 2017
Comments
Tagged in: