Number 00: Benoit Benjamin
ED. NOTE: White and Blue Review's series "What's in a Number?" begins today with a look at the best player to wear #00 for the Jays, Benoit Benjamin. To read up on how we arrived at our choice, check out the introduction of the series. Or you can find the entire series here.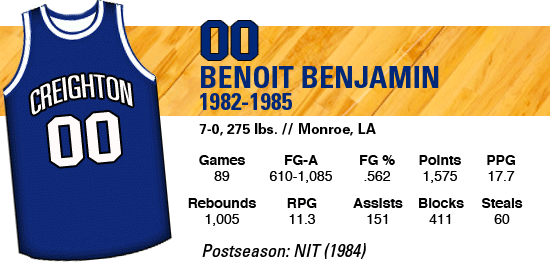 Before there was "Big Ben" Roethlisberger, there was the original Big Ben, and he played on the Hilltop for Willis Reed's Jays in the early 1980's. Benoit Benjamin, born in Monroe, Louisiana, came to Creighton as a 7'0″, 275 pound center, and left as the all-time leader for blocked shots in MVC history with a staggering 411 swats in three years. He owns the only three triple-doubles in Creighton history, recording double-digits in points, rebounds and blocks three times. A McDonald's All-American coming out of high school, Benjamin played with Brad Daugherty and Johnny Dawkins, who committed to North Carolina and Duke, respectively, on that coveted high school all-star squad.
His sophomore year, Benjamin averaged 16.2 points, 9.8 rebounds and 5.2 blocks per game. Though the team struggled, going 17-14 and 8-8 in the MVC, they advanced to the championship game of the MVC Tournament where they lost in overtime to 12th ranked Tulsa. Earning an NIT berth, they played host to the Nebraska Cornhuskers at the Civic Auditorium. In front of a packed house, the team slugged out a physical battle that saw Nebraska's All-Big Eight center Dave Hoppen go toe to toe with Benjamin. Both players finished with double-doubles, Hoppen with 25 points and 10 rebounds, Benjamin with 23 points and 14 rebounds. But it was Benjamin's absurd technical foul with 10 seconds to play in a tie game, resulting in the game winning free throws, that most people remember from the game. Indeed, in many people's eyes, that technical foul came to define his career, as it cost his team a postseason win over their in-state rivals.
In his junior year, which would be his last before leaving early for the NBA Draft, he had arguably the single greatest statistical season of any player in Creighton history. Benjamin averaged 21.5 points, 14.1 rebounds, 5.1 blocks, and 2.1 assists a game during the 1984-85 season, leading all of Division 1 in blocks and finishing second in D1 in rebounds (to Wichita State's Xavier McDaniel, ironically enough — yes, the MVC had the nation's two best rebounders that season). His 688 points scored that season rank as the third most all-time in Creighton history, his 451 rebounds rank fourth, and his 162 blocked shots rank number one. To put those blocked shot numbers in perspective, the second and third best seasons in CU history also belong to Benjamin (his 157 in 1983-84, and 92 in 1982-83) — and the fourth-best season is a distant 70 by Chad Gallagher in 1990-91.
But perhaps his craziest, and most impressive, stat is that Benjamin is tied for fifth all-time in NCAA history with 28 consecutive double-doubles, recording double-figures in both points and rebounds in every single game spanning the Nebraska NIT matchup in March of 1984 until a mid-February game the following season. The player he's tied with? Lew Alcindor of UCLA, later to be known as Kareem Abdul-Jabaar. For the record, the only players with more consecutive double-doubles are Oscar Robertson with 33, Jerry Lucas with 38 and Billy Cunningham with 40.
A two-time AP All-American, two-time All-MVC selection, and one of the MVC's 50 Greatest Players, Benjamin was drafted by the Los Angeles Clippers with the third overall pick of the 1985 NBA Draft. When Wichita State's Xavier McDaniel went with the next pick to the Seattle SuperSonics, it marked the first and only time two MVC players were lottery picks in the same season.
He played 15 seasons in the NBA, though he never duplicated his success from the Hilltop. Benjamin also played professionally in Europe, South America and (briefly) for the Harlem Globetrotters. While regarded in some circles as one of the biggest busts in NBA Draft history, that's as much a product of the players drafted around him than of Benoit's play in general — while he never blossomed into the superstar many projected he should be, he had a solid career where he finished in the Top 10 in blocks each of his first six seasons. In fact, comparing his numbers to those of a "Replacement Level" center, he was an above-average NBA center during his six seasons in Los Angeles.
Benjamin averaged 11.1 points and 7.6 rebounds per game as a rookie, and averaged a career-high of 16.4 points per game in 1988-89. His career year came in 1990-91, when he averaged a double-double by posting marks of 14.0 ppg and a career-high 10.3 rpg. He led the Clippers in blocked shots for five consecutive seasons, twice blocked a franchise-record 10 shots in a game and remains the club's career leader in blocks with 1,117.
Of course, numbers only tell part of the story with Benjamin. He also brought two left shoes to an exhibition game in 1986, then tried to play it off by wearing them. He flipped off a loudly booing crowd in L.A. upon returning with Seattle in 1991, having been traded to the Sonics that year. Mostly, he engendered the wrath of fans in every city he played in with aloof play, a bad attitude and a questionable work ethic. And he had the misfortune of being drafted third overall in one of the best NBA drafts of the 1980s, with two hall-of-famers and a handful of superstars drafted much later. Some of the players who were drafted that year: Patrick Ewing, Wayman Tisdale, Chris Mullin, Detlef Schrempf, Charles Oakley, Karl Malone, Joe Dumars, A.C. Green and Terry Porter.
He finished his NBA career with 9,223 points, 6,063 rebounds and 1,581 blocks in 15 seasons with the Clippers, Sonics, Lakers, Nets, Grizzlies, Bucks, Raptors, 76ers and Cavaliers.
25 years after his last game on the Hilltop, he remains in the discussion for the best big men to ever don a Creighton uniform. He's easily the best Jay to wear number double-zero, and highly touted newcomer Greg Echenique has his work cut out for him in trying to wrest that title away.
Career Statistics:
| Season | FG Pct. | Pts | Avg. | Reb | RPG | Assists | Blocks | Steals |
| --- | --- | --- | --- | --- | --- | --- | --- | --- |
| Totals | .562 | 1,575 | 17.7 | 1,005 | 11.3 | 151 | 411 | 60 |
| 1982-83 | .555 | 400 | 14.9 | 259 | 9.6 | 28 | 92 | 12 |
| 1983-84 | .540 | 487 | 16.2 | 295 | 9.8 | 55 | 157 | 21 |
| 1984-85 | .582 | 688 | 21.5 | 451 | 14.1 | 68 | 162 | 27 |
Comments
Tagged in: