Number 1: Justin Carter
ED. NOTE: White and Blue Review's series "What's in a Number?" continues today with a look at the best player to wear #1 for the Jays, Justin Carter. To read up on how we arrived at our choice, check out the introduction of the series. Or you can find the entire series here.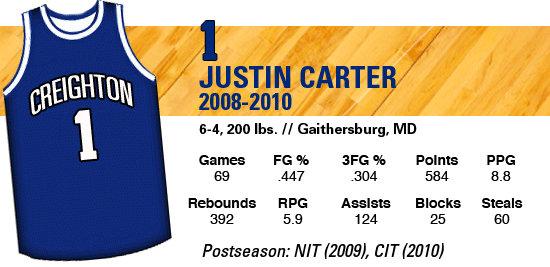 Our research indicates there have been just two players of note in Creighton history to wear number 1; one was the mercurial Jeffrey Day, while the other was Justin Carter. This was, surprisingly, a pretty tough choice — and among those I consulted, the opinion was decidedly split.
Carter averaged 8.8 points and 5.9 rebounds in two seasons while starting 64 of 69 games. Day averaged 4.0 points and 3.2 rebounds in two seasons playing in tandem with Anthony Tolliver (a combo that WBR's Creighton Otter gloriously dubbed "Jeffony Tolliday" on his old blog). The fact that Day played significant minutes on an NCAA Tournament and MVC Championship team is likely what swayed some to pick him over Carter, but head-to-head in individual numbers, Carter easily had the better career.
***
Jeffrey Day began his collegiate career in 2001 at the University of Washington, where as a freshman he played in 28 games, starting twice, averaging 2.8 points and 2.8 rebounds in just under 15 minutes a game. His 30 blocks were ninth best in the Pac-10 and the most ever for a Husky freshman. In his sophomore year, he got six starts, and averaged 3.9 points and 2.7 rebounds in 17.5 minutes. But he was struggling in the classroom, and he decided to transfer to Grossmont Community College in El Cajon, California — not to play basketball, but to focus on getting his academics in order. After spending the 2003-04 school year there, he transferred again to Creighton, where he was eligible to play immediately.
In his first season on the Hilltop, Day started in his first three games, which included the opening rounds of the Guardians Classic in Omaha. In Game Four, the Jays took on Missouri in Kansas City, and Anthony Tolliver got the start. With the exception of one mid-season game, Tolliver would start every game at center the rest of the season, and Day would come off the bench. Nonetheless, Day saw plenty of playing time, averaging 18.3 minutes per game. He led the team in blocks with 51, and showed a surprising passing ability, finishing fifth on the team with 30 assists. Averaging 5.7 points and 3.8 rebounds, Day also made 83% of his free throws. His defense was suspect, to be kind, and he was often a frustrating player — one that Dana Altman struggled to find the right buttons to push with. On one night, he'd block six shots, grab six rebounds and score eight points (a February 1 win at Wichita State). The next night, he'd have five ghastly turnovers, grab just three rebounds and nearly foul out (a February 5 loss to Missouri State).
Day had eight games with more than eight points, 12 games with three or fewer points, and two games where he failed to score at all. Likewise, he had six games with more than six rebounds, but six games with one rebound and two games with no rebounds. When Day was on, he was really on; when he was off, he was really off. In other words, the very definition of inconsistency.
Its hard to fathom now, but there was a time when Jeffrey Day and Anthony Tolliver were seen as largely interchangeable players — Day was the slightly better shooter, Tolliver was the slightly better rebounder, and both were suspect on defense. Statistically that year, Day averaged 5.7 points to Tolliver's 4.2, while Tolliver averaged 4.4 rebounds to Day's 3.8 rebounds. Combined, their stats equaled what a good center in the MVC would put up, and the interchangeability of them only made the name "Jeffony Tolliday" even more apt.
In 2005, Day's senior year, Tolliver made huge strides towards becoming an All-MVC player, while Day remained essentially the same player he'd always been. By early December, the Jeffony Tolliday two-headed monster ceased to exist and Day was relegated to a utility role, seeing time both at the 4 and the 5. Even with the added versatility, his minutes dropped to under 15 a game, his points scored dropped to 3.3 a game, his rebounds fell to 3.2 a night, and for the first time in his career (either at Washington or at Creighton), he averaged fewer than one block a game. The player who had once been interchangeable with Tolliver was now completely eclipsed and overshadowed by him, and the two were rarely mentioned in the same sentence — much less combined into one funky name.
Day ended his career with a relatively quiet 18 minutes in the NIT loss to Miami, recording two points and three rebounds. For his career, he finished with 293 points, and 161 rebounds in 64 games. As for Tolliver, he eclipsed both of those totals…in each of his junior and senior years, putting an end to the comparison forever.
Jeffrey Day Career Statistics:
| Season | FG Pct. | Pts | Avg. | Reb | RPG | Assists | Blocks | Steals |
| --- | --- | --- | --- | --- | --- | --- | --- | --- |
| Totals | .425 | 293 | 4.5 | 226 | 3.5 | 53 | 75 | 32 |
| 2004-05 | .444 | 194 | 5.7 | 130 | 3.8 | 30 | 51 | 21 |
| 2005-06 | .370 | 99 | 3.3 | 96 | 3.2 | 23 | 24 | 11 |
***
Coming to Creighton as a Junior College transfer from Fullerton College, Justin Carter became the first player since Ryan Sears to start every game of his first season. He averaged 8.1 points and 5.5 rebounds, and was the first JuCo to take the team rebounding title in his first year at CU since Chuckie Johnson in 1995-96. As many players did under Dana Altman, Carter struggled offensively for his first few games, as he missed his first 15 three-point shots. He would make 14 of his next 37, however (38%), to finish the season shooting 26% from downtown.
As the season progressed, Carter emerged as one of the team's best offensive weapons, and in conference games, he averaged 9 points and 5.4 rebounds. Highlights included the MVC opener against Wichita State, when he scored 11 points, grabbed 7 rebounds, blocked his first shot and hit his first three-pointer. In an overtime win against rival Southern Illinois on January 14, he had 9 points and 8 rebounds, and scored 17 points with 6 rebounds in a win on the road against Northern Iowa.
In the NIT, he had 14 points and 6 rebounds in opening-round win over Bowling Green, and hit a go-ahead three-pointer with 1:46 to play. In their second round loss to Kentucky, he set a Qwest Center record with 15 rebounds, adding 8 points and one big steal.
As his senior year approached, Carter was looked upon to be the team leader and expected to improve on both ends of the floor. His play in practice and their first exhibition game indicated that was happening. Then came a gruesome knee injury in their final exhibition game, when an unseasonably warm day melted the hockey ice under the floor and caused excess condensation to collect on the court — Carter slipped and suffered an injury that would slow him the rest of the season.
He missed the first three games of the year, including a road game at 21st ranked Dayton, and returned in Orlando at the Old Spice Classic without his trademark dreadlocks. In an epic overtime tussle with #15 Michigan, Carter had the game of his career, scoring 21 points on 10-15 shooting, creating shots off the dribble and frustrating Michigan's defense. He added 8 rebounds, and looked like the knee injury was a thing of the past. The very next day, he struggled against Xavier, scoring 10 points and grabbing 4 rebounds, and the worries re-emerged. It would be a storyline that would play itself out over and over all season long: inconsistent play from game to game.
For example, he grabbed more than 8 rebounds 11 times in his senior year, but he also grabbed 4 or fewer rebounds 8 times. He scored 10 or more points 14 times, but he scored 4 or fewer points in 7 games — including going scoreless in a ghastly home loss to Northern Iowa. That sort of inconsistency, from being outstanding one game to nearly invisible the next, defined his senior season, and was a microcosm of the team as a whole.
Carter had 10 points and 13 rebounds in a quarterfinal loss to Bradley in St. Louis — one of the few bright spots on an otherwise bleak day — although he did shoot 3-12 from the floor. In the CIT, he had 10 rebounds in each of the first two games, and 8 in the semifinal loss to Missouri State; he scored 4, 16 and 7 points in the three games, continuing his hot-or-cold nature.
In his two season career, he finished with 584 points and 392 rebounds, and played in both the NIT and the CIT. While his senior season was inconsistent, much as Jeffrey Day's had been, Carter at his best was better than Day at his best, and he was better more often. Therefore, we consider Justin Carter to be the best player in Creighton history to wear #1.
Justin Carter Career Statistics:
| Season | FG Pct. | Pts | Avg. | Reb | RPG | Assists | Blocks | Steals |
| --- | --- | --- | --- | --- | --- | --- | --- | --- |
| Totals | .447 | 584 | 8.8 | 392 | 6 | 144 | 25 | 60 |
| 2008-09 | .451 | 283 | 8.08 | 192 | 5.5 | 62 | 10 | 39 |
| 2009-10 | .444 | 301 | 9.71 | 200 | 6.5 | 62 | 15 | 21 |
Comments
Tagged in: