Number 11: Johnny Mathies
ED. NOTE: White and Blue Review's series "What's in a Number?" continues today with a look at the best player to wear #11 for the Jays, Johnny Mathies . To read up on how we arrived at our choice, check out the introduction of the series. Or you can find the entire series here.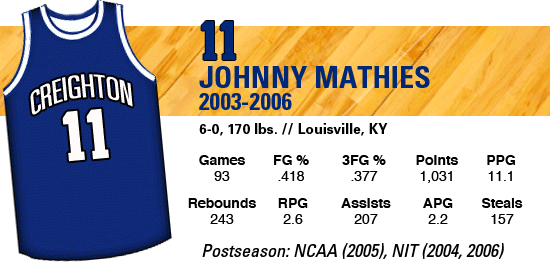 Johnny Mathies was recruited to Creighton as a two-guard, and they tried their darnedest to play him there. They really did. And he excelled when playing the off-guard position, giving them a player with dynamic slashing ability they didn't otherwise possess. However, injuries to other players often dictated that he play the point; first, it was Tyler McKinney's eye injury forcing Mathies to slide over to the point during his first year on the Hilltop in 2003, and then it was Josh Dotzler's knee injury in his senior year of 2006 doing the same. Both times Mathies did it, no questions asked, even though it was obvious to everyone that it wasn't his strong suit. The team needed him to do it, and he did.
Doug Swenson, the Jays' outstanding center from 1997-99, also wore #11 proudly. The first dominant post player of the Altman Era, Swenson brought a farmhand toughness to his late-nineties squads and scored 683 points with 282 rebounds in just two seasons on the Hilltop. An indispensable piece of the 1999 NCAA Tournament team that upset Louisville in the first round of the tourney, Swenson is looked upon fondly by longtime fans. Ditto for James Farr, another Jays great who wore #11. Farr was the point guard on Tony Barone's first NCAA Tournament team in 1989, and scored 754 points in two seasons. His 155 assists during that 1989 NCAA year are the seventh most in a season for any Jays player in history.
But it was Johnny Mathies who accomplished the most while wearing that number; he's not only the best to wear #11, he might just be one of the best to ever play basketball on the Hilltop, period. He ranks 30th all-time in scoring, 6th all-time in steals, and became a fan-favorite during the first three years of the Qwest Center, when the fanbase was rapidly expanding. But more than stats, Mathies just plain made plays — whether it was creating his own shot or setting up a teammate, Mathies made things happen.
His first season, in 2003-04, Mathies averaged 7.8 points, 1.8 assists and 1.6 rebounds while playing significant minutes in all 29 games. He scored 13 points in his debut, a game against San Diego that also marked the first-ever game played at Qwest Center Omaha; those 13 points led the team, making him the first Jay to do that in his first game since Matt Roggenburk in 1986. When he followed up that performance with 10 points against St. Bonaventure, he became the first Jay to score double-figures in his first two games since Doug Swenson in 1997. 13 of his first 22 three-point attempts went in, good for 59.1% — a stat that endeared him early on to Jays fans.
And when starting point guard Tyler McKinney went down with an eye injury after the Wyoming game on December 22, it was Mathies who was tabbed to take over at point. The team was 8-0 and ranked in the Top 25 at the time, but struggled over the final 21 games — Mathies was not a natural point guard, and struggled to run Altman's offense. He brought a very different look to the point position than Jays fans were used to seeing from Altman's point guards, but it was effective. And he was clutch: he hit the game-winning free throw with 1.4 seconds left in a win at Illinois State on January 7, and made two free throws with 7.2 seconds left to ice a 74-70 win on the road against Evansville on February 1. He led the team in steals with 41, and had four in one game against Wichita State on March 1. In the season-ending NIT loss to Nebraska, Mathies gave Jays fans a taste of his knack for having great postseason performances by leading the way with 15 points, a season-high five rebounds and four steals.
In Mathies' junior year, he slid back over to his more comfortable two-guard position and became the team's second leading scorer, averaging 11.8 points per game, while leading the team in steals with 59. His season was full of outstanding performances, almost too many to mention, but I will do my best:
He had 18 points during an amazing eight-minute stretch of Creighton's huge win over Missouri in the semifinal of the Guardian's Classic;
He had 17 points, four rebounds and three steals in a 73-69 win over Wichita State on February 1;
He had 17 points and three assists in a 83-82 win over Northern Iowa on February 9;
He had 15 points, including the first eight of the second half during a game-changing 13-0 run, in a road win over Wichita State on February 16;
And he scored a career-high 22 points with three assists against Evansville on February 22.
In the MVC Tournament, Mathies had one for the ages, including making a school-record 13-15 free throws in their semifinal win over Wichita State. He was named the MVP of the tournament, averaging 13.7 points, 4.0 rebounds, 3.0 assists and 2.7 steals in the three wins. Then in the NCAA Tournament, he had 16 points on 5-7 shooting, and gave West Virginia fits with his ability to dribble penetrate. He sat on the bench most of the second half with foul trouble, and when he fouled out with less than two minutes to play, it tipped the scales in the Mountaineers favor. They would win when Tyrone Sally blocked Nate Funk's three-point attempt with 7 seconds remaining, followed by Sally racing downcourt for a slam dunk at the buzzer.
Mathies' senior year began with him playing the two-guard next to freshman Josh Dotzler, and ended with him once again playing the point guard after a ghastly knee injury that ended Dotzler's season in early February. The season was a mixed bag, statistically. He scored the most points of his career, averaging 13.5 per game, but shot significantly worse percentage wise — dropping to 38.3% after making baskets at a 47.2% clip the year before. He made seven more three pointers than the year before, but attempted a whopping 60 more of them, leading to a drop in percentage from 43% to 35%. He remained consistent at the free throw line, converting at a 76.4% rate. His 81 assists were the most of his career, but his 84 turnovers were the most of any player in the Dana Altman Era.
When he had great games as a senior, though, he had GREAT games:
He scored 24 points in 42 minutes of the Jays 91-90 OT win over Dayton, going 8-12 from the floor and 3-4 from behind the arc.
He scored 29 points on 5-8 from three-point range in a 70-44 win over Nebraska, playing 36 minutes as the Jays were shorthanded and dressed just nine players. He added four rebounds, three steals and two assists.
He had 32 points on 6-10 from three-point range in a 82-69 win over Drake in Omaha, and also had five rebounds and four steals.
He scored 26 in a 77-58 win over Evansville, making 10-16 from the field and 3-6 from long range, adding four rebounds and two steals.
He scored 18 points and took away an amazing 7 steals in a game against Indiana State, the latter being the third-most in school history.
It was an up-and-down year for both Mathies and the team, as he also had nine games with 7 points or fewer, and the team failed to make it back to the NCAA Tournament. They lost in the quarterfinals of the MVC Tournament to Bradley as Mathies shot just 2-13 from the floor with zero assists and two turnovers, and then lost to Miami in the first round of the NIT as Mathies shot 7-16 from the floor, 4-11 from behind the arc, but had two assists and three turnovers.
He finished his career with 1,031 points, good for 30th all-time in school history and for his career he shot 41.8% from the floor, 37.7% from three-point range, and 76.3% from the free-throw line. By virtue of those stats, his plethora of fantastic performances in big games, and his sheer playmaking ability, he edges out Doug Swenson and James Farr to be the best player in Creighton history to wear #11.
Career Stats:
| Season | FG Pct. | Pts | Avg. | Reb | RPG | Assists | Blocks | Steals |
| --- | --- | --- | --- | --- | --- | --- | --- | --- |
| Totals | .417 | 1,031 | 11.1 | 243 | 2.6 | 207 | 10 | 157 |
| 2003-04 | .396 | 226 | 7.8 | 45 | 1.6 | 53 | 1 | 41 |
| 2004-05 | .472 | 400 | 11.8 | 94 | 2.8 | 73 | 6 | 59 |
| 2005-06 | .383 | 405 | 13.5 | 104 | 3.5 | 81 | 3 | 57 |
Comments
Tagged in: