Number 12: Josh Dotzler
ED. NOTE: White and Blue Review's series "What's in a Number?" continues today with a look at the best player to wear #12 for the Jays, Josh Dotzler . To read up on how we arrived at our choice, check out the introduction of the series. Or you can find the entire series here.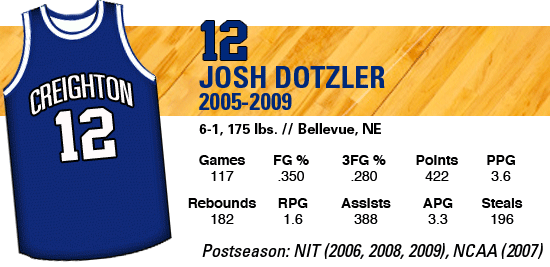 Every Creighton team during both the Tony Barone and Dana Altman eras that has gone to the NCAA Tournament featured a player wearing #12 — the only jersey number to hold this distinction. Matt Petty wore #12 for both of Tony Barone's NCAA berths, but had his best year for Rick Johnson in 1993. Corie Brandon wore #12 for the 1999 NCAA team, but played sparingly as Ryan Sears' backup at point guard. Alan Huss wore #12 for both the 2000 and 2001 NCAA Tournament teams. Ismael Caro wore #12 for the 2002 NCAA team, played huge minutes as Tyler McKinney's primary backup, and then transferred after the season. John Dugan, a freshman walkon who never played a minute and was only in the program that one year, nonetheless wore #12 during the 2002-03 season. Dustin Sitzmann originally wore #12 before switching to his familiar #5, and wore that number for the 2005 NCAA Tournament team. And Josh Dotzler wore #12 on the 2007 NCAA team. (This is a good omen for the current group, incidentally; Jahenns Manigat, the freshman point guard from Canada, will wear #12.)
But who's the best player to wear that number? Its a tough call, because only one of the players listed above qualified for the 500 point/200 rebound career totals baseline — but universally, our panel of experts (rightfully, in my opinion) ignored statistics and asked to make an exception to the rule for #12.
****
Anyone who suffered through the Rick Johnson Era likely remembers Matt Petty as one of the lone bright spots in an otherwise disastrous three-year stretch. His senior year in 1992-93 was good enough to earn him second-team All-MVC honors despite playing for a team that finished 8-18 and dead last in the league at 6-12, and was the best individual season of the Rick Johnson Era. But was one spectacular season good enough to earn him the nod as the best player in school history to wear #12?
Recruited out of Indiana by Tony Barone, he was hailed for his shooting ability and basketball acumen. "Matt is probably the epitome of an Indiana basketball player," Barone said of him. "He loves the game, born and raised in the game. There are no outside distractions in his life. He is a big-time shooter. When you look at Matt, you see the kid in 'Hoosiers.'"
Indeed, he was a two-time all-state player in high school, leading his team to the sectional title in 1989 with a buzzer-beating three pointer. Upon arriving on the Hilltop, though, Petty struggled to get on the floor for a veteran Bluejay team, and when he suffered a stress fracture in his foot during the last week of practice in October, he was out of action under mid-December.
He made his debut against Nebraska on December 14, and would be primarily a bit player off the bench of his first season. Petty did have his moments, though, including making a clutch three-pointer late in a double-overtime win over Iowa State in Ames. By early February, he'd broken into the starting lineup, and responded by becoming the team's best marksman from downtown, with his best game being a 15-point effort against Drake in which he was 4-5 from three-point range.
In his sophomore season, Petty was a starter most of the season for the Jays' MVC regular season champion team, and though playing in the shadow of Bob Harstad and Chad Gallagher, was a key three-point specialist. He'd play the same role the next season, but the departure of Coach Barone left his successor, Rick Johnson, to try and build his program around Petty and Duan Cole. The first year of the Johnson Era, the senior Cole did the heavy lifting on a team that finished 9-19 and 7-11 in the MVC. The next year, without Cole, it would be Petty that would emerge to lead the team.
Petty was charged with shooting a ton, primarily because there just wasn't anyone else with much talent to do it, and he responded by leading the team in virtually every offensive statistical category. Petty averaged 17.2 points per game, making 55-121 three-pointers, good for 45.5% — which is still the ninth-best season mark in school history. Overall, he made 148-308 (48.1%) from the floor. He also showed a knack for drawing fouls and then hitting the free throws, going 95-112 (84.8%) from the line — a mark that ranks as the 10th best in school history. From January 4 to February 4 of 1993, he made 22 straight free throws, which was the second-longest streak in school history at the time (it ranks as the sixth best today). Petty also averaged 3.1 assists per game to lead the team.
Over half of his career points (851) came during that senior season (446), as he starred for a terrible team that finished dead last in the league — the first Jays team to do so since 1982-83, and thankfully, also the most recent to do so (the next two seasons, they'd finish tied for 9th). It was the low point of the Rick Johnson Era, which is saying something considering his three-year record of 24-59 and winning percentage of .289 are the worst in school history by huge margins. Matt Petty was one of the only things that made watching the Jays even remotely tolerable during that awful 1992-93 season, which is enough in my book to get him at least some consideration for the best to wear #12.
****
Similarly, Josh Dotzler was a highly-touted prospect coming out of high school, having been named a two-time Nebraska Player of the Year by the Omaha World-Herald and MVP of the State Tournament both his junior and senior years. He gave a verbal commitment to Creighton during his sophomore season, the Jays' earliest commitment ever at the time, but after winning the MVP of two summer AAU tournaments, he had coaches from several BCS teams trying to change his mind. But he kept his word, and enrolled at CU in 2005.
During his final two years of high school, Creighton fans watched him dominate local gyms, deflect offers from big name schools, and salivated for the day when he would succeed Tyler McKinney and Ryan Sears as "The Next Great Point Guard." Expectations were huge, yet he managed to exceed them, becoming their most indispensable player by late January of his freshman season. Then he tore his PCL, and he was never the same player again. He spiraled from a fan favorite into a popular whipping boy among some of the more rubeish fans who mistakenly (and foolishly) blamed Dotzler for everything from Jays losses to Global Warming, and he finished his career as a role player who kept his starting job, but played fewer minutes than his backup.
Its easy to forget just how brilliant his freshman year was up until the point where he tore his PCL. He was the team's motor; so much so, that when discussing the team's at-large chances for the NCAA tournament, pundits said it hinged on Dotzler's health and ability to play in the tournament, because with him they were definitely worthy but without him, they definitely were not. He was that good, and that important to the team.
Dotzler played in 23 games, starting all but the first three, and averaged 32.7 minutes per game. He was second in the MVC in steals per game (2.3), third in assists per game (4.2), and was sixth in assist/turnover ratio (1.6). Dotzler ranked 41st nationally in steals, and had at least one in each of the team's first 14 games. Perhaps most surprisingly, given the player he became: he hit 17-43 three point attempts (39.5%), and shot 41.5% overall while averaging nearly 7 points a game. He was like Ryan Sears Lite.
And then Southern Illinois came to town. The notoriously rough-and-tumble Salukis liked to play physical defense for the entire length of the court, and usually saved their roughest stuff for the Jays. Late in the first half, Dotzler brought the ball up court, was fouled hard, and collapsed to the court. He'd suffered what was immediately obvious to most spectators to be a serious injury, and was assisted off the floor. No foul was called. It was February 11, 2006, and his once promising career would never be the same.
The partially-torn PCL, which is rare among basketball players and is normally a football injury (which tells you something about the ferocity of the non-foul), robbed him of much of his quickness and leaping ability. During his comeback the next season from the PCL tear, he dislocated fingers on both hands during a game against Valparaiso in the Rainbow Classic on December 21, an injury that required more surgery. Now fighting decreased quickness and injuries to both hands, his shot developed a hitch that he never seemed to be able to fix. When the shots stopped falling, his confidence seemed to dissipate. Where as a freshman he was aggressive driving to the basket and had no hesitation in shooting either a mid-range jumper or a three-pointer, he now actively tried NOT to shoot. Defenses started sagging off of him, daring him to shoot. The rare times he did, the shots rarely went in. It was an astonishing thing to watch.
After making 17 three-pointers before the injury, Dotzler would make just 15 more the rest of his career in three-plus years. After shooting 39.5% from three-point range before the injury, Dotzler shot a ghastly 16.0% as a sophomore (4-25), 13.0% as a junior (3-23), and 34.8% as a senior (8-23).
After shooting 41.5% from the field before the injury (51-123), he dropped to just 25.0% as a sophomore (13-52). His rebounds, assists and steals per game, all of which had been among the best in the MVC, dropped precipitously post-injury. And his minutes per game, which had been 32.7 pre-injury, never averaged higher than 21 minutes per game post-injury.
Despite all of that, he continued to play solid defense, especially in his junior and senior years, when he'd learned to play within the limitations his diminished quickness afforded him. Unfortunately, his defensive prowess and leadership went unrecognized by many fans until the season after he'd graduated, when they realized what the team was missing was exactly what Dotzler had provided. It was vindication, even if it came after his career had ended.
In his senior season, he had 70 steals, which ranks as the fourth most in a single season in CU history. His 196 career steals ranks second most in school history behind Ryan Sears. His 388 career assists are sixth most in school history. Despite being a shell of the player on offense after the PCL injury, he remained a great defender and floor general, and a team leader on both ends of the floor. And he's the best player in CU history to have worn #12.
Career Stats:
| Season | FG Pct. | Pts | Avg. | Reb | RPG | Assists | APG | Steals |
| --- | --- | --- | --- | --- | --- | --- | --- | --- |
| Totals | .350 | 422 | 3.6 | 182 | 1.6 | 388 | 3.3 | 196 |
| 2005-06 | .415 | 147 | 6.4 | 47 | 2.0 | 97 | 4.2 | 52 |
| 2006-07 | .250 | 56 | 2.2 | 22 | 0.8 | 52 | 2.0 | 22 |
| 2007-08 | .304 | 113 | 3.4 | 59 | 1.8 | 118 | 3.6 | 52 |
| 2008-09 | .383 | 106 | 3.029 | 54 | 1.5 | 121 | 3.45 | 70 |
Comments
Tagged in: