Number 14: Duan Cole
ED. NOTE: White and Blue Review's series "What's in a Number?" continues today with a look at the best player to wear #14 for the Jays, Duan Cole. To read up on how we arrived at our choice, check out the introduction of the series. Or you can find the entire series here. We did not forget #13, by the way — no players in CU history have worn that numeral and scored 500 points or grabbed 200 rebounds, the baseline for inclusion in the series.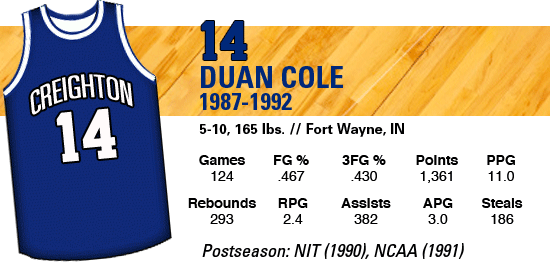 Fans who have only followed the Jays for a few years may look at #14 as belonging to Booker Woodfox, the 2009 Larry Bird MVC Player of the Year Award winner, owner of the best three-point shooting percentage in school history, and who in just two years climbed to 7th on the all-time CU list for three-pointers made. Its an understandable opinion to possess. But if you look past the shiny three-point shooting percentages and go back a couple of decades, you'll find another #14 who was vitally important to one of the greatest Creighton teams ever. He may not have been the headliner, but their success — including a first-round NCAA win over New Mexico State — would absolutely not have been possible without his leadership from the point guard position. It could even be argued that the success of Creighton's Dynamic Duo, Chad Gallagher and Bob Harstad, would not have been as massive without Cole running the show.
***
23 years ago, coach Tony Barone brought in what would later become one of the best recruiting classes ever assembled by a Creighton coach, a class headlined by Chad Gallagher, Bob Harstad and Duan Cole. Combined, those three players would score an astounding 5,454 points and grab 2,310 rebounds. They went 80-47 in four years, won two regular season MVC titles, and had two NCAA Tournament berths and one NIT appearance. Cole injured his knee early in his sophomore season and redshirted, leaving him unable to contribute to the 1989 NCAA Tournament team, but he came back to run the point on both the 1990 NIT and 1991 NCAA teams. And after Harstad and Gallagher graduated (and Barone left for Texas A&M), he had the stage all to himself his senior year under new coach Rick Johnson, and was the lone bright spot on a disastrous team.
A unanimous selection to both the AP and the UPI All-State teams in the state of Indiana — no small feat in that hotbed of hoops talent — Cole was also named "Player of the Year" following his senior year. He played sparingly as a freshman on the Hilltop, averaging 3.7 points, 1.7 rebounds and 1.9 assists in 457 minutes; he showed flashes of his future offensive prowess, though, cashing in on 40% of his three-point attempts (6-15).
In the fall of 1988, the Jays were picked to finish 7th in the MVC in Tony Barone's fourth year as head coach, with the media unimpressed with talent assembled on the Hilltop by Barone. Cole was expected by people around the program to challenge incumbent James Farr for the starting point guard position, but just three games into the season, Cole tore the anterior cruciate ligament in his right knee, sidelining him for the rest of the season. He would get a medical redshirt, and his teammates shocked the prognosticators by finishing a lot better than their 7th place prediction. As they went 20-11 and 11-3 in the MVC to win the regular season crown, the MVC Tournament title, and earn an NCAA Tournament bid, Cole rehabbed in hopes of coming back strong the next year.
In 1989, the Jays hoped Cole could take over as the point guard as two-year starter Farr had graduated and become a grad assistant for Barone on the Jays bench. Cole got the starting nod on opening night, but struggled — he scored just two points in 11 minutes of action, and earned the wrath of Coach Barone as the Jays went the first 6:30 of the game without scoring, shot just 25% from the floor and fell behind early to lowly Coppin State. Latrell Wrightsell came off the bench and sparked the team to a comeback, though it was too little too late to change the outcome. It did earn Wrightsell the starting job, and Cole a move to the sixth man role, however.
Cole struggled in that role, scoring in double-figures just once in the next 12 games, and averaged just 12 minutes per contest. He struggled so much, in fact, that he played just four minutes in the first game of the Rainbow Classic in Honolulu in late December, and never got off the bench for the second game. Upon returning to the mainland, something clicked for Cole, however, and he never looked back. In a game against Tulsa, he scored 10 points and dished out five assists off the bench, and earned back the starting job from Wrightsell. He would not relinquish it again. Three nights later, he scored 18 points on 3-5 shooting from behind the arc in a game at the Civic against Indiana State, and had 7 assists in a big win over the Sycamores. The next week, Cole again led the way in a double-overtime tussle against Iowa State in Ames, scoring 10 points with 12 assists, and hitting a clutch three-pointer to tie the game at 80 with :39 left in regulation, as the Jays upset the Cyclones 99-94.
As the season wore on, Coach Tony Barone told media that as Cole went, so did the Jays — a strange statement, perhaps, given that the team had two All-Valley players not named Duan Cole — but it was the truth. In the season's final 18 games, the Jays went 12-6. In their wins, Cole averaged 13 points on 49% shooting from the floor, 45% from long range, with nearly 7 assists a game. In their losses, Cole averaged just 8 points on 41% shooting, 38% from three-point range, with under 4 assists a game. He was far from their best player, but he may well have been their most important. Their energy level was different when Cole was firing on all cylinders, a fact not lost on the voters who named him honorable mention All-Valley after the season. The team won one more game than they had the year before, going 21-12, but were relegated to the NIT where they lost to DePaul.
His junior year, Harstad and Gallagher were both seniors, and the level of optimism around the program was at near-record levels. In the first 69 years of CU hoops, just once had they won 20 games in back-to-back years, and only three times had they played in the postseason in back-to-back years. In Barone's first five years, he accomplished both marks, and for Year Six, he outlined their goal in a simple slogan: "20-20-20 Vision", meaning 20 wins for a third straight year.
Cole picked up where he left off the year before, increasing his scoring average to 13.8 points per game, dishing out more assists per game, cutting down on his turnovers, and setting what was then the best three-point shooting percentage in a season by hitting 47.0% of his shots (Kyle Korver and Booker Woodfox would both later eclipse the mark). He continued to be the spark fueling All-Valley players Harstad and Gallagher, as he dished out the assists that added to their offensive legend.
He also had one of the greatest MVC Tournaments in school history, scoring the fourth-most points ever in a single tournament — 52 points in the three games, earning All-Tournament honors. Cole then went on to lead the Jays to a first-round NCAA Tournament upset of 15th ranked and 6th seeded New Mexico State with 17 points on 3-4 shooting from long range, adding 4 assists and 2 steals, and was on the floor for all but three minutes of the contest.
After the season, Harstad and Gallagher graduated, and Barone left to take the Texas A&M head coaching job. Cole's senior season was an individual triumph but a team disaster, as Rick Johnson's first Jays team stumbled to a 9-19 record (7-11 in the MVC). Cole averaged 19.2 points per game, shot 49.9% from the floor, 43% from three-point range, and averaged almost four rebounds a game. He was the lone bright spot in a dismal season, and his imminent departure pointed towards bleak days ahead on the Hilltop.
For his career, Cole finished 15th in school history with 1,361 points, had the most three-pointers made in CU history at the time of his graduation, has the fourth most steals in school history, is seventh all-time in assists, is seventh all-time in three-point percentage, and is one of just a handful of Jays with a 500-point season (scoring 538 in 1991-92). For a player who was rarely the best on his team, the Bluejay record book is littered with his name, and the best team of the Tony Barone Era would not have been nearly as good without him.
While Booker Woodfox had one all-time great season and is one of a select few Jays to have been named MVC Player of the Year, he was basically a one-dimensional player — granted, he made three-pointers at a record clip, so that one dimension was phenomenal — but still. He wasn't a terribly proficient passer, he didn't get many rebounds, and he was also frequently a liability on defense. He also never played in an NCAA Tournament. Yes, he made tons of three-pointers and holds the all-time CU record for accuracy. Yes, he hit the buzzer beater against Wichita State in the 2009 MVC Tournament, a shot for which he will forever be remembered. But for anyone who watched Duan Cole, its simply impossible to put Woodfox ahead of him as the best to wear #14. That's not a knock on Woodfox. Cole was just that good, and just that important.
Career Stats:
| Season | FG Pct. | Pts | Avg. | Reb | RPG | Assists | Blocks | Steals |
| --- | --- | --- | --- | --- | --- | --- | --- | --- |
| Totals | .467 | 1,361 | 11.0 | 293 | 2.4 | 382 | 23 | 186 |
| 1987-88 | .379 | 112 | 3.7 | 51 | 1.7 | 57 | 1 | 26 |
| 1988-89 | .300 | 7 | 2.3 | 4 | 1.3 | 5 | 1 | 4 |
| 1989-90 | .451 | 264 | 8.5 | 65 | 2.1 | 128 | 4 | 42 |
| 1990-91 | .471 | 440 | 13.8 | 75 | 2.3 | 129 | 10 | 44 |
| 1991-92 | .499 | 538 | 19.2 | 98 | 3.5 | 63 | 7 | 70 |
Comments
Tagged in: