Number 15: Kellen Miliner
ED. NOTE: White and Blue Review's series "What's in a Number?" continues today with a look at the best player to wear #15 for the Jays, Kellen Miliner. To read up on how we arrived at our choice, check out the introduction of the series. Or you can find the entire series here.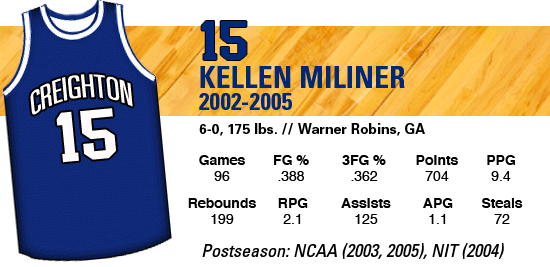 There haven't been many players to wear #15 at Creighton — only one has scored more than 400 points in his career, and its Kellen Miliner, a solid if unspectacular bench player on two NCAA Tournament teams in the mid-2000s. Most Jays fans probably remember him as the player who hit the buzzer-beater in Lincoln to take down the Huskers in 2004, and indeed, if you're only going to be remembered for one thing, that's a pretty good thing to be remembered for.
Miliner played JuCo ball for one season at Northern Oklahoma College in Enid, Oklahoma, where he was a well-rounded player who averaged 17.1 points, 3.7 rebounds and 2.5 assists per game. He could light it up from outside, connecting on 40.8% of his three-point attempts (82-201), and was nearly automatic at the line, shooting 82.4% (131-159). The program was in its first year, and thanks largely to Miliner, went a respectable 17-15. He was awarded first team All-Region honors, as well as being named to the National Dean's List of outstanding students, and came to the Jays in the fall of 2002.
In his very first game at CU, he got substantial playing time in the second-biggest blowout in program history, a 106-50 thrashing of Texas-Arlington in front of 4,076 at the Civic. Miliner scored 13 points in 20 minutes that night, but found minutes hard to come by on that talented squad. He made the most of what minutes he did get, though, scoring 11 in a win over BYU in December, and again scoring 11 against Delaware State later that month. In the New Years Eve classic at Xavier, lost in the shuffle of Kyle Korver's brilliance was Miliner hitting two clutch free throws with 10.6 seconds to play that tied the game. Those free throws would be a preview of things to come: before his career was through, Miliner would become a reliable scorer late in games, both from the field and at the line.
He played 10 or more minutes throughout the non-conference slate that first season, but as the MVC schedule heated up, he disappeared — his minutes shrank to less than five per night, on average, and he did not make a field goal in the team's last ten games.
His junior year, Miliner saw his playing time increase significantly with the departure of Kyle Korver, DeAnthony Bowden and Larry House, and he took advantage. Coming off the bench in all 29 games, Miliner averaged 9.8 points, 2.5 rebounds and 1.4 assists a game, and was named to the MVC All-Bench Team for his efforts. He made the most three-pointers on the team with 50, and his 40.7% accuracy rate from downtown was good for third best on the team — and sixth best in the MVC. He was also seventh in the MVC in free-throw percentage (80.6%) and made 19 straight from December 10 to January 21. In conference play, he averaged 10.9 points per game and played an average of 21 minutes off the bench.
Season highlights included a 20 point night at Evansville, in which he drained 4 three-pointers; a 22 point effort at Bradley on 7-11 shooting; dishing out five assists versus no turnovers in 31 minutes at Wichita State; and a 7 rebound, 4 assist game at home versus Evansville.
Miliner's senior year saw his numbers dip slightly across the board — his points per game slipped to 9.4, his field goal percentage dropped to 38%, his three-point accuracy fell to 36.9%, and even his usually steady free throw shooting dropped off to 73.3%. He had some standout games, though, and that his averages dipped is more a factor of his inconsistency than his talent.
Against Xavier in Cincinnati, he had 12 points on 5-7 shooting. He had 21 against Kent State on 4-6 from behind the arc, with two rebounds and two assists. He made three treys each in back-to-back games in late January, scoring 13 and 15 against Illinois State and Bradley, respectively, adding 4 rebounds and 2 steals in the Bradley contest. And then there was the Nebraska game in Lincoln, the game where Miliner etched his name into Bluejay lore for eternity.
On a day when both teams struggled to score, Miliner was red-hot, scoring 20 of the Jays 50 total points. He made 7-13 overall and 4-7 from behind the arc, and with the score tied at 48 in the waning moments, Tyler McKinney found an open Miliner in the corner. Miliner made a shot fake and dribbled to his right, where he pulled up from about 15 feet and hit nothing but net with 0.7 seconds remaining to give the Jays the 50-48 win.
He finished his Creighton career with 704 points, 199 rebounds and 125 assists, and was a solid contributor in his three seasons. But its the shot against Nebraska he's most remembered for.
Career Stats:
| Season | FG Pct. | Pts | Avg. | Reb | RPG | Assists | APG | Steals |
| --- | --- | --- | --- | --- | --- | --- | --- | --- |
| Totals | .388 | 704 | 7.3 | 199 | 2.1 | 105 | 1.1 | 72 |
| 2002-03 | .313 | 100 | 3.0 | 42 | 1.3 | 21 | 0.6 | 17 |
| 2003-04 | .421 | 284 | 9.8 | 73 | 2.5 | 42 | 1.4 | 25 |
| 2004-05 | .389 | 320 | 9.4 | 84 | 2.5 | 42 | 1.2 | 30 |
Comments
Tagged in: