Number 20: Larry House
ED. NOTE: White and Blue Review's ongoing series "What's in a Number?" continues with a look at the best player to wear #20 for the Jays, Larry House. To read up on how we arrived at our choice, check out the introduction of the series. Or you can read about the players you might have missed by checking out the entire list.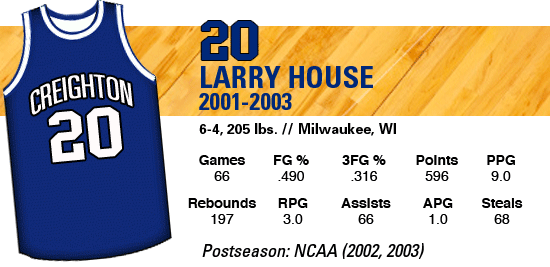 You would think that the #20 would be a common one worn by lots of great players, but yet, there have been just two players of note to don the number for the Jays. One was a solid player on Tony Barone's first NCAA Tournament team in 1989, and went on to coach conference rival Illinois State. The other was an indispensable player on two NCAA Tournament teams in 2002 and 2003.
Porter Moser was a walk-on from Naperville, Illinois who for whatever reason went unnoticed by most D1 coaches despite being named All-Conference in the West Suburban Catholic Conference three times, and despite being named All-Area twice. It certainly wasn't because he played on a low-profile team; his school, Benet Academy, went 70-14 in his three varsity years and won their conference all three years. And it certainly wasn't because he lacked individual honors; he was named Most Valuable Player of the conference after his senior year. He was simply the classic case of a kid who most coaches thought couldn't play big-time college hoops, and he needed someone to take a chance on him.
Enter Tony Barone, whose Chicago recruiting ties convinced him to welcome Moser to Creighton as a walk-on. In describing Moser to the media back in the fall of 1986, Barone said "Porter is a major college shooter. I like his aggressiveness on the floor, and he is a tough kid who plays very hard." During his first season, those words seemed like nothing more than coachspeak as Moser saw limited action in 12 games, and shot south of 25% (4-18) in 39 total minutes for the entire season.
But in 1987, Moser emerged as a pleasant surprise, playing in all 27 games and earning five starts in Barone's notorious mix-and-match lineups. He scored 61 total points for the year, but his value came in being a competent bench player who could handle the ball in short bursts, run the offense, find open shooters and play solid defense. He was also an invaluable member of the team in practice, and following the season, the player no one wanted was rewarded with a scholarship.
"I think he epitomizes the dream that we have for our basketball program," Barone said in the fall of 1988. "Our dream was to win a championship, his dream was to be a Division 1 basketball player. Interestingly enough, no one else thought he was. He is a great shooter, but on this level, you have to do more than one thing, and he has worked his tail off to become a better ballhandler and a better passer. His approach to the game has been one of effort and work. It took two years to earn a scholarship, but it was based on his production. He was an integral part of our success last year because he makes key plays in games. Porter is one of those guys that steps up and becomes a player. He's part of the spirit behind the team."
Moser responded by starting in 21 games as a junior, stepping into the void created by a season-ending knee injury to starter Duan Cole. He couldn't match the dynamic Cole's output, obviously, but he was a solid contributor, averaging 6.4 points, 1.5 rebounds and 2.3 assists a game while shooting 38.4% from the field and 37.4% from three-point range. He was third on the team with 28 steals, and solidified his reputation as a hard-nosed defender who always seemed to be around the ball. And on January 21 against Bradley, he was 5-5 from three-point range and scored 19 points — with 10 assists — in a 94-68 thumping of the Braves. He scored in double figures eight times and perhaps more impressively, led the team in assists three times, a tough chore with assist machine James Farr in the backcourt.
His senior year, with Cole back from surgery, Moser moved back to a bench role but still managed to increase his production. He averaged 6.2 points, 2.0 rebounds, and 3.1 assists a game while shooting 36% from the floor and 38.2% from three-point range. Moser's season highlight came on February 24 in Peoria, when he made five big three-pointers as part of a long-range barrage. Bradley's coach Stan Albeck told the media following the game, "When Creighton has their perimeter game going with Moser, Duan Cole and Matt Roggenburk, they are an absolutely devastating force because your primary concerns are Harstad and Gallagher." Indeed, of the five games in which Moser led the team in assists — often finding Cole and Roggenburk open — the Jays were 4-1, with the only loss coming to DePaul in the NIT. And of the six games in which Moser scored in double-figures, the Jays were 5-1. With defenses so focused on stopping Harstad and Gallagher and Cole, on nights when Moser was feeling it, the Jays were awfully tough to beat.
For his career, the former walk-on scored 469 points and had 133 rebounds — not spectacular numbers, by any means, but respectable ones and proof that he was indeed a Division 1 player. After graduation, he stayed with the Jays as a Grad Assistant on Coach Barone's staff, and followed him to Texas A&M the next year. In 2003, he took the head coaching job at Illinois State. Inheriting a last-place program, Moser led the Redbirds to a 51-67 record in four seasons, pushing his seven-year career head coaching record to 105-101, and left behind a championship-caliber team when he was fired prior to the 2007-08 season. He'd recruited the Missouri Valley Conference Freshman of the Year in Osiris Eldridge and two other players named to the league's All-Newcomer team, but did not get the chance to coach them beyond their freshman years. He is currently an assistant under Rick Majerus at Saint Louis University.
***
Larry House was a first-team all-state selection as a senior at Bay View High School in Milwaukee, and also earned first-team all-conference honors. He nearly averaged a double-double, with per-game averages of 19 points and 9.5 rebounds, and led his team to a runner-up finish at the Wisconsin state tournament. Following high school, he enrolled at Colby Community College in Colby, Kansas, where he starred for two seasons for the Trojans. After averaging an identical 17.7 points per game in both of his seasons, he was second on the school's all-time scoring list at the time of his departure with 1,044 points. He continued to patrol the glass, too, pulling down 8.6 rebounds a night as a freshman and 7.6 as a sophomore — and had the first-ever triple-double in Colby program history, a feat which had been accomplished just once before in their entire conference!
House came to Creighton highly touted — having been ranked as the #6 small forward by The Sporting News, the #7 forward by Lindy's, and one of 11 JUCO players featured in the August 2001 issue of Slam magazine. And almost from the outset of his career on the Hilltop, House was a powerful force, living up to the hype that had proceeded him.
He started 31 of 32 games during the 2001-02 season as the Jays shooting guard, playing alongside Tyler McKinney — and ahead of Terrell Taylor. For the season he averaged a perhaps underwhelming 6.8 points and 2.6 rebounds a game, given his reputation, but he cracked double-figures eight times and he was one of just three Jays to make field goal in every game. The others? Brody Deren and Terrell Taylor. That list is most notable by who's absent, of course: Kyle Korver, the usually prolific scorer who had just two points (going 2-2 from the free throw line while miraculously not attempting a single shot in 24 minutes against Greg McDermott's suffocating defense) in a February win over Northern Iowa.
House struggled down the stretch, however, averaging just 5.4 points and 1.4 rebounds in the final nine games of the season, including the MVC and NCAA Tournaments. He had ghastly games in the NCAA Tournament, in particular, as the athletes of Florida and Illinois proved a tough matchup to handle. Against the Gators in the first round, House played just 12 minutes, scoring two points and failing to grab a rebound; then against Illinois in the second round, he scored two points with three rebounds in 18 minutes.
As his senior season approached, House worked hard to become stronger and tougher, and emerged that fall as a completely different player. He had confidence on the offensive end, and aggression on the boards — and his stats reflected that. So did his playing time, which increased substantially. He averaged 11.1 points, 3.3 rebounds and 1.1 assists per game, a marked improvement in all three categories, and scored 20 or more points five times.
Most impressively, instead of struggling down the stretch, House got stronger, and was a rock as some of the other starters began wilting under the late-season expectations a Top Ten ranking brought. In the final nine games of the season, including the MVC and NCAA Tournaments, he averaged 12.3 points and 4.4 rebounds a game, including a monster 28 point/6 rebound game in the Final Game at the Civic on Senior Night.
In the MVC Tournament, his performance in the semifinal against Wichita State showed, in a couple of late-game moments in particular, how much his game had progressed. Down 40-30 at the half, the Jays executed a furious comeback to cut the lead to 66-65 with 1:02 to play. Kyle Korver rolled off a fierce screen set by House to get past Jamar Howard, and was open for a brief second; Tyler McKinney found him with a pass, and Korver drilled a three-pointer to give the Jays the lead. After a missed basket, Brody Deren was fouled and missed two free throws, and Wichita's Randy Burns grabbed the rebound. DeAnthony Bowden snuck up behind him and tipped the ball to House, who called timeout; on the inbounds pass, House rose up and threw down a thunderous slam to punctuate the win and send the Jays fans partying into the streets of St. Louis.
The next night, he led all scorers with 20 points in the 80-56 thrashing of Southern Illinois in the title game, adding three rebounds, three assists and three steals to a stellar line. He was virtually unstoppable on a variety of slashers and jumpers, frequently leaving the Salukis shaking their heads as he blew past them. It was a virtuoso performance, and on a night of great moments from great players, he was as good as anyone as the Jays rolled into the NCAA Tournament with 29 wins, a fourth MVC Tournament title in five seasons, and all the momentum in the world.
In his career, House scored 596 points and grabbed 197 rebounds in 66 games, but it was his stellar senior year as a key sidekick to Kyle Korver on the Jays 29-win team that cemented his legacy in Creighton basketball history. Porter Moser's story is a great one, going from walk-on to solid bench performer, but House was the better player and he had the more accomplished career — and he's the best player in Creighton history to wear #20.
Career Stats:
| Season | FG Pct. | Pts | Avg. | Reb | RPG | Assists | Blocks | Steals |
| --- | --- | --- | --- | --- | --- | --- | --- | --- |
| Totals | .490 | 596 | 9.0 | 197 | 3.0 | 66 | 15 | 68 |
| 2001-02 | .463 | 219 | 6.8 | 84 | 2.6 | 24 | 7 | 31 |
| 2002-03 | .510 | 377 | 11.1 | 113 | 3.3 | 42 | 8 | 37 |
Comments
Tagged in: