Number 21: Gary Swain
ED. NOTE: White and Blue Review's ongoing series "What's in a Number?" continues with a look at the best player to wear #21 for the Jays, Gary Swain. To read up on how we arrived at our choice, check out the introduction of the series. Or you can read about the players you might have missed by checking out the entire list.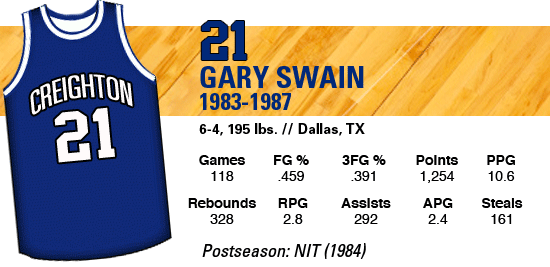 Three players of note have worn #21 for the Jays: forwards Gary Swain and Charles Butler, and center Joe Dabbert. Butler was a solid player on the early-and-mid 70's squads, scoring 623 points and grabbing 247 rebounds in 71 games between 1972 and 1975 — though his career numbers would be higher had he played in an era when freshmen were allowed to play, as he averaged 14.3 points and 8.7 rebounds for the Jays "Freshman" team. Dabbert played from 2000 to 2004, scoring 685 points and securing 372 rebounds in 127 games primarily as a backup. He was a key contributor to the Jays run of NCAA Tournament berths in 2001, 2002 and 2003, and also played a big role on the 2004 NIT squad. Swain was the only one of the three to spend the majority of his career as a starter, and he's 20th on the all-time scoring list with 1,254 points scored.
***
Charles Butler was recruited by Eddie Sutton out of Indianola, Mississippi, where he had been named the Outstanding Defensive Player at Gentry High. An honor student, he also was named All-Conference in the DAC after his senior year. Butler enrolled at Creighton in the fall of 1971, and immediately became the leader of the Freshman team — this was back when freshmen were required to redshirt by the NCAA, and played on what was essentially a collegiate JV team, a team where 90% of the players would never suit up for the varsity squad.
Interestingly, the 1972 media guide spends an inordinate amount of time describing his personality, and very little talking about his game. To wit: "Charles leads the team in knowing Creighton University students. Everyone on campus talks to Charles, and usually they come away smiling. They find him intelligent, articulate, enthusiastic and happy." The 1973 media guide picks up where the previous one left off: "One of the most popular of the Jay athletes among the student body, Charles will have great crowd support." As you can see, media guides back in those days were a lot like high school yearbooks; my copies even have the requisite autographs. Certainly, they're a far cry from the spiral-bound behemoths most schools put out now.
Butler was a savvy defender and had tremendous instincts. After averaging 14.3 points and 8.7 rebounds for the freshman team in 1971-72, Butler stepped right into the varsity team the following year and contributed 5.7 points and 2.6 rebounds per game. Playing a schedule that featured three Top Ten teams (#5 Long Beach State, #7 Houston and #5 Marquette) as well as 15th ranked Jacksonville, the Jays finished a respectable 15-11 as the Travelin' Jays laid the groundwork for back-to-back NCAA Tournaments the next two seasons.
They had long been known as the "Travelin' Jays", but the 1973-74 team took things to new heights, playing games on two continents and in 13 states. They began with a 10-game summer exhibition tour in Brazil, and continued with games all across the country. As an independent, the Jays needed to play any and all takers, and they did — a fact that Sports Illustrated took notice of when they did a feature-length piece on the Jays in a February issue. Butler was counted on by Eddie Sutton to log 35+ minutes a night at the power forward, and though he was often lost in the shuffle behind stars Gene Harmon, Ralph Bobik and Doug Brookins, his value was proven when he missed the middle part of the season with an injury. The Jays were in the midst of what should have been the easier part of their brutal schedule, yet struggled in beating teams they ordinarily would have handled easily such as Duquesne, St. Johns of Minnesota, and San Diego State.
Butler returned for the stretch run, and the team caught fire, ultimately making a run to the tourney. In the first round of the NCAA Tournament, he scored 12 points with 4 rebounds and a steal in the Jays rout of Texas. Five days later, in an excruciating second round loss to Kansas in which the Jays blew a lead with less than 90 seconds remaining, Butler expended his energy on the defensive end, playing lockdown defense on the Jayhawks superior athletes — a key factor in keeping the game in the low 50s, a pace the Jays needed to play to keep the game close.
Sutton would depart following the season, and his successor, longtime assistant Tom Apke, piloted the Jays to a 20-7 record and their second straight NCAA Tournament berth — an impressive feat as they were an independent with no chance of an automatic bid. And with Gene Harmon and Ralph Bobik having graduated, Butler emerged as the team's best player. He shared the team MVP award with fellow senior Doug Brookins, and also earned the Tim Powers Memorial Trophy. In the NCAA Tournament against 4th ranked Maryland, Butler scored 18 points with 5 rebounds while matched up with NBA Hall of Famer John Lucas.
***
Joe Dabbert was nominated for the McDonald's All-American team (though he didn't ultimately make the squad) as a senior at Platte Canyon High School in Bailey, Colorado, and averaged 18 points, 11 rebounds and 5.2 blocks per game that season. The second cousin of former ABA and NBA star Dan Issel, who was the coach of the Denver Nuggets during much of Dabbert's high school career, Dabbert frequently worked out with the much bigger and stronger players on the Nuggets — a fact that no doubt helped him to adjust to D1 basketball quicker than most during his freshman year on the Hilltop.
In the season opener, Dabbert scored 13 points on 6-7 shooting, with 9 rebounds, 2 blocks, 2 assists and a steal. Sure, it came in a 96-50 rout of patsy Western Illinois, but it wouldn't be the last time he'd dominate. Seniors Alan Huss and Livan Pyfrom shared starting duties at center, with Huss getting 24 starts and Pyfrom 6. That fact might surprise some fans who remember Pyfrom as a solid center who had a collection of great games late in his career in the postseason, and Huss as a hard-working but slow-footed and uncoordinated bench player. I certainly didn't remember that it was Huss that started most of that season, and not Pyfrom. Dabbert backed both up, as Brody Deren sat out his redshirt year after transferring from Northwestern. For the season he averaged 4.1 points and 1.8 rebounds in 32 games.
His sophomore season, Dabbert started the first six games, where he averaged 6.9 points and 3.9 rebounds. Brody Deren took the starting job away on December 16 with the MVC opener against Indiana State, and would not give it up, although it had little to do with anything Dabbert did or didn't do — Deren was simply better. Case in point: on November 27 against 17th ranked Western Kentucky and All-American big man Chris Marcus, Dabbert had 14 points and 5 rebounds, which is a solid, respectable line, especially against such stiff competition. However, Deren had 21 points and 11 rebounds off the bench, overshadowing the performance of Dabbert.
The pair complimented each other nicely. Dabbert was two inches taller and was a bit longer, while Deren was 15 pounds thicker and a bit quicker on the press. Together, they formed one of the most underrated and lethal big men combos in the Valley for three seasons.
In the 2002-03 season, Dabbert backed up Deren in all 34 games, averaging 5.4 points and 2.6 rebounds while playing an average of 12 minutes a game. He was third in the MVC with 33 blocked shots, while Deren led the league with 56; their combined 89 blocks made them one of the best duos in the country in that category.
But it was his senior season that saw Dabbert finally put everything together. Again backing up Deren, he averaged career highs in every category, with 7.4 points per game, 4.9 rebounds, and 1.1 blocks in 17.9 minutes. He had several monster games, including a December 22 win over Wyoming in which Dabbert had 19 points (on 9-13 shooting), 9 rebounds, 3 blocks and 2 steals; a January 11 win over Drake where he had 9 points, 9 rebounds, 4 blocks, and 3 assists; and a February 11 win over Bradley where he had 8 points, 6 rebounds, 2 assists, 2 blocks and a steal.
And in the season's final days, he had three of the best games of his career — three games in which Deren struggled mightily, making his performances all the more important. In the MVC Quarterfinal against Wichita State, Dabbert had 13 points (on 5-7 shooting) with 5 rebounds, 2 blocks and an assist. In the MVC Semifinals, despite the Jays losing, Dabbert had 17 points (on 5-6 shooting) with 6 rebounds. And in the NIT against Nebraska, he had 16 points and 4 rebounds.
For his career, he had 685 points and 372 rebounds in 127 games. He's seventh in school history in blocks, and he was an indispensable piece of three NCAA Tournament teams.
***
Gary Swain never played in the NCAA Tournament, but was a quiet contributor to Willis Reed's last two Jays teams and Tony Barone's first two. And by the time he'd finished his career, he was one of just 13 members (at the time) of the 1,000 point club and had turned in one of the highest single-season scoring averages in school history, averaging almost 18 points a night his senior year.
Willis Reed went to Dallas, Texas to recruit the highly-rated Swain, who the Dallas Morning News had named "Player of the Year" for the state in 1983. Upon arriving on the Hilltop, he struggled for both minutes and shots alongside such stars as Vernon Moore and Benoit Benjamin, but by early February, he'd earned a spot in the starting lineup. He would start every game the rest of his career.
In the 1984 MVC Tournament, the Jays squared off with Nolan Richardson's Tulsa Golden Hurricane in the Championship Game, on their home floor no less. The Jays had finished fourth in the MVC, while Tulsa was 27-3 and had been ranked in the Top 25 since early December, and was #12 at the time of the tourney. The two teams' mid-February matchup had gone overtime before Tulsa prevailed 82-80, and this one would be just as close. It was Benoit Benjamin's 29 points, 8 rebounds and 5 blocks that caught people's attention, but as the Tulsa defense swarmed around Benjamin and Vernon Moore, it was Swain who was left open — and he made them pay. He made 5 of 8 shots for 11 points, dished out four assists, and swiped two steals. Unfortunately, the Jays fell in overtime, again, 60-58, but earned an NIT berth.
The 1984 NIT saw Nebraska employ a similar technique: let All-Big 8 center Dave Hoppen battle it out with Benoit Benjamin in the paint and hope they would cancel each other out, double-team Vernon Moore, and dare other Jays to beat them. The gamble worked when the usually solid Kenny Evans, Gregory Brandon and Karlas Gripado struggled mightily, and Moore was held below his average — but Swain doubled his season average, scoring 10 points on 4-7 shooting, with 3 steals and 2 assists in 37 minutes, helping keep the Jays in the game. They led 54-52 with 90 seconds left, but would lose 56-54 after Benjamin's technical foul with 10 seconds left led to two free throws from Hoppen.
For the year, he averaged 5.6 points, 2 rebounds and 2.1 assists a game, and his 42 steals were the second-highest season total in school history at the time.
Swain's sophomore campaign saw him start all 32 games, as the Jays improved to 20-12 overall and 9-7 in the league, though they struggled to move up in a league dominated by national power Tulsa, and again finished tied for fourth. He had steady improvements in every statistical category, averaging 8.2 points, 2 rebounds, and 3.2 assists a game while once again taking advantage of opposing defenses' preoccupation with Benjamin and Moore.
But he really emerged as a force the next year when Tony Barone took over as head coach. Not only did his style of play better suit Swain's talents, the absence of both Benjamin and Moore left a gaping hole for someone to fill offensively. Kenny Evans was one of the players who stepped into that void, earning All-MVC honors in both 1986 and 1987, but Swain was the other. He averaged 12.3 points and 3 rebounds, shot 42.3% from the field, and during the last month of the season, made 53.6% of his field goals during a stretch where Creighton won six of nine games against the top teams in the league. In a 68-62 win over Drake in Des Moines, he scored a career-high 25 points, connecting on 12 of 17 shots, and had four rebounds, four assists and a steal. He also had the third-most steals in a single season in school history at the time — just behind himself in second place from his freshman year — with 40.
Coming into his senior season, Barone told the media what he expected from Swain. "He's an outstanding defensive player who must give us leadership if we are to be successful this season. He played well for us in big games last year, but we will ask Gary to be more offensively minded this year." He responded to Barone's challenge, putting up some awesome offensive numbers.
Of course, the newly adopted three-point line helped, and Swain was the first deep threat in Jays history as a result — and his 68 threes that year remained the school record until the next year, when Rod Mason made 76. Swain's 68 remain the eighth most in a single season, though.
For the year, he averaged a team-high 17.3 points, adding 4.3 rebounds and 2.3 assists per game as the Jays limped to a 9-19 record, and a 4-10 mark in the MVC in Barone's second season. In his career, he scored 1,254 points, which put him in 13th place all time at the time of his graduation (he's currently 20th). The #21 isn't a terribly deep field of great players — in all honesty, while Swain's numbers overall are better, there isn't a ton of difference between him, Butler and Dabbert — but he gets the nod as the best to wear #21 for the Jays.
Career Stats:
| Season | FG Pct. | Pts | Avg. | Reb | RPG | Assists | APG | Steals |
| --- | --- | --- | --- | --- | --- | --- | --- | --- |
| Totals | .459 | 1,254 | 10.6 | 328 | 2.8 | 292 | 2.47 | 161 |
| 1983-84 | .477 | 175 | 5.6 | 62 | 2.0 | 55 | 1.7 | 42 |
| 1984-85 | .498 | 263 | 8.2 | 65 | 2.0 | 102 | 3.18 | 37 |
| 1985-86 | .424 | 332 | 12.3 | 82 | 3.0 | 66 | 2.4 | 40 |
| 1986-87 | .451 | 484 | 17.3 | 119 | 4.3 | 69 | 2.5 | 42 |
Comments
Tagged in: