Number 24: Chuck Officer
ED. NOTE: White and Blue Review's ongoing series "What's in a Number?" continues with a look at the best player to wear #24 for the Jays, Chuck Officer. To read up on how we arrived at our choice, check out the introduction of the series. Or you can read about the players you might have missed by checking out the entire list.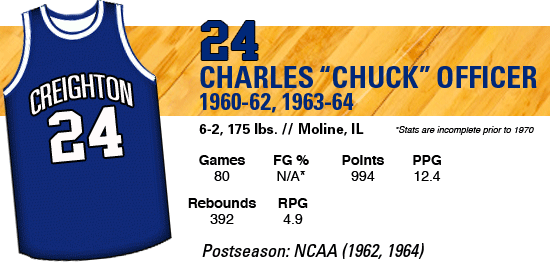 If Chuck Officer played four decades later, he would have been an internet sensation and won an ESPY Award for "Basketball Shot of the Year." As it was, he played in the first half of the 1960's, and while his game-winning shot against Utah State made a splash in Omaha, it didn't get much press elsewhere. That's a shame, because it might just be the most remarkable shot in the long and storied history of Creighton basketball.
December 14, 1963. The night before, Coach Red McManus' Jays had defeated Arizona State at the Civic Auditorium, 84-83, as Paul Silas grabbed an astonishing 31 — yes, thirty-one — rebounds. That win moved the Jays to 5-0 as they tried to make their second trip to the NCAA Tournament in three years, but on the night of the 14th, they found themselves down 78-72 with 58 seconds to play against Utah State. After slicing the deficit to two with :07 to go, the Jays did the only thing they could do: foul, and hope the Aggie shooter would miss.
He did, and Tom Apke secured the rebound. As his teammates raced to the other end of the court, he fired a bullet to Chuck Officer, who slipped and fell to the court at the same instant he caught the ball. On one knee, his back to the basket, and the clock ticking away, he threw up a 16-foot hook shot — WITHOUT GETTING UP!
It hit nothing but nylon to tie the game as the horn sounded, and the Jays would win the game in overtime. "It was a desperation shot," Officer told the media after the game. "There was no time to stand up. I saw the basket and just heaved the ball. I never thought it would go in." Ah, but it did, and you can just imagine the YouTube sensation it would be if that happened today, can't you?
***
Officer came to the Hilltop in the fall of 1959 from Moline, IL, having been recruited by legendary coach Red McManus as part of his first recruiting class. After sitting out his freshman year as required by NCAA rule in those days, he led the team in scoring during his first year of eligibility, averaging 16.1 points a night. The team was a dreadful 8-17, however, as much of the talent McManus had recruited was not yet eligible.
In the fall of 1961, however, a big man named Paul Silas was eligible to play, and his 22.0 points led the team — as did his 22.5 rebounds. Officer maintained his scoring average of the previous season, as the suddenly high-flying Jays rattled off a 21-5 record. And on December 9, 1961, Officer made his first of three buzzer-beaters as a Jay. Against Notre Dame in just the second game played at the Jays new permanent home, the Civic Auditorium (they'd played a handful of games there the previous season but moved in full-time in '61), the Jays and Irish were tied at 71 as time ticked down. Officer nailed a 35-footer with :05 remaining to give the Jays a 73-71 win, a victory they would use as they built a case for their first NCAA Tournament berth in 21 years. Eleven days later, they took down John Wooden's UCLA Bruins, 74-72, in another early classic of the Civic Auditorium.
That March, they earned a trip to the NCAA's for the first time since 1941, and beat Memphis State in the Midwest Region Preliminary Game, 87-83, as Officer had 8 points on 3-7 shooting and 8 rebounds. The win gave the Jays their first 20-win season in school history. Unfortunately, the next night against #12 Cincinnati, Paul Silas got in early foul trouble, Officer was ice cold from the field (2-9 for 4 points), and the Jays were whupped 66-46. Coming off the bench the next day in the Consolation game, Officer was 3-3 for 8 points in the Jays 63-61 win over Texas Tech.
After sitting out the 1962-63 season, Officer returned in 1963 for his senior season and was an integral part of the greatest Jays team of the Red McManus Era. Their 22 wins established a then-school record, and of their five regular season losses, three came against NCAA Tournament qualifiers: a 95-79 loss to UCLA in Westwood, a 101-85 road loss to Oklahoma City, and a 80-77 loss at Providence. They also beat two NCAA qualifiers, though, besting Arizona State at home 84-83 and the aforementioned double-overtime win over Utah State in which Officer made his famous hook shot.
Late in the season, with a NCAA Tournament berth in the bag, the Jays had one final road trip to the east coast. The first game was against the preseason #1 team in the country, NYU, at Madison Square Garden. Trailing by 11 late in the game, the Jays put together a furious rally, and as the clock wound down, Chuck Officer made his third buzzer beater as a Jay; his 20-foot jumper as the horn sounded gave the Jays a 88-86 win. Officer had 21 points in the huge upset. Also having a monster game for Creighton was Fritz Pointer, whose younger sisters would go on to form a little singing group you might have heard of — The Pointer Sisters. Yes, THOSE Pointer Sisters. He had 22 points in the NYU upset, while Silas had a slightly below average night (for him) with 20 points and 22 rebounds.
After taking down Notre Dame in South Bend, 84-71, the Jays moved on to the NCAA Tournament where they won their first round matchup with Oklahoma City, 89-78. Fritz Pointer had 23 points, while Silas had 15 points and 27 rebounds. In the second round, 5th ranked Wichita State was just a little better than the Jays, as 21 points from Officer and 22 from Silas (along with 17 boards) were not enough to overcome Shocker All-American Dave Stallworth's 22 points and 23 rebounds.
For his career, Officer scored 994 points and grabbed 392 rebounds in 80 games, and played integral roles on two NCAA Tournament teams in an era when just 25 teams made the tourney — and both times, the Jays won their opening round game. He also had three buzzer-beaters in huge games and made the most amazing shot in school history. Add it all up, and you've got the best player to wear #24 on the Hilltop, Chuck Officer.
Also of Note: Tyler McKinney was the starting point guard on three NCAA Tournament teams (2002, 2003, 2005) and piloted the 29-5 team in 2002-03. Owner of the fourth most assists in school history, only Ryan Sears, Ralph Bobik and Randy Eccker have more than McKinney's 430. Never a huge scorer, he nonetheless had 570 points in his career and hit several game-winning shots over his four years running the point. He suffered an eye injury that robbed him of most of his junior season, a year in which the Jays started out 10-0 before his injury but went 10-9 without him.
Rod Mason, a junior college transfer from Northeastern, Mason averaged 20.3 points per game in 1987-88, and was a first-team All-MVC selection that year. Not only a flashy three-point shooter but a staunch defender, Mason was a clutch player and a fan favorite who Tony Barone often said had the most guts of any player he coached at CU. In just two seasons, he scored 1,023 points, and is the only two-year JuCo player in Creighton history to be a member of the 1,000 point club. His 651 points in 1987-88 are the sixth most in school history, and his 44.1% career three-point percentage is third best in school history. He never played in the postseason, but he added a huge amount of excitement to the pre-glory years under Barone, and helped set the stage for what was to come. After Creighton, he played five-plus seasons with the Omaha Racers of the CBA, continuing to entertain area basketball fans — and he remains the all-time leader in both three-pointers and three-point percentage in franchise history.
And last but not least, Tim Powers set the school record with 45 points in a 1966 game against Idaho State, and scored 1,093 points in his stellar career. He averaged 17.35 points per game in his career, seventh best in school history, and his junior season was one the greatest offensive seasons ever by a Creighton player. His 21.5 points per game that season are sixth highest ever (trailing only Bob Portman twice, Bob Harstad, Paul Silas and Bob Gibson — awfully good company), and his 559 points scored are the 19th most in a single season in CU history. He was on another historic pace his senior season before it was cut short by an injury, but he still finished as one of the most prolific scorers in Creighton history.
All three wore #24 proudly, but none surpassed the stellar career of Chuck Officer.
Comments
Tagged in: