Number 25: Chad Gallagher and Kyle Korver
ED. NOTE: White and Blue Review's ongoing series "What's in a Number?" continues with a look at the best players to wear #25 for the Jays, Chad Gallagher and Kyle Korver (that's right: this one is a shared honor). To read up on how we arrived at our choice, check out the introduction of the series. Or you can read about the players you might have missed by checking out the entire list.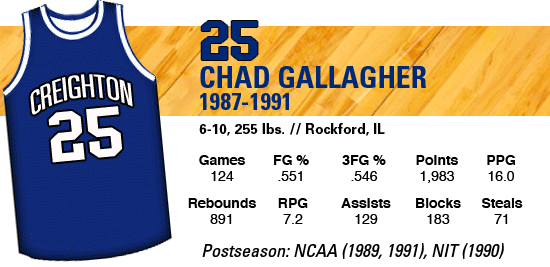 When it came time to decide who the best #25 was, frankly, I made the executive decision to not decide. Or rather, I decided that this one would be shared — when you've got two players of such vast importance historically, of such accomplishments both statistically and otherwise, its a disservice to choose only one. Here are Chad Gallagher and Kyle Korver, two of the top five scorers in school history, and two of the top ten players to ever suit up for Creighton. Gallagher made up one half of the Dynamic Duo, who between 1987 and 1991 delivered two MVC regular season titles, two MVC Tournament titles and two NCAA Tournament appearances, while both finishing in the top five in school history in both points and rebounds. And Korver was a two-time MVC Player of the Year who is not only one of CU's all time greats, but a MVC Hall of Famer as well. He finished his career sixth all-time in NCAA history with 371 three-pointers made, and played in four straight NCAA Tournaments. Why even try to pick between them?
***
Chad Gallagher had been recruited by Tony Barone for some time before he blossomed as a senior. A late recruiting pitch by national champion Indiana — led by Bobby Knight — almost swayed him from his commitment to the Jays, but he spurned them to keep his word to Barone and Creighton. And boy, did Barone gush about him to anyone who would listen.
"The thing about Chad, as far as we're concerned, is that he's an impact player…No. 1, because he's an extremely refined offensive player. He's 6-9 3/4, as he says, in his shoes. Well, he plays in his shoes, so that's how we're going to list him.
Offensively, he's the kind of kid that you're not going to be able to recruit all the time. The refinement of his offensive game is very impressive. We think, from 15 feet on in, he's as powerful a player as we could recruit. I like his size. I like his athletic ability. Given the proper amount of patience on our part, he is going to be a superb basketball player for us."
The recruiting class was rated tops in the MVC and 49th in the country, as it included such future all-time greats as Bob Harstad, Gallagher, Duan Cole, James Farr and Bill O'Dowd.
As a freshman, Gallagher averaged 11.4 points and 5.3 points per game, starting 30 of 32 games. The team climbed from a 7th place finish the year before to a tie for fourth, going 16-16 overall and 6-8 in the league. But in the early part of the season, they took their lumps big time. Iowa State thumped them 115-73. #15 UNLV beat them 90-59. NC State beat them 86-55. SMU handled them 88-51. Gallagher bottomed out in Hawaii at the Rainbow Classic in December, and was benched during the final game after being manhandled by his fellow centers in those blowouts. Barone sat down with Gallagher, and the two had a chat. He recalled how that chat went in a 1989 Omaha World-Herald piece.
He told me it was mental. I left the meeting determined to play better; it was just something that clicked inside me and said, 'Let's go. Enough messing around. It's time to go.' I felt like I wasn't a freshman anymore.
After returning to the mainland, his offensive game improved dramatically. Other parts of his game lagged, though, as he told a World-Herald reporter bluntly. "I'm not pleased with my defense. My defense is just terrible. That's what I really need to improve. In high school, I never really worked on it." Work on it he did, and over the summer he made huge strides.
In October of 1988, the Jays held an intra-team scrimmage at Creighton Prep, and Gallagher showed off his improved defense and rebounding abilities. He scored 34 points and grabbed 11 rebounds in a performance Barone called "tremendous." And during the first weeks of the season, he proved that was no fluke, increasing his rebounds by more than 1.5 a game and his points to over 15 a night. Then on December 22 in an overtime win over Montana State, he tore cartilage in his knee and had to undergo arthroscopic surgery, which put him on the shelf for three weeks.
Once he returned, he came off the bench — though he was a sub in name only. A few minutes into each game, he replaced 6'6″ Troy Bell, and almost always wound up playing more minutes than Bell by game's end, usually by 3 to 1 or 4 to 1. According to Barone, his reasoning was partly superstition (the Jays had been on a winning streak with Gallagher coming off the bench) and partly rooted in his belief that Gallagher played better as a sub.
His finest game, statistically, that season was a game that marked the midway point of the conference season, when the Jays toppled Bradley in Peoria 85-68 behind 24 points and 16 rebounds from Gallagher. But his performance in the MVC Championship game was the most memorable. After SIU had rallied from down 77-70 with 1:42 to play, tying the score with 13 seconds left, James Farr took the inbounds pass, dribbled up court and dashed into the lane for the winning basket with just three seconds remaining. Then Gallagher had a monstrous block of an attempted winning shot from SIU's Jerry Jones as the horn sounded. Gallagher had 25 points and 8 rebounds, and was named the tournament's Most Outstanding Player.
Another offseason of hard work in the weight room led to a marked improvement in the area he'd once labeled "terrible", namely, his defense. In his first two years, he blocked 51 total shots and grabbed 345 rebounds; in his junior year alone, he blocked 62 shots and had 266 rebounds. His five blocks against perennial power Southern Illinois was a career high, and he led the team in rebounding 16 times. A first-team All-MVC Selection for the first time, he was also a member of the MVC All-Defensive team after averaging just under 2 blocks and 8 rebounds a game.
Offensively, he continued to terrorize opposing centers. Gallagher scored 20 or more points on 16 occasions during his junior year, recording double figures in scoring in 31 of the 33 games. For the season he averaged 17.7 points, second only to Harstad both on the team and in the league. Yet in the final 13 games of the season, he was even better, averaging 19.9 points on 59% shooting, 8.8 rebounds and 2.4 blocks a night. In that span, he led the team in scoring five times and in rebounding eight times.
His season highlight came in mid-February. First on February 12, he scored 25 points with 12 rebounds against Bradley in a wild 98-95 win. Then later that week, he hung 40 points on Wichita State in a 103-95 double-overtime barnburner. He added 11 rebounds in 47 minutes that night, and for the two games he earned MVC Player of the Week honors.
After scoring 584 points as a junior, the ninth highest single-season total in school history at the time, he was just 514 shy of breaking the then-record of 1,876 held by Bob Portman. That is, if teammate Bob Harstad didn't get there first; he was just 336 points shy of the record.
Gallagher played his junior season at around 240 pounds; after a summer of weight lifting, he came in at over 250. "He's mammoth," Barone told the World-Herald in October of 1990. "He's huge. He's had a great focus in our weight program. He weighs more than 250 right now. The big issue is whether he can carry it. He has been carrying it in preseason workouts."
Indeed he was carrying it. After scoring 32 in the team's first public scrimmage, he dominated the first few games before severely spraining his ankle in mid-December and playing hobbled for two games — he was told to sit out, but refused and played through the pain. Once he was healed, he went back to bruising opponents, as Cleveland State found out on December 29 when he scored 24 points and tied his career high with 16 rebounds in a 87-64 rout. The win put them at 5-3; they would lose just four more times the rest of the season before the NCAA Tournament as they had two eight-game winning streaks sandwiched around losses to Tulsa.
As part of the first of those streaks, Gallagher won Player of the Week honors in mid-January after scoring 27 points in a win over SMS with 5 rebounds, and 24 points with 14 rebounds against Bradley. And when the Jays won the 1,000th game in program history in a game against Drake in Des Moines on January 10, Gallagher played through foul trouble to score 14 points, grab 8 rebounds and block 7 shots.
On February 3 against Siena, battling the flu, he had the best game of his senior season, scoring 36 points on 16-23 shooting and grabbing five rebounds. He played all 40 minutes despite his weakened condition. Then he went out and nearly duplicated the feat at Indiana State, while still reeling from the sickness, and scored 25 points with another six rebounds. That win was the only game all season that Indiana State lost at home. Yet it was his defense — again, remember how Gallagher had called his defense "terrible" as a freshman — that was earning the real praise both from his own coach and teammates, but also from opponents and media.
His teammate, Harstad, put it best in talking to Michael Kelly of the World-Herald. "The way he's played this year, there hasn't been anyone who can stop him. Sometimes he'll stop himself. By that I mean he'll shoot a fadeaway when he doesn't need to. I don't think there's a team that's stopped him. He's had a great year. His stats have greatly improved from last year. He's been rebounding in double figures and scoring close to 20. There's not enough you can say about how much he's improved."
Gallagher averaged just under 20 points a game, second in the MVC; his 8.8 rebounds led the MVC; his field goal percentage of 56.6% was third best; and his free-throw percentage of 80.6% was fourth. He also led the MVC in blocked shots with 2.2 a game. And he capped it off by winning Player of the Year honors in the MVC, while making repeat appearances on the first-team All-Conference and All-Defense teams.
After winning the MVC Tournament and the automatic bid to the NCAA Tournament, the notoriously anti-mid-major and perpetual curmudgeon Billy Packer sat up and took notice. During the Big East tournament, he called out Georgetown's Dikembe Mutombo and Alonzo Mourning as examples of players who had not met their potential as a high-low combination — and then held up Harstad and Gallagher as examples of players who had.
The Jays met New Mexico State in the first round of the tournament, and pulled off the upset when Gallagher had a monstrous game. Scoring 18 points and grabbing 14 rebounds with 4 blocked shots, he played 37 minutes and completely dominated the post. Two days later, however, they would lose to Seton Hall, though Gallagher would turn in another monster performance with 17 points and 12 rebounds.
He finished his career as the #2 scorer in school history, behind his teammate Harstad, as both surpassed long-time leader Bob Portman. Somehow, he has the most field goals in school history (811), even more than Rodney Buford who would eventually pass both Gallagher and Harstad on the scoring list. Gallagher is fourth all-time in field goal percentage at 55.1%, has the second most blocks trailing only Benoit Benjamin, and is fifth on the all-time rebound list with 891. He twice scored more than 500 points in a season, and obviously, if not for a guy named Korver, would have an iron-clad case for the top player to ever wear #25.
Career Stats:
| Season | FG Pct. | Pts | Avg. | Reb | RPG | Assists | Blocks | Steals |
| --- | --- | --- | --- | --- | --- | --- | --- | --- |
| Totals | .551 | 1,983 | 16.0 | 891 | 7.2 | 129 | 183 | 71 |
| 1987-88 | .521 | 365 | 11.4 | 168 | 5.3 | 19 | 27 | 10 |
| 1988-89 | .564 | 414 | 15.3 | 177 | 6.6 | 23 | 24 | 16 |
| 1989-90 | .549 | 584 | 17.7 | 266 | 8.1 | 46 | 62 | 23 |
| 1990-91 | .566 | 620 | 19.4 | 280 | 8.8 | 41 | 70 | 22 |
***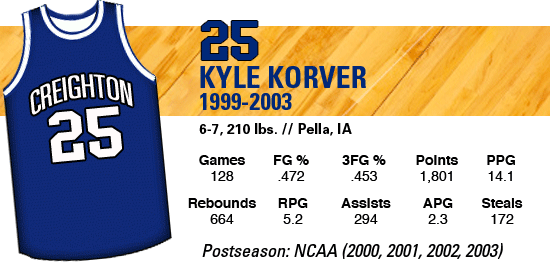 Kyle Korver was born in Lakewood, California but spent his childhood growing up in Pella, Iowa. He came from a long line of basketball players: his father, mother and two of his uncles played hoops for Central College in Pella, while another uncle played for Northwestern College in Orange City and later coached them to the 2001 NAIA national title. A fourth uncle played football for the Washington Redskins of the NFL in 1984. And of course, his mother once scored 74 points in a game in high school, a fact seemingly every national writer and TV commentator mentioned at least once when talking about Korver. It was brought up with such ridiculous regularity that it became a running gag (or a drinking game) for many Jays fans.
As for Kyle, he was a first-team Class 3A all-state selection in both his junior and senior years at Pella, and in his senior season, he averaged 25 points, 12 rebounds, five assists, four steals and four blocks a game for a team that went 21-1. He also played for the Iowa Indians AAU team, which made the Sweet 16 in a field of more than 240 teams at the 1998 Las Vegas Big Time Tournament, and finished second at the 18 & Under Nationals in Orlando. Yet somehow, none of the four D1 schools in Iowa seriously recruited him — other than Creighton, the only schools to offer him a scholarship were Wisconsin-Green Bay and Duquesne — making it easier for Dana Altman to convince him to come to Omaha.
Once at CU, he made an impact right away. His 8.8 scoring average was third on the team, and when combined with 3.1 rebounds a game and a 43.4% three-point percentage, its easy to see how he was named to the MVC All-Newcomer, All-Freshman and All-Bench teams.
On December 12, Korver scored in double figures for the first time, making 5-8 field goals and 3-5 three-pointers en route to a 13-point night as the Jays thrashed Illinois State 82-43. Later that season, he would make his first career start in a game in Normal, and his 15 points on 6-7 shooting helped the Jays earn their first-ever win at Redbird Arena. And from there, he was off and running. He hit 4-7 treys for 16 points and 8 rebounds in a win over Bradley. He made five of nine from long range in a win over Wichita State, adding six rebounds. And in the first round of the MVC Tournament, he made 9-12 from the field, 5-7 from behind the arc and 25 points as the Jays beat Bradley.
Over the summer, Korver worked as hard or harder than anyone to improve his game, and when his sophomore season began in November, the changes were obvious. He was still the sharpshooter from downtown — he made 5-7 three point attempts in the season opener — but it was the other parts of his game where the improvement showed. Those changes were on display in the Energia Systems Thanksgiving Tournament, where Korver earned his first career double-double with 12 points and 10 rebounds in a 66-59 win over Rollie Massimino's Cleveland State team. The next night, he scored 17 points with 8 rebounds in a win over Providence to earn all-tournament honors.
His second career double-double came two weeks later against a good Colorado State team, as Korver scored 19 points and grabbed 12 rebounds. Three days later, Korver narrowly missed another when he had 14 points and 9 rebounds against Lefty Driesell's Georgia State club. He was named MVC Player of the Week for the first time after those two games, an award he would win with regularity the remainder of his career. For an encore, he recorded his third double-double against Nebraska with 22 points, 13 rebounds and four steals in the Jays 62-51 win, which was their first win in Lincoln since 1932.
When MVC play rolled around, he put up 16 points and 7 rebounds in the opener against Wichita State, a 74-64 win. Then he made 7-10 field goals for 22 points against Illinois State, 17 points and 6 assists in a win over Bradley, and in an ESPN showdown with Southern Illinois, had 14 points and 8 rebounds in the 77-63 win. And in the MVC Tournament, he scored 22 points — making 6 of 8 three-pointers — and had six assists in the loss to Indiana State. He also struggled mightily in the NCAA Tournament, taking 13 shots, all of them from behind the arc, and making just two in a loss to Iowa.
For the season, he earned second-team All-Valley honors after averaging 14.6 points, 5.8 rebounds and 2.0 assists a game. He started all 32 contests, was the team's leading scorer 14 times, led the team in steals 10 times and in rebounding eight times. His 45.2% percentage from three-point range was second in the MVC and 12th in the nation, and he ranked 21st nationally by making an average of 3.1 threes a game. It was quite a sophomore campaign, but he was just getting started.
Korver's junior year was astounding, despite missing two weeks with an injury. He was named MVC Player of the Year, MVP of the Valley tournament, and was first team All-MVC and a member of the All-Tournament team. He was named to the CollegeInsider.com Mid-Major All-American team, and an Honorable Mention All-American by the Associated Press. He ranked in the top 15 of the MVC in 11 of the 12 possible individual categories. He ranked 12th nationally in free throw percentage, making 89% of his throws. He led the Jays in scoring, rebounding, assists, steals, minutes and three-pointers, and led the MVC in steals per game and free throw percentage.
The team was replacing both Ben Walker and Ryan Sears and defending a regular season MVC crown, yet behind Korver's brilliance, they shared the league title and won the MVC Tournament while having a nearly identical record as the year before (14-4 in the league both years; 24-9 in 2000-01 and 23-9 in 2001-02). After starting 5-2, Korver injured his knee in practice on December 13 and had arthroscopic surgery to repair torn cartilage in his left knee; he was initially supposed to miss 3-4 weeks, but his legendary work ethic got him back on the court in two.
He missed three games. Unfortunately, two of the games he missed were the rematch with 17th ranked Western Kentucky (the first game in Omaha, with Korver, the Jays won 94-91 in two overtimes; in the rematch without him, they were blown off the court 95-61) and a home game with Xavier that they also lost, 72-65. But when he returned, he returned with a vengeance: in just 11 minutes against Mississippi Valley State, he nearly recorded a double-double with 12 points and 8 rebounds. And from that point on, there was no stopping him.
Korver scored 20 or more points 10 times, including 28 points on 12-12 free throws in a win over Grambling State; 24 points on 8-9 shooting in a win over Illinois State; 27 points on 5-9 shooting from behind the arc in a win over Bradley; and a combined 49 points and 9 three-pointers in two heartbreaking losses to Southern Illinois. He would get his revenge against the Salukis, though; in the MVC title game, he scored 18 points with 9 rebounds, 5 assists, 2 steals and a block in the Jays 84-76 victory. In the NCAA Tournament, he scored 16 points with 6 rebounds and 3 assists in the win over Florida, fouling out late in the first of two overtimes and leaving the heroics for Terrell Taylor. And two days later against Illinois, he had a better game than you likely remember: on a disappointing day for the team he scored 14 points and made 3-5 three pointers in the 72-60 loss.
It had been a remarkable junior season. Yet that summer, he continued working harder, getting stronger and improving his game again. Given what he'd accomplished already, what in the world would he do as a senior?
For starters, he won his second consecutive MVC Player of the Year award, and was Player of the Week four times. He was a second-team All-American as voted on by the Associated Press. He was MVP of the Guardians Classic, and MVP of the Valley tournament, as well as being on the All-Tournament teams in both tourneys. And among a litany of other awards and honors, he was named Midseason Player of the Year by Dick Vitale. He led the Jays in points scored, points per game, steals, rebounds, rebounds per game, field goals, three-pointers and minutes, and he was second on the team in assists. And he led the team in points 23 times, in rebounding 17 times, in steals 13 times and in assists 11 times.
The team went 29-5 and was ranked in the Top 25 most of the season, and it was Korver who provided the ridiculous heroics night in and night out. It certainly got the attention of Dick Vitale, who went on at length during an ESPN telecast about Korver:
"Georgetown forward Mike Sweetney, the Hoyas' leading scorer and rebounder, certainly has got a shot for Player of the Year, but right now if I had to vote today, my first ballot would go, and I know it would probably surprise some people, but if I voted today, I'm going to Creighton and Kyle Korver. He has been sensational all year. They've got one tough loss, a deuce to Xavier. He has been incredible. Right there at 1-A would be Mr. Korver and 1-B would be Dwyane Wade out of Marquette."
In their two biggest non-conference games of the season, Korver came up large. In the championship of the Guardians Classic, he had 24 points and 10 rebounds to go with 7 three-pointers in a win over a Notre Dame team that would also spend most of the year rated. And against Xavier on New Years Eve, he had a one-on-one duel with David West for the ages — a game I wrote about at length on my old blog. That matchup between #15 CU and #19 Xavier saw Korver score 32 points on 8-13 from behind the arc, while West had 28 points and 11 rebounds. Seriously, go read about that game and then come back. Now.
Two weeks later, he would break his own newly-minted record for threes in a game, set in that Xavier game, by making NINE in a game against Evansville on a bitterly cold January night in Omaha. Later that month, more than 1,000 fans over capacity stood in stairways, hallways, aisles and anywhere else they could get a glimpse from, as 10,184 fans packed into the Civic Auditorium (listed capacity: 9377) to see the nationally-televised duel between Southern Illinois and #13 Creighton. It was the fifth-largest crowd in Civic history, and the most in three decades; some older fans might claim to have heard crowds as loud as the one that day in the old building, but there could not have been one louder. When Korver drained the fourth of his second-half three-pointers, you could practically feel the building shake. You might say that the 85-76 win marked the birth of Creighton hoops as we know it today; the bandwagon swelled immensely following that win, and has not stopped growing since.
In February against Fresno State in the inaugural BracketBuster, before the event was a joke and back when it actually matched up good teams against one another, Korver lifted the Jays to a hard-fought win over a solid Bulldog team with 27 points, 5 rebounds and 3 assists, connecting on seven three-pointers. It was another rowdy crowd in the Civic, as both Jay Bilas and Andy Katz made the trek from Bristol to cover the game for ESPN.
But the season's highest point, the MVC championship game throttling of SIU, was also a perfect example of how complete a player Korver had become. Faced with a Saluki defense intent on stopping him, he still managed to score 12 points, though he attempted just five shots in 35 minutes. But he grabbed 10 rebounds, dished out 6 assists, had 2 steals and a block, managing to dominate the game even without an explosive offensive show.
For his career, Korver finished fifth in school history in points scored with 1,876. His 45.3% career three-point percentage was tops in school history until Booker Woodfox surpassed it in 2009, but he remains far and away the all-time leader in three-point shots made with an unbelievable 371 (Woodfox had 147 in two years, by comparison). He's also the all-time leader in free-throw percentage, making over 89% of his attempts in his career (Fun fact: he missed just 32 free throws in his entire career, going 312-350). And he's sixth all-time in steals with 172. He played in four NCAA Tournaments, was part of two MVC Regular Season champions and three MVC Tournament championships, and was the leader of the winningest team in school history, the 2002-03 team that went 29-5.
But ultimately, statistics, game stories and win totals only tell part of the story with him. Korver was part of a group that took what Rodney Buford and Doug Swenson had broke ground on, learned the trade from Ben Walker and Ryan Sears, and then constructed a monster that became Omaha's Team. Consider that the Jays of Chad Gallagher and Bob Harstad never once played before an officially recognized capacity crowd at home; in 1990, there were 3,663 season ticket holders, 660 Jaybackers and the average attendance was 5,566. There were articles in the World-Herald — and quotes from the coach that didn't exactly dispel the rumor — that part of the reason Tony Barone bolted when he did was because of the failure of Omahans to fill the arena to watch his teams. By Korver's senior season in 2002, the Jays had over 6,000 season ticket holders, were nearing 1,000 Jaybackers and averaged 8,246 fans a game — and filled the SIU game to 1,000 OVER capacity. By the tipoff of the next season, 9,050 season tickets had been sold. Everyone who came before helped to build it, but there can be no mistaking that Creighton basketball as it exists today was born during the Korver years.
Career Stats:
| Season | FG Pct. | Pts | Avg. | Reb | RPG | Assists | Blocks | Steals |
| --- | --- | --- | --- | --- | --- | --- | --- | --- |
| Totals | .472 | 1,801 | 14.1 | 664 | 5.2 | 294 | 58 | 172 |
| 1999-00 | .475 | 291 | 8.8 | 101 | 3.1 | 32 | 5 | 21 |
| 2000-01 | .470 | 468 | 14.6 | 186 | 5.8 | 63 | 14 | 56 |
| 2001-02 | .478 | 438 | 15.1 | 160 | 5.5 | 95 | 16 | 45 |
| 2002-03 | .468 | 604 | 17.8 | 217 | 6.4 | 104 | 23 | 50 |
Comments
Tagged in: