Number 3: Nick Porter
ED. NOTE: White and Blue Review's series "What's in a Number?" continues today with a look at the best player to wear #3 for the Jays, Nick Porter. To read up on how we arrived at our choice, check out the introduction of the series. Or you can find the entire series here.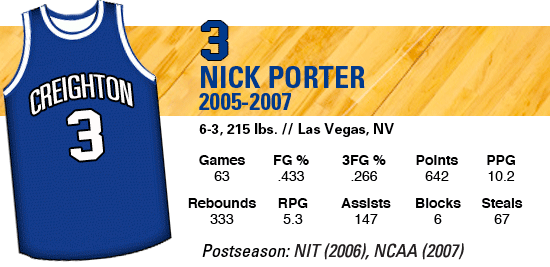 Our pick for the best Creighton player to wear #3 is likely going to be controversial, because there are three players of roughly equal credentials — any one of which could be named the best. The expert consensus was decidedly split on this one, and my sense is if I were to ask again, the result might be different each time. Its that close.
Matt West, a Jays guard from 1996-00, played integral roles on the first two NCAA Tournament teams of the Dana Altman era. He had 502 points and 218 rebounds in his career, although those numbers are deceiving because West was the poster child for a late bloomer — going from a nice bench player early in his career to someone who started every game on a MVC champion his senior year. He was a clutch shooter who hit final-minute three pointers, all giving the Jays the lead, in three road games his junior year, and nailed three big three-pointers in the MVC Championship game his senior year.
DeAnthony Bowden, a JuCo player who came to Omaha in 2001, was the sixth man on perhaps the best Creighton team of all time, the 2002-03 juggernaut. His career averages of 5.8 points, 2.2 assists, 2.0 rebounds and 18 minutes played don't scream out as "spectacular", and if you weren't following the Jays that year, you probably wonder why he's even up for consideration. But anyone who watched that team knows that while other players got the glory on that team, it was Bowden who often provided a spark as the first man off the bench, and while his total point totals were not necessarily impressive, he hit shots in key situations time after time. Case in point: it was Bowden who hit the game-winning three pointer in the Jays double-overtime win over 17th ranked Western Kentucky in 2001 — a raucous affair that saw the Jays rally from a 37-19 deficit, and a game most longtime followers consider to be one of the greatest games ever played at the Civic.
And then there's Nick Porter. Statistically speaking, Porter was the best player to wear #3 — he had the most points, the most rebounds, the most assists, and started the most games. But again, stats don't tell the whole story. His choice here is not merely a case of being the most recent player among the choices, either.
Porter came to Omaha in 2004 from Compton Community College, and was expected to contribute to the 2004-05 team as a compliment to Johnny Mathies at the off-guard. But during preseason, he injured his knee and wound up redshirting. It was a blessing in disguise for the Jays: the 2004-05 squad earned an NCAA Tournament bid even without Porter, and he would be around for the next two years — and would play integral roles in the team's success both years due to injuries to other guards.
In 2005-06, the plan was for Porter to be the sixth man and contribute minutes backing up seniors Nate Funk and Johnny Mathies. But in the fourth game at DePaul, Funk suffered a devastating shoulder injury that for all intents and purposes ended his season (though he'd attempt a mid-season comeback before settling for a medical redshirt). Porter was thrust into the starting lineup, and when he scored 13 points in their 70-44 win over Nebraska on December 11, he became the first Creighton player since Kyle Korver to score in double digits in his first two games for the Jays. While he didn't have the sheer offensive firepower of Funk or the long-range shooting accuracy, he proved to be a more than adequate replacement, and was named the MVC Newcomer of the Year.
Season highlights included scoring 14 second-half points in an upset of #25 Northern Iowa on January 31, and 16 points with 9 rebounds in an overtime loss at Wichita State on February 14. He also had 15 points and 8 rebounds in their first-round NIT win over Akron. For the season, he averaged just a shade under 10 points a game (9.6), with 4.9 rebounds and 2 assists.
In 2006-07, Funk returned from his injury to reclaim his starting role — but Johnny Mathies had graduated, so Porter slid into his spot in the starting lineup. Before the season was a month old, though, freshman Isacc Miles had taken his starting spot away. Then Josh Dotzler suffered a hand injury in Hawaii in the Rainbow Classic, and Porter was back in the starting lineup to stay.
That 06-07 team had the shortest bench of the Altman Era, as just 7 players saw regular minutes. Funk, Tolliver and Porter were the team's Big Three, as they combined for 75% of the team's points and 65% of the rebounds; Funk averaged almost 35 minutes a game, Tolliver 31, and Porter 28. While Funk was the flash and Tolliver was the muscle, it was Porter who did the little things — playing tough defense, getting the long rebounds, drawing charges, getting steals. And by season's end, he'd become an accomplished third scoring option, too: he scored in double figures in 15 of the 18 MVC games, averaging 12 points, 6.2 rebounds and 2.8 assists in league play. He also had a knack for heating up in the second half of games, scoring 16 points in the second half of a win over Evansville on February 7, and 17 of a career-high 21 points in a win over Northern Iowa. For the season, he shot just 37.5% in the first half of games and averaged 4 points — but shot 53% and averaged 6 points in the second half of games.
Porter also saved his best for last, literally. He had a monster MVC Tournament that year, including a 19 point, 13 rebound effort in a semifinal over Missouri State and a 15 point, 5 rebound line in the championship game against Southern Illinois. He added 15 points, 8 rebounds and 4 assists in their NCAA Tournament loss to Nevada, capping his career with three of his best games.
Its a tough call, particularly between DeAnthony Bowden and Nick Porter, but in the annals of Creighton Basketball lore, WBR votes for Porter as the best to have worn #3.
| Season | FG Pct. | Pts | Avg. | Reb | RPG | Assists | Blocks | Steals |
| --- | --- | --- | --- | --- | --- | --- | --- | --- |
| Totals | .433 | 642 | 10.2 | 333 | 5.3 | 147 | 6 | 67 |
| 2005-06 | .415 | 288 | 9.6 | 148 | 4.9 | 64 | 4 | 30 |
| 2006-07 | .451 | 354 | 10.7 | 185 | 5.6 | 83 | 2 | 37 |
Comments
Tagged in: