Number 30: Bob Harstad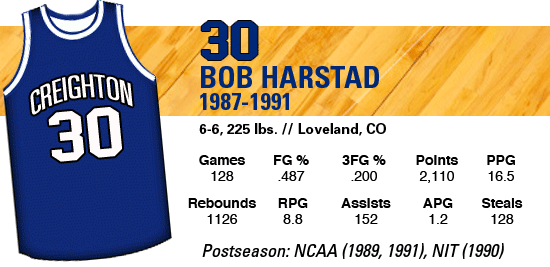 If I learned two things during my research of late 1980s Creighton Bluejays teams I loved featuring Tony Barone and Bob Harstad, it is that the former never held back what he was thinking during a newspaper interview, and the later was the heart and soul of the Creighton hoops program for the better part of four years.
If you hadn't guessed, Harstad is WBR's selection for the best Bluejay ever to wear #30.
The beginnings of a Bluejays legend
Before he came to Creighton, Harstad led Colorado's Thompson Valley High School to a conference co-championship as a junior. A few weeks before beginning his senior season, Harstad signed a letter of intent to play for Barone and the Bluejays.
When asked by the Omaha World-Herald about his newest signee, Barone shared some information many Bluejays fans would probably consider prophetic had they known what Harstad would do during his four years at CU.
"Bob is a very strong athlete who plays exceptionally hard," Barone said. "His level of intensity and desire to win were a cut above many of the players at the B/C Camp [Blue Chip Camp in Indiana] this summer."
Harstad told the World-Herald he came to Creighton in part because of the schedule they played and because of Barone. Websites such as Rivals.com and Scout.com didn't exist at the time, but according to the local fish wrap Harstad was among the nation's top forward prospects as listed by various scouting services and newsletters. And Barone understood just how important a recruit he was for the Creighton program.
"Bob is obviously one of the better players in Colorado," Barone said, "and it is important that we can go into Big Eight territory and get a quality player like Bob. His athletic ability gives us a dimension that we were looking for this year."
But while Harstad and his fellow recruits in Barone's incoming class of 1987 were a season away from arriving at the Hilltop, the Bluejays struggled to improve from a 12-16 finish in Barone's first season. The 1986-87 Jays posted a 9-19 overall record and went 4-10 in the Valley. It is not surprising, then, that Barone thought his program was turning a corner when Harstad's class arrived in Omaha and started practice in October 1987. When asked how practice started that fall, Barone told the World-Herald things were working into shape.
"In my opinion," Barone said, "we're getting better effort now in our practices than we got last year in games. Consequently, we think that level of effort is only going to rise in games. You always play harder in games than you do in practice."
And just a few weeks later, the competition for playing time that began during those practices found three freshmen starting the 1987-88 season opener at California in Berkeley. Harstad joined Chad Gallagher and Chris Rodgers in the starting lineup. Harstad scored only 4 points as the Bluejays were blown out by the Bears, 70-49.
The young Bluejays headed back to Omaha for four consecutive home games, and they went 3-1 in those contests. In a 61-60 win against Nebraska-Omaha, Harstad scored 8 points and grabbed 10 rebounds, 4 of which were on the offensive end. In the next game, an 88-78 loss at home to Mitch Richmond and Kansas State, Harstad went for 12 points and 12 rebounds but fouled out.
Barone's young team was growing up quickly, evidenced by consecutive wins against Illinois-Chicago and Nebraska. Harstad didn't get many touches against the Flames, scoring just 2 points, but the Jays won by 13. And against the Huskers, Rod Mason scored 32 points to lead Creighton to an 88-73 victory. But Harstad plugged in 6 points and 8 rebounds against Nebraska, with Barone saying, "I really felt our freshmen all contributed." Before the game, Barone had talked about how the play from Harstad and Rodgers and Gallagher would be critical to Creighton's chances against their Big Eight opponent. Harstad was well on his way to proving his coach correct.
The Bluejays would hit the road for a month, playing road games at Iowa State and facing #15 UNLV at the Rebel Round-up in Las Vegas and a slew of good competition in the Rainbow Classic in Hawaii. The Jays went 2-4 during that month. Harstad scored 10 points against the Cyclones in Ames and grabbed 12 rebounds against Alaska in Vegas, but he would play just 8 minutes against UNLV after suffering a concussion against the Runnin' Rebels. It may not have made a difference, considering UNLV drubbed the Jays 90-59, but after the game Barone said, "Losing Harstad early really hurt us, because he's our best rebounder." Not bad for a freshman.
Playing a lot as a frosh gave Harstad the ability to garner much needed experience – not all of which was good. After a tough 102-98 loss to Southern Illinois in Omaha in the 87-88 MVC opener, Harstad said, "It gave us a taste of what we don't want anymore. We've had losses, but we really haven't had any close losses yet, as freshmen," Harstad said. "It's a learning experience. We know what it's like now."
Harstad and the Jays built on that experience, stringing together seven wins in their next eight games. Harstad scored 16 points and grabbed 7 rebounds against Chicago State. Two games later, against Nebraska-Kearney, he put up 16 points again and 9 boards. Against SIU in Carbondale, Harstad posted 12 points and 17 rebounds. He grabbed 9 more caroms against Indiana State in the next game, and then 11 more boards against Missouri-Kansas City a few days later. After the 17-rebound performance, Barone commented about Harstad's ability as a freshman to battle for boards. "He's a freshman," Barone said. "I think you've got to take that into consideration and be amazed."
The amazing run for the Bluejays would come to a screeching halt, however. After beating Tulsa in two overtimes in Omaha and pushing their win streak to seven games, the Jays lost seven straight. They would finish their season with three wins on the road (at Drake, at Marquette, and against SIU at the Valley tournament in Peoria, Illinois), but lost to a nationally ranked Bradley team (featuring Hersey Hawkins) for the third time to end Harstad's freshman year.
When the season was complete, Harstad earned All-Valley newcomer team honors. He finished the year averaging 9 points per game, and was second in the conference with 8.5 rebounds per contest. He also made the academic all-conference team. He was the fourth-leading freshman rebounder in the country.
At the end of the year, Barone talked about how Harstad and the other freshmen contributors were setting the stage for the future of Creighton hoops.
"We now have the type of kids in our program that we want," he said. "We have the ability in the next three years to do some things the pros do – we've got to get the ball to our guys in certain spots.

"We're fools if we don't get the ball to Bob Harstad in a post-up situation. Chad Gallagher is an exceptional outside shooter for a big man. We're stupid if we don't use him on the perimeter. With James Farr, we've got to open up the floor and take advantage of his penetration."

"This team has the ability to finish in the top three in the Valley," he said. "I want to get in position to win the Valley tournament."
Making strides as a sophomore
Coming into the 1988-1989 season, a nagging ankle injury dogged Harstad during preseason practices. Barone said it was something that would be a factor in the sophomore's play all season. And the Bluejays did in fact limp out of the gates to start the year, dropping games to Nebraska in Lincoln and Iowa State in Omaha. But by the end of the season, Harstad would not only prove to be healthy but also a rarely stoppable force. And the team would realize Barone's dream of an NCAA Tournament berth.
Harstad scored 12 in a win against Cleveland State and 23 points against San Jose State as CU pulled even at 2-2 on the new season. He didn't play his best in a loss at Arkansas State, scoring just 9 points and grabbing only 4 rebounds, but his efforts in a road loss at Notre Dame were impressive. He poured in 28 points, then a career high, and kept the Jays in the game until the waning minutes. Then, in a win against Montana, he led the Bluejays with 24 points. The sophomore was hitting his offensive stride, a scary proposition for the rest of the Valley with conference play right around the corner.
"Against Notre Dame, I hit the turnaround jumper," Harstad told the World-Herald after the Montana win. "It wasn't falling tonight, so I took it to the hole. Now I feel confident if I can't get it in one way, I can get it in another."
That's one way to say it. Harstad scored 17 against Marquette, capping a run of three games that Barone said represented "the three best games by an inside player since we've been here." His rebounding efforts always exceptional, Harstad was putting up bigger offensive numbers and helping his team improve seemingly each week. But he was in search of wins, not numbers.
"My main concern now is just for the team to win," he said. "Whether I score four points a game the rest of the year doesn't matter as long as the team wins."
And once conference play began, the Jays won. A lot. Harstad led Creighton to an 8-1 start to the Valley slate of games. He scored 18 in a win against Illinois State, 16 in an overtime win against Wichita State, and 23 in a home win against Bradley. Then, in a road win against Southern Illinois, Harstad scored 24 points and grabbed 20 rebounds.
As a sophomore, Harstad was the Bluejays' leading scorer and rebounder. And in large part because of his play, Creighton surprised everyone outside of Omaha (and likely some who followed the program) and claimed its first Valley championship in 11 years. In a fashion that was typical for the 88-89 champions, the Jays trailed Drake in Des Moines by 15 points before clawing back to win 69-60 and claim an outright title ahead of Wichita State and Tulsa. In the deciding win against the Bulldogs, Harstad scored 14 points and grabbed a game-high 12 rebounds.
Still, it would take a three-game run through the Valley tournament in Wichita for the Bluejays to cap a remarkable season with a trip to the NCAA Tournament.
In Creighton's first game against Indiana State, Harstad scored 16 points while watching teammate Matt Roggenburk pour in a career-high 27 to send CU to an 85-70 win. In the semifinals against Drake, the Bluejays only scored 54 points but still defeated the Bulldogs for a third time in 88-89. All three games were close, and miscues by the Bluejays helped Drake stick around. But in the end, Harstad's 16 points helped send CU to the title game.
With one game separating Harstad's Bluejays from a trip to the Big Dance, he posted 18 more points against Southern Illinois as Creighton defeated the Salukis in an epic 79-77 championship game win. Harstad broke a 65-65 tie with two straight baskets, leading the Bluejays on an 8-0 run. SIU battled back, but James Farr scored what would be the winning basket with 2 seconds left that led to a wild celebration by Barone and his players.
A few days after clinching the championship, Harstad told the World-Herald winning regular season and tournament titles finally hit him.
"Last night, I was still in awe about everything. It's settled in now that we've won the championship, and we're going to the NCAA tournament, the dream of every kid that plays basketball."
The dream turned quickly into a nightmare for Harstad and the Jays, if only because the first 30 minutes of their opening tournament game started with such promise. After drawing 27-7 Missouri as their first round opponent, a team that entered the tournament ranked in the top 10 nationally, Harstad remarked about the Tigers:
"They've got a really balanced attack," he said. "They might be a little taller than us. But I think we can play with them. We have nothing to lose going into this thing. We're not ranked in the Top 20. A lot of the pressure is off us. If we play our game, we'll give them a run for their money, I'm sure."
Creighton did give Mizzou a run for its money, but it wasn't enough for a win. Leading 39-37 at halftime and 62-61 with 9 minutes to play, the Bluejays exchanged punch for punch with the taller Tigers. But Missouri outscored the Jays 24-7 down the stretch and posted an 85-69 win. The Big Eight tournament champs held Harstad 10 points below his season average.
In the end, Harstad gained first-team All MVC honors as a sophomore and was also selected for the league's all-defensive team. He averaged 16.7 points and led the Valley with 9.4 rebounds per game, and his all-around play and great statistical output was enough for him to finish as the runner-up in MVC Player of the Year voting.
Jumping to the next level as a junior
Before Harstad's junior year, the Bluejays travelled to Italy for an exhibition tour. They left Europe with a 2-3 record, but all-Valley performer posted huge games against the Italians. He went for 34 points and 12 rebounds in the team's first exhibition, then scored 19 points and grabbed 8 boards in the next game. But both were Bluejays losses. In their first win a day later, Harstad posted 20 points and 12 rebounds, then followed that effort up with 16 points in CU's second consecutive win. In the last game in Italy, a 92-73 loss, Harstad posted another double-digit scoring effort (12 points). When the team arrived back in Omaha, he talked about the positives of the trip.
"I think it brought us together closer as a team, on and off the court," he said. "You're in a different culture. You sort of cling to each other for security. All we had was each other because nobody else understood what we were saying."
What was understood as the season drew near, though, was that Harstad and the Jays were poised for huge success in the 1989-1990 season. The Valley coaches and media selected Harstad the preseason player of the year and ranked the Bluejays tops among MVC teams. Teammate and second half of the "Dynamic Duo," Gallagher was runner-up for the preseason POY nod. He offered this premonition about Harstad's preseason accolades:
"I think he earned it with the year he had last year," he said, "and I know he's not going to decline. You know he's going to improve."
That statement proved an understatement to an amazing degree. What Harstad did during his junior season is the stuff of legend. He scored 734 points, just 4 points shy of Bob Portman's single-season record for points by a Bluejay. In fact, his 734 points were just 73 short of his scoring total for both his freshman and sophomore seasons combined. He averaged 22.24 points per game, good for third-best all time at CU.
I'm sitting here staring at a stat sheet from the 1990-1991 Creighton Bluejays Media Guide. It lists the points and rebounds recorded by each of Barone's players during each game of the 89-90 season. The numbers produced by Harstad and Gallagher are ridiculous. Simply ridiculous. Harstad logged 13 double-doubles, and had 4 more games when he fell just 1 rebound shy of a double-double. He scored 11 points or more in all but just one game (a 2-point, 9-rebound performance in a road loss at Drake). He scored 35 points three separate times, a total that would stand as a career high until he posted 38 in a game his senior season.
The Jays opened with a 6-point home loss to Coppin State, and then had to rely on Harstad's 2 free throws with 4 seconds left to post a 2-point win at Montana. Then CU traveled to Columbia for a rematch of the 1989 NCAA Tournament game against Missouri, which the Jays lost by 7. When the Bluejays got home for a game against Cleveland State, Harstad let them have it. He scored 33 points and grabbed 17 rebounds in a CU win, and then followed that superb effort with 35 points and 14 boards in a double-overtime win against Western Michigan.
Things seemed to be back on track for the Bluejays. ESPN decided to air Creighton's home game against in-state rival Nebraska, which the Bluejays won 86-83. And while scoring a game-high 24 points and adding 13 rebounds, Harstad's best play may have been the one that won CU the game. From the World-Herald:
Creighton led 84-83 with 17 seconds to go when [Duan] Cole missed a free throw. Nebraska center Rich King grabbed the rebound. Harstad knocked the ball from King's hands and out of bounds. The officials ruled the ball went off King. "I thought it was a good call," Creighton Coach Tony Barone said. "I don't think there's any question it went off of him. But the reason it went off of him is because Harstad was attacking him."
And a few weeks later, during Christmas break, Harstad and the Bluejays went 3-1 in some key non-conference games. Creighton lost to Cincinnati by 2 points after leading the game by 17 in the second half (a possible second round matchup with Duke, that season's national runner-up, was on the line), but fought back to beat Drake and Virginia Tech to claim 5th place in the holiday tournament. He scored 28 of his 30 points against DU in the second half, and then went for 17 and 11 against the Hokies.
Then, sitting at 8-5 on the season, the Bluejays came back to the chilly Midwest for a showdown against Notre Dame in Omaha. Irish coach Digger Phelps brought his team to town, and the Jays and Irish engaged in an overtime thriller in front of a raucous home crowd of 8,100 CU fans. Although Creighton led by 9 with 1:21 left in regulation, Notre Dame tied the game with a 3-pointer near the end of the second half and sent the game into OT. But Harstad hit key free throws down the stretch and the Jays held on for a 77-75 win, one that impressed Phelps.
"Creighton is a very talented team, and they play to their talent," he said. "They're very tough when it comes to what they want to do inside with their big people, and Harstad and Gallagher are as quality an inside game as any we've seen or any that's out there."
So the Jays took a 9-5 record into the beginning of Valley play, which started at Tulsa in a game matching the top two teams in the conference. Creighton led by 3 points with 34 seconds left, when Gallagher fouled out and then was called for a technical foul for arguing the call. With Gallagher, Harstad, Darin Plautz, and Tony Ball all on the bench after fouling out, the Golden Hurricanes capitalized and posted an 82-77 win.
But things turned for Harstad and the Bluejays, who would win their next 6 games. That included a stunning, double-overtime win at Iowa State. Harstad scored 31 points and grabbed 13 rebounds against the Cyclones. He told the World-Herald:
"This is probably the most tired I've ever been after a game," Harstad said. "At the end of the game, I just wanted to jump up and yell, 'Yeah.' I couldn't do it. But I'm as happy as I could be. This is a very tough place to play. Their fans are great. They're a strong team at home. So this is a big win."
But following the 6-1 run, Southern Illinois came to town and handed the Jays a critical 83-72 home loss. SIU held Harstad to 3-17 shooting from the field. Ten days later, in Carbondale, Harstad would play one of his best games as a Bluejay. He scored 35 points and grabbed 14 rebounds, but it wasn't enough as Creighton surrendered an 84-76 loss.
The Jays would go 3-2 down the stretch following that loss to SIU, but the preseason pick to win the Valley would finish in a three-way tie for second place in the league. On the final night of the regular season, on the road with a chance to win its second consecutive outright MVC title, the Bluejays coughed up a double-digit lead in the second half at Illinois State. Harstad scored 29 points, but he only recorded one made basket in the final 11 minutes of the game.
At the MVC Tournament, the #3 seed Bluejays couldn't advance out of the semifinals to defend their championship. Harstad scored 19 points in a quarterfinal win against Wichita State, and poured in 32 points in the semifinals against Illinois State. But the Redbirds, the home team in the campus-site tournament, ended CU's title hopes with an 83-77 win in the semis.
Before the tournament started, Harstad earned the MVC Player of the Year award, the first time a Creighton player received the designation. Just as in the preseason balloting, Gallagher finished right behind Harstad in the all-MVC voting, and both players earned first-team accolades. Harstad finished the regular season second in the league in scoring, third in rebounding, fourth in field goal percentage, and fifth in free throw shooting percentage.
"He's had a tremendous, tremendous year, and I think he deserves the honor," Barone said of Harstad. "He's certainly our most valuable player. We were expecting a great year from him, but I can't say I was expecting this kind of year out of him. He has exceeded what we felt he could do for our basketball team."
Harstad was more focused on a return trip to the NCAA tournament, telling the World-Herald:
"This will be a nice accomplishment to look back on down the road. Right now, I would give anything to win and go to the NCAA tournament."
That didn't happen, though. Creighton's bubble burst, and instead of making it to the Big Dance faced a road game in the first round of the NIT against DePaul. Harstad led the Jays with 27 points and grabbed 6 rebounds, and his driving basket midway through the second half pulled CU to within 1 point at 55-54. But the Blue Demons proved too tough at home and won going away, 89-72.
Still, during what was a disappointing season for the Bluejays as a team, Harstad further established himself as one of the better Creighton players in recent memory.
Going out on top
Ahead of Harstad's senior season, the Valley coaches and media again picked the Bluejays to win the conference. And again, they bestowed upon Harstad the title of preseason Player of the Year. But the senior had other ideas, telling the World-Herald he thought fellow Dynamic Duo member Gallagher would win the award in the end.
"I would vote for him," the 6-foot-6 forward said. "I really do honestly believe that Chad Gallagher will be the premier player in the Valley this year. In all seriousness, he weighs about 260 now. He can run. I think he's developed greatly over the summer in the way he plays. He's even got more touch on his shot now, if you can believe that. I just don't think there will be anybody in the Valley who can stop him."
Ultimately, Gallagher would win the Valley's POY award. But Harstad turned in a remarkable senior season. While his scoring output declined from his junior season, he still finished the year scoring 17.8 points per game. And, most important for Harstad, his team returned to the NCAA Tournament.
His senior season started in almost perfect fashion. Harstad scored a career-high 38 points in the opener against Texas-San Antonio, making all 13 field goals he attempted and 12 of 13 free throws. It was the most accurate performance by a Bluejays shooter in school history.
Harstad didn't find the same stroke the next night against Iowa, which limited him to 14 points on 7-14 shooting. The Bluejays lost to the Hawkeyes 83-77, their first of three straight games against major Midwest state universities. A few days later, the Bluejays opened their home schedule against Missouri, and this time Harstad (17 points, 10 rebounds) and his Creighton teammates beat the Tigers. But that victory was more or less forgotten by the team and its fans following a 97-63 drubbing by the Nebraska Cornhuskers two days later. Harstad finished with 17 points, but he and Gallagher combined to score almost 10 points below their collective average.
It took Harstad and the Jays a few weeks to get into a groove. Amidst a few non-conference games, Creighton began the Missouri Valley Conference portion of its schedule 0-2. The Bluejays couldn't win the home opener against Tulsa, despite 17 points from Harstad, and then lost a heartbreaker on the road against new MVC school Southwest Missouri State. In that game, Harstad fouled out with 10 minutes to play and scored just 10 points. The Jays lost 72-71.
Two weeks later, Harstad's Bluejays were 3-3 in the Valley and coming off a crushing 71-68 loss at Illinois State during which Creighton's senior leader scored just 12 points. In their next game two days later against Bradley, guard Matt Petty suffered a scary head injury just minutes into a contest that was pivotal to Creighton's chance to rebound in the Valley race. Harstad and Gallagher took the team on their backs, scoring 26 and 29 points respectively to pace the Jays to a 76-68 win. It would be their first of 8 in a row, including 6 straight conference wins.
In their next game, Harstad would break Creighton's career scoring record, held previously by Bob Portman. He needed 23 points to break the mark, and he scored 24, which led to a 90-second standing ovation by the Bluejays faithful. A game later, a 78-75 win at SIU, Harstad broke Elton Tuttle's school record for free throw makes in a career. Then, a few games later, the Bluejays enacted revenge against Southwest Missouri State with an epic 91-87, double-overtime thriller. He scored 30 points in the victory, and was the only CU starter to finish regulation and the two overtime periods.
A February 16 setback at Tulsa put Creighton's Valley title hopes at risk, but Harstad and his teammates responded with four wins (three of which in MVC play) to end the regular season. And in the regular season finale, on Wichita State's home court, Duan Cole drove the length of the court to hit a 10-foot jump shot with 3 seconds left to give the Bluejays an outright Valley title for the second time in three seasons. The 65-64 win in Wichita was CU's 20th on the year, giving Barone and Harstad and the other Bluejays their third consecutive 20-win campaign.
Before heading to St. Louis for what would be the first "Arch Madness" in Valley history, Harstad learned he had earned first-team All-MVC honors yet again. And his preseason prediction also came true, with teammate Gallagher winning the coveted Player of the Year award. With a regular season title and numerous accolades in hand, Harstad and the Jays headed to Missouri looking to leave no doubt in their attempt to gain entry into the NCAA Tournament.
Creighton blew out Drake in the quarterfinals, but not because of a huge night offensively from Harstad. He scored a season-low 7 points. But in a tenuous semifinal win against Southern Illinois, Harstad shook off a sprained toe to post 20 points and 17 rebounds. And he would finish his MVC career one night later, scoring 16 points and pacing the Bluejays to a championship game win against Missouri State. Harstad was named the tournament's Most Valuable Player, as he led Creighton back to the NCAA Tournament.
Harstad and the rest of the Bluejays didn't plan on a one-and-done exit to the tournament like they had in 1989.
"You go through preseason conditioning and think you're not going to make it through another season," Harstad told the World-Herald. "It gets to be so long. But now that you're down near the end, you don't want it to end at all. That's part of our motivation, especially for the seniors – Darin [Plautz], Ice [Todd Eisner], Chad [Gallagher], Billy [Bill O'Dowd] and myself. This is it for us. We lose, and our careers are over. It's been a good thing, and you never want a good thing to end."
So Harstad and the Jays kept it going. In a first round matchup against #15 New Mexico State, Harstad scored 13 points and grabbed a game-high 16 rebounds to help pace the Bluejays to the win. Gallagher added 18 and 14, and the Dynamic Duo led Creighton to the second round of the Big Dance. But the vaunted careers of Harstad and Gallagher and the other seniors would come to an end against their next foe, Seton Hall. Creighton led the #13 team in the country and Big East tournament champions 32-31 at halftime, but allowed the Pirates to shoot 64% from the field in the second half en route to an 81-69 Hall victory.
It was a frustrating finish to a hall of fame career. Harstad ended his career one of just four players in MVC history to record more than 2,000 points and 1,000 rebounds, joining legends Oscar Robertson, Larry Bird, and Xavier McDaniel. As of 2010, he is second all-time in scoring and rebounding in Creighton history. He is third all-time in field goal makes, fourth in field goal attempts, and first in free throw makes and attempts. His performance, both statistically and in effort alone, was enough to earn Harstad induction into the Creighton Athletics Hall of Fame in 2002.
| Season | FG Pct. | Pts | Avg. | Reb | RPG | Assists | Blocks | Steals |
| --- | --- | --- | --- | --- | --- | --- | --- | --- |
| 1987-88 | .466 | 289 | 9.0 | 272 | 8.5 | 40 | 13 | 29 |
| 1988-89 | .457 | 517 | 16.7 | 290 | 9.4 | 40 | 10 | 30 |
| 1989-90 | .511 | 734 | 22.2 | 290 | 8.8 | 31 | 5 | 38 |
| 1990-91 | .499 | 570 | 17.8 | 274 | 8.6 | 41 | 8 | 31 |
| Totals | .487 | 2,110 | 16.5 | 1,126 | 8.8 | 152 | 36 | 128 |
Comments
Tagged in: