Number 33: Bob Portman
ED. NOTE: White and Blue Review's ongoing series "What's in a Number?" continues with a look at the best player to wear #33 for the Jays, Bob Portman. Though there is no debate on this one — Portman's #33 was retired in 1982 — check out the introduction of the series anyway to see the guidelines for inclusion in this series. Or you can read about the players you might have missed by checking out the entire list.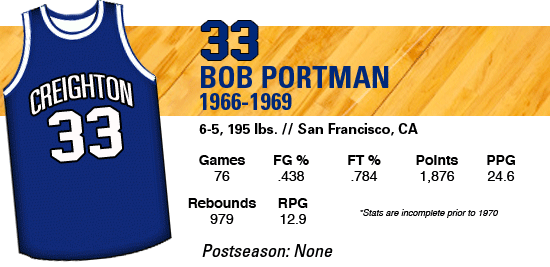 For twenty years, Bob Portman's 1,876 points stood as the gold standard for Creighton basketball players, but even after latter-day stars Chad Gallagher, Bob Harstad and Rodney Buford surpassed the mark, its brilliance is not diminished one bit. On the contrary, it might be even more impressive now then it was then. Remember, when Portman played, freshmen were ineligible so he scored his points in just three seasons; all three who surpassed him did so in the final month of their senior seasons. Remember also that the three-point shot would not come into college hoops for another 15 years, so all of his baskets were worth two points.
***
John J. "Red" McManus was on the bench as an assistant at the University of Iowa under Frank "Bucky" O'Connor for many years during what many experts consider to be their greatest era. They won the Big Ten in consecutive years, finishing fourth in the country in 1955 and second in 1956 with their only loss coming in the national championship game to Bill Russell's San Francisco Dons. The era is so beloved at Iowa that all five starters on those teams have their jerseys retired.
When O'Connor died in April of 1959, McManus moved to Omaha and took the head job at Creighton. Some wondered whether he would favor the exciting, up-tempo style of those Iowa teams, or a style better suited to the players already on Creighton's roster. After all, their previous coach, Theron Thomsen, favored a patterned, regimented offense based on discipline and precision. But in his very first game on the bench, McManus left little doubt which direction he planned on taking the program as the Jays absolutely destroyed Colorado State 105-54 — the first time in the school's history that they had topped the century mark in a game.
In his early years, he recruited players such as Paul Silas, Fritz Pointer and Chuck Officer to run that offense, and they did so which such success that two NCAA Tournaments soon followed. But after the 1964 tourney, those players graduated and McManus was faced with the task of finding the next batch of recruits to keep the program rolling along. One of them was a point guard from Covington, Kentucky named Dave Hickey who would go on to be a good player, scoring 693 points and grabbing 171 rebounds in his three seasons while dishing out untold numbers of assists (the stat was not kept by CU until 1970). Wally Anderzunas, a hometown kid from Omaha who would score 1,267 points and secure 696 rebounds, was another. And then there was Bob Portman.
A 6'5″ shooter from San Francisco, Portman's offensive skills at St. Ignatius in northern California were legendary. And from the moment he took the court in Omaha, he showcased those skills — he averaged 18.3 points a game, scoring 457 points in 25 games. He was second on the team in scoring (junior Tim Powers led the team with a 21.5 average) but his 11.4 rebounds a night meant he also averaged a double-double, something that is almost unheard of nowadays. He also led them in free throw percentage, field goal percentage, and rebounds.
Creighton went just 12-13 that season, but played their usual brutal schedule — McManus invented the concept of the "Travelin' Jays" and took the team coast-to-coast to take on any and all comers, a necessity given their independent status (they had withdrawn from the MVC in 1947, and would not rejoin until 1977). Perhaps their toughest game came against 5th ranked Houston, a game played in Omaha at the Civic Auditorium. That Houston team featured NBA Hall of Famer and one of the league's 50 Greatest Players, Elvin Hayes. The Cougars also had Don Chaney, another future NBA star.
Though Hayes stood an intimidating 6'9″ and weighed 235 pounds — "we had a smaller team that year; our biggest guy was only 6-7," Portman recalled in a 2003 World-Herald article — Portman was their most athletic player, and thus drew the assignment of trying to slow him down. In 1997, McManus told Rich Kaipust of the World-Herald:
"They came up here and played a 1-3-1 zone. Chaney was a tremendous player and he was out there on top running back and forth, but Portman was breaking in behind him and getting that reverse jump shot off real quickly, and Hayes wasn't coming out fast enough to get him."
Playing against that 1-3-1 zone, Portman would score 35 points, though the Jays would lose 87-80.
***
There's something about junior seasons and Creighton greats. Bob Harstad had his finest individual season in 1989-90 as a junior, scoring 22.2 points a game and 734 total points. The only player with more points in a season is Portman, who also accomplished the feat in his junior year.
In 1967-68, he averaged — this is not a typo — 29.5 points a game, while banking 738 total points. Both numbers are the finest single-season totals in school history. But he also averaged 15.4 rebounds a game, while making nearly 80% of his free throws. Again, keep in mind this was before the three-point shot; can you imagine a player averaging 30 and 15 today, even with the three-pointer? Its almost unfathomable. It was downright obscene in 1967.
McManus famously told him, "Everytime you play you're going to have to prove you're the fastest gun in the West, because everybody's going to throw every defense at you." It was the truth — whether it was the 1-3-1 zone that Houston employed the previous season, or the box-and-one Notre Dame would try in 1967, or any of the other defenses that opponents used, none of which did much of anything to stop Portman from scoring.
That was especially true on December 16, 1967, when Portman scored 51 points — a mark which remains the single-game record at Creighton all these years later. In fact, he's the only Bluejay to ever record a 50-point game. The offense, as it usually did, ran through Portman but on this night, even his teammates were astounded as the points piled up. Scoreboards in those days didn't display stats, of course, so most of the time players and even coaches were totally oblivious to their stat totals in-game. But McManus was keeping track in his mind, and knew his junior was having a career night, as Portman told reporters after the game. "Red told me when I had 40, and my teammates went out of their way to pass to me. If not for them, I would not have gotten it."
First he passed Tim Powers mark from the previous year, when he scored 45 against Idaho State. Then he passed Eddie Cole's school record of 47 against Morningside in 1954. And then he became the first, and to date, only, player to surpass 50 with a bucket in the closing moments.
For the night, he was 16-35 from the floor, and 19-23 from the free throw line. Remarkably, he would make more field goals in three other games, but would never surpass his point total.
One of those games would come six weeks later when, on January 30 of 1968, he scored 42 against LaSalle. In that game, Portman and his arsenal of offensive weapons allowed him to make 16 of his first 19 attempts against Explorers star Larry Cannon, another future NBA all-star. Said McManus after that game, "He was hitting everything. The guy (Cannon) looked over to their bench and threw up his  hands like, 'What do I do with this guy?'" He was 19-41 from the floor that night; the 19 field goals are tied for most in school history with another Portman game from the following season, while the 41 attempts are the most ever at CU and remains the only time a player has ever attempted more than 40 shots in a game for the Jays.
Less than two weeks later, Portman would again score 40+, this time hanging 43 on Kansas State. That total is significant because it was just one short of tying Wilt Chamberlain for the most points ever scored in a single game at Kansas State's Ahearn Fieldhouse.
His junior year numbers are the best in any single season for a Bluejay in four categories, and top five in another:
738 points, most all-time in Creighton history;
29.52 points per game, most all-time in Creighton history;
303 field goals made, most all-time in Creighton history;
699 field goals attempted, most all-time in Creighton history;
385 rebounds, fifth most in Creighton history
The team once again struggled to get victories, though, going just 8-17 overall and obviously missing out on postseason play for the fourth consecutive year. Portman earned several individual honors, however, as he was named an AP Honorable Mention All-American, a UPI Honorable Mention All-American, and a first-team All-American by Basketball Weekly.
***
What in the world would Portman do for an encore? As a senior, he averaged 26.19 points and 11.8 rebounds a game, as the Jays took on one of their most challenging schedules ever. They played four Top 15 teams, and a fifth who was ranked #18 — plus perennial (at the time) juggernauts Notre Dame, Iowa, Kansas State, Illinois, and Saint Louis. It was a brutal slate, but Portman continued to have the green light to shoot early and often.
Against Weber State on December 23, he scored 46 points as he tied his school-record from a year earlier with 19 field goals. He added 38 in a January 2 loss to UNLV, in which the Jays were outscored 109-99.
The Jays went 13-13 that season, losing to #11 Kansas at Allen Fieldhouse 78-65, to #12 Illinois 90-77, to #11 LaSalle 103-84, to #15 Duquesne 66-59, and to #18 Marquette 79-76. In games against teams outside the Top 20, they were 13-8 and played some of their best basketball of the late sixties. Not bad, considering they had a scouting budget of zero dollars. "I always told the guys we'd start the game and then call time out five minutes into it," McManus told the World-Herald in a 2003 article. "Then, we'd go over the scouting report and we'd come back to beat them."
Portman's senior season numbers, while not as earth-shattering as his junior campaign, were nonetheless brilliant:
681 points, fourth most in Creighton history;
26.19 points per game, second most in Creighton history (trailing only his own record from the previous year);
256 field goals made, fifth most in Creighton history;
585 field goal attempts, third most in Creighton history;
169 free throws made, sixth most in Creighton history;
210 free throw attempts, ninth most in Creighton history;
308 rebounds, tenth most in Creighton history
Not a bad encore, eh?
For his career, he finished as the leading scorer in school history at the time with 1,876 points, and 40 years later, only three players have surpassed him (Harstad, Gallagher and Buford). His career scoring average of 24.68 is the highest in CU history by a wide margin; the next closest is Paul Silas, who averaged 20.51. His 747 field goals made are fourth highest, with only the three who would eventually surpass his point total making more. He's fourth on the all-time rebounds list with 979, and ninth in career free-throw percentage at 78.4%.
Granted, he played on teams who went a combined 33-43, he never played on a winning team, and he played in an era when it was commonplace for teams to run their offense through one player, making obscene numbers more common. Those are all fair points. But none of his contemporaries did anything remotely close to what Portman did — so the era he played in and the teams he played on do nothing to diminish the fact that he's probably the greatest pure offensive weapon in program history. Four of the top five single-game scoring totals in program history belong to Portman, or are shared by Portman with another player. He scored 30 or more points 15 separate times, far and away the most in CU history.
Drafted in both the ABA (first round by the Denver Rockets) and the NBA (seventh overall pick in the first round by the San Francisco Warriors), he opted to play for his hometown team and signed with the Warriors. Playing four seasons professionally, he scored 1254 points in 221 career games.
And in 1982, he was inducted in the Creighton Athletics Hall of Fame, with his #33 retired forever — removing any debate on who the greatest to wear that number was.
Career Stats:
| Season | FG Pct. | Pts | Avg. | Reb | RPG | Assists | Blocks | Steals |
| --- | --- | --- | --- | --- | --- | --- | --- | --- |
| Totals | .438 | 1,876 | 24.6 | 979 | 12.9 | -- | -- | -- |
| 1966-67 | .444 | 457 | 18.3 | 286 | 11.4 | -- | -- | -- |
| 1967-68 | .438 | 738 | 29.5 | 385 | 15.4 | -- | -- | -- |
| 1968-69 | .439 | 681 | 26.2 | 308 | 11.8 | -- | -- | -- |
Comments
Tagged in: