Number 34: Mike Grimes
ED. NOTE: White and Blue Review's ongoing series "What's in a Number?" continues with a look at the best player to wear #34 for the Jays, Mike Grimes. Check out the introduction of the series to see the guidelines for inclusion. Or you can read about the players you might have missed by checking out the entire list.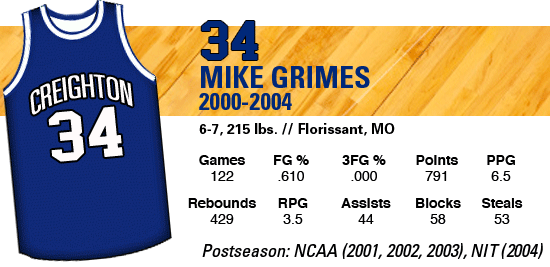 I'm a younger guy, meaning my historical knowledge of Creighton basketball doesn't extend even as far as my esteemed colleagues here at White & Blue Review. The first distinct memory I have of a Creighton basketball game is the noise of the crowd as Ryan Sears and the Jays knocked off Oklahoma State at the Civic Auditorium in 1998. The next distinct memory I have is, in 1999, walking down the long ramps at the Civic, joining in on reverberating (or maybe what just seemed like it at the time) "CU" chants after the Jays downed No. 23 Iowa.
The rest of that first year (1998-99) I have foggy memories of sitting in the very empty upper deck and screwing around with my friends, as annoying 11 and 12 years olds are wont to do. I think the only time we stopped to pay much attention to the games is when, quite often, our attention would get caught by Rodney Buford, probably because he just did something ridiculous. And, since we were annoying (and stupid), 30-40 times a game (seriously) we would yell, "GET. THE ROCK. TO BUUUUFFOORRRRD." Just like that. Oh, and the soft-serve ice cream. I remember the ice cream.
I mention all this so as to point out the fact that, regrettably, maybe I wasn't paying enough attention during Buford's years, and I certainly don't remember anything before that. This is a reason I wanted to write about Mike Grimes – he was part of the first group of players that I watched with interest and that I actually remember. And, though it may have been Buford who hooked me, it was a guy like Mike Grimes who kept me in.
***
It was during the first year post-Rodzilla that Grimes arrived at Creighton from Florissant, Mo., one of seven freshmen listed on the roster including Kyle Korver and Terell Taylor. By the time they were done, this group of freshmen would be more heralded than perhaps any other in Creighton basketball history. Grimes redshirted that year – along with fellow five-year Jays Mike Lindeman and Joe Dabbert – and watched Sears and Ben Walker lead Creighton to its second straight NCAA Tournament. It would be the first of four times Grimes got to experience the Big Dance.
Grimes was a classic improve-every-year guy under Altman. Often, guys run into a sophomore slump and we sometimes think of junior year as the "breakout" year for a player. But Grimes got better every single year, which is the way it's supposed to be. He didn't shoot a lot, and he always seemed to make the smart play. He didn't block a lot of shots, but he played good defense and grabbed his share of rebounds. And, by all indications, he worked his butt off.
***
After sitting out the 1999-2000 season, Grimes made his Jays debut in the season-opener against Western Illinois at the Civic. He played 11 minutes off the bench and went a perfect 2-2 from the field – not a stat that jumps off the page but a telling one nonetheless. A missed shot would prove to be a rarer thing for Grimes than any other Bluejay – he's Creighton's all-time leader in field goal percentage (.611).
That game would actually prove to be a highlight for Grimes his freshman year. He only recorded more than five points or played more than 11 minutes once the rest of the year – on January 14 against Northern Iowa at home he played 14 minutes and scored eight points. For the season, he played in 27 of the team's 32 games and averaged averaged six minutes, two points and 1.6 rebounds per game as he mostly watched teammates Ryan Sears and Ben Walker lead the Jays to a 23-6 record in the regular season.
Creighton would win 11 games in a row and secure Altman's only outright Valley regular-season title before falling to Indiana State in the semi-finals of the MVC Tournament in St. Louis, but the selection committee deemed the Jays' resume good enough for their first and, to this date, only at-large Tournament berth since 1975. Grimes and the gang were sent to New York as a 10 seed to face former Southwest Missouri State head coach Steve Alford and his Iowa Hawkeyes in the first round.
After Walker scored a layup with 10:44 left for the Jays, they wouldn't make another field goal until there were 52 seconds left in the game and the result had been all but finalized. Iowa's Reggie Evans scored seven straight points with about seven minutes left, part of his 16 second-half points, and the Hawkeyes never looked back. Grimes went 0-for-4 from the field in the game and played only three minutes, but his time for dominance was still to come.
***
In his sophomore season (2001-02), Grimes' playing time jumped to just under 13 minutes per game, including more than 15 minutes per game during the team's last 20 contests. His scoring improved to more than five points per game and he averaged over three rebounds per contest. He was now junior Kyle Korver's primary backup at the power forward position, and he would play a big role on one of only two teams Altman coached to an NCAA Tournament victory.
The Jays started fast, knocking off No. 17 Western Kentucky in their second game of the year after trailing 40-27 at halftime in a classic double-overtime battle at the Civic Auditorium. DeAnthony Bowden hit a three with 43 seconds left in the second overtime that game Creighton the lead for good, but Grimes had to watch most of it from the bench. He played only six minutes in the upset.
His playing time would fluctuate greatly over the first month and a half of the season – he played only one minute in a loss at BYU, three minutes in a win over Nebraska, and more than 17 minutes each in wins over Grambling State and Mississippi Valley State – but his minutes really started to stabilize in the middle of January.
Grimes averaged eight points and almost five rebounds during a seven-game MVC winning streak from Jan. 9 through the end of the month, which put Creighton in a position to compete for another conference crown. He was proving to be someone Altman trusted as a capable backup to the Korver, the conference's player of the year, even though they were two players with completely different styles. He knew his role and he executed it perfectly nearly all the time.
The Jays went 14-4 in the Valley, but lost to Drake by two at home in the season's final game – not "senior night because Creighton didn't have any seniors – preventing them from winning their second straight outright conference title. They split the title with Southern Illinois and entered the Valley tournament as the No. 2 seed.
One of Grimes' best games of the year came at a perfect time for the Bluejays. He just missed out on a double-double as he posted 12 points and nine rebounds in the team's first-round, 80-65 conference tournament win over Northern Iowa, the first of three wins in three nights, propelling them into the NCAA Tournament as the Valley's automatic qualifier. The Jays were handed a 12 seed and were slated to face fifth-seeded and 15th-ranked Florida in Chicago.
The talking heads didn't give the Jays much of a chance against the Gators. But the talking heads probably didn't think Terrell Taylor was going to hit eight second-half threes.
Taylor's three-pointer with two-tenths of a second left in the second overtime gave Creighton an 83-82 win. Grimes was part of a group of big men which also included Brody Deren, Joe Dabbert and Kyle Korver who were tasked with stopping Florida big man Udonis Haslem and forward Matt Bonner. The task was put solely on Grimes' shoulders after both Deren and Korver fouled out. The Jays played the rest of the way with four guards and Grimes. Said the Omaha World-Herald:
"I've never seen a lineup like that before," Grimes said. "I'm not sure Coach has even put in a lineup like that in practice. But we had to make do with who we had playing."
Even with the foul trouble, Grimes and the big guys definitely "made due." Though Bonner and Haslem combined for 30 points, the Jays out-rebounded a bigger Florida squad 48-39 and got some big stops down low when they most needed them.
Grimes played 22 minutes, scored 10 points and grabbed seven rebounds in the program's only NCAA Tournament victory of the decade. He was a large factor in one of the most memorable Creighton basketball triumphs ever. Two days later, he added eight points and three boards against No. 13 Illinois. The Jays lost the game, but the media frenzy stirred by their first-round upset of Florida was only a fraction of things to come.
***
The Jays entered the 2002-03 season with high expectations. With the exception of Taylor, who was dismissed from the team after trouble with the law, every major contributor was back from the year before. But not even the most optimistic of fans could have predicted the attention this team would attract.
Grimes again increased both his scoring and rebounding averages in his junior season. He scored 8.5 points per game and snagged four boards while playing an average of 17 minutes. And, if he had been eligible for the list (min. 200 attempts), his 2002-03 field goal percentage would rank as Creighton's second-best all time. Not bad for a guy trying to get minutes behind the reigning MVC Player of the Year and soon-to-be All-American. He came on even stronger toward the end of the season, scoring in double digits in seven of Creighton's final 10 games.
The Bluejays started the season with the Gaurdian's Classic – two home games at the Civic Auditorium and two games in Kansas City. In the opener, they blasted Texas-Arlington 106-50. Grimes scored 14 points and added five rebounds. They then blew out Furman, 82-57, before moving on to Kansas City where they had no trouble with IUPUI, advancing to the championship game with a 99-52 win.
In the championship, senior Kyle Korver scored 24 points in an 80-75 win over Notre Dame, a team that would go on to beat No. 10 Marquette, No. 9 Maryland and No. 2 Texas in the 12 days after its loss to the Jays. This win propelled Creighton to the top of the RPI rankings and into the vision of the poll voters.
The Jays entered the top 25 on Dec. 9, and took on Tennessee Tech as the No. 23 team in the country on Dec. 14. They spent the rest of the year in the top 25 and would climb as high as No. 9 in the Coaches' Poll.
After averaging only six points over the team's first nine games, Grimes averaged almost 10 points over the team's last 25 games. His team-leading 14 points at Southwest Missouri State on Feb. 26 helped the Jays come back from an eight-point deficit with 12 minutes to go as they posted a 63-58 win.
Creighton entered the MVC Tournament as the two seed for the second straight year, and for the second straight year, it won three games in three days. Grimes had double figures in each of those three games, culminating with 15 points and six rebounds in an 80-56 shellacking of Southern Illinois, which had actually beaten out the Jays for the regular-season title, in the championship game.
The Jays were given a respectable six seed and sent to Salt Lake City, Utah, for an NCAA Tournament matchup against 11th-seeded Central Michigan. Grimes had 15 points and six boards, but Creighton couldn't come back from a 38-22 halftime deficit and its most successful season in the modern era ended with a 79-73 loss to the Chippewas.
***
With Korver graduated, Mike Grimes started all 29 games his senior year. He again increased both his scoring and rebounding averages – 10 points and five rebounds per game.
Grimes and his teammates were the first Creighton basketball team to play in the Qwest Center, and they christened it by starting 12-0, its best start since 1942-43. The team, with a nation-leading four fifth-year senior starters (Grimes, Mike Lindeman, Joe Dabbert and Brody Deren), soon saw themselves back in the top 25.
Grimes' personal highlight came in a Dec. 13 game at Fresno State when dropped a career-high 17 points and recorded eight rebounds in the team's overtime win. He scored nine straight points early in the second half to tie the game at 35, and sophomore Nate Funk hit a three at the regulation buzzer to send it into overtime.
After the 12-0 start, however, the Jays would cool off. They would go only 8-8 over their final 16 games, which included losses in the first round of the NCAA Tournament to Southwest Missouri State and the first round of the NIT to Nebraska. Grimes, though, kept fighting to the end, averaging 13 points per game over the final three games of his career, including 16 points and eight rebounds on senior night against Wichita State.
***
Mike Grimes scored 791 points and grabbed 429 rebounds in his 122-game Creighton basketball career. He made a school-record 61 percent of his shots. He's one of a handful of Jays who have been to the NCAA Tournament four times. He improved every single year he wore the White and Blue. And he's one of my favorite jays ever.
Career Stats:
| Season | FG Pct. | Pts | Avg. | Reb | RPG | Assists | Blocks | Steals |
| --- | --- | --- | --- | --- | --- | --- | --- | --- |
| Totals | .610 | 791 | 6.5 | 429 | 3.5 | 44 | 58 | 53 |
| 2000-01 | .500 | 55 | 2.0 | 44 | 1.6 | 3 | 6 | 3 |
| 2001-02 | .606 | 174 | 5.4 | 106 | 3.3 | 8 | 11 | 13 |
| 2002-03 | .663 | 287 | 8.4 | 135 | 4.0 | 11 | 19 | 14 |
| 2003-04 | .591 | 275 | 9.5 | 144 | 5.0 | 22 | 22 | 23 |
Comments
Tagged in: