Number 35: Paul Silas
ED. NOTE: White and Blue Review's ongoing series "What's in a Number?" continues with a look at the best player to wear #35 for the Jays, Paul Silas. Though there is no debate on this one — Silas's #35 was retired in 1974 — check out the introduction of the series anyway to see the guidelines for inclusion in this series. Or you can read about the players you might have missed by checking out the entire list.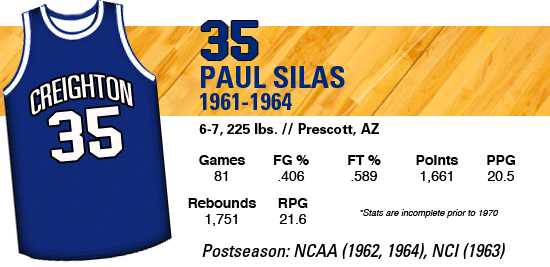 Paul Silas is one of three Creighton men's basketball players to have his jersey number retired. And for good reason. In a time when freshmen college basketball players had to sit out their first seasons on campus and play for a freshmen squad, Silas posted statistics that, frankly, defy some explanations.
That's not an overstatement, either. Sifting through reels and reels of microfilm, reading articles from the Omaha World-Herald about the three Bluejays teams Silas played on, it is amazing how quickly the staff writers covering CU hoops in the mid-1960s ran out of superlatives to describe Silas's play.
Silas is the schools' 8th most prolific scorer in history, amassing 1,661 total points while at Creighton. But this total, like so many of the net results for players in the pre-1973 era of college hoops, is deceiving because it took Silas only 3 years to collect that amount. His 20.5 points per game average is second only to Bob Portman's 24.7 ppg.
But Silas, as good as an offensive player as he was, didn't rise to national fame because he could put the ball in the basket. Rather, it was his work on the glass that earned him recognition throughout the Midwest, honors nationally among the best college basketball players, and a seemingly unbreakable grasp on many of the best performances in Creighton's record books.
Silas grabbed 1,751 rebounds in three years of college basketball at Creighton. He is the 7th greatest rebounder in NCAA history. Ever. Of all time. He played just a few games more than Bill Russell did in college, and Silas posted more than 100 more rebounds than the great Russell.
Silas's 1,751 are 600 more than the next closest Bluejay, Bob Harstad (1,126), and it took him four years to accumulate that total. In three seasons, Silas grabbed individually almost the same number of rebounds that Chad Gallagher (891, 5th all time) and Rodney Buford (716, 6th) recorded in their 8 total years combined at Creighton.
Silas averaged 21.6 rebounds per game. That is not a misprint. In 1961-1962, his sophomore season, Silas averaged 22.5 rebounds per game. As a junior, his 20.6 rpg led the nation (in only 11 other seasons in NCAA history has the top rebounder averaged more caroms per game than Silas's 20.6 in 1962-1963).
Silas holds the top 35 single-game rebounding performances in Creighton history. Seriously. The list is too long to include in the annual Creighton men's basketball media guide, so Rob Anderson and the good folks at the CU Sports Information Department include this note after listing Silas's top 12 single-game rebounding efforts: "NOTE: Silas also had four games with 28 rebounds, two games with 27 rebounds, three games with 26 rebounds, one game with 25 rebounds, seven games with 24 rebounds, and six games with 23 rebounds."
Only 8 men in this history of NCAA D-I hoops grabbed more rebounds in a single game than Silas did on February 19, 1962. That night, against Centenary, the sophomore Silas snagged 38 boards. The NCAA D-I record is 51, set in 1953.
Sure, he did a lot of other things really, really well. For example, only Portman made more field goals in the pre-1973 era at CU than Silas, and only Portman attempted more shots during that era than he did, leaving Silas in the top 10 in both categories all-time at Creighton. Silas is 5th on the list for free throw makes and 3rd in attempts, too.
And Silas was a winner at Creighton. The Bluejays finished the 1960-1961 season 8-17 overall, while Silas was playing for the school's freshman team. In his sophomore and senior seasons, Silas's CU teams would become just the second and third teams in school history to win more than 20 games in a season.
It's difficult to summarize the play of a man like Paul Silas, but let's take a look at what he did each year while at Creighton.
1961-1962 (Sophomore)
In a performance that was indicative of things to come, Silas began his collegiate career by setting the school's single-game rebounding record. The morning edition of the World-Herald put it this way:
"Paul Silas, heralded sophomore, made a smashing collegiate debut. He was the game's leading scorer with 22 points but was far more impressive as a rebounder, spearing the ball off the backboards 29 times. The entire Colorado College team got only 26 rebounds."
That's right. He outrebounded the entire opposing team.
The Bluejays, who ended the 1960-61 season with a 3-9 record in their last 12 games, won Silas's first game on varsity. They would win 20 more before his sophomore year was through, including games against Notre Dame (home and away), UCLA, Princeton, Iowa, Marquette, and Air Force, among others.
And in almost every game, win or lose, Silas was a star.
In his second game, a 73-71 win over Notre Dame that featured teammate Chuck Officer's unlikely last-second game-winning shot, Silas led the Bluejays with another 22 points. A few weeks later, Silas posted 23 points and 26 rebounds in a 74-72 win over John Wooden's UCLA Bruins in Omaha.
Silas's Bluejays were 3-2 and coming off a 3-point loss to Northwestern in Evanston when they returned to Omaha to host Gonzaga. An 82-77 win against the Zags unleashed a 7-game win streak, which the Jays would outdo with a 10-game streak from late January to mid-March.
The first streak would include a masterful performance against Wabash, during which Silas recorded 35 rebounds (the 5th best single-game performance in CU history). The World-Herald wrote the following morning:
"Paul Silas had been ailing the past couple of days nursing a sore throat. But Saturday night he was nothing but a pain in the neck as far as the Wabash basketball team was concerned. The nation's no. 1 rebounder certainly strengthened that lead, making 35 retrieves. Paul sat out the last five minutes of the first half and the closing three minutes of the game."
So, he didn't even have to play a full game to grab 35 rebounds. Of course not.
During the second long winning streak that season, Silas turned heads around the country. The '61-62 squad, an early version of the Travelin' Jays, played 8 road games in a row from January 13 to February 16 of 1962 and won 6.
Among the highlights of that long road trip were Creighton's game in Iowa City against the University of Iowa Hawkeyes. CU head coach Red McManus returned to the school where he coached the Hawkeye freshmen squad, and the Bluejays rewarded him with a raucous 68-67 victory. Silas, of course, led the way. The World-Herald wrote:
"Silas? Paul wasn't up to his usual scoring and rebounding, but he was the best on the Iowa Field House court in both departments. He scored 19 points and hauled in 14 rebounds while outplaying Iowa's Don Nelson, one of the Big Ten Conference's standouts."
That's right – 19 and 14 was an off night for Silas, and he put that up against Don Nelson, a two-time collegiate All-American and future standout NBA player and coach.
Two days later, Creighton travelled to Milwaukee and beat Marquette 79-72 in overtime. Then, seeking a season sweep against the Fighting Irish, the Bluejays led from wire to wire thanks in large part to Silas. From the World-Herald:
"Strong rebounding, headed by Paul Silas, was credited with saving Creighton's 74-71 victory over Notre Dame Saturday. Silas scored 19 for Creighton and hauled down 20 rebounds."
And it seemed that just as quickly and furiously as Silas was accumulating points and rebounds, McManus and the Jays were piling up victories. The folks at the NCAA and NIT took notice, and on the same day when McManus, Creighton's athletic director and coach, would reject a bid to play in the NIT tournament and instead accept a bid to the NCAA tourney, Silas and the Bluejays posted a record-setting win against Centenary. The World-Herald wrote:
"The Bluejays were terrific at times. They were ragged other times. But at all times they had their all-America candidate Paul Silas, who was at his dazzling best."

"The standing-room only crowd was intent on watching Silas. The 6-7 sophomore gave the fans a defensive treat midway in the final half, twice stopping the Gents' season scoring leader, Stan McAfoos."
Sure, his defense was great against Centenary. And yes, he scored 25 points. But he also grabbed 38 rebounds, which remains the all-time single-game record at CU and (as mentioned already) is one of the top single-game rebounding performances in NCAA D-I history.
After that game, the Bluejays played North Dakota State and North Dakota before heading to Dallas to play Memphis State in the NCAA Tournament. The Tigers sent assistant coach Dean Ehlers to scout the North Dakota game. From the World-Herald:
"He saw Paul Silas reap 29 rebounds but he didn't get a true picture of Paul's scoring ability. The 6-7 master of all basketball trades collected only 14 points."
Memphis State would see the true picture of Silas's abilities in Creighton's 87-83 win in the first round of the NCAA tourney. Silas led the Jays in scoring (27 points) and rebounding (24 boards) in the win. He scored 6 points after Memphis State closed the CU lead to 78-76 with 4:30 to play. The World-Herald wrote:
"Silas set a SMU Field House record for a single game with his heroics. His 24 rebounds topped the old mark of 33 set by the fabulous Wilt Chamberlain of Kansas in 1957. The slender Silas was also the game's top score with 27 points, six of the total bailing Creighton out of trouble in the final two minutes."
Silas made 11 field goals and attempted 31 shots; both are single-game records for any Creighton player in NCAA Tournament play.
After the first round win, Creighton travelled closer to Nebraska and played #12 Cincinnati in Manhattan, Kansas, in the tournament's second round. But a tired CU team lost by 20 points to the Bearcats, 66-46, with Silas being limited to what would remain a career-low 7 rebounds. Coach McManus wasn't happy about it, either. From an article in the World-Herald the next morning, titled "McManus Critical of Cincy Defensive Crush on Silas":
"When asked "how did they stop Silas"? McManus told reporters, "By holding him and backing into him. The only worse game was Air Force when they torpedoed him every time he got the ball. He couldn't even get the ball on the side like he had all year. We're not that bad."
But the Bluejays bounced back, even though their trek for a national title was over. Silas scored 12 points and grabbed 13 rebounds in a 63-61 consolation round win over Texas Tech.
Silas finished the '61-62 season with the following All-America considerations: Brooklyn Tablet first team, Cage Scope first team, Helms Foundation third team, AP honorable mention and UPI honorable mention.
***
1962-1963 (Junior)
In the first two weeks of his junior year, Silas would post two of the best rebounding efforts in school history.
Creighton opened the '62-63 season on the road, playing in the historic Palestra against La Salle. The Bluejays won, 91-72, behind a big game from Silas. From the World-Herald:
"Paul Silas made a big impression when he grabbed 30 rebounds and scored 18 points to lead Creighton University to a surprisingly easy 91-72 victory over La Salle in the opener for both teams. When Coach Red McManus took Silas out with 2:06 left, Paul received a standing ovation from the partisan Eastern crowd. Silas's rebound total broke a Palestra record for visiting players."
Two weeks later, against Clemson, Silas scored 23 points and pulled down 29 boards. Those two games represent two of the top 10 single-game rebounding totals in Creighton history.
But unlike during his sophomore year, Silas and the Bluejays couldn't get on a roll. They didn't win more than two games in a row all season. But it wasn't due to a lack of outstanding efforts by Silas. There is a two-game period in mid-February that sticks out as perhaps the greatest back-to-back performances in CU basketball history.
On February 12, the Bluejays blew a 15-point lead and lost to Tennessee State 75-74. The game, played at Chicago Stadium, featured Silas and Tennessee State's Bobby Edmonds getting into a fistfight during the first half. Benches cleared, but the fisticuffs didn't limit Silas. He grabbed 37 rebounds that evening, which remains the second best single-game total in CU history.
Two days later, Creighton returned to Omaha for the first game in about a month. It was Valentine's Day evening, and Bluejays fans displayed their love for their star junior by hosting Paul Silas Night at the City Auditorium Arena. At halftime, Silas received a plaque for making Chuck Taylor's (yes, that Chuck Taylor) 1961-1962 All-America team. The World-Herald wrote that "Silas, not one to sit on past performances, scored 26 points and grabbed 37 rebounds."
That's right. Back-to-back games with 37 boards. Unreal.
But the Bluejays couldn't fight their way back to the NCAA or NIT tournaments. Silas finished the season with a 20.6 rebounds per game average, tops in the nation. He finished the '62-63 season with the following All-America honors: Cage Scope first team, Converse second team, AP and UPI honorable mention.
But close losses littered the ledger, leaving McManus and Silas and the rest of the Jays focused on improving the next season.
***
1963-1964 (Senior)
Silas and the Jays began his senior season with six consecutive home games. The familiar surroundings, coupled with excellent games from Silas, helped the Bluejays start what would become a 9-game win streak to begin the year. After defeating Colorado, Hardin-Simmons, La Salle, and Idaho State, the Jays welcomed #4 Arizona State to Omaha for a mid-December match-up.
The Jays prevailed, 84-83, in an amazing atmosphere at Omaha's City Auditorium. From the World-Herald:
"Creighton, unranked but not rattled, shot from a four-point deficit late in the game to jolt highly regarded Arizona State Friday night at City Auditorium Arena.

"But cousins Paul Silas and Fritz Pointer sparked the Jays with 19 and 18 points, respectively.

"Silas also seized ownership of the floor under both baskets in the second half. He ended with 31 rebounds, two more than the entire Tempe quintet — not counting team grabs."
A day later, Creighton would defeat Utah State 96-91 in two overtimes. Then, two days after that, McManus would take the Jays back to Iowa City and beat Iowa again (77-72 in overtime). Two days after that, Creighton would beat Gonzaga back in Omaha.
The following week, Silas and the Jays headed west to California. One day after beating Long Beach State 99-93, Creighton took on Wooden's #6 UCLA Bruins. And although the Jays lost 95-79, Silas made an impression on the UCLA players, coaches, and fans. The senior star scored 29 points and grabbed 33 rebounds. Just another 30-plus rebounding effort for Silas.
Two days later, during a 92-63 win at Nevada, Silas earned the following headline in the World-Herald: "Silas Cracks CU Point Mark as Bluejays Clobber Nevada". He scored 30 points and pulled down 26 caroms, but more importantly to Silas the Jays were back on the winning track.
Silas continued his excellent performances in wins against teams such as Notre Dame (twice more), New Mexico State, Marquette, Miami, and Oklahoma City University.
It was against that last team, on February 17, 1964, that Silas would play his final home game at Creighton. And it was that day, just like it had been two seasons earlier, that the NCAA and NIT tournaments started dolling out bids for their postseason play. The Bluejays would learn before Senior Night that they had received a bid to the NCAA tourney, and that evening in front of more than 10,500 fans, the city and university celebrated Silas and his fellow seniors.
Silas, suffering from bad knees but leading major college rebounders for the better part of two seasons, grabbed 28 boards in a 94-77 victory against Oklahoma City.
The two teams would meet three weeks later in Dallas, site of the NCAA Tournament Midwest Regional games. There, Silas would score 15 points and grab 27 rebounds in an 89-78 win. According to the World-Herald, it wasn't easy.
"Silas, troubled somewhat under the basket by [Eddie] Jackson and [Jim] Miller, managed another coliseum mark of 27 rebounds as he continued his fight for a third straight national title. Paul, incidentally, held the old retrieve record of 26 set two years ago."
His 27 rebounds remain Creighton's single-game record for play in the NCAA Tournament.
Awaiting the Bluejays after the first round win? Wichita State, the nation's #5 team, led by All-American Dave Stallworth, in Levitt Arena in Wichita. Silas scored 22 points and grabbed 17 rebounds, but Stallworth still performed well (22 points, 23 rebounds) and the Shockers defense limited Silas's teammates. Wichita won 84-68, ending Creighton's title hopes. Silas made 12 of 15 free throw attempts, both of which are single-game records for any CU player in NCAA tourney history.
The Bluejays played once more that season, in a consolation game against Texas Western, which they lost 63-52. Silas fouled out of his final collegiate game, finishing his career with a 14-point, 13-rebound line. He wrapped up the 1964 NCAA Tournament with 57 rebounds and 19.0 rebounds per game, still the top totals in both statistical categories for a single NCAA Tournament for any Bluejay in history.
Silas finished the '63-64 season with the following All-America honors: Brooklyn Tablet first team, CoSIDA Academic first team, Helms Foundation first team, Converse second team, NABC second team, U.S. Basketball Coaches second team, AP third team, UPI third team and Sporting News honorable mention.
—
At the end of his Creighton career, Silas was the school's all-time career scoring leader (105 points) and rebounding leader (101) in the NCAA Tournament. He averaged 16.8 rebounds per game in the NCAA tourney, and he also is tops field goal attempts (88), free throw attempts (54) and free throw makes (35) during career NCAA appearances at CU.
His excellent collegiate career paved the way for a similarly successful professional career. He was selected in the second round of the 1964 NBA Draft by the St. Louis Hawks. During his 16-year NBA career, Silas scored 11,782 points and grabbed 12,357 rebounds. According to Basketball-Reference.com, Silas is the 18th leading rebounder in NBA history. And he won three World Championships.
He was inducted into the Creighton University Athletics Hall of Fame in 1974, just 10 years after he left campus.
Oh, and he was an academic All-American, too.
Things ended well for Silas at Creighton, as evidenced by the record books. But it was his recruitment and arrival at the Hilltop that changed the way Creighton basketball was perceived around the country.
In 2008, the World-Herald's Rob White wrote a piece on Silas's rise through the record books. In it, Silas's teammate Tom Apke, who would also serve as coach at Creighton after Eddie Sutton left Omaha, talked about the type of impact Silas had as a young man coming to the Midwest from the Bay Area.
'"Creighton basketball had not had a real major college prominence until Red McManus got there and recruited Paul," said Tom Apke, a teammate of Silas at Creighton and later the Bluejays' coach. "A lot of teams can play the types of opponents Creighton began to play at that time, but Silas gave Creighton the ability to be competitive and win in those types of environments."

"What he was able to accomplish statistically was amazing," Apke said. "I've never seen anyone who was able to tip an offensive rebound on one side of the basket and – if it was a little strong – to react quickly enough to tip it a second time on the other side of the basket. He had an amazing ability to instinctively know where the ball was going to go."
Perhaps Apke's superlative is the best of the bunch used to describe Paul Silas. He was, simply, amazing. And he is the best to ever wear #35 for the White and the Blue.
Career Stats:
| Season | FG Pct. | Pts | Avg. | Reb | RPG | Assists | Blocks | Steals |
| --- | --- | --- | --- | --- | --- | --- | --- | --- |
| Totals | .406 | 1,661 | 20.5 | 1,751 | 21.6 | -- | -- | -- |
| 1961-62 | .406 | 551 | 22.0 | 563 | 22.5 | -- | -- | -- |
| 1962-63 | .414 | 573 | 21.2 | 557 | 20.6 | -- | -- | -- |
| 1963-64 | .397 | 537 | 18.5 | 631 | 21.8 | -- | -- | -- |
Comments
Tagged in: