Number 4: Ben Walker
ED. NOTE: White and Blue Review's series "What's in a Number?" continues today with a look at the best player to wear #4 for the Jays, Ben Walker . To read up on how we arrived at our choice, check out the introduction of the series. Or you can find the entire series here.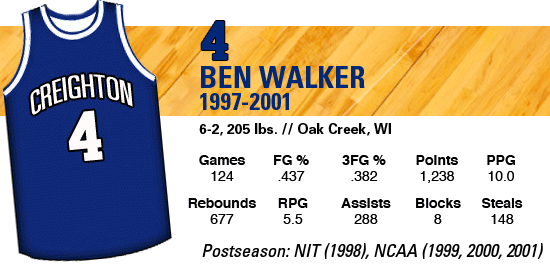 Ben Walker was a star running back in high school, and was recruited by seven Big Ten schools to play football. But he was quite the basketball player, too, and led his team in rebounds each of his three varsity seasons — despite often being among the shortest players on the floor. He was his team's starting point guard, after all.
Walker was named the best guard in the state of Wisconsin by the Milwaukee Journal-Sentinel after his junior year, and following his senior year, he was named first-team all-state and "Player of the Year" in his conference. When he decided to pursue basketball, he came to Creighton as part of a recruiting class that wasn't highly regarded at the time, but would become the first in school history to appear in three NCAA Tournaments — and the first to appear in the postseason all four years.
He came off the bench his first four games as a Freshman, but after grabbing 11 rebounds against Grambling State, he replaced Corie Brandon in the starting lineup on December 6 in a home game against Wyoming, and would start every game but one the rest of his career. Fun fact: that game was on Senior Night in 1999, when Brandon took back the starting nod in his final home game. It was not because Dana Altman felt he owed it to the senior, however. Walker had suffered a concussion in the previous game fighting for a rebound, and was held out of the starting lineup as a precaution.
He quickly proved that those 11 rebounds against Grambling State were no fluke, as he became the team's leading rebounder from the guard position, grabbing at least five boards 13 times. His personal highlight came in a January 21 game at home against Southwest Missouri State. With the team coming off a demoralizing loss to Bradley four nights earlier in which star Rodney Buford was benched, Walker went off for 20 points on 7-12 shooting, hitting both of his three-point attempts while grabbing seven rebounds (four of them offensive), dished out four assists, and made off with two steals. It was a virtuoso performance, and it sparked the Jays to win their next eight games. They would parlay that nine-game MVC winning streak into their first postseason bid of the Dana Altman era, and first since the 1991 NCAA Tournament. Their NIT matchup against Marquette was a homecoming for both Walker and junior Rodney Buford, who were both products of the state, but in front of their friends and family they were unable to pull off a win as they lost 80-68.
The team went on a summer trip to Europe in 1998, and media outlets reported that of all the Jays, the extra practice and games benefited Walker the most. Indeed, in his sophomore season, he increased his shooting percentage from 39% to 48% while attempting 70 more shots. He increased his three-point accuracy, connecting on 45% of his attempts compared to a still-stellar 40% as a freshman — while attempting twice the number of treys. He increased his free-throw percentage from an atrocious 50% (32-63) to 64% (63-99). He increased his rebound average from 4.2 per game to 4.9, dished out 31 more assists, and bettered his scoring average from 5.6 to 9.4.
That scoring average is deceiving, because down the stretch, Walker emerged as the team leader despite the continued presence of scoring champ Rodney Buford. Walker led the team in both scoring and rebounds in their final eight games, averaging nearly 17 points and 7 rebounds a night during their MVC Championship push. His previously awful free-throw shooting became automatic, as he nailed 19-20 in his final four games. He continued to dominate in St. Louis, as he had a double-double in a quarterfinal win over Illinois State (10 points and 10 rebounds). He went off for 23 points the next night in the semifinals against SMS, but saved his best performance for the title game on Monday night, as he scored 18 points and grabbed 11 rebounds in the win over Evansville.
When Dana Altman shortened his bench to seven players in the NCAA Tournament, riding his top guys hard, Walker responded by leading the way with 16 points and 5 rebounds in their first-round win over Louisville while playing lock-down defense. He had 15 points on 6-7 shooting in the round of 32, grabbing five rebounds against the superior athletes of Maryland — and took turns trying to slow down Steve Francis. The task proved too much, as Walker fouled out in 25 minutes of action and the Jays fell 75-63.
As his junior year approached, Buford and Doug Swenson were gone, leaving some huge question marks in their wake. Walker wasted no time in proving those fears to be unfounded. He started all 33 games, led the team in points (12.6) and rebounding (6.3), became their most accurate three-point shooter (47%), once again increased his free-throw percentage (70%) and dished out 93 assists, all while playing over 28 minutes a game. He was remarkably consistent: he had 20 games with 6 or more rebounds, and 21 games with double-digit points.
When #23 Iowa came to Omaha, fresh off a takedown of #1 UCONN in NYC, Walker teamed up with Ryan Sears to pull off the upset, scoring 19 points and grabbing five boards. He did even better one week later, scoring 19 while grabbing 15 rebounds in an overtime win at Baylor. And on ESPN's Big Monday in early February, when the Jays stepped out of MVC play for the chance to play on national TV, Walker led the charge as the Jays took down Colorado State, scoring 13 points, grabbing 7 rebounds and dishing out a season-high 6 assists.
He was once again best when the lights were brightest, earning a spot on the MVC All-Tournament team and leading the Jays into their second consecutive NCAA Tournament after winning their second-straight MVC Tournament title. Playing in the Metrodome in Minneapolis against Auburn, Walker led a furious late-game comeback that saw the Jays erase a nine-point deficit with 12.6 seconds left — getting an open look for Sears, who knocked down a three. After a turnover on the inbounds pass, Walker dished it to Terrell Taylor, who hit another three. Auburn proceeded to turn it over again on the inbounds pass, and as the Jays set up for an inbounds pass of their own, under their own basket, they needed one more three pointer to tie the game. The pass went to Walker, who took a shot from the corner that was miraculously blocked by 7-footer Mamadou N'Diaye who came out of nowhere to alter the shot.
Walker struggled, by his standards, during his senior season. His shooting percentage dropped to 40%, and his three-point shooting fell off a cliff (25%, making just 24-94 attempts). Those offensive struggles were offset, and in many ways obscured, by the emergence of Kyle Korver and Terrell Taylor as dynamic scoring options, and Walker contributed other ways. His rebounding stayed constant, averaging the same 6.3 boards per game he'd averaged as a junior, leading the team. He was second on the team in assists, and once again increased his free-throw percentage (75%).
He led the team in scoring in seven games, and in rebounding in 19 games — including their NCAA Tournament loss to Iowa. He had double-digits in rebounds in 7 games, and had four games with at least 11 boards. The Jays went 14-0 at home that season, won the MVC regular season title outright, and went into St. Louis as the top seed for the first time in a decade. They would lose in the semifinals to Indiana State, but earned the only at-large bid to the NCAA Tournament of the Dana Altman era and first since 1975. They faced off against Iowa out in Uniondale, NY, and had a lead before going the final 11 minutes without a basket — Walker's shot with 52 seconds remaining was their only field goal during that brutal stretch. They massacred the Big Ten champs on the boards 28-15, thanks in large part to Walker's 9 rebounds, but could not pull off the win.
Walker concluded his Bluejay career with an 87-37 record, one NIT bid, three NCAA Tournament bids, one outright regular season MVC title, 1,238 points, 677 rebounds, and 288 assists. He ranks 19th in school history in points scored, 10th in rebounds, and 9th in steals. He's far and way the finest player to wear #4 on the Hilltop, although Nate King did it proud from 1993-95 on some bad teams under Rick Johnson, including averaging 15.7 and shooting 49% his junior year. Walker went into the CU Sports Hall of Fame in 2010.
Career Stats:
| Season | FG Pct. | Pts | Avg. | Reb | RPG | Assists | Blocks | Steals |
| --- | --- | --- | --- | --- | --- | --- | --- | --- |
| Totals | .437 | 1,238 | 10.0 | 677 | 5.5 | 288 | 8 | 148 |
| 1997-98 | .399 | 157 | 5.6 | 118 | 4.2 | 45 | 3 | 35 |
| 1998-99 | .476 | 292 | 9.400 | 151 | 4.9 | 76 | 3 | 43 |
| 1999-00 | .460 | 397 | 12.0 | 207 | 6.3 | 93 | 0 | 34 |
| 2000-01 | .407 | 392 | 12.3 | 201 | 6.3 | 74 | 2 | 36 |
Comments
Tagged in: