Number 40: Daryl Stovall
ED. NOTE: White and Blue Review's ongoing series "What's in a Number?" continues with a look at the best player to wear #40 for the Jays, Daryl Stovall. To read up on how we arrived at our choice, check out the introduction of the series. Or you can read about the players you might have missed by checking out the entire list.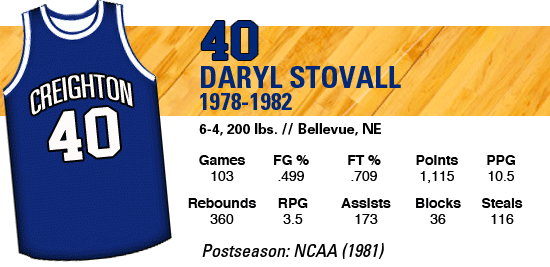 The number 40 has been worn by three high-scoring Jays: Dick Harvey, who scored 1,172 points in the late-1950s; Jerry Vanderheydt, who scored 739 points in the early-1990s; and Daryl Stovall, who scored 1,115 points in the late-1970s and early 1980s. But who was the best?
Harvey, an Omaha native, was recruited by Coach Theron "Tommy" Thomson to come play for the Jays after starring at Creighton Prep. Known for his devastating hook shot, he led the team in scoring his junior year and was named an All-American by Catholic Digest. With the arrival of Red McManus and his up-tempo style in 1959, Harvey's hook shot became a lethal weapon — he averaged 20.2 points his senior year, second-highest in the Midwest region and once again earning him All-American honors from Catholic Digest. He was featured in the 1961 edition of "Memories of My Altar Boy Days" as one of 11 top Catholic athletes, and drafted by the Minneapolis Lakers in the 1960 NBA Draft, though he never played professionally.
Currently 23rd on the school's all-time scoring list with 1,172 points, he shot 40.7% from the field and averaged just over 13 points in 88 career games. He was induced into the Creighton Athletics Hall of Fame in 1983.
Jerry Vanderheydt was part of Tony Barone's final recruiting class at Creighton, and the 6'9″ big man would go on to score 739 points and grab 376 rebounds in four seasons with the Jays — the final three of which spanned the Rick Johnson era. He had pedestrian numbers his first three seasons, averaging 5.9 points and 2.7 rebounds, as Johnson's typically undermanned squads forced Vanderheydt, who was a perimeter player in high school, to play inside. He finally figured things out his senior year, playing on a team that went 7-22 and 3-15 in the MVC, when he averaged just under 15 points and 9 rebounds a game.
***
In 1978, Tom Apke and the Bluejays were coming off a 19-9 season that saw them win the MVC on the strength of three improbable victories over Larry Bird's Indiana State Sycamores. Faced with replacing arguably his two best players (Randy "The Glue" Eccker and Rick Apke), the coach brought in a giant recruiting class to reload the program around John C. Johnson, David Wesely and Kevin McKenna.
Among the newcomers on the 1978-79 team were such nondescript players as Jai Mahone (165 points and 85 rebounds in 55 games, departing after his sophomore season), Chris Peterson (202 points and 51 rebounds in 49 games, also leaving after his sophomore season) and the infamous Kevin Ross (440 points and 261 rebounds in four injury-plagued seasons, plus, um, this). The entire recruiting class wasn't a bust, though; its centerpiece was a McDonald's All-American from their own backyard that Apke had convinced to stay home and enroll on the Hilltop.
Daryl Stovall, a star forward from Bellevue West, was named captain of the World-Herald All-State basketball team in 1978, and was all-state in both basketball and baseball in his junior and senior seasons. A gifted athlete, he played both guard and forward for the Jays, and was often asked to lock down an opponent's best scoring threat — a task he succeeded at often. His offense was raw when he got to CU, but with his stellar defensive play, the coaches were more than willing to let him play through his growing pains on offense.
Despite the emergence of junior George Morrow as a force, the continued dominance of Kevin McKenna, and a monster season from Johnson, the 1978-79 team slumped to a 14-13 record (8-8 MVC). Stovall played in 18 games, all off the bench, mostly in garbage time and in short spurts; he scored 32 total points for the season and nearly had more fouls (16) than rebounds (22).
Though he struggled to find playing time as a freshman on the basketball team, he had no such trouble on the baseball team. A speedy outfielder, he hit nine homeruns — a Creighton freshman record at the time — and was one of the team's leading hitters.
Back on the hardwood, as a sophomore Stovall blossomed as a force on both ends of the floor. He started all 28 games, averaging 11.3 points and 3.0 rebounds while continuing to play awesome defense. The team improved to 16-12 overall, and 9-7 in the MVC as they finished tied for second. His junior year would find Stovall putting up nearly identical numbers: 11.6 points and 3.4 rebounds while starting all 30 games.
But the team was much improved. And after taking down Indiana State and Tulsa in MVC Tournament preliminary games in Omaha (the tourney was played on campus sites back then), they squared off with Antoine Carr and Wichita State in old Leavitt Arena in Wichita for the MVC title and an automatic berth into the NCAA Tournament. As Kevin McKenna led all scorers with 23 points, Stovall added 10 on 5-8 shooting with three rebounds, while playing stifling defense on the all-everything Carr — limiting him to just ten shots and 12 points. Returning to the NCAA Tournament, the Jays were sent to Dayton to play fellow Jesuit school St. Joseph's.
Up 50-44 with 7:42 to go, the Jays would go over six minutes without a field goal as the Hawks came back to defeat them. Stovall was asked to concentrate his energy on defense and stopping (or at least, slowing down) St. Joseph's forward John Smith. He limited him to just 11 shots, but Smith made 8 of them on a 20-point night that doomed the Jays. Two days later, Smith would make the winning layup at the buzzer when St. Joe's took down #1 DePaul in a stunning upset.
After the season, Apke departed for Colorado; in came Willis Reed and a new wide-open style. Though freshman Vernon Moore amazed, it was Stovall who led the team in most major statistical categories including points (15.6), steals (1.4), field goal percentage (51.5%), and free throw percentage (70.8%). He was second in rebounds with 5.7 a game, third in assists with nearly two a game, and was a bright spot on an abysmal team that went 7-20 and 4-12 in the MVC, tumbling to 8th place.
Following the season, the San Diego Clippers selected him in the NBA Draft, but he chose to pursue baseball after also being drafted in the MLB Amateur Draft by the Chicago White Sox. Stovall opted to forgo his senior season in baseball, signed with the Sox and went to their rookie league team where he struggled immensely — actually, to say he struggled would be kind; he hit .105 with a .366 OPS. After just one season in the minors, he was released and returned to Creighton as a graduate assistant to Willis Reed on the bench.
One of just two Creighton players to be drafted in both baseball and basketball (Bob Gibson being the other), Stovall scored 1,115 points in his career, but was much more valuable as a lock-down defender during his four seasons and was a key contributor to the 1981 MVC Champions and NCAA Tourney team. Its close, and I'm not going to quibble with anyone who prefers the CU Hall of Famer Dick Harvey as the best #40, but in our opinion Stovall edges out Harvey and Jerry Vanderheydt as the best to wear #40 for the Jays.
Career Stats:
| Season | FG Pct. | Pts | Avg. | Reb | RPG | Assists | Blocks | Steals |
| --- | --- | --- | --- | --- | --- | --- | --- | --- |
| Totals | .499 | 1,115 | 10.8 | 360 | 3.5 | 173 | 36 | 116 |
| 1978-79 | .342 | 32 | 1.8 | 22 | 1.2 | 7 | - | - |
| 1979-80 | .515 | 316 | 11.3 | 83 | 3.0 | 58 | 13 | 39 |
| 1980-81 | .488 | 347 | 11.6 | 101 | 3.4 | 59 | 9 | 40 |
| 1981-82 | .515 | 420 | 15.6 | 154 | 5.7 | 49 | 14 | 37 |
Comments
Tagged in: