Number 41: Doug Brookins
ED. NOTE: White and Blue Review's ongoing series "What's in a Number?" continues with a look at the best player to wear #41 for the Jays, Doug Brookins. To read up on how we arrived at our choice, check out the introduction of the series. Or you can read about the players you might have missed by checking out the entire list.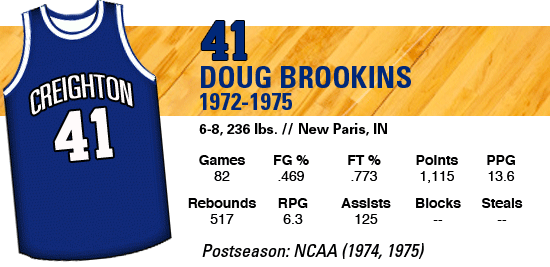 Doug Brookins, a 6'8″ forward/center, was lured to Omaha from Goshen, Indiana in the fall of 1971 by Coach Eddie Sutton as part of his third recruiting class. Brookins played high school hoops in Goshen, but was actually from New Paris, as this amusing anecdote in the 1972-73 media guide relays:
Doug is the type of kid who asks a sports publicist to list his home town as New Paris instead of Goshen, because "Our farm is really nearer New Paris and I don't want the people back home to think I would ignore them."
That media guide also noted that Brookins was "as strong as the tractors on his dad's farm and as smooth as the auto which carries his folks some 500 miles several times a year for Jay games." As you can see, folksy anecdotes ruled the day in the 1972-73 media guide, not statistics. Which is totally fine with me, incidentally.
Playing for the freshman team in 1971-72 — the NCAA mandated that freshmen were ineligible to play back then — Brookins was a dominant player even in a league that tended to have skewed stats due to the general uneven talent of freshmen teams, averaging 20.1 points and 12.9 rebounds. He then battled hard as a sophomore early in the season trying to earn his way into the starting lineup. And shortly after the first of the year, he became a fixture in Coach Sutton's lineup where his defensive presence was a welcome addition.
The Jays would go 15-11 that year, and Brookins was a key contributor. He poured in an average of 10.3 points a night, grabbed 4.8 rebounds, and his defensive skills meshed well with the games of juniors Ralph Bobik and Gene Harmon. Sutton was a fan, and extolled his virtues to the media upon announcing his promotion to the starting lineup. "Doug is a strong, solid defender and a fine shooter too. He gives us a lot of versatility…he can play either center or forward."
In the summer between his sophomore and junior seasons, the "Travelin' Jays" took a two-week, ten-game trip to Brazil, the Jays returned as a more cohesive unit — and Brookins returned in mid-season form. "In the past, Doug has played best when he kept his weight down," Sutton noted in the fall of 1973, "and after a summer of working out followed by the tour of Brazil, he's ready to go."
Including their exhibition tour, the 1973-74 Jays played games on two continents (North and South America) and 13 states (Arizona, California, Colorado, Hawaii, Indiana, Illinois, Kansas, Missouri, Nebraska, Oklahoma, South Dakota, Texas and Wisconsin), and had a 13-3 record at home while going 8-3 on that brutal nationwide tour.
Starting all 29 games alongside seniors Harmon, Bobik and Ted Weubben, he averaged 14 points and 6.9 rebounds a game while playing over 30 minutes a night. Meanwhile, the team won 23 games, which broke the school record held by the 1963-64 team of Paul Silas; their 23 wins would remain the record until the 1990-91 team won 24. Returning to the NCAA Tournament for the first time since that same 1963-64 squad whose record for victories they had bested, the Jays were sent to Denton, Texas to play the homestate Texas Longhorns. Brookins had a huge game, scoring 16 points and securing 9 rebounds in the Jays 77-61 win.
Drawing #14 Kansas in the second round, Brookins came out on fire, scoring 10 points in the first half as the Jays built a surprising 33-30 lead. The Jayhawks defense shut him out in the second half, and no one else picked up the slack as the Jays lost both their lead and the game, 55-54 — though they had a lead with 81 seconds to play, a late turnover led to a fast break layup for Kansas which won them the game. Brookins finished with a double-double, scoring 10 and grabbing 15 rebounds, despite his frustrating offensive second half.
Two days later in the Consolation Round, #16 Louisville awaited, and Brookins again led the charge with 19 points and 7 rebounds, as the Jays outboarded the taller Cardinals 40-32. Point guard Ralph Bobik struggled, and Harmon and Brookins alone were not enough to overcome the deeper, more athletic Louisville team as the Jays fell 84-80.
Just a couple of weeks after that defeat, Sutton departed and former player and longtime assistant Tom Apke took over the reigns of the program. As for Brookins, the 1974-75 season began where his junior one had left off, namely in the starting lineup at power forward, where his defensive abilities and jump shot could best be exploited. That all changed just one game in, when junior center Mike Heck died in his sleep after the season opening win against North Dakota. Heck, at 7'0″ the tallest player to play for Creighton up to that point, was a local kid from Papillion whose sudden death from an undiagnosed heart condition left the team badly shaken. It also left them without a center, as the junior Heck had earned the starting role and had scored 24 points in his final game. Brookins, undersized at 6'8″, slid over and manned the spot admirably.
Despite playing a new role in a new system under a new staff, Brookins turned in his finest statistical season, averaging 16.3 points and 7.1 rebounds, leading the team in both categories. He also shot an incredible 88.2% from the charity stripe, good for second-best nationally that season and the third best mark in Creighton history (it stood as the gold standard, however, for almost 25 years until Kyle Korver turned in two seasons where he shot better than 90% from the line).
Playing in three in-season tournaments — yes, three — the Jays lost in all of them. In their own Creighton Cage Classic, they beat Santa Clara but lost to UTEP in the title game 69-63; in the Indiana Hoosier Classic, they lost to Indiana 71-53 in the opener before winning the third place game against SMU, 73-59; and in the Far West Classic, they lost to both Oregon and Wake Forest, with a win over Boston College sandwiched in between. Despite those losses, they would rally to beat Drake in Des Moines, 71-70, on January 2…and they would not lose again until early March! A 14-game winning streak that saw Brookins emerge as the team leader, he averaged nearly 20 points and 10 rebounds over the two-month stretch. It was good enough to earn them an at-large bid to the NCAA Tournament, where they were rewarded with a matchup against #4 Maryland in Lubbock, Texas.
Brookins continued to exhibit the spectacular play he'd showcased in the 1974 tourney, having a monster game with 25 points and 5 rebounds. The Jays' three seniors, Brookins, Charles Butler and Tom Anderson, combined for 56 of Creighton's 79 points. Unfortunately, Maryland closed out the first half on a 15-5 run and despite a late rally from the Jays, the outcome was never really in doubt as the Terps won 83-79.
Brookins shared the team MVP award with fellow senior Charles Butler following the season, and was drafted by the Washington Bullets in the ninth round of the NBA Draft. He decided not to pursue a spot on the team, and would move back to Indiana following graduation, where he was inducted into the Elkhart County Sports Hall of Fame in 1996. He finished his career at Creighton with 1,115 points, which ties him with Daryl Stovall for 25th all-time in school history. He's also the best #41 to put on a Creighton uniform.
Also of Note: George Morrow was the first and only junior college transfer taken in by Tom Apke during his time on the bench, and he had a huge impact as half of the Jays vaunted "double post" offense. He led the team in rebounding both of his seasons — pulling in 10 boards a game in 1979-80, and 11 boards in 1980-81 — also leading the team in assists and field goal percentage in a monster senior season that saw him earn First-Team All-MVC honors. In the 1981 MVC title game, he scored 13 points with 12 rebounds in the Jays win over Antoine Carr and Wichita State. Morrow followed that up with 17 points, 14 rebounds, 2 assists and a steal while making 9-10 shots in their NCAA Tournament matchup with St. Joseph's. He had two amazing seasons for the Jays, finishing with 790 points and 609 rebounds in just 58 games. An argument could be made for Morrow as the best to wear #41, no doubt.
Career Stats:
| Season | FG Pct. | Pts | Avg. | Reb | RPG | Assists | Blocks | Steals |
| --- | --- | --- | --- | --- | --- | --- | --- | --- |
| Totals | .469 | 1,115 | 13.6 | 517 | 6.3 | 125 | -- | -- |
| 1972-73 | .460 | 267 | 10.3 | 124 | 4.8 | 23 | - | - |
| 1973-74 | .504 | 406 | 14.0 | 200 | 6.9 | 50 | - | - |
| 1974-75 | .442 | 442 | 16.3 | 193 | 7.1 | 52 | - | - |
Comments
Tagged in: