Number 5: Ryan Sears
ED. NOTE: White and Blue Review's series "What's in a Number?" continues today with a look at the best player to wear #5 for the Jays, Ryan Sears . To read up on how we arrived at our choice, check out the introduction of the series. Or you can find the entire series here.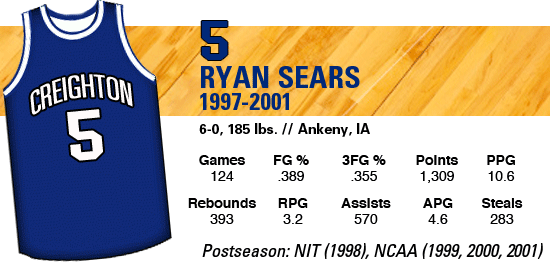 There were many players who helped build the Creighton program into the juggernaut it became under Dana Altman, but there was none more important than Ryan Sears. Rodney Buford and Kyle Korver got the national accolades and the NBA paychecks, and rightfully so. But without the steady hand of point guard Ryan Sears, those early Jays teams under Altman would absolutely not have had the success they did. He not only started every single game during his four-year tenure and gave the team the floor general it needed to win championships, he had more steals than turnovers in each of his four seasons. Think about that for a second, then re-read it. A point guard who finishes with more assists than turnovers is generally regarded as having done a good job, and Sears did that each of his four seasons too (he had at least twice as many assists as turnovers each year.) But to have more steals than turnovers? There's a reason that Sears is the only point guard in Creighton history to accomplish that feat. It just doesn't happen that often.
Sears was a three-time first-team all-conference selection at Ankeny High School, was second-team all-state as both a sophomore and junior, and first-team all-state as a senior. That senior year, he led his school to the Iowa Class 4A (the largest class) state championship, averaged 18 points and four assists, and earned academic all-state honors. He drew late interest from the state schools after his stellar senior season, but having already committed to Creighton, he came to Omaha.
In 1997, his first season at Creighton, he performed the rare feat of cracking Altman's starting lineup from opening night on; in subsequent years, whenever a highly-touted freshman would have to earn his way into the starting lineup off the bench during November games, Sears would often be mentioned as the exception. He started every game that year, the first CU freshman to do that since Benoit Benjamin in 1982-83 and the only one to do it under Altman. Sears was the MVC Freshman of the Year, finishing third in the league with 4.8 assists a game — he had 134 assists versus just 59 turnovers for the season. He also averaged 2.2 steals, 10.5 points and 3.0 rebounds a game, and he became the first player in Creighton history to finish with more steals (62) than turnovers (59).
His pass-first mentality didn't mean he couldn't, or wouldn't, shoot. Sears had a quick, accurate three-point stroke, and on nights when he was feeling it, he could fill up the stat sheet as well as anyone. Case in point: on December 6, Sears torched Wyoming for 29 points on 9-12 shooting from the floor. That line included making 7 of 10 three point attempts. He made 63 three-pointers his first season, which put him just outside of the all-time Top 10 in school history in career three-point makes … after just one season. To put that in perspective, sharp-shooter Nate Funk had just one season with more than 60 three-pointers. Sears did it three times.
Sears' sophomore campaign continued his reputation as an ironman, as he once again started all 31 games. Starts were sometimes a misleading stat under Altman, as his frequent substitutions led to bench players occasionally getting more minutes than the starters, but that was not the case with Sears. As a sophomore, he averaged just under 34 minutes a game, and played all 40 minutes in a physical MVC semifinal against Steve Alford's SMS Bears. Against Louisville in the NCAA Tournament, Sears played 39 minutes, coming out only in the final minute when Altman emptied his bench with the game in hand. Two days later, he played 36 minutes against Maryland while sharing the defensive assignment of guarding Steve Francis with Ben Walker.
From the free-throw line, Sears was as close to automatic as you can get, hitting 85% of his shots from the charity stripe — but an absurd 35 of 37 (94.6%) during the final ten games of the season, and was 16 for 16 (100%) in the MVC and NCAA Tournaments. He once again had more steals (68) than turnovers (59), and with his 68 steals, became the only player in CU history with 60+ steals in more than one season, and was already fifth on the school's all-time list. Buford got the headlines as the team's most dynamic player, but the NCAA Tournament run and MVC Championship would not have happened without Sears running the show
In 1999, though, Buford was gone, taking his school-record 2,116 points with him. A recruiting class that included Kyle Korver and Terrell Taylor came in, and both would help replace Buford's scoring. But it was Sears who quietly turned his finest season as a Jay, improving in every single statistical category. He shot 42.4% from the floor, improving on his 35% shooting from the year before, and made 67 three-pointers, connecting at a 34% clip. He averaged career-bests in points per game (11.9), rebounds (3.7), assists (175), assists per game (5.3), steals (80), and points scored (394). He was second-team All-MVC, led the team to a second-consecutive MVC Tournament title and second consecutive NCAA Tournament berth — and was the MVP of the MVC Tournament after averaging 7 assists, 3 steals, 10 points and 5 rebounds in a tourney in which he played all but five minutes of his team's three games!
Sears had eleven games with at least 7 assists, and had a season-high 9 in a raucous home win over #23 Iowa at the Civic. He played 37 minutes in that game, scoring 19 points, grabbing 6 rebounds and 2 steals as the Jays pulled the upset, 85-76. In a January game against Southern Illinois, he again played 37 minutes, scoring 25 points with 8 rebounds, 8 assists and 3 steals in a 72-66 win. He also scored 23 in an ESPN Big Monday tilt against Colorado State on February 8, going 8-10 from the floor with 5 assists and 4 steals. And in their NCAA Tournament matchup against Auburn, he played 38 minutes, scoring 18 points with 4 rebounds, 8 assists, and 2 steals.
He had more assists than turnovers in 31 of the team's 33 games that year, giving them a ridiculous level of consistency at the point guard position that was the envy of every team in the Valley. In fact, he had more assists than turnovers in 82 of his first 92 games at Creighton. By the end of his junior year, he was already the school's all-time leader in steals with 210, and was third all-time in both assists and three-pointers made — and was already the only player in CU history with 900 points, 400 assists and 200 steals in a career.
Entering his senior season, by any quantifiable measure he was already the finest point guard in CU history, and his stellar final season would merely cement that legacy. The Jays would go a perfect 14-0 at home in 2000-01, increasing their win total again with a 24-8 record, winning the only outright MVC Regular Season title of the Dana Altman era and earning the only at-large bid to the NCAA Tournament of the Altman era.
Sears averaged 11.0 points per game, 3.0 rebounds, and 4.3 assists in a season in which he was finally recognized with first-team All-MVC honors. On December 1 in Laramie, Wyoming, Sears scored 13 second-half points to become the 26th player in school history with 1,000 points for his career in a 78-74 loss to the Cowboys. His career would go out on a sour note, however, as his two worst games as a Jay came in his two final contests. In a MVC semifinal loss to Indiana State — a game many longtime fans remember merely as "The Michael Menser Game" — Sears went 2-12 from the field and 0-7 from three-point range with 5 turnovers and just 10 points. Then in their NCAA Tournament matchup with Iowa, he made just 3-11 shots (2-7 from long range) with 3 turnovers.
In Sears' four years, the Jays went an astounding 48-7 at the Omaha Civic Auditorium, and 87-37 overall, with two MVC Tournament titles, one outright MVC regular season crown, and three straight NCAA Tournament berths. He started all 124 games in his career, finished as the Missouri Valley Conference's all-time leader in steals with 283, and was 14th on the school's scoring list with 1,309 points. He's currently 16th on that list, as both Kyle Korver and Nate Funk would subsequently surpass him. He has the two highest steal totals in a single season, with 80 in 1999-00 and 73 in 2000-01. He has the most assists in Creighton history with 570. He has the fifth-best career free-throw percentage in school history, hitting 80.7% for his career. He's second in CU history in three-pointers with 245, after finishing his career as the all-time leader. And along with Ben Walker, he was the first player in CU history to play in the postseason four times.
Ryan Sears is not only the greatest Bluejay to wear #5, he's one of the five or six greatest Jays PERIOD, and might just be the most important player of the Dana Altman era.
Career Stats:
| Season | FG Pct. | Pts | Avg. | Reb | RPG | Assists | Blocks | Steals |
| --- | --- | --- | --- | --- | --- | --- | --- | --- |
| Totals | .388 | 1,309 | 10.6 | 393 | 3.2 | 570 | 6 | 283 |
| 1997-98 | .409 | 293 | 10.5 | 85 | 3.0 | 134 | 3 | 62 |
| 1998-99 | .351 | 269 | 8.7 | 90 | 2.9 | 124 | 1 | 68 |
| 1999-00 | .424 | 394 | 11.9 | 123 | 3.7 | 175 | 1 | 80 |
| 2000-01 | .370 | 353 | 11.0 | 95 | 3.0 | 137 | 1 | 73 |
Comments
Tagged in: